Sony's first sat-nav
Exclusive: That whimpering noise you can hear? It's the sound of TomTom quaking in its booties at the sight of Sony's NVX-P1, a 2GB portable sat-nav with a monster screen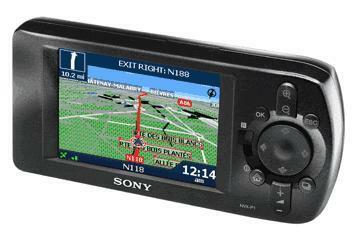 It's a dark day for TomTom, Garmin and Navman – Sony's just entered the in-car portable GPS market.
Sony's debut is the NVX-P1, which has a 2GB hard drive, 9.5cm screen, detailed maps for the whole of Europe excluding Greece – did they really hash up the Olympics that badly? – 3D maps and what Sony is promising will be a very intuitive user interface.
It looks okay, but TomTom isn't really going to be quivering at this particular Sony sat-nav. After all, TomTom has the Go 700, which has more storage and a touchscreen, a far easier way of controlling a sat-nav than hard buttons.
Longer term, Sony's likely to get very serious in this space – a future version with a bigger HD and some sort of collaboration with Sony Eric phones could be a real killer product.
The Sony NVX-P1's on sale in August for a price that's currently TBC.