Samsung Galaxy S21 preview: Everything we know so far
UPDATED: Leaked renders and pricing details ahead of today's reveal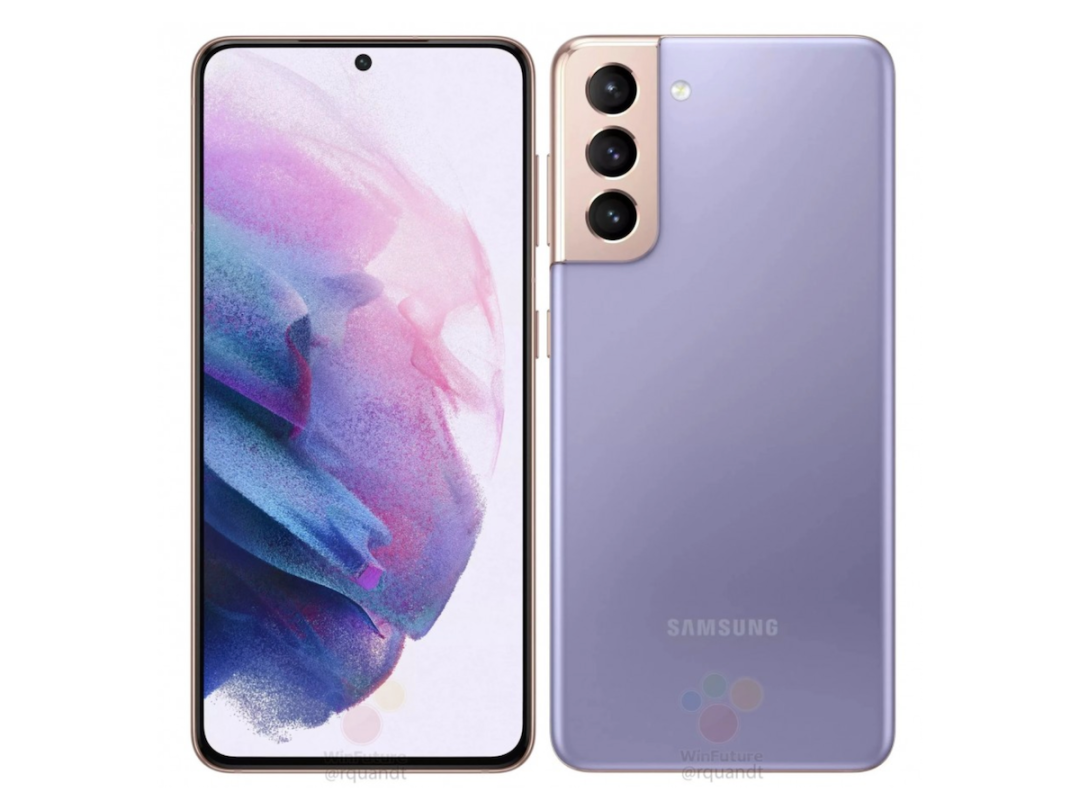 We're only days into the new year and we're already on the verge of the launch of one of 2021's biggest smartphones.
We might've seen some phones launch later than usual in 2020 due to the pandemic, but Samsung is set to debut its Galaxy S21 line much earlier than normal. Talk about kicking off the year with a bang.
Better yet, there are already loads of leaked renders and plenty of other chatter around what we'll see from Samsung's next big flagships. Here's what we've heard so far.
(Leaked renders courtesy of WinFuture)
When will the Samsung Galaxy S21 be out?
We usually see the Galaxy S phones launch in February and release by March, but Samsung isn't waiting around this time.
SamMobile was the first to report that Samsung plans to launch its Galaxy S21 phones come January 2021, and OnLeaks has echoed that sentiment. Reports in December pointed to a Galaxy Unpacked launch stream on 14 January, and a release on 29 January.
At least the first part of that is official now: Samsung has confirmed a Galaxy Unpacked launch event for 14 January, and the teaser video above clearly shows the same camera module design as we've seen in leaks and renders. It's happening, folks.

Tune in and watch with the link above.
Fact or fiction?
The launch is just days away!
How much will the Samsung Galaxy S21 cost?
Given historical trends (and logic), we suspected that Samsung would probably bump up the price for the Galaxy S21 line compared to the previous generation. But that may not be the case.
WinFuture suggests that the Galaxy S21 5G will sell for €849, which is €50 less than the Galaxy S20 5G. They see the Galaxy S21+ going for €1,049 and Galaxy S21 Ultra starting at €1,249, as a result. We don't have UK pricing leaks just yet, but if those estimates hold true, we imagine that there will be similar savings across the board.
Given the current climate of things in the world, fancy flagship phones are a tougher sell, plus lower-end competition is getting better and better. A price drop could make the Galaxy S21 more appealing. Samsung will reportedly also offer its Galaxy Buds Live true wireless earbuds as a free pre-order bonus with any model.
Fact or fiction?
It would be very sensible for Samsung to shave a bit off the Galaxy S price this time around. Let's hope.
What will the Samsung Galaxy S21 look like?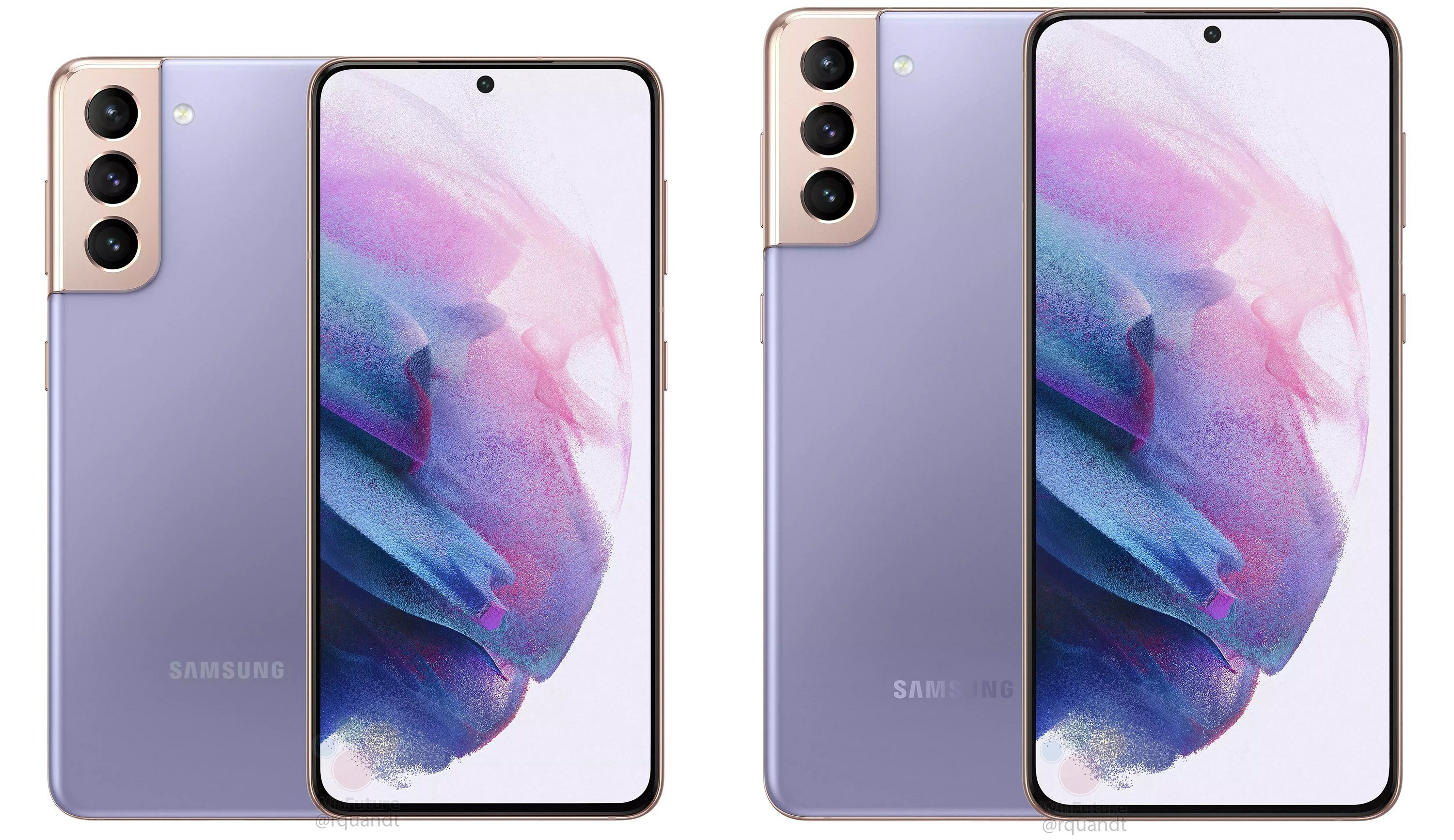 These leaked renders come from reputable source WinFuture, which has leaked many phones in the past, and match up nicely with earlier concept renders based on leaked specs. At a glance, little has changed with the S21 and S21+ here.
But on the back, the camera module in the upper left corner runs all the way to the corner instead of being a little pop-up glass panel. It still seems to rise above the surface of the rest of the glass, but it definitely results in a different kind of effect. Samsung's teaser video also clearly shows the same module design, as seen above.
Android Police recently got its hands on some brief promotional videos that it claims are official leaked materials, and they show a camera module that's very close to what the concept renders suggest here. Looks like they're right. The site suggests that the Galaxy S20 will come in Phantom Violet, Phantom White, Phantom Pink, and Phantom Grey, with the S21+ coming in Phantom Silver, Black, or Violet. Meanwhile, the Ultra is expected in Phantom Silver or Black.
Fact or fiction?
If true, those are the Galaxy S20 models we know, albeit with larger and slightly different-looking camera modules.
What about the Samsung Galaxy S21's screen?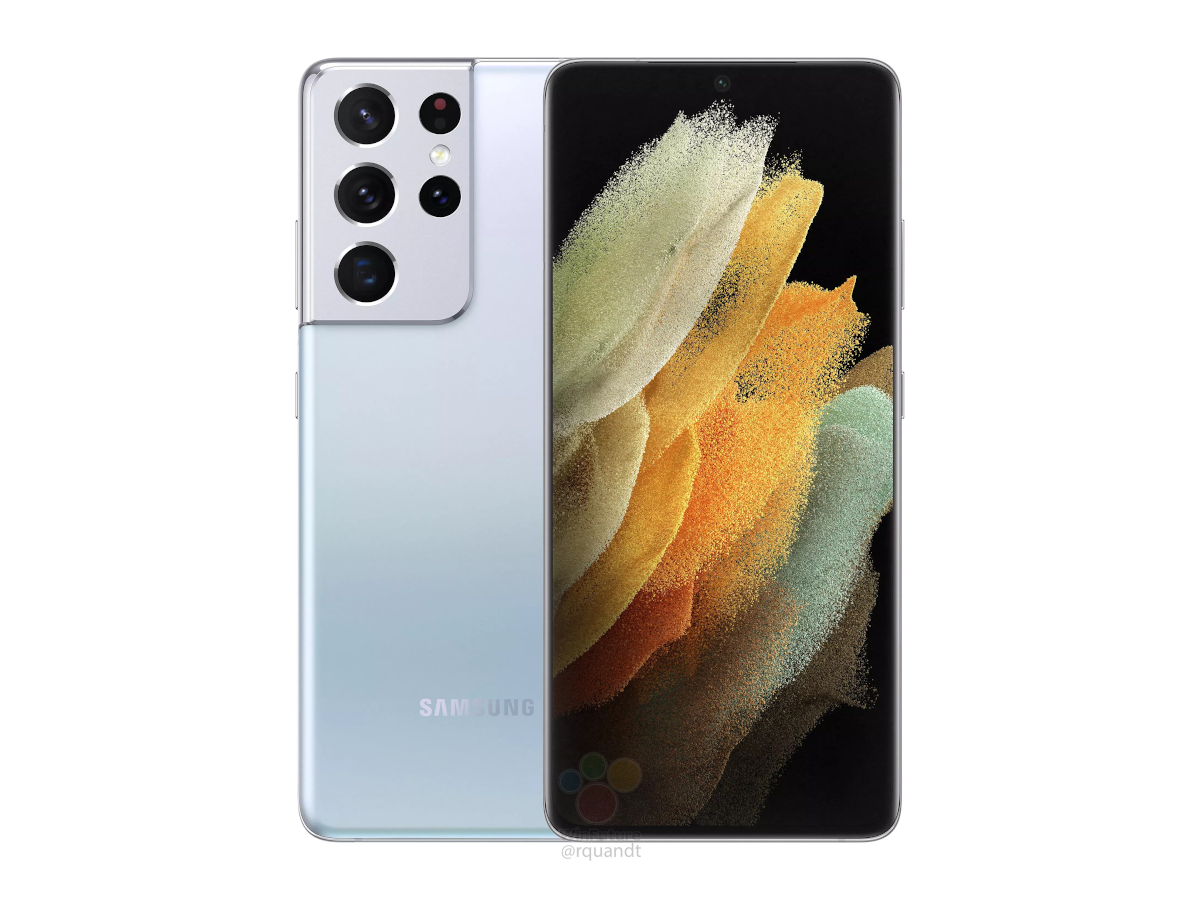 Android Police points to a 6.2in screen for the Galaxy S21, just like its predecessor, along with a 6.7in screen on the Galaxy S21+ and a 6.8in screen on the Galaxy S21 Ultra (shown).
There are differences, however. The site suggests that the S21 and S21+ will drop down in resolution to FHD+, losing the extra-crisp QHD edge that we've seen from Samsung's top-line flagships for years. The Ultra model, however, will still apparently ship with a QHD panel.
All three phones will offer 120Hz refresh rates, although the Ultra will have a variable refresh rate that can automatically range up to 120Hz. Reputable leaker Ice Universe claims that the Ultra model will allow for both QHD+ resolution and 120Hz at the same time, unlike last year's model.
Fact or fiction?
While losing QHD resolution sure seems like a downgrade, having to choose between the QHD and 120Hz settings on Samsung's 2020 flagships helped reinforce that 120Hz makes a more noticeable impact on the viewing experience.
How much power will the Samsung Galaxy S21 pack?
The new Qualcomm Snapdragon 888 will likely be the chip of choice in North America and certain other territories, while Europe should see Samsung's latest chip, rumoured to be called the Exynos 2100.
In the last couple of years, there's been a slight power advantage to the Snapdragon models, but leaks and rumours suggest that Samsung has finally closed the gap this time around. Whatever the case, the Galaxy S21 will surely be super-powered and capable of running all kinds of games and apps with ease, no matter where you are.
Fact or fiction?
You needn't worry about the Galaxy S21 being well equipped.
What kind of cameras will the Samsung Galaxy S21 have?
If the OnLeaks renders are any indication, we should see three main cameras on the back of the Galaxy S21 and S21+ and four on the back of the Galaxy S21 Ultra.
Android Police's specs point to a 12-megapixel main sensor, 12MP ultrawide, and 64MP telephoto sensor on the S21 and S21+. Meanwhile, the S21 Ultra is pegged to have a 108MP second-generation main sensor, 12MP ultrawide, 10MP 3x zoom sensor, and 10MP 10x zoom sensor. Should be interesting to see how well that 10x works on the Ultra, if true.
Fact or fiction?
This all sounds reasonable, although we're curious whether Samsung will keep the ol' 100x hybrid Space Zoom in the mix too.
Is there anything else I should know about the Samsung Galaxy S21?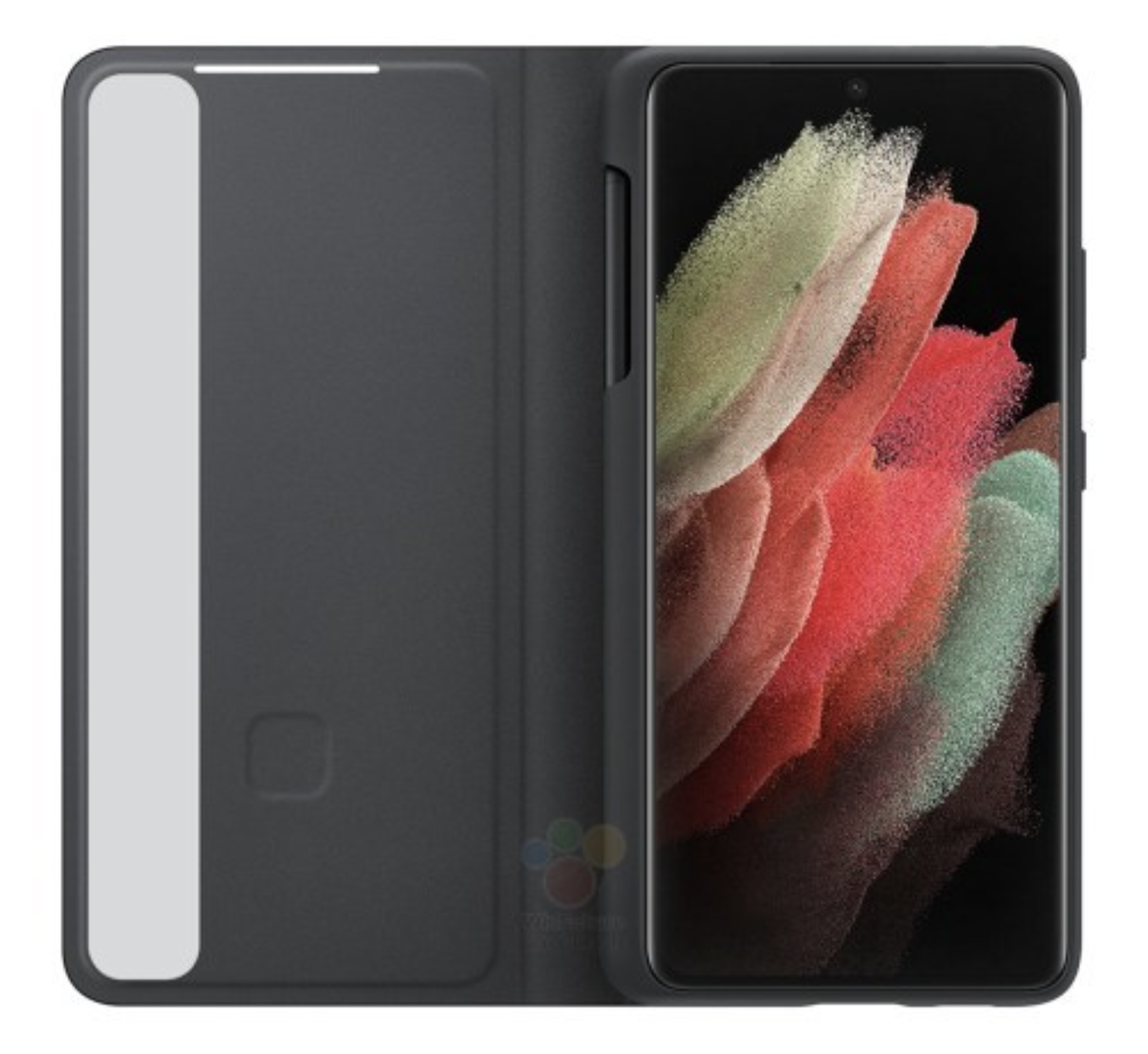 No doubt, all of the Galaxy S21 models will support 5G. Whether or not there will be a cheaper LTE version will reportedly vary by region, but we wouldn't be surprised to see it gone entirely.
Reportedly, at least the Galaxy S21 Ultra model will support Samsung's S Pen, seen with the Galaxy Note series, although it will not ship with the phone and the handset will not have a slot to store it in. Instead, reports claim that Samsung will sell optional cases that house both the phone and S Pen, for those power users who want the added functionality of a stylus.
WinFuture, a frequent and reputable leaker, has shared the above purported leaked render of the S21 Ultra within the S Pen-capable case.
These reports come on the back of renewed rumours that Samsung will either trim down or eliminate the increasingly niche Note line, instead folding the functionality into the core Galaxy S line as an optional add-on. Also, Samsung mobile boss TM Roh wrote in a December blog post, "We've also been paying attention to people's favorite aspects of the Galaxy Note experience and are excited to add some of its most well-loved features to other devices in our lineup."
Fact or fiction?
Well, it seems pretty clear-cut when he writes it like that. Stylus support pretty much confirmed, then!