Major Spotify refresh revealed, heading to your phone soon
New-look music streaming app brings listeners and creators closer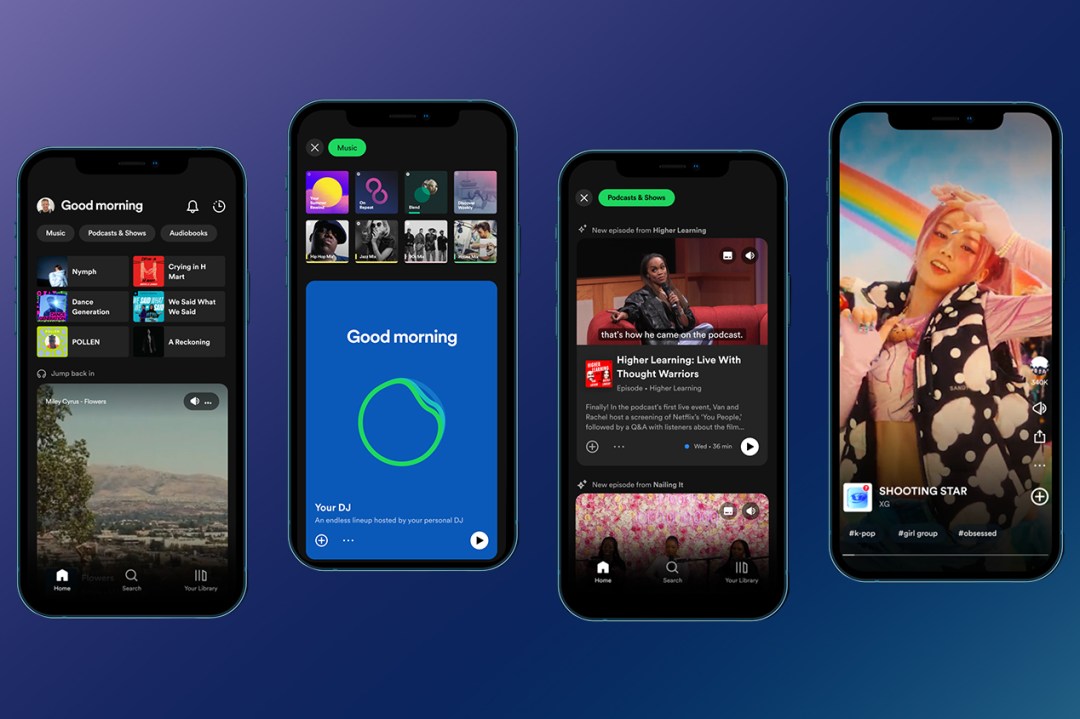 Music streaming supremo Spotify has officially unveiled a major overhaul for its apps, which goes big on visuals and put more emphasis on the interaction between creators and listeners. If your favourite artist's latest release is an absolute banger, it should now be easier to let 'em know how much you love it – and if you had no idea there was even new material to stick on repeat, the new look should help you find it.
Shown off for the first time at the firm's Stream On event in Los Angeles, The new look is Spotify's biggest visual redesign since it first appeared on smartphones over ten years ago.
Music, podcasts and audiobook categories are now split at the top of the home screen, with a handful of familiar shortcuts to your most listened to playlists, artists and albums – but swipe down and you'll now see a scrolling feed of content, which contains song previews, video clips and images. It takes more than a little inspiration from TikTok, but according to Spotify's research leads to more listens for the artists that get featured. It's all based on your listening habits, so should be relevant to your personal tastes.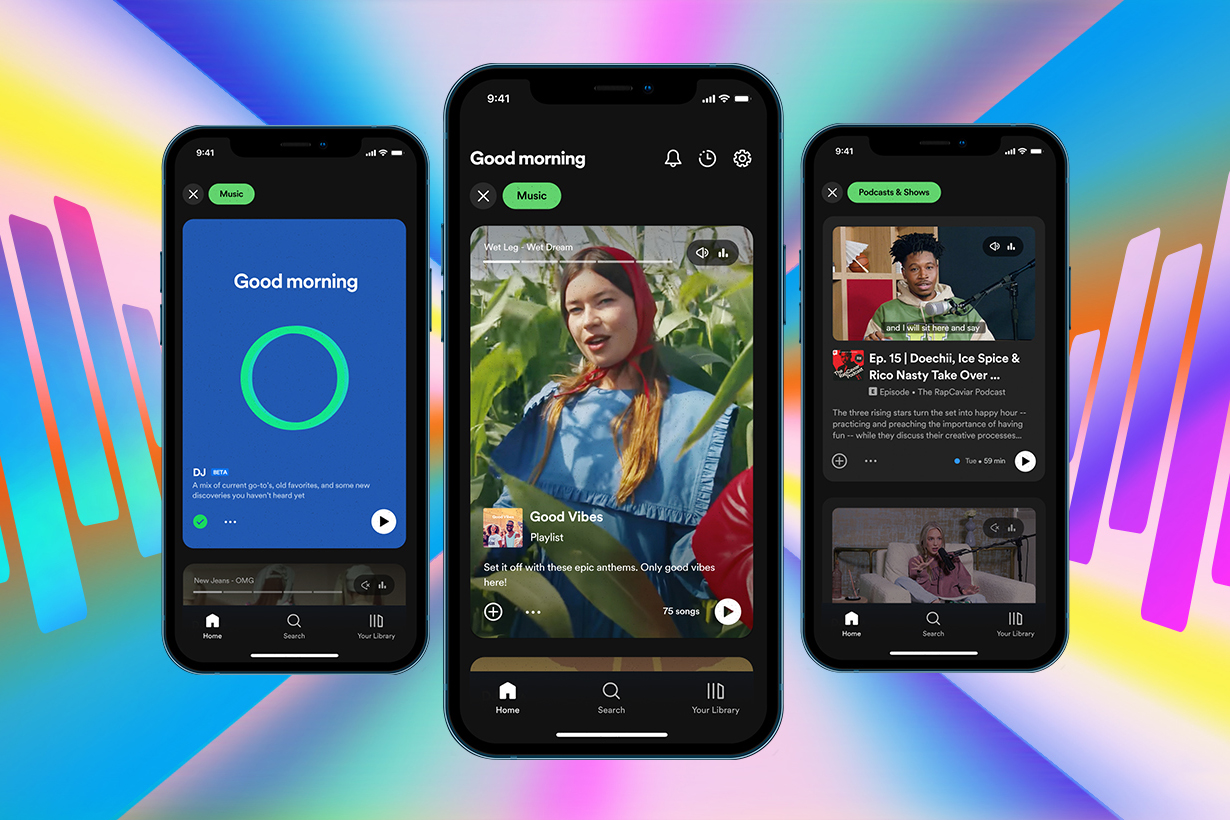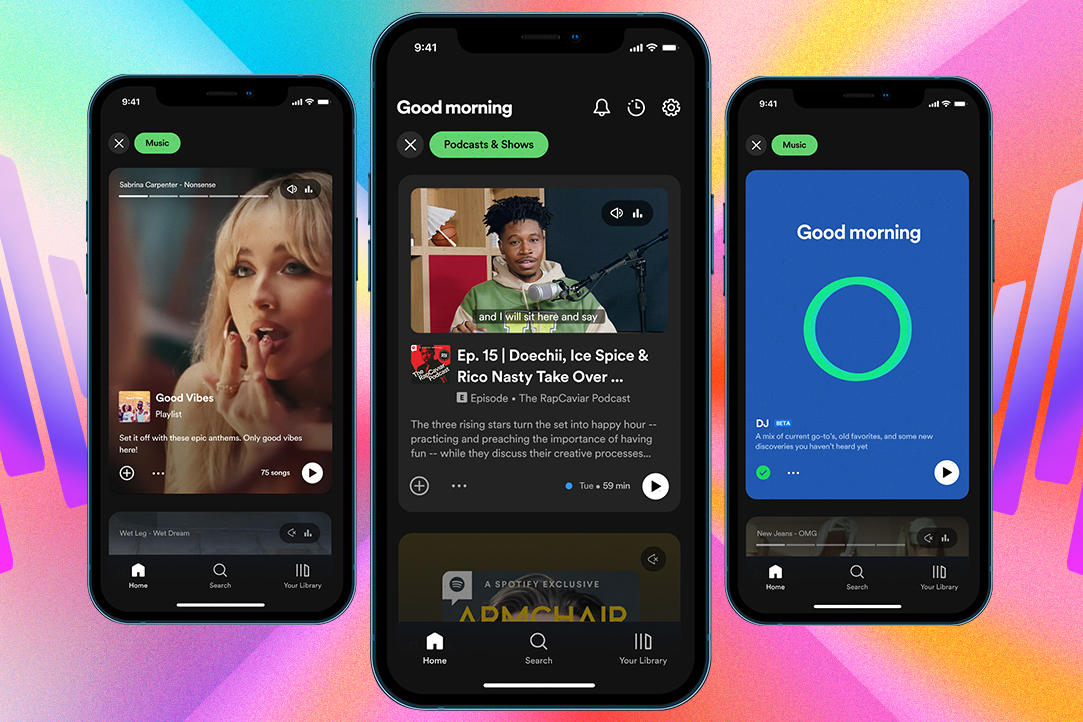 You'll be able to get a taste of new playlists or albums right in the feed, rather than navigating back and forth. Artist's Canvas posts are also bundled in, for extra variety. Podcast previews, including video pods, are being opened up to a wider number of creators too, so you'll get a flavour of a particular cast without having to subscribe first. Visual clips of new songs also now appear in search, along with support for hashtags, and results can be scrolled through – again, a lot like TikTok.
The new look joins other recent additions, including an AI-powered DJ to curate your tunes. It's an evolution of the Discover Weekly playlist, which learns as you skip or listen to tracks, with a computer-generated voiceover guiding you through the music as you listen. Smart Shuffle can also add extra tracks to a curated playlists, so you don't have to go searching for new tracks to add to your exercise mix – Spotify knows what you like, and can find similar songs with a single tap.
Spotify is rolling out the new UI from today, in a staggered launch. Subscribers can expect to find it beamed to their iOS or Android device in the coming weeks and months. There's a fair few of 'em to get through: the firm announced it had exceeded a whopping 500 million active monthly users for the first time in 2023.