iRiver Vanilla smartphone and Vanilla Tab Android tablet spotted
iRiver Android-flavoured goodies have been spotted in the wild, and they're vanilla flavoured...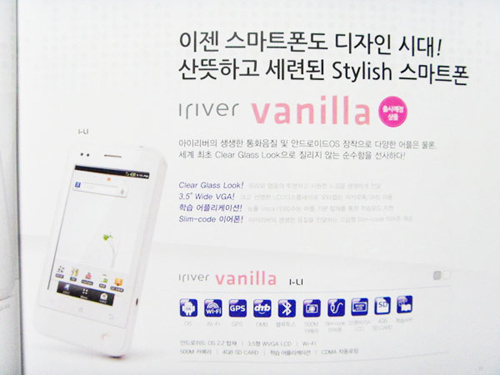 iRiver appears to be readying the Android flavoured Vanilla smartphone and (imaginatively named) Vanilla Tab. Or if you prefer alpha-numeric model numbers, they're the I-L1 and ILT-MX100, respectively. Hardly the most riveting names. Those eagle-eyed folks over at Cetizen spotted the pair on their web travels, lifting the lid on iRiver's gadget plans in the process. Although it appears iRiver missed the memo about Android Gingerbread, with both packing 2.2 Froyo.
The Vanilla Tab has its eyes on the 7-inch tablet market – so Dell's Streak 7 and the Blackberry PlayBook should watch their backs (well, not really). Its spec sheet isn't going to blow your mind – Flash, GPS, a 1GHz Hummingbird processor (no dual-core?), 5MP camera and up to 32GB of expandable storage. Throw in the tablet holy trinity – 3G, Bluetooth and Wi-Fi – and it's clear the Korean company's efforts aren't exactly iPad-baiting. And we're starting to understand the thinking behind the name.
Its smaller stablemate, the Vanilla, sports a 3.5-inch WVGA LCD screen, with a 600MHz or 800MHz processor running the show, which we don't have to tell you, is slow by today's standards. Wi-Fi, GPS, Bluetooth and 4GB of storage come as standard.
While Google looks set to welcome two new members into the Android clan, we doubt they're going to set the tech world alight. Information is currently devoid of pricing and release dates, or whether they're even going make it over to the UK, but we'll be keeping our ears to the ground for more news.
Panasonic's Toughbook H2 tablet comes out fighting