Goodbye Gear VR? LG's 360 VR headset just arrived for the G5
Small and light headset takes VR on the move like never before
In case you were thinking LG was going to let Samsung hog all the limelight around smartphone VR, think again.
It just revealed the 360 VR, a virtual reality headset build exclusively for the G5 – only LG has its own ideas about how smartphones and VR should work together.
The Gear VR actually holds your phone in front of your face, but LG lets you hold onto your handset instead. It's got two 1.88in displays built into the headset, and a USB type-C connector hooks them up to your phone. The phone then doubles as a controller, so tapping the phone screen makes choices in VR.
With its own screens, the 360 VR will almost definitely cost more than Samsung's Galaxy VR, but the weight and space savings mean it's super portable. LG says it weighs about 100g – that's a third of other VR headsets, and only around twice the weight of the average pair of glasses.
It's neatly compact as well. LG execs talked about wearing a pair on a plane journey, but any talk of 'personal movies' definitely, definitely wasn't referring to watching digital smut in public.
YouTube 360 and Google Cardboard content will be supported at launch, with other 360 video partners and VR content set to follow later. Naturally you'll be able to watch the videos you shoot on LG's own 360 CAM, too.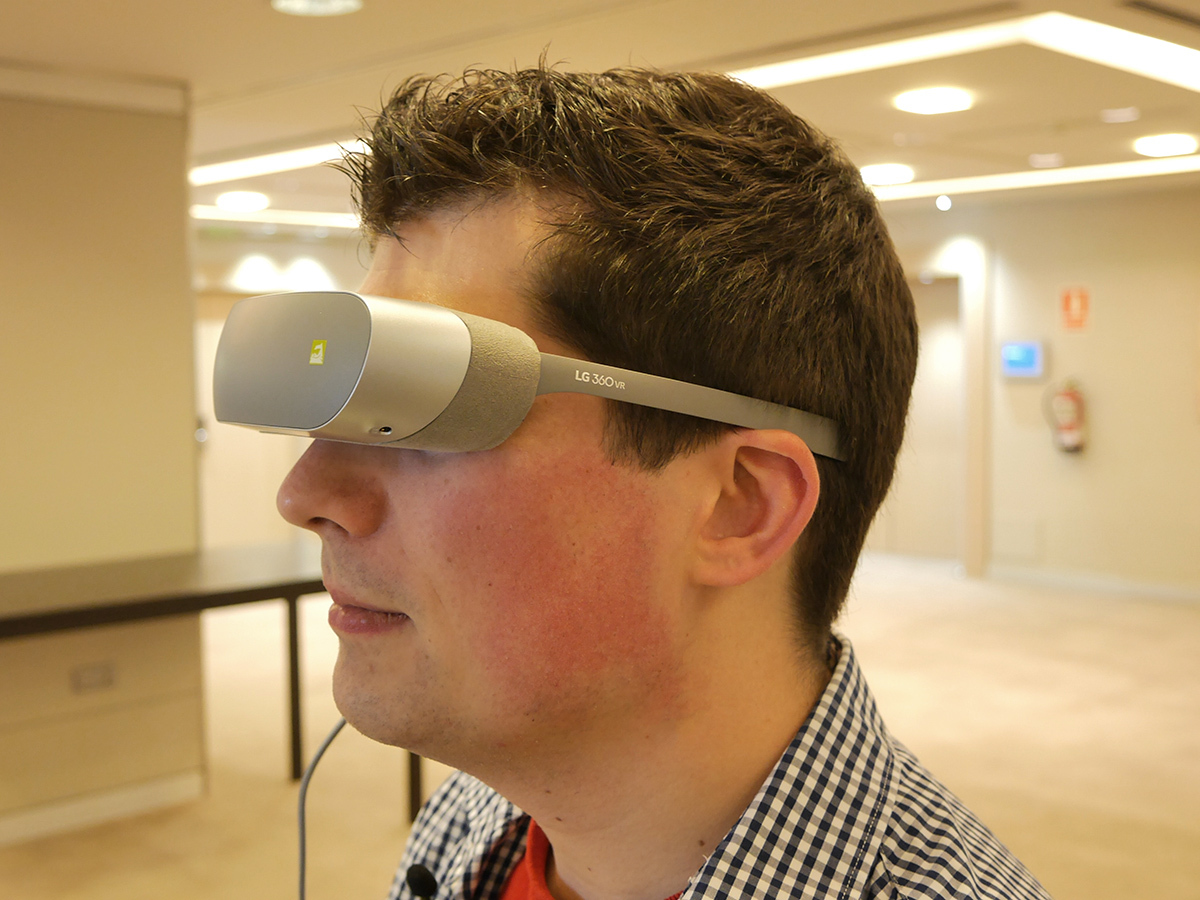 It's got a headphone jack for wiring in your own pair of headphones, as well as a speaker for when you aren't out in public. You could pair some bluetooth buds to your phone and listen in that way as well.
LG's Friends manager app controls it all, automatically detecting and lauching whenever you plug in and power on the headset. It works with the Rolling Bot and 360 Cam too, so all your accessories are in one place.
The 360 VR will be just for the G5 right now, but other LG phones could follow in the future. It's still very much a work in progress right now, but will likely launch after the G5 arrives in early April.