Go to work on an egg with the Hyundai E4U
Say hello to your future ride – egg-shaped concept travel pods are the hit of the Seoul Motor Show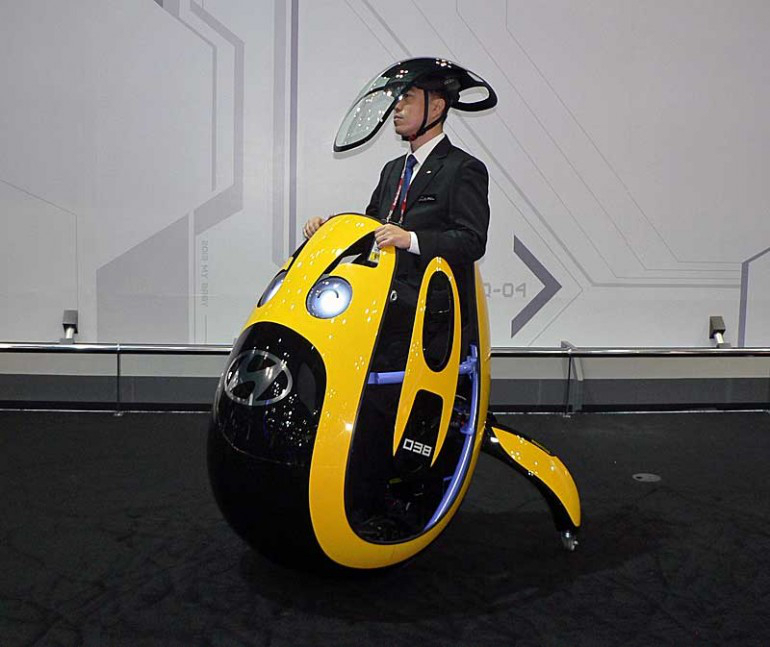 Easter weekend's over, but it seems Hyundai missed the memo – it's just taken the wraps off the E4U 'personal mobility vehicle' at the Seoul Motor Show. Frankly, we think they've cracked.
The Hyundai E4U is the company's Advanced Design Departments' latest concept  for personal travel, featuring a rather unique windshield/helmet combo and bright yellow egg-shaped body that completely surrounds the driver. The top of the vehicle can be removed and worn as a helmet, because by this point you're already inviting the scorn of passersby, so why not go the whole hog?
Like the Segway, the E4U is steered using the drivers' body – by pressing your feet to the floor in whatever direction you want to travel. The left foot controls forward movement, with the right foot controlling backwards movement. A rotating unit on the base of the E4U's egg-shaped body reacts to your directions to tilt the E4U off its two safety wheels, housed in the legs that protrude out the back. The vehicle is static when standing vertically, and moves at around walking pace. Which does rather beg the question: why not just walk?
New Google Nexus 7 to go on sale in July?
Smell-o-vision TV pumps scents into your nostrils