Fully Charged: Assassin's Creed Unity delayed, Dyson teasing likely robotic vacuum, and Harmonix making music-centric shoot-'em-up
It's Friday. Let's do this. Catch up on the morning's myriad news bits within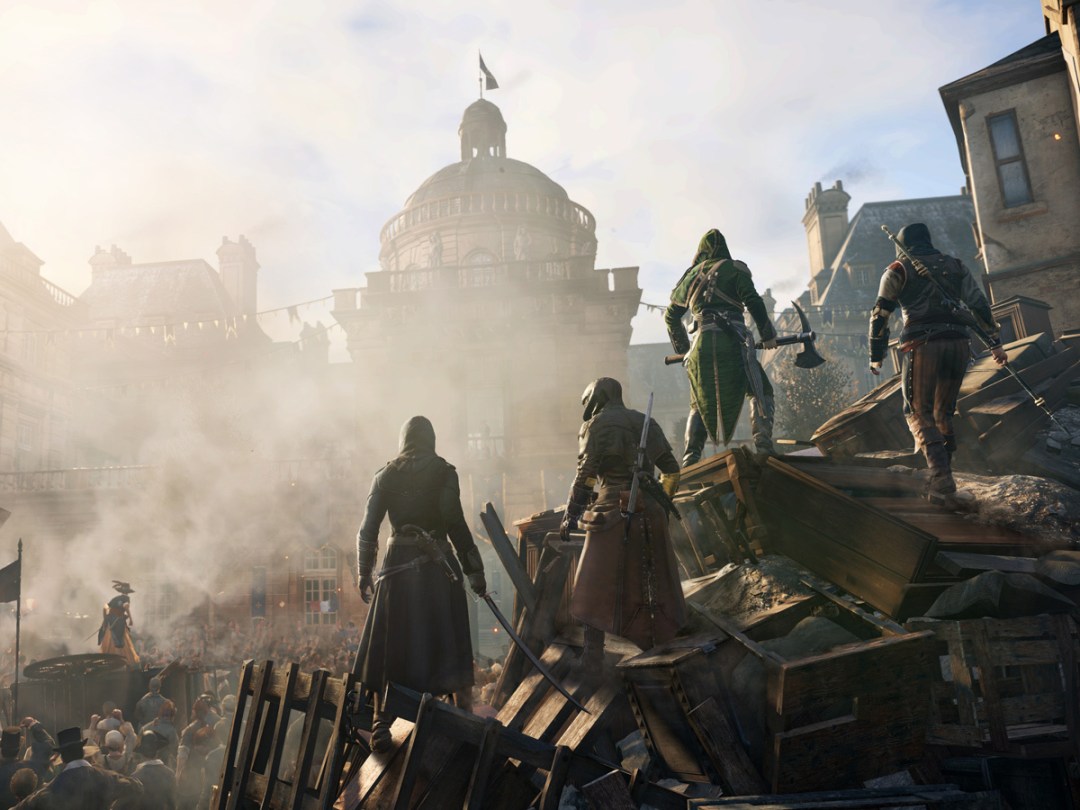 Assassin's Creed Unity pushed into November
With a truly new-gen engine plus online co-op campaign action and overhauled gameplay systems across the board, Assassin's Creed Unity looks to be the biggest shake-up for the series since it debuted in 2007. And with that big shift now comes a short delay to finish polishing the game for launch, and Unity will now miss its late October release date.
Unity will instead launch on 13 November across Europe (two days earlier in the States) for PlayStation 4 and Xbox One, and when players fire it up for the first time, they'll be prompted to download a day-one patch that loops in even more enhancements that didn't make it onto the disc.
The separate Assassin's Creed Rogue for Xbox 360 and PlayStation 3 was supposed to follow Unity's launch by a couple weeks, but now it will release on the same date, seeing a two-day delay from its previous 11 November target.
[Source: UbiBlog]
READ MORE: Assassin's Creed Unity preview
Dyson teasing long-in-development new tech
iRobot's got a lock on the automatic robotic vacuum market with the Roomba, but what if Dyson's powerful tech and ingenuity sent a charge into the industry? That may happen soon if this teaser video is to be believed. It seems to show an omnidirectional camera, and you can see a floor-based robot skitter by at one point, with another portion blocking out something small on the ground – possibly the finished product.
Dyson says it's invested some £28 million in this project N223, with 200 engineers working on it for 16 years. So yes, it appears to be a rather significant launch for the company. Might this take automated vacuums to the next level with Project Tango-like mapping, or some other kind of advanced functionality? We'll find out on 4 September.
[Source: YouTube]
READ MORE: Dyson's greatest inventions, from the Ballbarrow to the Airblade
Harmonix announces music-based shoot-'em-up
Since putting the Rock Band franchise to sleep for a while, Harmonix has pursued a much more diverse array of titles – while thankfully still maintaining its unique, music-focused core. That's true again with A City Sleeps, a twin-stick shoot-'em-up due out for PC and Mac this autumn.
A City Sleeps has the bullet hell-style intensity of Ikaruga and other genre favorites, but packs in an anime-style aesthetic and ties the music into the gameplay, building up the soundtrack as the chaos unfolds on the screen. It'll debut on Steam for just US$14.99 (about £9) come October, and you can pre-order it now to get it even cheaper.
[Source: Steam]
READ MORE: Fully Charged: Possible Surface Mini event dated, Nokia funding car tech, and the return of Harmonix's Amplitude