Find your next aural upgrade: Headphone megatest in the latest issue of Stuff Magazine!
The April issue of Stuff Magazine is available online and from all good stores now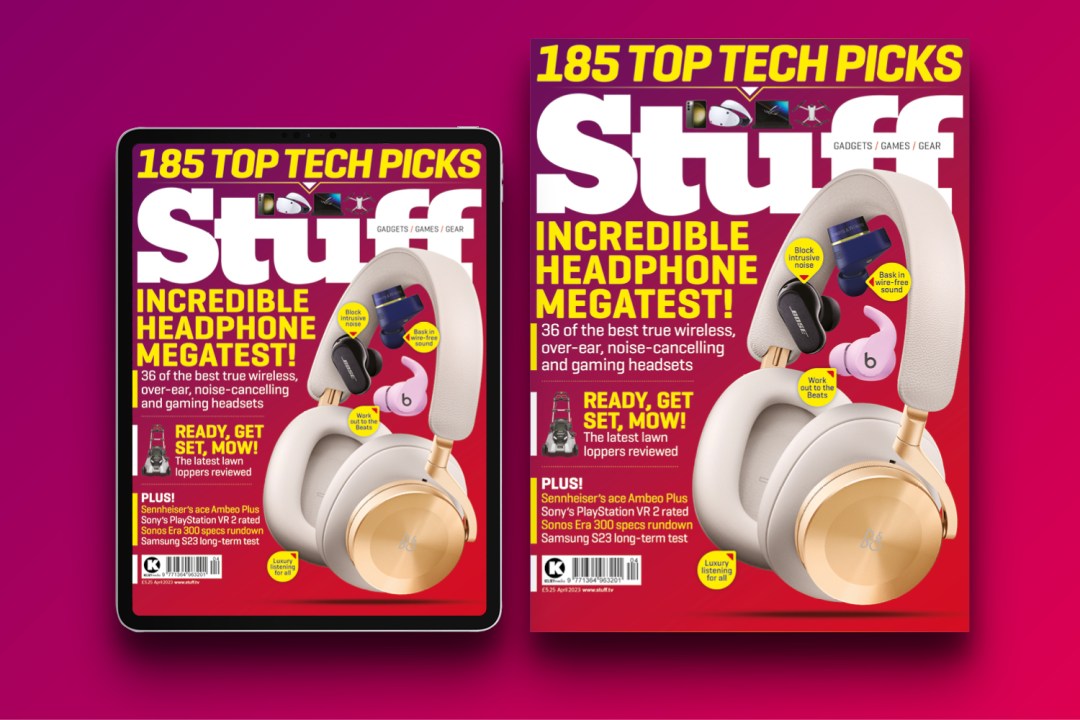 Whether you're treating your ears to an audiophile update, want something to soundtrack your workouts, or are desperate to drown out the noise of your fellow commuters, we've got you covered in the new April issue of Stuff magazine. Our 16-page headphone mega test looks at every category, from true wireless 'buds and fitness-focused in-ears to ANC over-ears and luxury cans.
We've also picked our favourite pairs for gaming, and picked the best accessories to help step up your listening experience. That's just the start, too: this issue also uncovers the best electric lawnmowers to have your garden looking its best in time for the warmer summer months, and we strap on PlayStation VR 2 for a first look at the future of console virtual reality.
Elsewhere we put the Galaxy S23 under the microscope, in order to see whether Samsung's latest superphone can compete with big hitters from the likes of Google, Apple and more. Then we chart the history of the Galaxy handset in our latest Tech Titans feature, picking the best (and poking fun at the worst) entries over the course of its lifetime.
There are also in-depth tests of the Panasonic Lumix S5 II full frame digital camera, DJI Mini 3 drone and Oculus Quest Pro mixed reality headset. Then we annoy the neighbours by pushing the Sennheiser Ambeo Soundbar Plus to its limits. All in the name of testing, of course.
If PSVR 2 wasn't enough gaming for you, we also went on a historical tour of rural Japan in Like a Dragon: Ishin. As well as a name change, the latest entry in Sega's long-running Yakuza franchise swaps 1980s organised crime for 1800s samurai culture – but don't worry, the zany minigames are all still present and correct.
Soviet alt-history sci-fi Atomic Heart then tries to scratch that Bioshock itch, and we reach for our trusty plasma cutter once again in the much-anticipated Dead Space remake. Plus you could win a Bowflex Max Trainer M9 workout machine worth £2399 in our competition!
Stuff Magazine is the world's best selling gadget magazine, covering all the latest and greatest gadgets and gear that money can buy.
Want more? Check out our latest reviews