E3 2010 – PlayStation Move date, price, games and gun
Sony has announced the release date for PlayStation Move, unveiled a gun attachment and confirmed a number of titles that will be compatible with the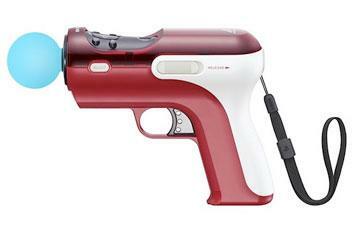 Sony has announced the release date for PlayStation Move, unveiled a gun attachment and confirmed a number of titles that will be compatible with the new control system.
The PlayStation Move will be on sale in the UK from 19 September and is already on pre-order at play.com and amazon.co.uk.
A bundle including one Move motion controller and the PlayStation Eye camera will cost £49.99, a separate Move motion controller is £39.99, and a separate Move navigation controller (the one with the analog stick) is £29.99.
To stave off carpal tunnel syndrome in games like SOCOM and Killzone 3, a "shooting attachment" (pictured) has also been unveiled – and it looks brilliant. Like a Martian ray gun styled in the '50s. It should set you back under £15.
A host of titles compatible with Move have also been announced. Atmospheric adventure game Heavy Rain will be getting a Move makeover, while upcoming titles such as LittleBigPlanet 2, Killzone 3, MotorStorm Apocalypse, Sly Collection, Gran Turismo 5, Crysis 2 and Mortal Kombat will also work with Move.
Meanwhile the PlayStation Plus subscription service is due to launch on 29 June, costing £39.99 for 12 month subscription, £11.99 for 90 day subscription. Sony reckons that £39.99 will give you content worth at least £200. Subscribers will also get PlayStation store discounts, early access to demos, automatic system updates and one hour trials of Playstation Network games and Blu-ray releases.
More E3 and gaming:
E3 2010 – Nintendo 3DS finally lands
Gaming flashback – Legend of Zelda
Gaming greats – Oddworld: Abes Oddysee