Apple iPhone 5 vs HTC One X
HTC's potent One X gets down and dirty with the iPhone 5 in the smartphone arena. Let's get ready to rumble...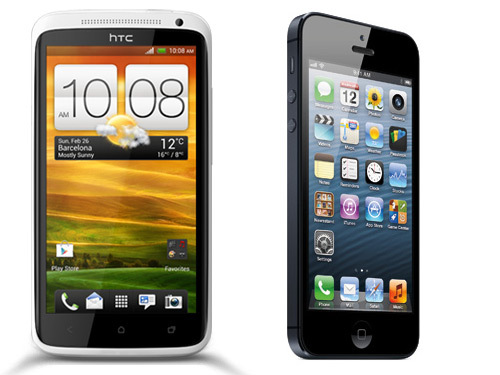 Apple iPhone 5 vs HTC One X – design and build
Apple's latest iPhone 5 continues the famed build quality that made the fruit giant a favourite the world over. Two versions are available in anodised black and aluminium white – both of which have a build quality that's well ahead of the competition. Put simply, you won't want to put the iPhone 5 down, if you can help it.
The polycarbonate One X on the other hand might not have fancy glass or aluminium, but its single piece polycarbonate body is just as solid, with the right amount of curves to sit nicely in the hand. Overall though, you just cant beat the shiny precision of Apple's lovingly crafted iPhone 5.
Apple has also jumped into the headphone battle, that HTC introduced with Beats cans, by adding EarPods – Apple's improved in-ear phones that are bundled for free.
Apple iPhone 5 vs HTC One X – screen
Once again Apple has crammed in a stunning 326ppi while increasing the screen to 4in and adding 44 per cent more colour saturation. The One X's Super LCD 2 screen in all its 4.7in glory squeezes a little less pixels out with 312ppi. We're swaying on the resolution beating the size advantage but that could well be a matter of personal preference to most gadgeteers. There's no denying that the iPhone 5's 4in screen will be easier to use for small-handed users.
Apple iPhone 5 vs HTC One X – OS and power
iOS 6 has yet to be fully tested against the ever increasing might of Android but it's certainly raised its game with turn-by-turn and 3D map navigation and deeper Facebook and Twitter integration – all powered by an A6 processor that's twice as fast as the iPhone 4S' A5 offering.
UPDATE: The iPhone 5's A6 processor has been benchmarked online and has shown to beat all the competition including the Samsung Galaxy S3 and HTC One X. Not by a massive margin mind, but enough to prove that more cores aren't always the answer. Tight software/hardware control as seen with Apple and the iPhone/iOS combo does also make a difference. Watch this space for a full review.
Read our iOS 6 need to know guide
The HTC One X is still rocking the now-familiar Ice Cream Sandwich iteration of Android, juiced up with HTC's Sense 4.0 enhancements. Disappointingly there's no confirmation of a Jelly Bean update for the One X as of yet, but its quad-core Tegra 3 processor should eat through anything you throw at it with little trouble at all.
Apple iPhone 5 vs HTC One X – camera
The iPhone 5 has got an 8MP backside illuminated back camera with a 720p front-facing snapper. But HTC really took its 8MP camera to another level by offering an f/2.0 aperture for brilliant night shots and rich colours. Plus innovation like built-in panormama (which Apple has finally added) and shooting pictures while filming mean the One X takes this title for innovation.
Apple iPhone 5 vs HTC One X – verdict
While the HTC One X is a brilliant phone with a top display, amazing camera, and quad-core processing powers, the iPhone 5 has closed in the the gaps on the spec sheet, with the addition of its unrivaled build quality. For Apple fanboys it's an easy choice but if you're an Android fan the One X provides plenty.
You might also like
iPhone 5 adapter will cost you a cheeky US$30
Apple iPhone 5 – need to know