Amazon's Fire TV box is a movie streamer, games console, babysitter and more
UPDATE 23/10/14: The Fire TV hits the UK today, with an £80 price tag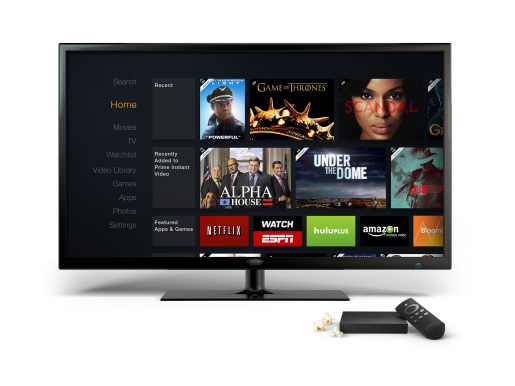 After months of rumours, Amazon's set-top box has been revealed at last. And at first glance it's a feature-packed entertainment monster.
For starters, it's one of the most powerful set-top boxes around, despite its little-black-box appearance. A quad-core processor, dedicated graphics chip and 2GB of RAM make it, according to Amazon, three times more powerful than rivals such as the Roku and Apple TV. It's basically a high-end tablet, minus the screen.
As with Amazon's Kindle Fire tablet range, the Fire TV runs on a very heavily modified version of Android, which means no full Google Play Store experience. 
Luckily, Amazon's App Store isn't left lacking for content, and lack of the full Google Play library is likely to be less of a problem for a set-top box than it would be for a tablet.
Update 23/11/14: This article has been amended with a UK release date and price tag. 
Game on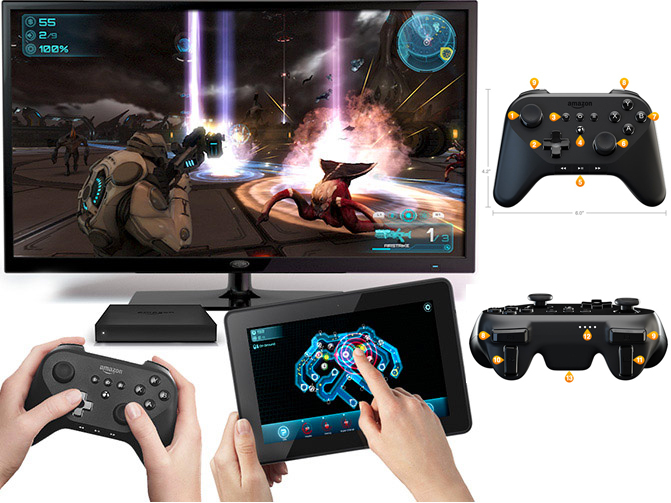 Let's just jump straight to the main course. All that power means that, yes, the Fire TV can play games, and there's a dedicated US$40 controller to take advantage of it.
Aimed at people who'd prefer to play mobile games on the big screen, the Fire TV has thousands of existing games to choose from, with big names like Minecraft and Asphalt 8 among the A-list titles.
Amazon Game Studios also introduced its first game, Sev Zero, a first-person alien shooter with tower defence elements.
The controller itself has all the usual buttons and sticks, along with media playback controls.
Voice search at last
The Fire TV also has another impressive accessory – a bundled remote – which has a built-in microphone for voice search.
That means no more pecking way at individual letters painfully slowly like on the Roku or Apple TV. Simply say the name of an actor, show or movie, and you'll be presented with the search results instantly. Bliss.
There are tonnes of services to choose from too. Amazon Prime Video is naturally one of them, but so is its rival Netflix, along with Hulu, Vimeo, YouTube and more.
Tasty extras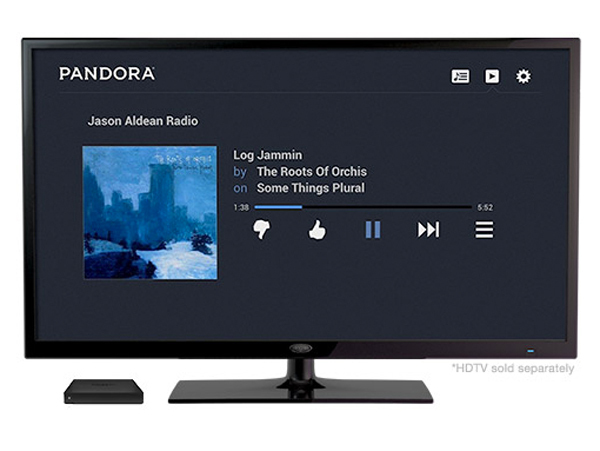 One feature we're looking forward to testing out ourselves is called ASAP. It learns and predicts what content you like and caches it in the background when idle, meaning instant playback without any buffering.
IMDB integration is also on the cards in the form of an 'X-Ray' feature, allowing you to read up about on-screen actors during movies on your Fire HDX tablet.
Other extras include Music in the form of Pandora, iHeartRadio, TuneIn and music purchased from Amazon itself. You can bring up lyrics of songs you're listening to with X-Ray as well, which is handy for spontaneous karaoke nights, if you're into that sort of thing.
Edit: Certain services like Pandora and Hulu won't be available for UK users, so it's worth double checking if there's a specific service you're after to avoid disappointment.
Child friendly
FreeTime, the Kindle Fire HDX feature which limits children's gaming and video-watching activities also returns, making sure that little Timmy doesn't get too distracted by blasting aliens instead of finishing off his homework.
FreeTime mode also serves up a simpler child-friendly interface with whole host of free children's content from Sesame Street, Nickelodeon and more. FreeTime mode needs a password if you want to revert to the standard interface, for extra peace of mind.
Price and release date
The Kindle Fire TV will be shipping in the US from today, for US$99. We've contacted Aamzon with regards to UK pricing and release dates and were told that "Fire TV is not available outside the US at this time and we're not able to speculate on future plans".
We'll keep you posted, as always.
Update 23/11/14: The Fire TV is available for UK gadgeteers to snap up from Amazon right now, for £80.
READ MORE: Amazon Kindle Fire HDX review