8 things you need to know about the Oculus Rift consumer VR headset
Oculus VR just revealed the real deal, and these are the essential details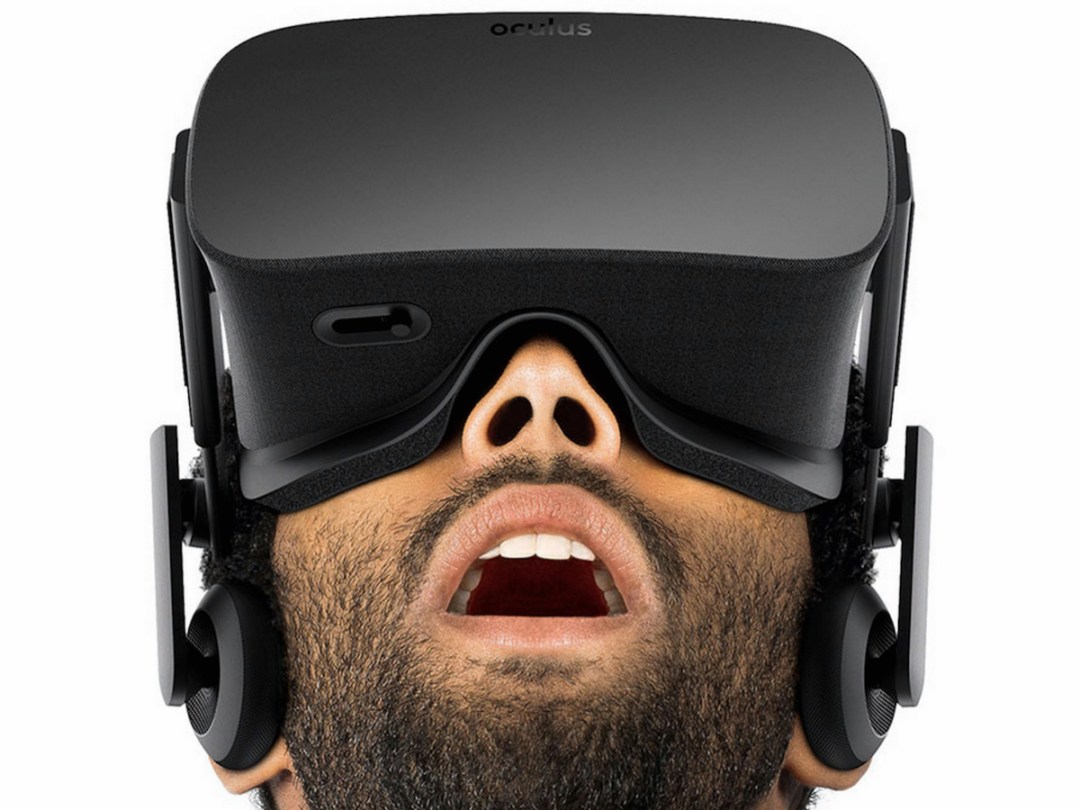 After several hardware revisions and a seemingly endless stream of hype, the Oculus Rift is finally coming to market in early 2016 – and the consumer version of the VR headset was just shown off this evening ahead of E3 next week.
What have we learned about the final product? Not everything, but plenty: we've seen the build and components of the proper release, we finally know how you'll control the games and apps, and we found out some surprising new details – like Xbox One compatibility (sort of).
Want to get up to speed in a hurry? Here are the eight things you need to know about the consumer version of the Oculus Rift.
1. This is the headset
This is the Oculus Rift you'll be able to buy in stores next year. It's very similar in form and function to the Crescent Bay prototype seen before, and features two OLED screens within – one for each eye – that Oculus CEO Brendan Iribe says deliver no motion blur or judder as you look around. "Maybe not as high of resolution as you want on day one, but this is the beginning, and it really delivers that magic of presence," he added. Official specs aren't yet available.
Additionally, the headset has built-in headphones that deliver spatial sound, but they can be removed if you'd rather use your own. And the new constellation tracking system uses an array of sensors that help the tracking device (which sits on your desk) read its movements.
2. The right fit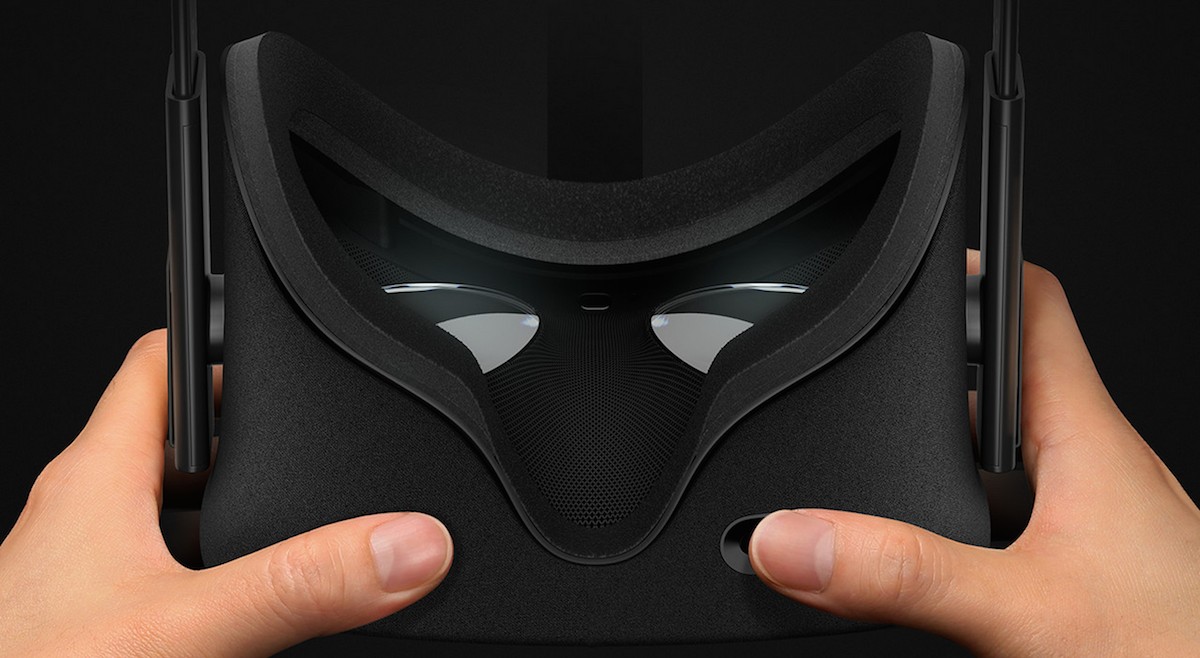 When you're strapping a VR headset to your face, fit and feel are absolutely essential details that much be executed perfectly. Luckily, the Rift looks like it's keeping all of that in mind. The adjustable strap doesn't pull against your face, and Uribe says you'll "put it on like a baseball cap." Likewise, it can be pulled off with ease.
The consumer version is designed to better accommodate glasses, as well, and it has a dial that lets you adjust the lens distance for the perfect view into the virtual worlds. Also, it's wrapped in fabric, so it feels a little nicer than a mostly plastic-and-metal device otherwise might.
3. Familiar controls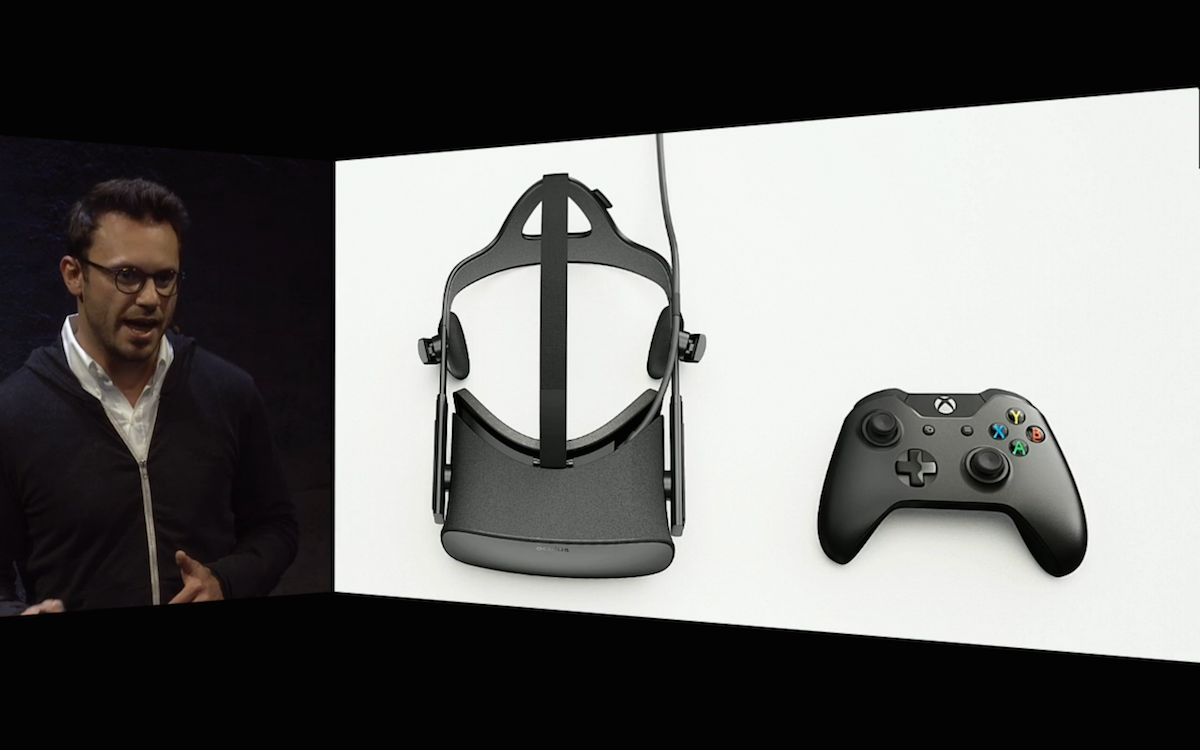 Is that an Xbox One controller? Surprise! Oculus has teamed up with Microsoft to include a wireless Xbox One gamepad with every Rift headset, which provides gamers with a familiar input device for controlling games and experiences.
Granted, an Xbox controller is still pretty complex for non-gamers to use, which could be a problem when your gran tries to strap in for a demo. But it's not the only input option that will be available (at some point), as you'll discover later in this list.
4. Xbox One and Windows 10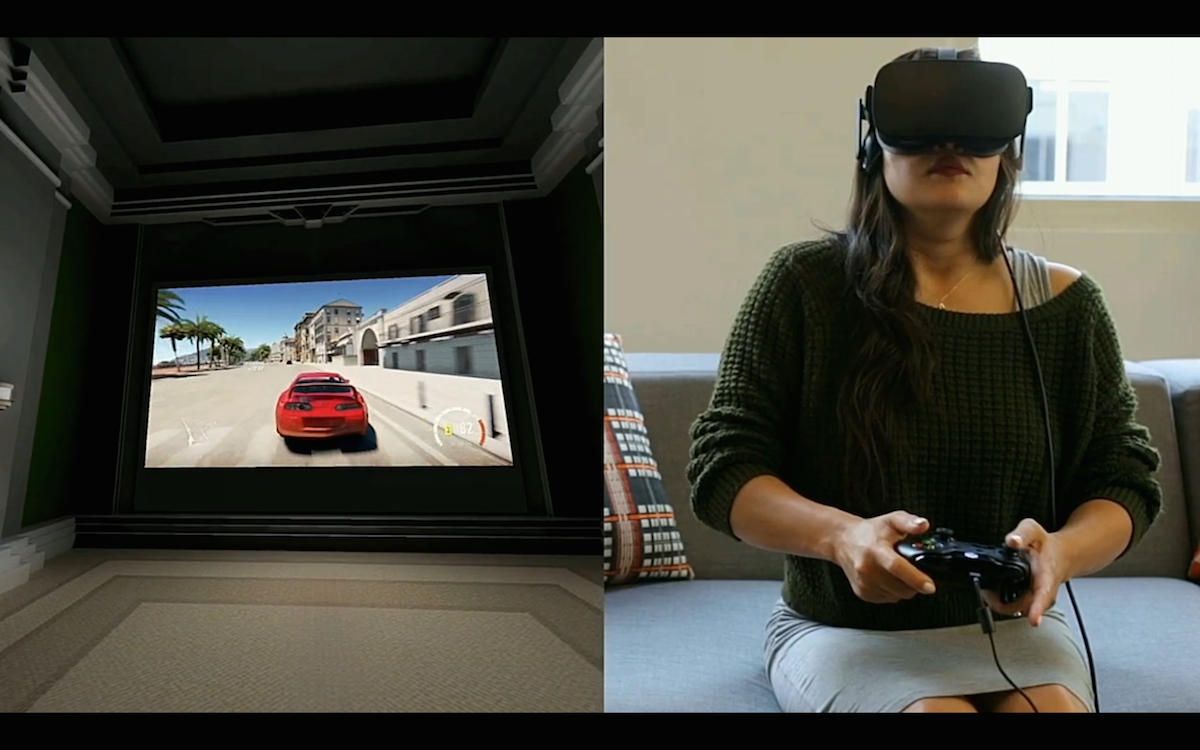 Sony has its own Project Morpheus headset for PlayStation 4, but rather than compete on that level with a specialised headset, Microsoft has thrown its lot in with Oculus (at least for now). You'll be able to stream games from your Xbox One over to a Windows 10 PC and play them in something of a virtual viewing room, with the game displayed on a faux TV on a digital wall.
It's not the same as playing an Xbox One game in full-frame VR, but it strikes us as a first step towards something more down the line – like plug-and-play direct compatibility with Xbox One, we hope. And the Rift is natively compatible with Windows 10, as well, with DirectX 12 designed to boost performance for Rift games.
5. Oculus Home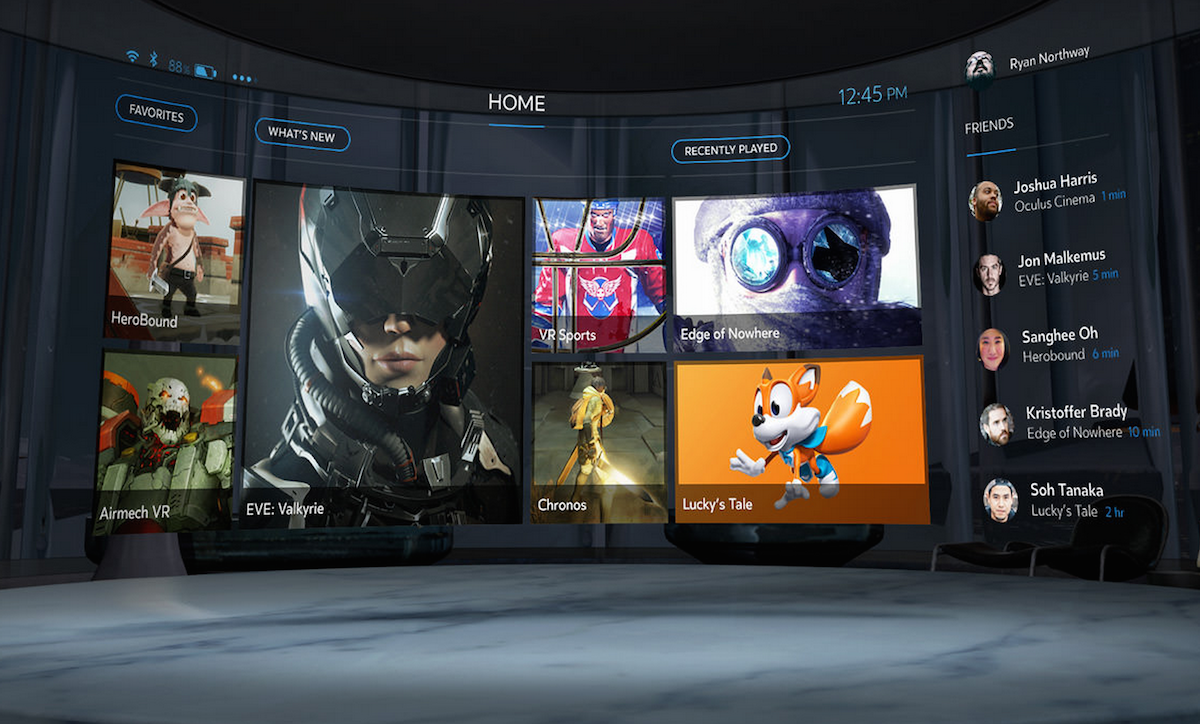 Oculus already has experience creating a proper VR launcher, thanks to its collaboration with Samsung on the Gear VR, and now it will apply that knowledge to the Rift. Oculus Home serves as the jumping-off point for the headset: it's a dashboard that offers easy access to games and media, as well as your friends list and more.
And it'll work both in VR and on your computer screen, in case you'd rather navigate in 2D before jumping in. Home will also have free previews of VR games to try, so you don't have to take a stab on premium games without knowing how they'll feel in VR. That's important.
6. Exclusive games
Oculus showed off games like the stunning space shooter EVE Valkyrie and cartoonish platformer Lucky's Tale, but also spotlighted a couple of brand new exclusives: Chronos and Edge of Nowhere.
Chronos is an atmospheric action-RPG from former Darksiders developers at Gunfire Games, and it sends you into a dragon-housing labyrinth that only unlocks once per year. If you fail, you'll try again the following year, but a year older and wiser – and with new abilities that unlock over time. It looks really neat, and the aging mechanic could be a fantastic twist.
Edge of Nowhere, on the other hand, is a third-person adventure that finds you in arctic terrain, evading fantasy creatures while dealing with death-defying scenarios. It's from Ratchet & Clank creator Insomniac Games, which already has our attention, and looks like a potentially captivating affair. And yes, non-first-person games should still be amazing in VR.
Additionally, Oculus is committing US$10 million (£6.4 million) to indie developers who bring their games to the Rift, so that's a nice bit of incentive for any studios thinking about taking the VR plunge.
7. Oculus Touch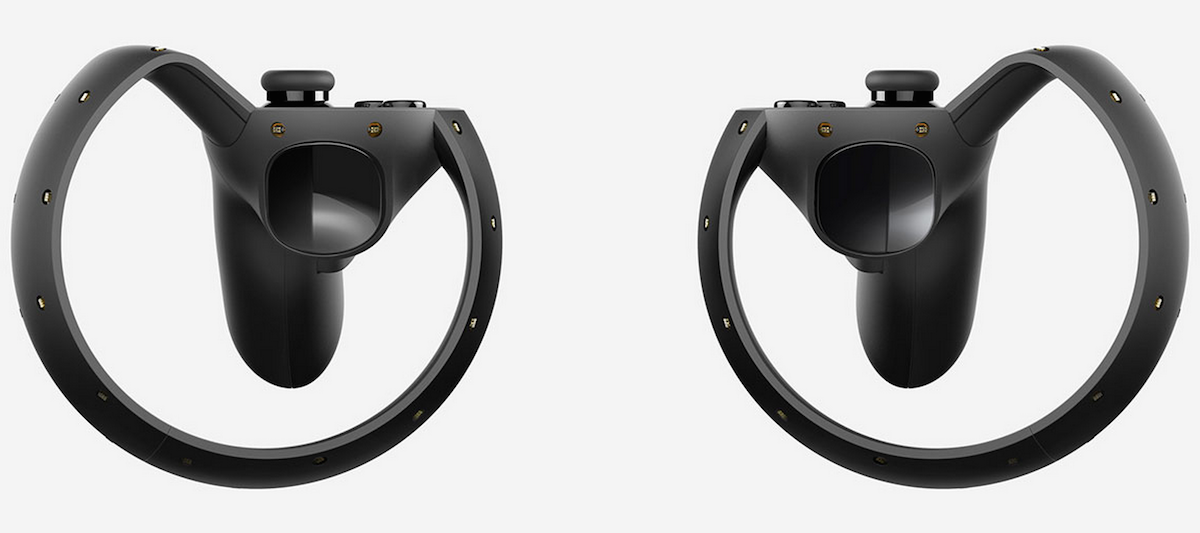 The Rift will launch with the Xbox One controller included, but Oculus has something else in mind – "next-generation inputs," as they described them. Oculus Touch comprises a pair of controllers that include traditional buttons and sticks, but also precisely tracked components.
They have an external ring of trackers that not only give you that feeling of presence in the world that Oculus is pushing, but also let you perform trackable hand gestures within the ring. Details are thin for now, but the version shown isn't final, and it sounds like they probably won't be available at launch. They will be playable at E3 next week, however.
8. When it's coming
Unfortunately, Oculus didn't note a price for the Rift at today's event – although we've heard that an investment of about US$1,500 (about £965) will be needed between the headset and a capable computer. Of course, if you already have a Windows PC that fits the bill, you'll pay much less for the headset alone.
We know that it's coming in the first quarter of 2016, however, so if you're eager to be on the bleeding edge of VR fun, start saving now: the Rift is mere months away from transforming your gaming experience.