The 6 biggest announcements from Microsoft's 2019 Surface Event
Dual-screen devices, saucer-shaped earbuds, and a Surface Pro X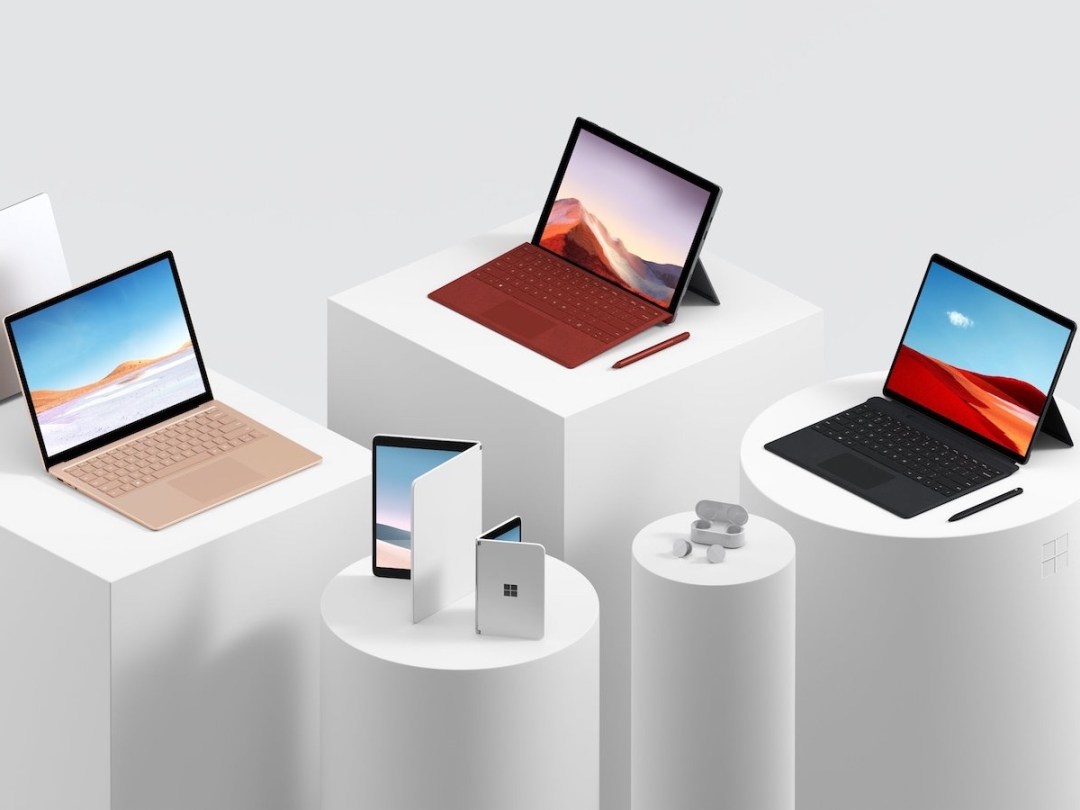 Microsoft just unveiled its autumn slate of new Surface devices – and while it seemed to be a conservative showing at first, the company had one heck of a "one more thing" on the backend.
Actually, it was two more things – each with two screens. The Surface Neo is a stunning concept of a hybrid tablet experience, while the similar-looking Surface Duo distills that kind of design into an Android smartphone experience.
Those devices won't ship until 2020, but this year still has some compelling devices – the new Surface Pro X and Surface Earbuds, as well as the refreshed Surface Laptop 3 and Surface Pro 7. Here's everything you need to see from today's event.
1) Surface Neo
Microsoft's Surface brand will take on a much different form in 2020 with the introduction of the Surface Neo, a dual-screened tablet that supports a variety of form factors. Armed with a pair of 9in displays that collectively form a single 13in image, the Surface Neo also has a fold-out physical keyboard that can also detach, as well as a stylus that magnetically attaches to the back.
It looks lovely, and the rejiggered Windows 10X shows that Microsoft is putting a lot of work into making sure it all flows smoothly. The Surface Neo is still a year away, so we don't yet have a line on specs or price, but we imagine it won't come cheaply at all.
2) Surface Duo
At a glance, the Surface Duo is ostensibly a shrunken-down Surface Neo. Sure. But it's also quite different: it's a smartphone. And it's powered by Android, believe it or not. So it's not quite the Windows Phone revival that a few of you might be clamoring for, but it does mark a compelling return to the world of smartphones for Microsoft.
The Surface Duo is somewhat similar to Samsung's Galaxy Fold, albeit with two 5.6in displays that combine (with a little gap in the middle) to form an 8.3in total view, and it supports the same kind of form factors as the Surface Neo. Like the Neo, it ships for holiday 2020, and we don't have all of the hard details or pricing just yet.
3) Surface Laptop 3
The Surface event wasn't entirely forward-looking, as the company also updated its core products for release in the coming weeks. The Surface Laptop 3 is one of those offerings, now available in both the familiar 13.5in size and a larger new 15in option. Both are available with the fuzzy Alcantara finish as the previous models, or smooth aluminium polish if you please.
Otherwise, the upgrades here seem to be relatively modest in nature, but surely appreciated. For example, the Surface Laptop 3 now has USB-C ports alongside USB-A, as well as fast charging, plus it has a larger trackpad as well as twice of the speed of last year's model thanks to 10th-gen Intel Core processors. Also, in a neat repairability tweak, the keyboard/trackpad cover can be easily removed to access the internal components.
We don't have UK pricing yet, but they'll start at for US$999 (13.5in) and US$1199 (15in), respectively. They'll hit stores on 22 October.
4) Surface Pro 7
In case you've lost track, indeed, Microsoft is up to the Surface Pro 7 now. Like the Surface Laptop 3, this upgrade is a relatively modest one, but we'll take the tweaks. The biggest is the addition of a USB-C port, which was an odd omission from past models, plus it has improved studio microphones built in. It doubles the speed thanks to the 10th-gen Intel Core processors, as well.
And we could actually see a lower price this time around, as the US$749 should still land below the Surface Pro 6's £879 starting price once we get UK pricing. Why drop the price? Well…
5) Surface Pro X
Ta-da. Microsoft has a brand new Surface Pro, and while it keeps some of the DNA of the main numbered line, the Surface Pro X is actually something quite different.
It chucks Intel processors to the curb in favour of a Qualcomm co-designed Microsoft SQ1 ARM-based chip, but tuned to a much higher wattage than the kinds of chips seen in smartphones. According to Microsoft, that means fantastic battery life alongside still-strong power, but we'll have to see how that pans out in the real world.
Still, they showed Adobe's Creative Cloud apps running on the Surface Pro X, and it'll have the full Windows 10 experience onboard. Thinner bezels and a larger 13in screen (at a crisp 2880×1920) provide a pretty sleek-looking device, plus the ability to tuck the new Surface Slim Pen stylus inside the gap between the tablet and the Type Cover keyboard is super smart. It'll even charge while sitting there.
The Surface Pro X starts at US$999, however, so it's a pricier proposition than the Surface Pro 7. It rolls out on 5 November.
6) Surface Earbuds
Just days after Amazon announced its own wireless earbuds, Microsoft has followed suit – and these AirPods rivals are certainly distinctive.
They look like little discs floating inside your earholes, but promise what Microsoft calls "omnisonic" sound. Better yet, that surface (ahem) is practical too, since you can tap and swipe to control and launch certain apps. They also have one-click pairing to Windows 10 devices, as well as integration with Office 365 and live translation in PowerPoint.
Like AirPods, they come in a charging case – and it's said to provide up to 24 total hours of playback between charges. Microsoft is aiming higher up the price scale with its Surface Earbuds, however, which sell for US$249 and release for the holiday season.