25 best motorcycle movies ever
Get your motor runnin' and head out on the highway with our selection of the finest films on two wheels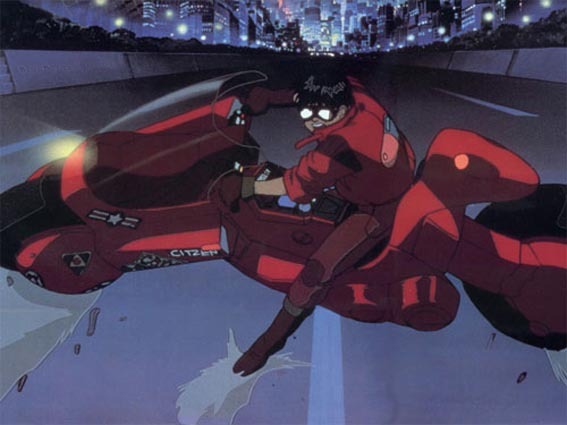 Like motorbikes? Then you'll love the following 25 movies that make two-wheeled machines the star.
TT: Closer to the Edge 3D (2011)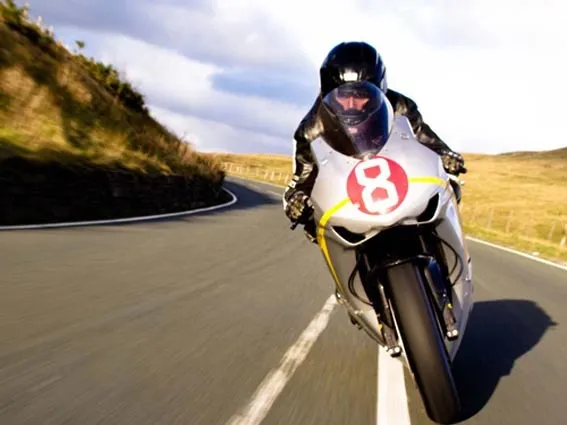 Featuring the unique character that is TT racer Guy Martin, this film really does take you closer to the edge – a couple of centimetres away from the kerb as you watch the young Northerner blast his way around the Isle of Man's roads at speeds where one mistake means serious injury or death. In 3D. Honestly, this race makes F1 look like a pillow fight on a bouncy castle.
Mad Max (1979)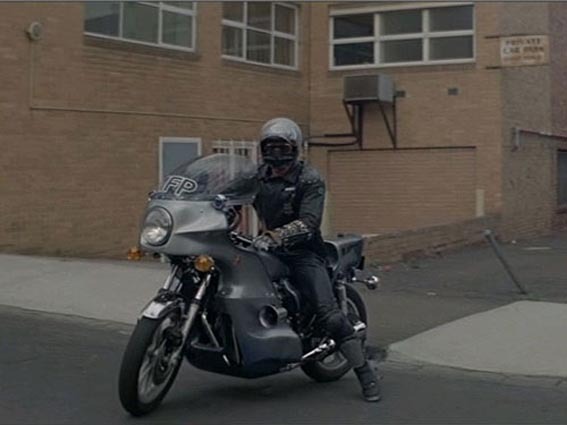 Mad Max is one of those films where the title describes the character perfectly. MFP pursuit cop Max loses his best friend, wife and baby in one day – unsurprisingly sending him over the edge, and setting up a plot filled to the brim with explosions, car and bike chases all served on a bed of ice-cold revenge.
Because of the film's low budget – Mel Gibson was an unknown at this point, remember – some of the police in the films had costumes made from vinyl, and Kawasaki donated the motorbikes, including Goose's de-badged 1977 Z1000.
On Any Sunday (1971)
In a similar vein to that of TT: Closer to the Edge, On Any Sunday is an Oscar-nominated documentary by Bruce Brown that looks at why motorcycle racers and enthusiasts risk their lives.
Featuring the legendary Steve McQueen, On Any Day may be 40 years old, but this is one fascinating look at motorbiking that's still relevant. Just don't blame us if you go out and buy a motocross bike after you watch it.
Terminator 2: Judgment Day (1991)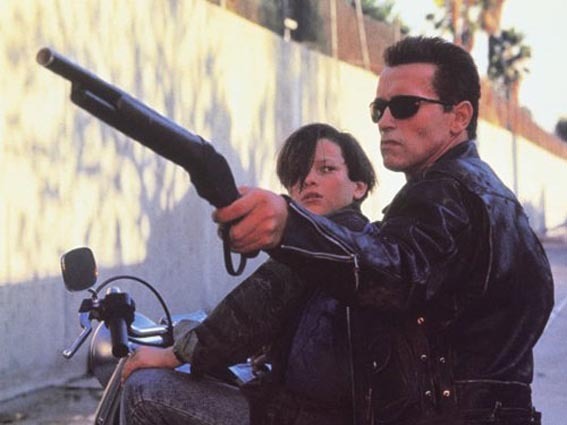 "I need your clothes, your boots and your motorcycle," says Arnie to a luckless biker, relieving him of his leathers and his Harley Davidson Fatboy. Although a big heavy hog wouldn't be our ride of choice if we were chasing after a dirt bike and a truck through LA's storm drains, he does look bad to the bone. And that white-knuckle chase scene isn't T2's only bit of two-wheeled action – the T-1000 later jumps a police bike out of a building and onto a helicopter.
Electra Glide in Blue (1973)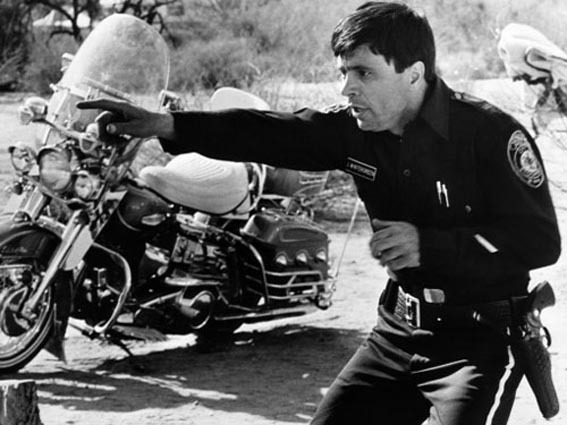 When pint-sized motorcycle cop John Wintergreen believes a suicide is a murder, he gets his wish and is transferred to the homicide division. Unfortunately, the satisfaction from his promotion is short-lived and so begins a slow descent to a famously tragic conclusion.
Such was his faith in cinematographer Conrad Hall, director James William only paid himself a salary of $1 to free up the budget needed. Now that's devotion.
The Wild One (1953)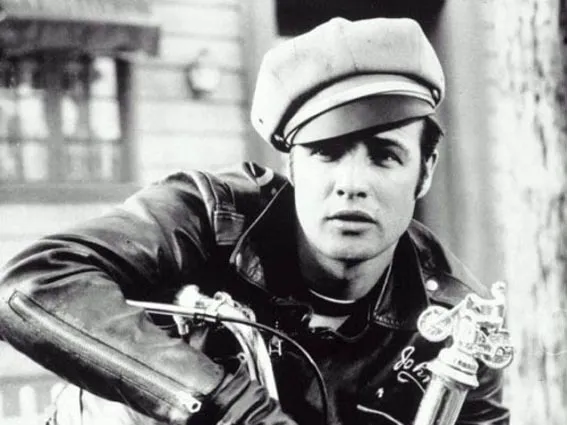 "What are you rebelling against?" asks a girl of Marlon Brando's surly biker Johnny Strabler. "What've you got?" he replies.
As a film, The Wild One is a bit of a feeble effort – two rival biker gangs clash in a town full of closed-minded locals, while Brando woos local girl Kathie. So far, so rote. But the image of Brando astride his Triumph Thunderbird became an icon of youthful rebellion, casting a long shadow over pop culture.
Stone (1974)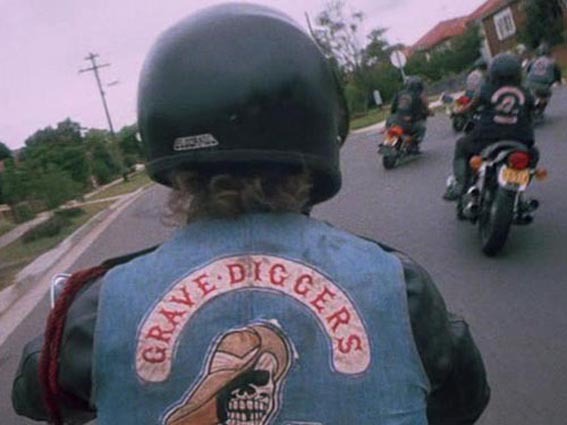 Another effort from the 1970s, Stone focuses on the members of the charmingly named Grave Diggers Motorcycle Club and why its gang members are mysteriously being bumped off.
The plot of this Australian cult classic is less important than the window it provides to a a time and place when consuming vast quantities of beer and motorbikes were the main things in life. Naturally, then, a film that was filled with Kawasaki Z900s – one of the most sought-after bikes at the time – was a biker's treat.
Dust to Glory (2005)
The Baja 1000 bike race depicted in the documentary Dust to Glory is a truly fearsome 650 mile slog through the Mexican desert. Filmed with a crew of 80 people, including four helicopters and fifty five cameras, this is the most in-depth look at this fascinating race and the legends who take part in it – as they tackle dangerous sand dunes and even booby traps setup by spectators.
The Girl on a Motorcycle (La Motocyclette) (1968)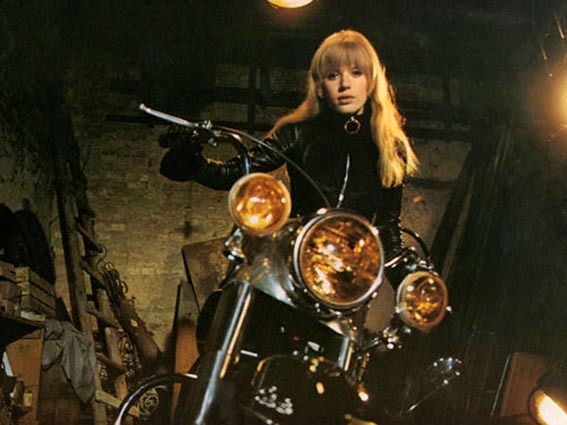 Jack Cardiff's slice of 60s psychedelia finds Marianne Faithfull zipping across France on her Electra Glide, en route to a liaison with her lover (Alain Delon). Neon-tinged flashbacks to her sexual liberation are a po-faced bid for profundity, but the film's US title – Naked Under Leather – shows that it's as much about titillation as it is about the ideals of the Summer of Love.
Indiana Jones and the Last Crusade (1989)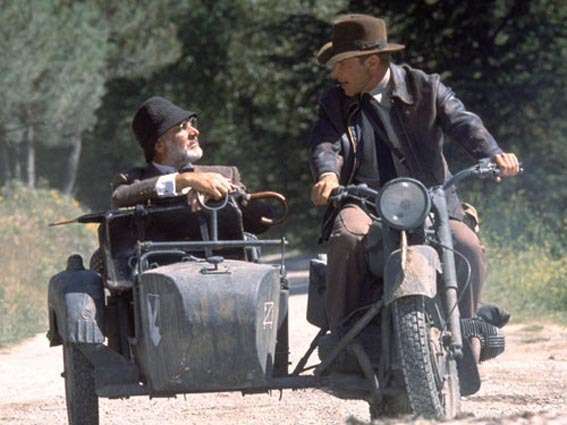 Indy and his father – played by Sean Connery, no less – pilfer a motorcycle and sidecar to make their escape from the Nazis. The villains send an entire squad of motorcycle outriders after the Joneses – who promptly fend them off with nothing more than a pole. Spielberg's third Indy film may not quite match up to the peerless Raiders of the Lost Ark, but the director has a gift for bringing classic adventure serial fare to the big screen.
Mission: Impossible II (2000)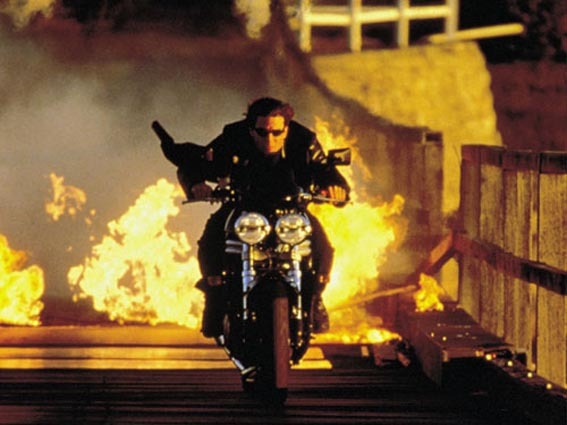 Tom Cruise's Ethan Hunt dukes it out with Dougray Scott's rogue IMF agent astride a pair of Triumph superbikes in ludicrously macho fashion. Director John Woo throws in every cliché in the book – though to be fair he invented many of them. Slo-mo? Check. Pumping rock guitars? Check. Explosions? Check. Pulling a stoppie for no very obvious reason? Check. Watch closely and you'll see that the bikes tyres change from slicks to off-road halfway through the chase.
Tron: Legacy (2010)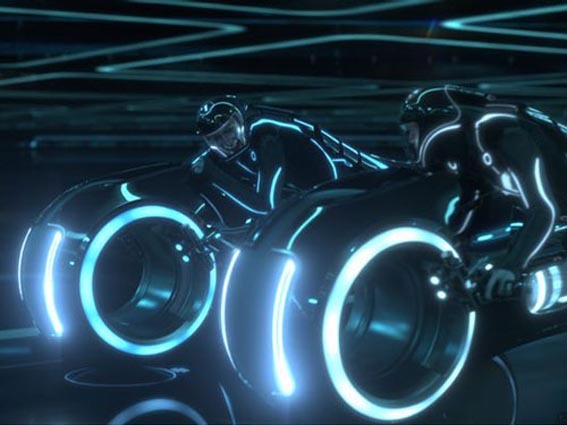 Apart from The Dude, a badass Daft Punk soundtrack and flying discs of doom, the best thing about Tron: Legacy has to be the Lightcycle bikes. These light-lined beasts produce a destructive field making their gaming arena lethally entertaining. The real-world version might not be so dangerous but its looks are still killer. To get an idea of the effort that went into creating spectacular CGI sequences like the lightcycle battle: this film was shot in 64 days, the special effects took 68 weeks.
Choppertown: The Sinners (2005)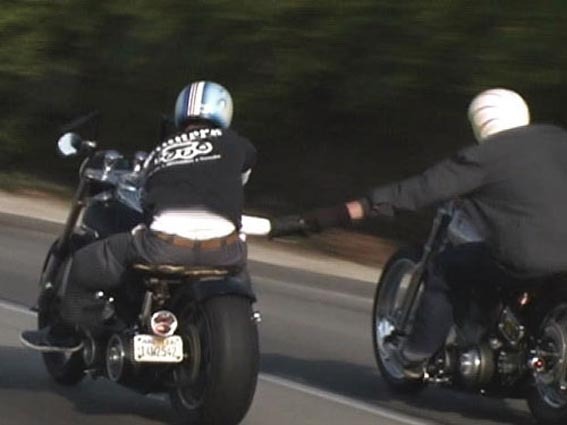 A multi-award winning documentary about The Sinners, a South California bike gang who love building their custom choppers, this is a refreshing look at the positive ethos that underpins the biker lifestyle – brotherhood and never having to grow up. We can relate, even if our tattoos are few and our bikes are all electric.
The Motorcycle Diaries (2004)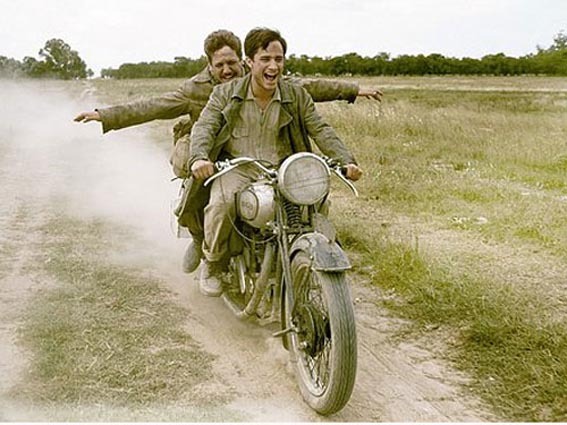 Before he was a revolutionary icon, Che Guevara – played here by Gael Garcia Bernal – was just a newly-qualified doctor with a motorbike and a hankering for the open road. His trusty Norton 500 motorcycle, christened La Poderosa (The Mighty One) lived up to its name – getting Che and his pal most of the way, until its breakdown slowed their schedule somewhat. But better late than never. After the film's release tour operators were inundated with travellers heading to Latin America.
Faster (2003)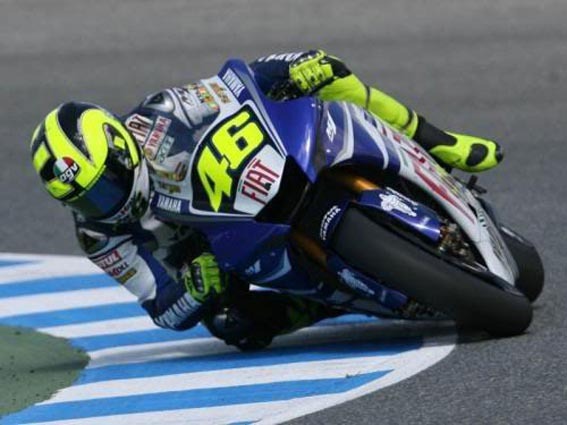 The first film documentary to delve into the high-speed, high-risk world of MotoGP. Valentino Rossi dominates the proceedings as the 2001 and 2002 world champion. If you like competitive, adrenaline-fuelled films and enjoy – or just want to learn about – the MotoGP, this is the best way you could do it.
Akira (1988)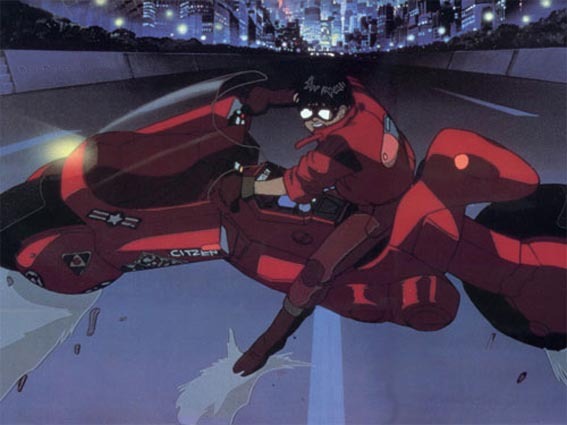 Probably one of the coolest bikes ever designed features in Akira. Kaneda's laid back riding position looks amazing while pulling off a super-cool sliding stop, with the bike's tail light flaring for extra drama. This bike may just be paint on animation cels, but it's inspired dedicated fans to create their own replicas.
The World's Fastest Indian (2005)
A feel-good retelling of a true story, starring Anthony Hopkins as Burt Munro, the aging New Zealander who spent years building a 1920 Indian bike, then sold almost all his possessions in 1967 in order to travel to Utah and break the world land speed record. Does he pull it off? Well, we did say it was a feel-good movie…
Easy Rider (1969)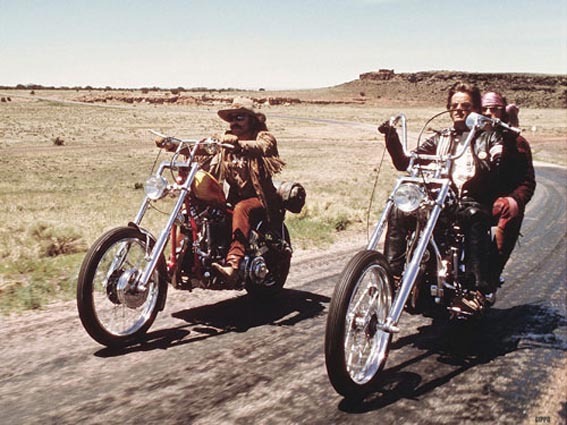 Arguably the quintessential counter-culture film of the 1960s, Easy Rider is an unflinching portrayal of the extremes and contradictions of American freedom and the hippie dream – and a damn fine road movie. It made stars of Dennis Hopper (who also directed), Peter Fonda and Jack Nicholson – and turned Steppenwolf's "Born To Be Wild" into the unofficial anthem for bikers worldwide.
Quadrophenia (1979)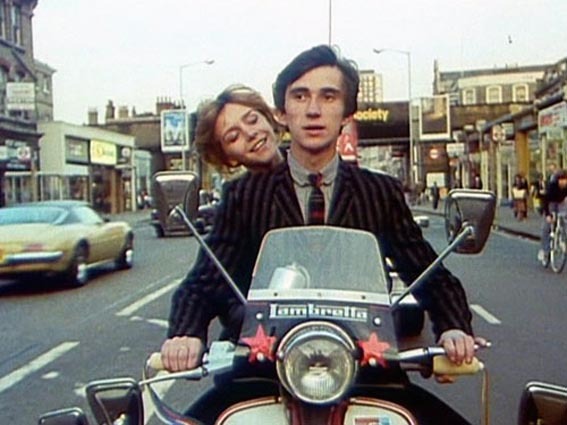 Memorably soundtracked by The Who's earlier concept album of the same name, Quadrophenia's story of disaffected 1960s youth still strikes a chord today. Phil Daniels' protagonist Jimmy is a fully paid-up Mod, tearing around on a kitted-out Vespa and battling with motorcycle-riding Rockers – as well as plenty of angst. Features a highly familiar cast of accomplished British film and TV actors (and Sting).
The Dark Knight Rises (2012)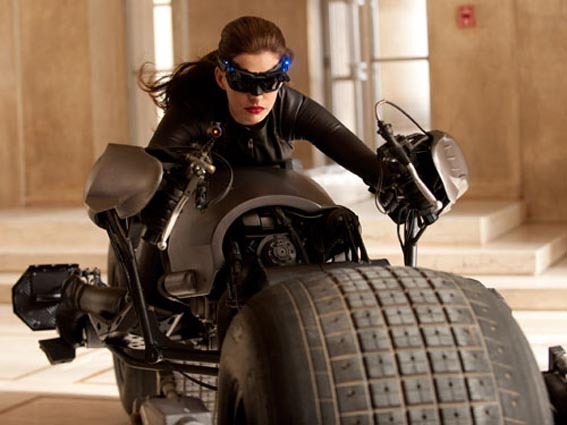 Chris Nolan actually had a working Batpod – Batman's chunky-wheeled bike – made for 2008's The Dark Knight, and it gets a second outing in this year's sequel. Although The Dark Knight's truck-vs-Batpod showdown was cool, The Dark Knight Rises pits the Batpod against the whole Gotham Police Department – and adds some new tricks to the bike's repertoire. As Selina Kyle discovers, it can now perform a spectacular slide by – get this – rolling its wheels sideways. Even though Chris Nolan insists on realism in his films, we doubt the real-life Batpod can do that.
The Great Escape (1963)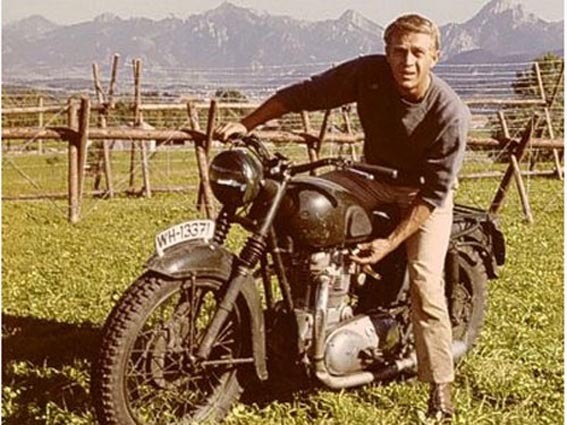 Of course this was going to make the list. If you haven't seen this wartime classic on at least one Christmas Day you've missed out. Especially Steve McQueen making a run for it away from the Nazis for the Austrian border on his motorcycle – a Triumph TT Special 650 disguised as a German BMW R75.
Steve McQueen did his own riding and was so good he even doubled for one of the German pursuers (the one who hits the wire across the road and comes off). However, he didn't perform the famous jump over the fence – that was his friend, stuntman Bud Ekins.
Knightriders (1981)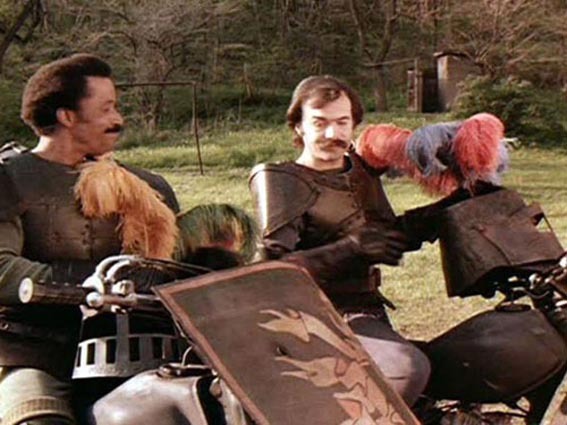 One of the lesser-known works from Night of the Living Dead director George Romero, Knightriders has no relation to David Hasselhoff and talking cars. Instead, it concerns a travelling troupe of performers (a young Ed Harris among them) who joust in a medieval style – but ride motorbikes instead of horses. Perhaps not Romero's finest hour, but worth a watch for appearances from his regular players Tom Savini and Ken Foree – not to mention a cameo from Stephen King (yes, that one).
Hells Angels on Wheels (1967)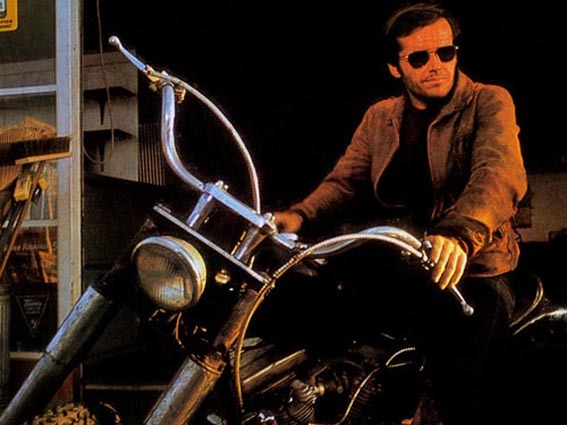 Jack Nicholson pops up again in this exploitation film, which milks the controversy surrounding the reputation and behaviour of the Hell's Angels motorcycle club to a an almost comic extent – but on the other hand it does feature a bunch of real life members as extras. Great B movie fare, and the original trailer gives you a good idea of what to expect, including "the wildest party scene ever put on film"!
Viva Knievel! (1977)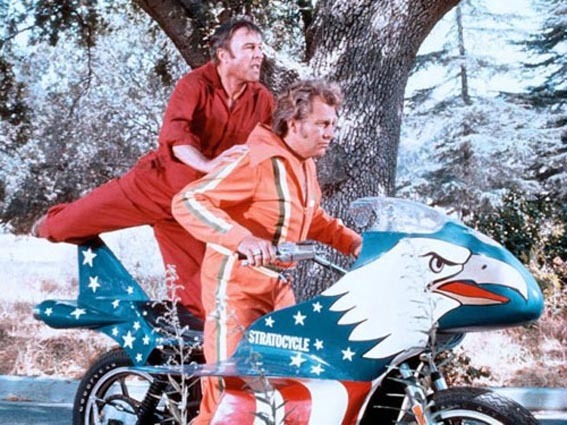 Starring legendary stuntman Evel Knievel as himself, Viva Knievel! is a bizarre movie revolving around a plot by a rival to have Evel murdered in Mexico and his body used to smuggle cocaine into America. Gene Kelly, meanwhile, plays Evel's alcoholic chief mechanic. Ironically, the film's toughest stunts weren't even performed by Knievel.
The Wild Angels (1966)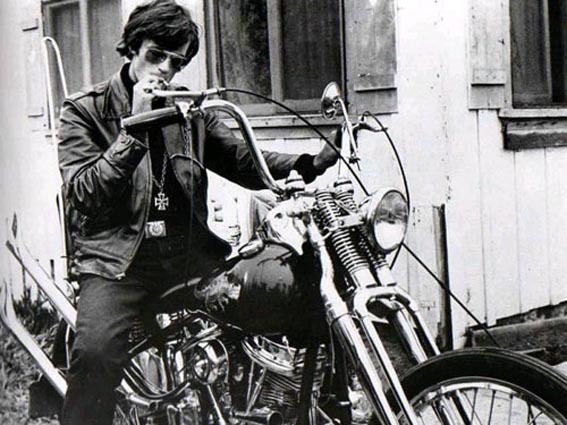 "Their Credo Is Violence! Their God Is Hate!" screams the poster for Roger Corman's biker gang romp, a "Western on wheels" starring Peter Fonda, Nancy Sinatra, Bruce Dern and Diane Ladd. Unashamedly, defiantly trashy, The Wild Angels sparked a series of outlaw biker gang movies in the late 60s and early 70s.