LG's 2023 OLED TVs are brighter and smarter than ever
Sixth-gen picture processor and brightness booster, plus WebOS updates across the board
LG is out in full force at this year's CES, showing off the upgrades eager telly addicts can expect from its 2023 line-up of OLED TVs. Some of the biggest changes are reserved for the flagship Z3 and G3 models, but the mainstream hero C3 also gets in on the action with a new generation of image processor and a redesigned WebOS smart TV interface.
The 88in, 8K resolution Signature Z3 will be the new range-topper, closely followed by the 77in Evo Z3. The Evo G3 is the flagship 4K model, and will ship in 55in, 65in, 77in, 83in and 97in screen sizes. The more mainstream Evo C3 will be available in 43in, 48in, 55in, 65in, 77in and 83in screen sizes, and be followed up by more affordable B3 and A3 models.
LG has tweaked the styling slightly so the "gallery design" of previous years becomes "zero gap design" for 2023. That'll mean wall-mounts that are basically flush, for even neater installs. The C3 and G3's rear panels now use composite fibre materials, making them lighter and easier to install than before, and LG has extended its five-year panel warranty to cover more screen sizes in the Z3 and G3 lines.
On the image quality front, the effort to offset OLED's lack of brightness relative to LCD continues with Brightness Booster Max. This new setting promises to be up to 70% brighter than a non-Evo panel on the 55in, 65in and 77in G3. Larger versions won't be quite as blinding, but should still have a 30% improvement.
The sixth-gen Alpha9 image processor also brings OLED Dynamic Tome Mapping Pro, which divides the screen into 20,000 blocks for greater depth in darker scenes. HDR Expression Enhancer, meanwhile, separates the foreground and background elements of a scene on the fly, to better represent real life. AI Super Upscaling now covers noise, resolution and sharpness when fed a lower bitrate signal, too.
Audio sees a few upgrades, with WOW Orchestra being the highlight. Anyone with an LG soundbar will be able to add the TV's speakers into the mix for greater immersion. It should be easier to control soundbar settings through the TV now, too. Finally, dual audio output will let the hard of hearing listen along through a pair of Bluetooth headphones at their preferred volume level, while everyone else in the room listens through the TV speakers.
Prices will vary by country and model, with LG set to confirm things a little closer to launch.
What's new with WebOS?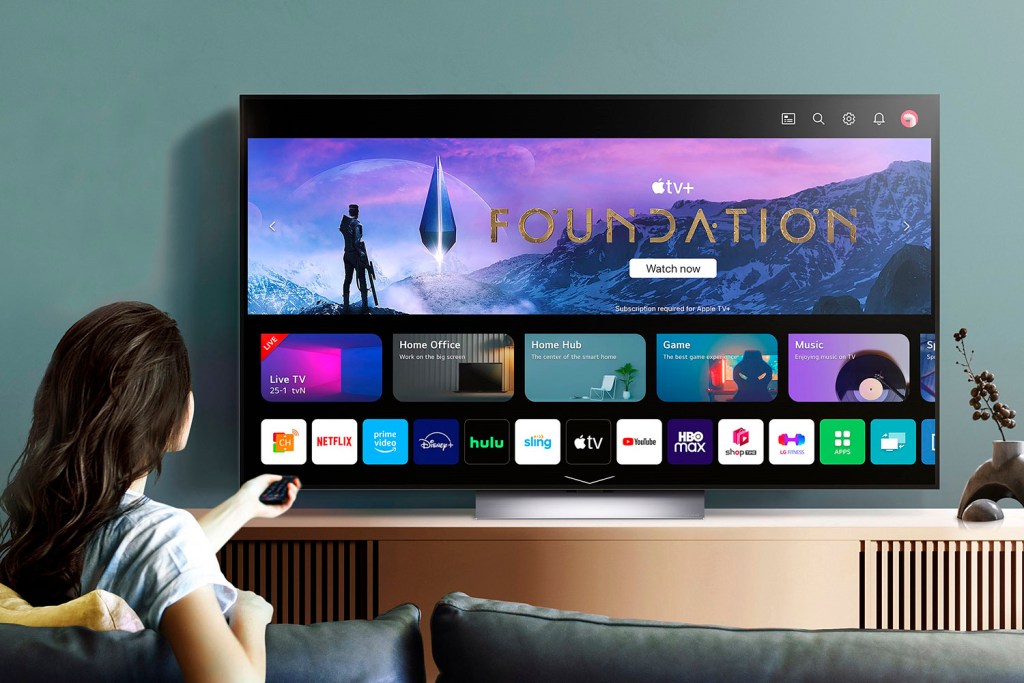 LG already has one of the best smart TV interfaces out there, but there's always room for improvement. WebOS is getting an all-new home screen layout for 2023, with customisable quick cards to split apps and services between sport, music, gaming and home office. The smart home hub also adds Matter support for the first time.
The Quick Settings menu is now customisable, letting you put specific modes or features on the first screen alongside picture mode, brightness, sound mode and output selection. Think black level controls, a sleep timer, game optimiser and Multi-View.
AI Concierge is an all-new addition, giving recommendations based on previous keyword searches, content related to what's currently onscreen, and suggested picture mode changes after a short press of the remote control's microphone button.
An AI picture wizard should also take some of the faff out of picture calibration. It'll throw up a series of A/B pictures, and give a custom result based on your preferences.
Sounds like a plan
LG isn't launching any new top-tier soundbars at CES, deciding instead to take on the Sonos Beam Gen 2 with a design-led all-in-one unit. The Éclair SE6S foregoes a separate soundbar for four passive bass radiators (one more than you'll find in the Beam Gen 2) and 25mm tweeters (larger than the 20mm ones Sonos uses). It's covered in acoustic fabric, rather than the metal seen on the firm's pricier models.
For those, LG is offering a new bracket that'll slickly pair with a C-Series OLED TV (both the new C3 and last year's C2). It doesn't need screws, won't obscure the upward-firing speakers, and replaces the regular tabletop stand.