Living on the Edge: Motorola's iconic Razr flip phone rebooted for a new generation
It's been over 15 years since the Razr took the world by storm. We speak to those who made it a star...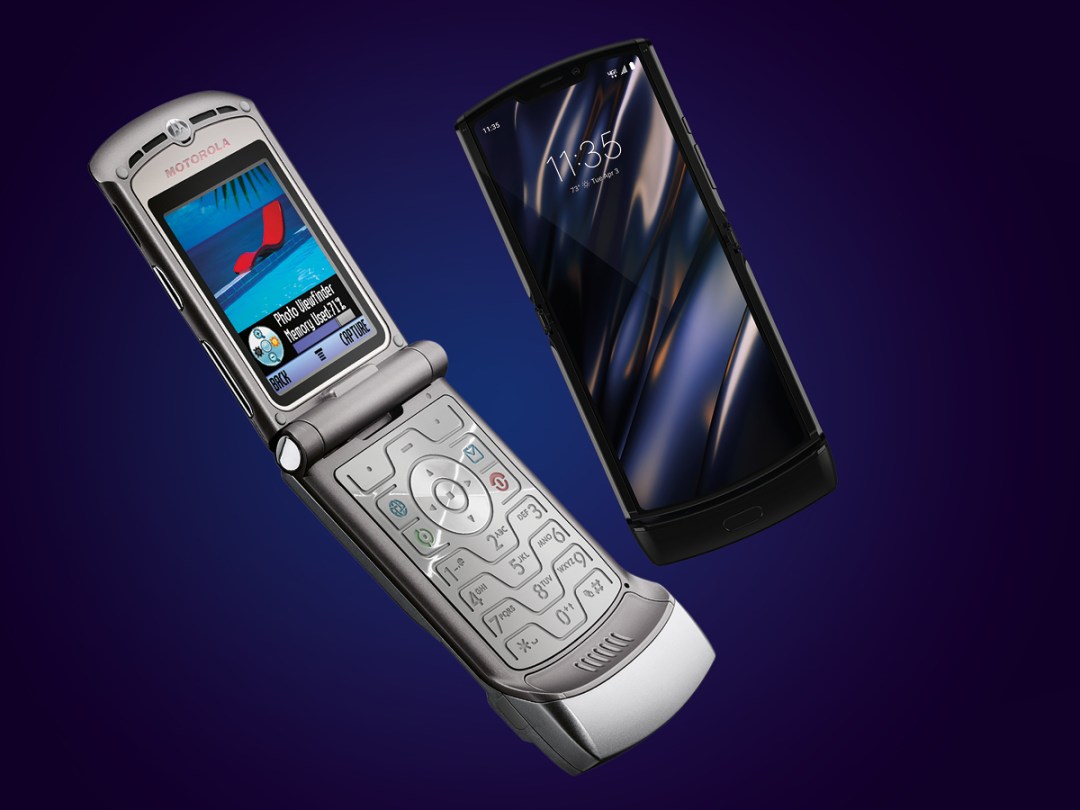 1996 was a hell of a year. Britpop was at its peak, with Oasis playing to 250,000 people over two rowdy nights at Knebworth House in Hertfordshire; at the pictures, Trainspotting had everybody hooked and proved British cinema could go toe-to-toe with the Hollywood big boys; and at Wembley, England came closer than ever to finally bringing football home.
It was also a year of some significant endings – Take That split up, and Charles and Diana got divorced – but there were new beginnings too. The radio waves carried the sounds of the Spice Girls' first single, Wannabe; Dolly the sheep became the planet's first cloned mammal; and in January, a new era began at Motorola with the launch of the StarTAC – the world's first clamshell mobile phone.
It's easy to forget that, until the StarTAC came along, mobile phones were not neat, pocketfriendly devices – they were clunky, unwieldy things with huge antennas and chunky keypads. But the StarTAC set Motorola – and the tech industry as a whole – on a path towards a world where your choice of phone was as much a fashion statement as a way of keeping in touch.
Of course, it wasn't just Motorola making a new start in 1996. That November also saw the first issue of Stuff hit the shelves – and it's hard to think of a pair that are better suited. Since the beginning, we've had a passion for gadgets that combine innovative thinking with gotta-have-it desirability… and one that encapsulates that ethos better than any other is the original Motorola Razr.
No sacrifice
While the trend among phones in recent years has been for bigger screens and more capable cameras, in the early '00s it was all about shrinkage. Back then, mobiles were for calling and texting and not much more, so Internal affairs Inside the new Razr you get a 2.2GHz octa-core Snapdragon 710 CPU, 6GB of RAM and 128GB of built-in storage, with an uncluttered version of Android 9. manufacturers focused all of their efforts on making them as slim and pocketable as possible – and the original Razr, which had people queuing up outside shops in 2004, absolutely nailed it.
"I think what made that product revolutionary at the time was the fact it was a fashion statement," says Ruben Castrano, Motorola's head of design, who joined the company just months after the original Razr was launched. "It took a functional device that served a very simple purpose and made it beautiful and desirable."
The use of aerospace-grade aluminium immediately set the Razr apart from the plastic handsets that people were used to, plus its slimline chassis meant that it more than lived up to its name. Crucially, it also made no sacrifices when it came to functionality, with a large metal keypad to cater for the rise in the popularity of texting and a bigger screen to take advantage of the emerging mobile internet and multimedia.
The fact you could snap it shut to end calls with a satisfying flourish was an added bonus; and with celebrity fans including David Beckham and Bono, this was soon the only phone to be seen with.
The Razr's reign lasted longer than any of Becks' haircuts, but as touchscreens allowed displays to get better at browsing the web and watching videos became a priority for many users, keypads began to disappear and the candybar form factor took over. A little later, it took one major breakthrough in particular for the clamshell phone to make its comeback…
Foldily go
The new Razr was unveiled in November 2019, but its story starts back in 2015, when Ruben Castrano and his team began looking at what could be done with new folding display technologies that were starting to emerge.
"We weren't really sure what the best application for this technology was, so we looked at a whole variety of formfactors," explains Castrano."We experimented with everything from products that went from traditional smartphone size to more phablet-like size, to things that could wrap around your wrist or form to the shape of your body.
"The one thing Motorola's designers kept coming back to came from feedback gained from speaking to end users. Many of them said they were happy with the screen size of their current devices – they just wished they were a bit more portable. That let the team to the obvious conclusion: the return of the clamshell.
Hinge benefits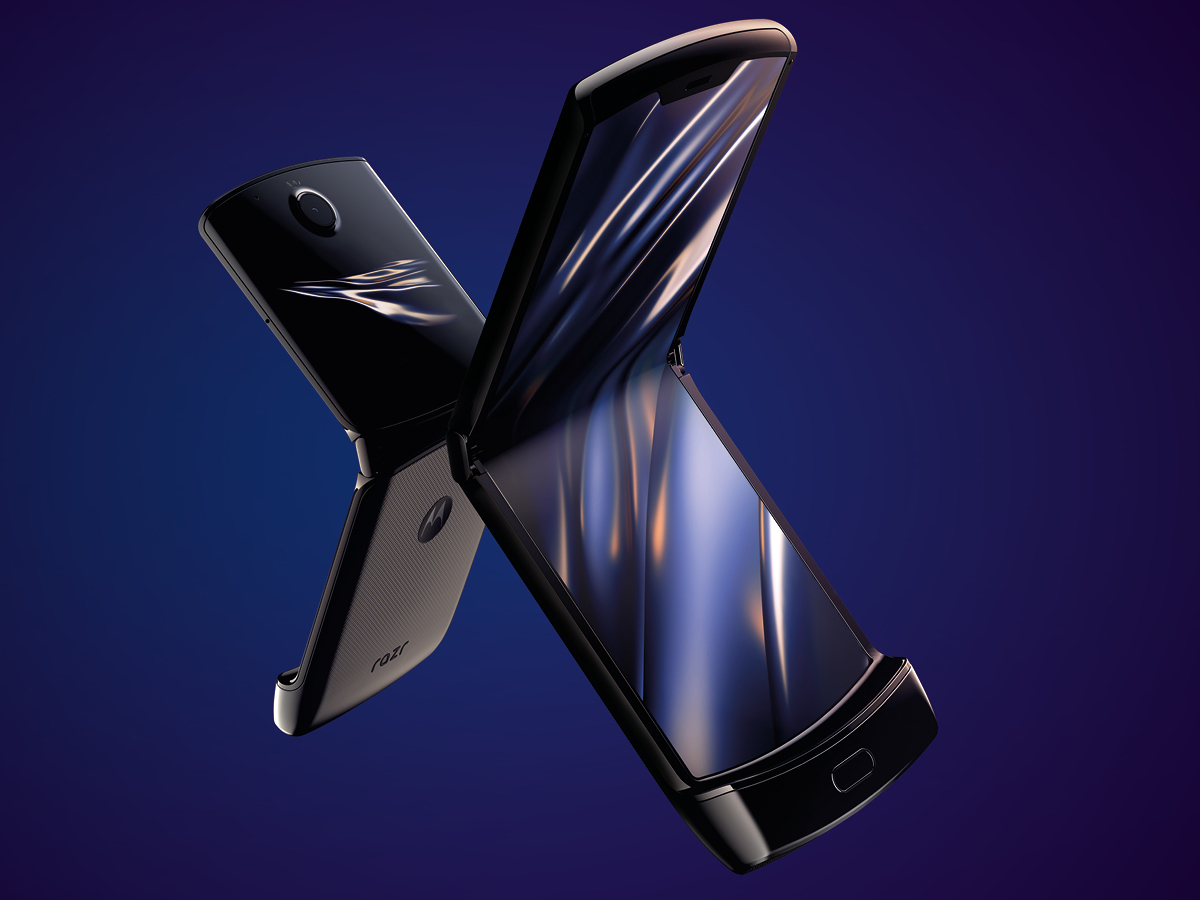 Bringing the Razr back presented a whole new set of problems that didn't exist in 2004– primarily, what to do with the screen. Having a display that can fold is one thing, but stopping it getting damaged is quite another.
Fortunately, Motorola had just launched the Droid Turbo 2 in the USA, which had a ShatterShield display made from hardened plastic designed to withstand the rough and tumble of everyday life. Meanwhile, Motorola's parent company Lenovo had significant experience in making hinges for laptops, so now the quest for the perfect folding screen mechanism began.
"The main challenge for us was how to fold the display in a way that didn't create a permanent crease," Castrano says. "These displays are extremely thin, they are very delicate, and the way they're folded needs to be done with extreme care – but at the same time, a primary objective for us was to achieve a zero-gap design.
"Take a look at the original Razr and, when folded in half, the screen and keypad would touch, ensuring the phone remained as compact as possible. Use that technique with a folding screen and you'd end up with a load of broken pixels, so Motorola's design team came up with a system that maintains a teardrop shape at the point the display folds, meaning the screen can come into contact with itself without putting too much stress on the bending point.
It sounds simple, but the Moto team spent a huge amount of engineering and design time perfecting the hinge – and there's a particular element to it that Castrano picks out as being key to the whole system.
"The essence of the hinge is the fact it involves moving plates," he says. "That's one of the core innovations of this device. "When the new Razr is unfolded and the screen is flat, metal plates underneath the OLED display ensure it remains solid and responsive to touch.
But as soon as you start to fold it in half, they slide towards each end of the Razr's chassis, creating space for the screen to bend, leaving just that teardrop-shaped gap in between the two surfaces when the phone is closed. The end result is a device that's very close in size to the original Razr.
Testing, testing
Before the new Razr could be released to the public it had to be put through its paces to ensure it could withstand all the rigours of modern life. Any phone must go through these testing procedures, but when you introduce moving parts to the equation, the process becomes even more rigorous. "After we had figured out what the mechanical design of the hinge neeeded to be, the next step was to spend a lot of time perfecting it," says Castrano – who, along with some other members of the team, used the device for over a year before it was launched. "We needed to make sure the system as a whole was absolutely reliable and would exceed the expectations of the lifetime of use for a normal consumer. "The fact the screen folds on itself means it's protected when you take the phone in and out of your pocket, but there are other features of the original Razr that Castrano and his team decided to keep as well. "As we dug deeper into the development of this product, we understood that a lot of the aspects of the original Razr made sense for us to incorporate into this new design," he explains. "Our initial designs didn't really look like the final product, but we realised the chin of the original design, and the way some of the internal components had been laid out in the two halves, still made sense for a modern interpretation of the clamshell form factor.
Flexible friends
There are many differences between the original Razr and one fit for today – but one of the major ones is the sheer number of components that are now required compared to back in 2004.
"We were essentially taking a traditional smartphone, slicing it in half and folding it in on itself," says Castrano. "There were also a lot of breakthroughs that needed to happen in terms of the circuit board, the components, the batteries. All these systems that are usually very rigid all of a sudden had to become foldable and flexible.
Antenna performance also changes completely from the device's open to its closed state, so we had to work very closely with our engineering teams to ensure good connectivity both when open and when closed." And that's not all. As well as being both innovative and highly desirable, the original Razr was a triumph of usability. Long before we had the need for always-on displays, its external screen allowed owners to screen calls and preview texts without having to open the phone at all, putting less stress on the hinge and saving users valuable time and effort.
The new Razr's 2.7in Quick View OLED display is an updated version of that, allowing users to see their notifications, take selfies, control music playback and use Google Assistant. And when you open it up, whatever you were doing on the external screen transfers to the main one, so there's also an element of continuity.
"Consumers need to feel they're connected but at the same time have the freedom to detach," says Castrano. "They should be able to manage notifications in a very quick way, be able to react very quickly if something important comes through, but at the same time put their phone aside and enjoy the moment, enjoy the people they're with."
Size matters
But what about the screen inside?
Like a lot of high-end smartphones in 2020, the Razr has a 6.2in OLED, but there's much more to consider about a display than just its size. With a 21:9 aspect ratio it's designed to match up with the native ratio of a lot of movies and media content, so you won't get big black bars on the screen when watching them.
But it's also about how you hold it. "It's an aspect ratio that allows us to have a device that hits the sweet spot in terms of width, "explains Castrano. "70 to 72millimetres allows you to have that perfect fit in your hand. It's something we've rolled out on a few products from our Motorola One line over the past year or so, and it's something we felt strongly that we needed to carry forward into this device."
That's something that also had to be taken into consideration when it came to the overall balance of the device. "You're actually flipping open half of the product, so if the top side is too heavy it could fall out of your hand,"Castrano says. "We have two batteries, one on each side, not only to reach our battery target but also to make sure the balance in your hand feels right."The end result is a phone that sums up everything both Stuff and Motorola are all about: innovative, intuitive tech in a head-turning package.
And while nostalgia plays a part in its appeal, the fact it takes everything a normal phone can do and shrinks it down to a more pocket-friendly size is good news for anybody with a love of clever tech, whether they remember the original or not.
"This, in my view, is really just the beginning," says Castrano. "A sa company we're fully committed to using plastic display technology and continuing to evolve formfactors." Amen to that.