Which Sonos should you buy?
UPDATED: From diddy speakers to new soundbar Beam, here's every bit of Sonos kit rated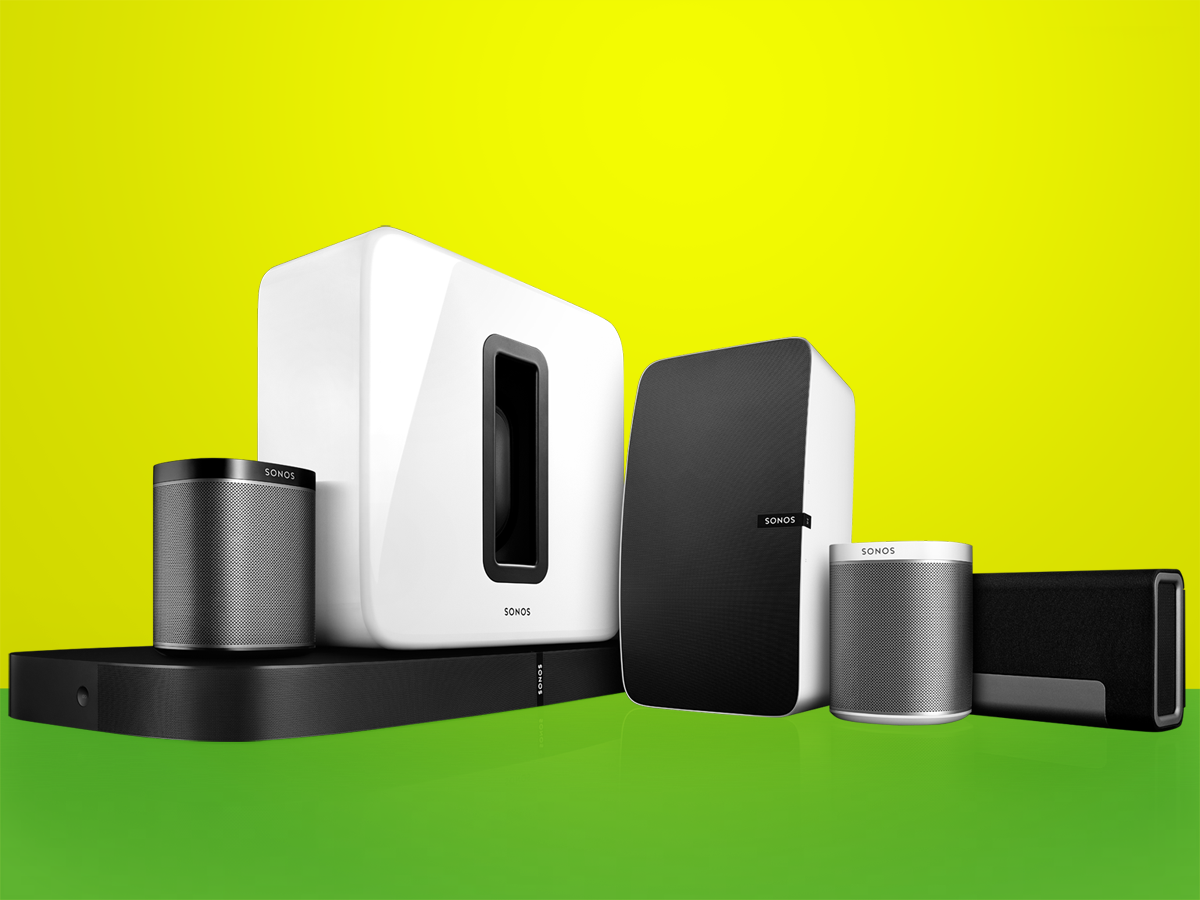 THE BEST OF THE REST
Sonos is the grandaddy of multi-room music, but you wouldn't know that to look at its products. There are very few companies who could claim to be as cool and stylish. And a Sonos system is endlessly expandable, so you can start with one speaker and keep adding until your whole house is rigged to rock. But which speaker should be your first? Or, if you're adding to your collection, what shoud you get next? We've condensed our reviews of every Sonos device – from the diminutive Play:1 to the TV-boosting PlayBase, and even our first impressions of the new Sonos Beam – to provide you with a one-stop shop for all the info and every rating you could possibly need. Multi-room music nirvana is but a few clicks away.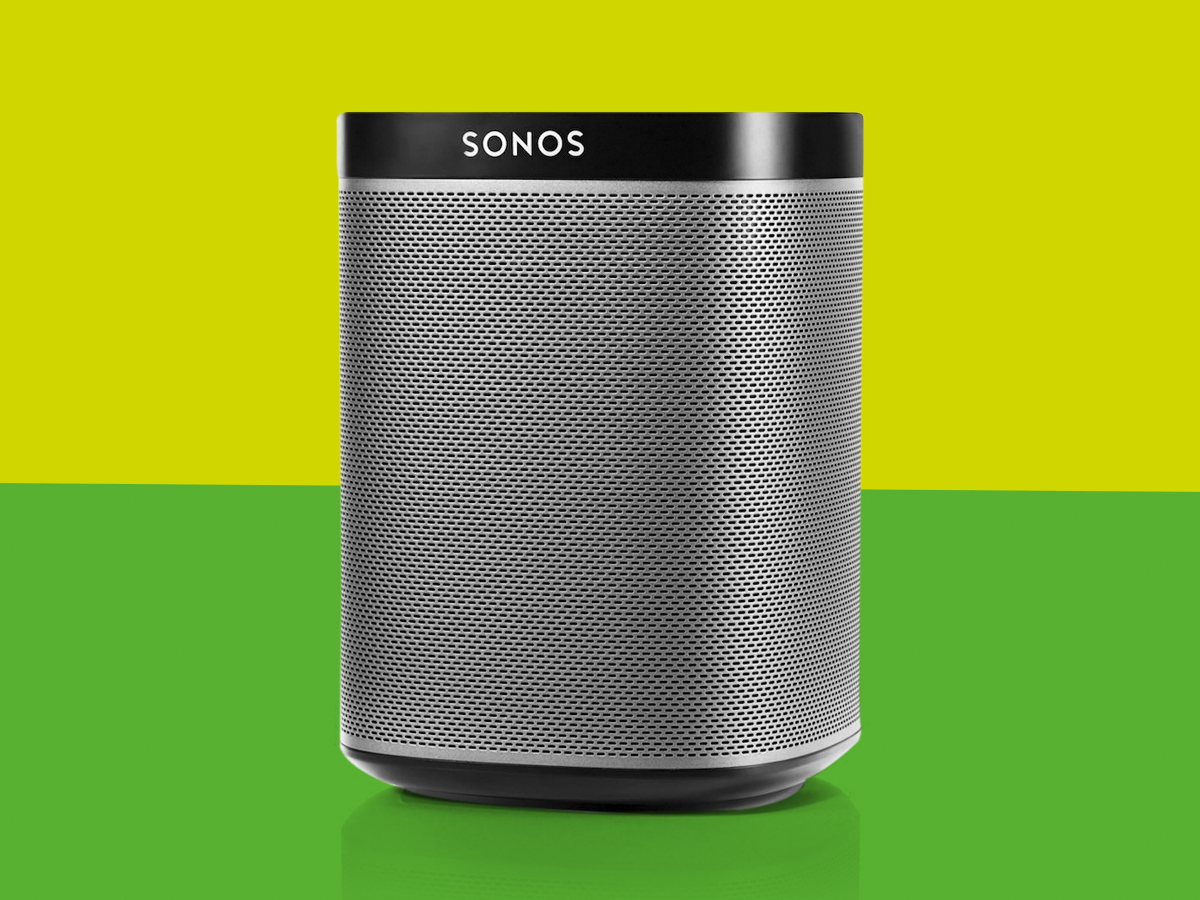 SONOS PLAY:1
The Play:1 sounds superb. It goes surprisingly deep for so small a unit, but those low notes pack plenty of punch and never drown out the mid-range. Instead, vocals and pianos are clear and well projected, and the treble is clean and controlled. Unfortunately, the Play:1 isn't portable to allow for garden and bathroom listening, as it needs mains power to work. And when we first laid eyes on it we also thought that two of them would make for a great desktop speaker setup, but while you can combine two to create a stereo pair, there are no computer-friendly audio inputs for computer use.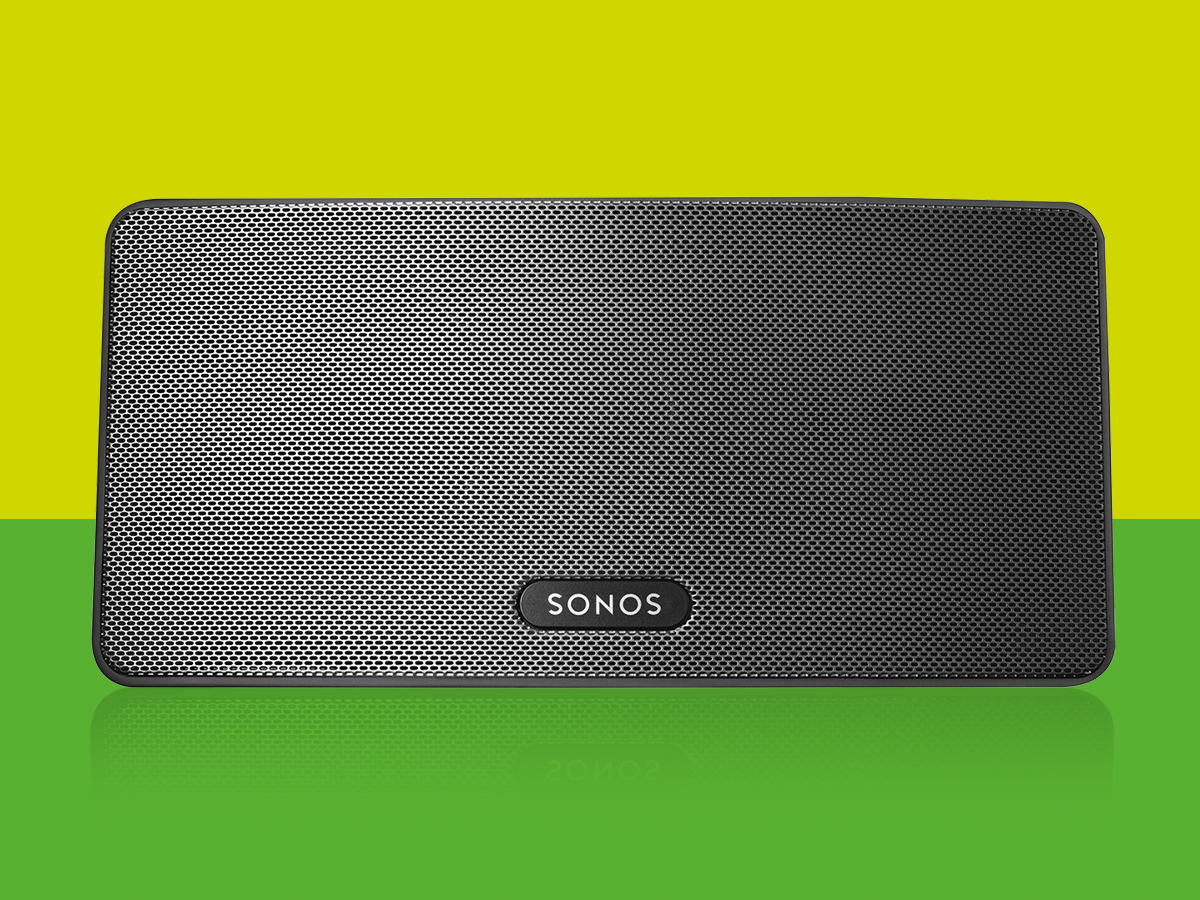 SONOS PLAY:3
The Play:3 is typically Sonos in its neutral, natural sound, and it pumps out big and meaty audio given the compact dimensions. Bass is punchy, treble crisp and vocals are clear, and you can turn up the volume without the Play:3 fretting. It's happy being positioned vertically or horizontally, with Trueplay tweaking the sound to compensate, and as with the Play:1 and Play:5 you can combine two Play:3s to create a stereo pair. But, as mentioned, the Play:1 has essentially the same features and sounds almost as good, so the Play:3 is one of the weaker options in the current Sonos line-up.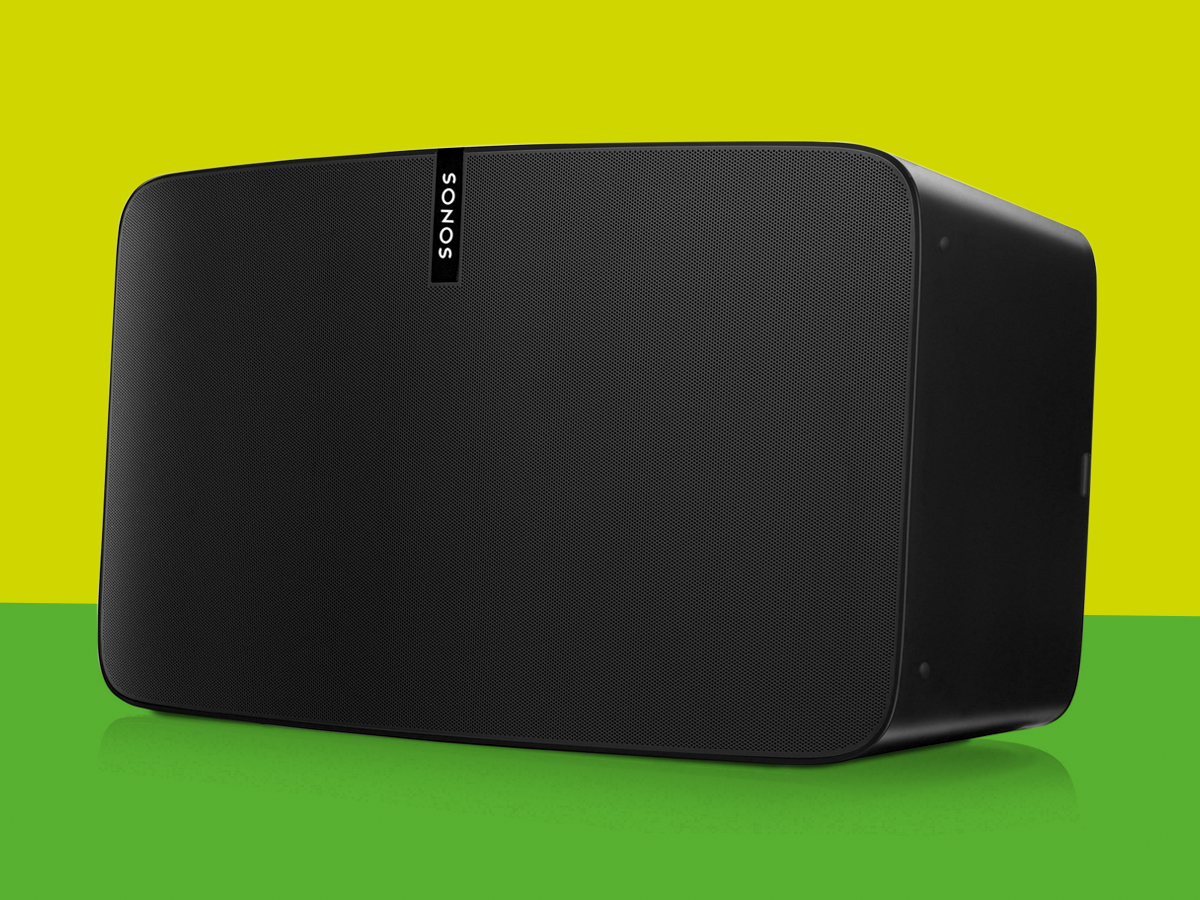 SONOS PLAY:5
The relatively recently relaunched Play:5 is a speaker that's been redesigned from the ground up to sound better and be even more of a breeze to use. It's the flagship of the Sonos music speaker range and every bit deserves that billing. This is a big stylistic upgrade on the previous Play:5, with a much cleaner, more modern chassis that can be stood up or laid flat, and it's the only one of the three Play music speakers to get touch-sensitive controls. And this is a big sonic upgrade over its predecessor and the smaller speakers in the Sonos range. There are six drivers contained within this comparatively chunky chassis, with three 10cm woofers being joined by three smaller tweeters.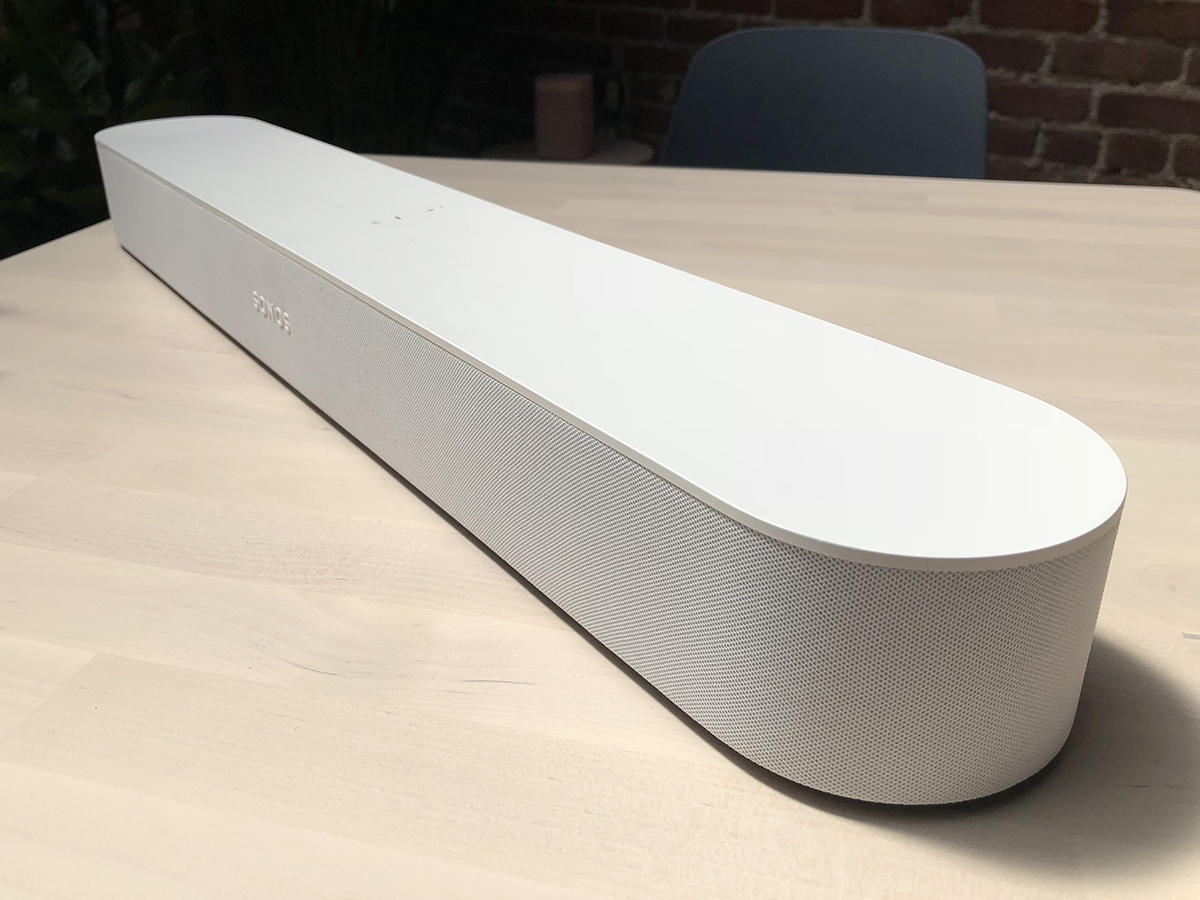 SONOS BEAM
Sonos Beam is the latest addition to the Sonos family, taking a whole lot of the stuff we loved from the Playbar and and adding quite a few new features of its own. Even better, it also knocks a few hundred dollars off the price tag, making it quite the tempting purchase indeed. So what's the catch? Well, aside from the fact that it doesn't sound quite as good as the Playbar due to its diminutive size, there really isn't one. The Beam is packed full of more up-to-date features, including Amazon Alexa, an HDMI ARC port for controlling your TV with your voice, and support for Apple AirPlay 2, meaning you can send tracks directly from your Apple device without using the Sonos app.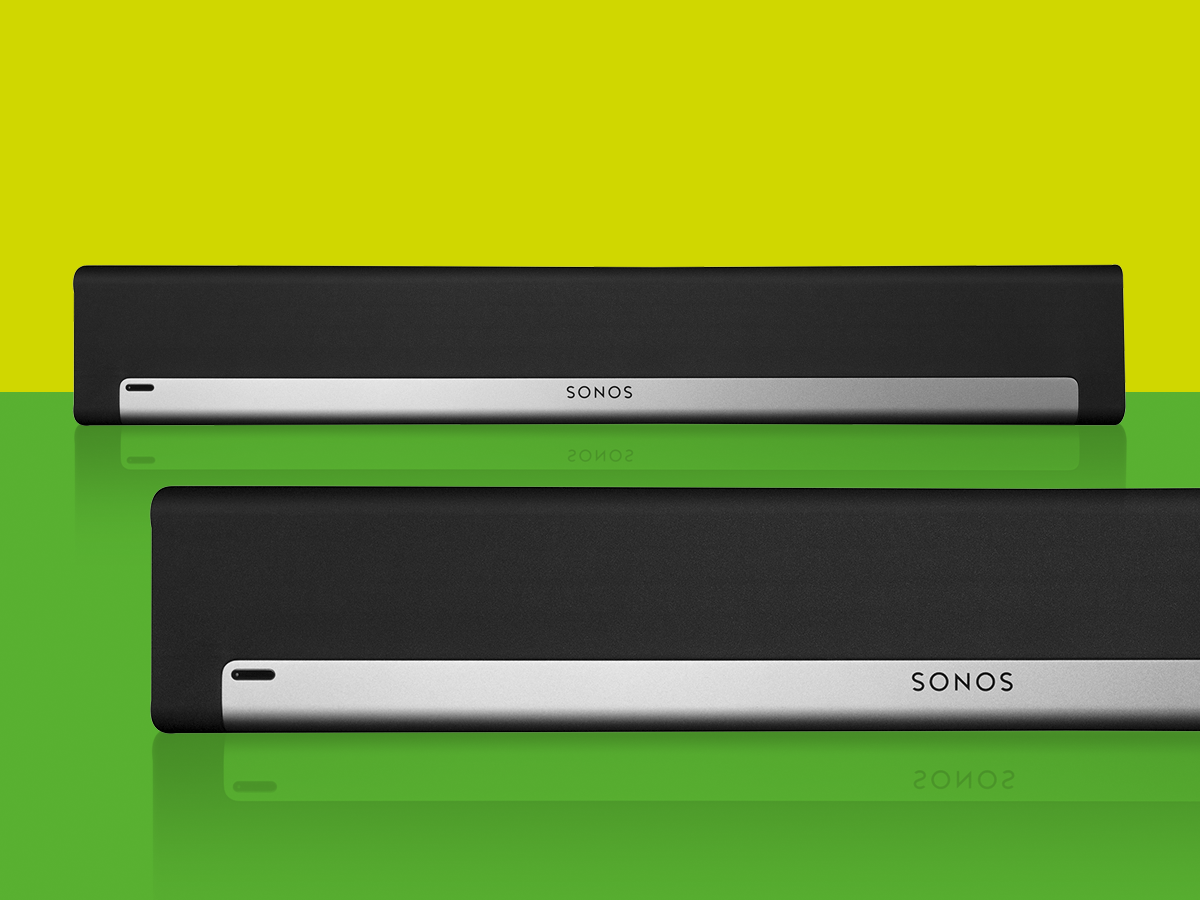 SONOS PLAYBAR
Sonos' first TV speaker, the PlayBar, is pretty much exactly what you'd imagine – a complete Sonos speaker in soundbar form. It's built beautifully, is typically minimalist in its styling, and is chock-full of neat touches, such as the accelerometers that can tell whether the PlayBar is laid-down or on an edge and adjust the sound accordingly. Having said that, the PlayBar definitely performs best when it's firing forward, so will sound better when wall mounted – even if its design isn't the most elegant when it is. Luckily, those not wall-mounting now have an alternative in the form of the PlayBase, below.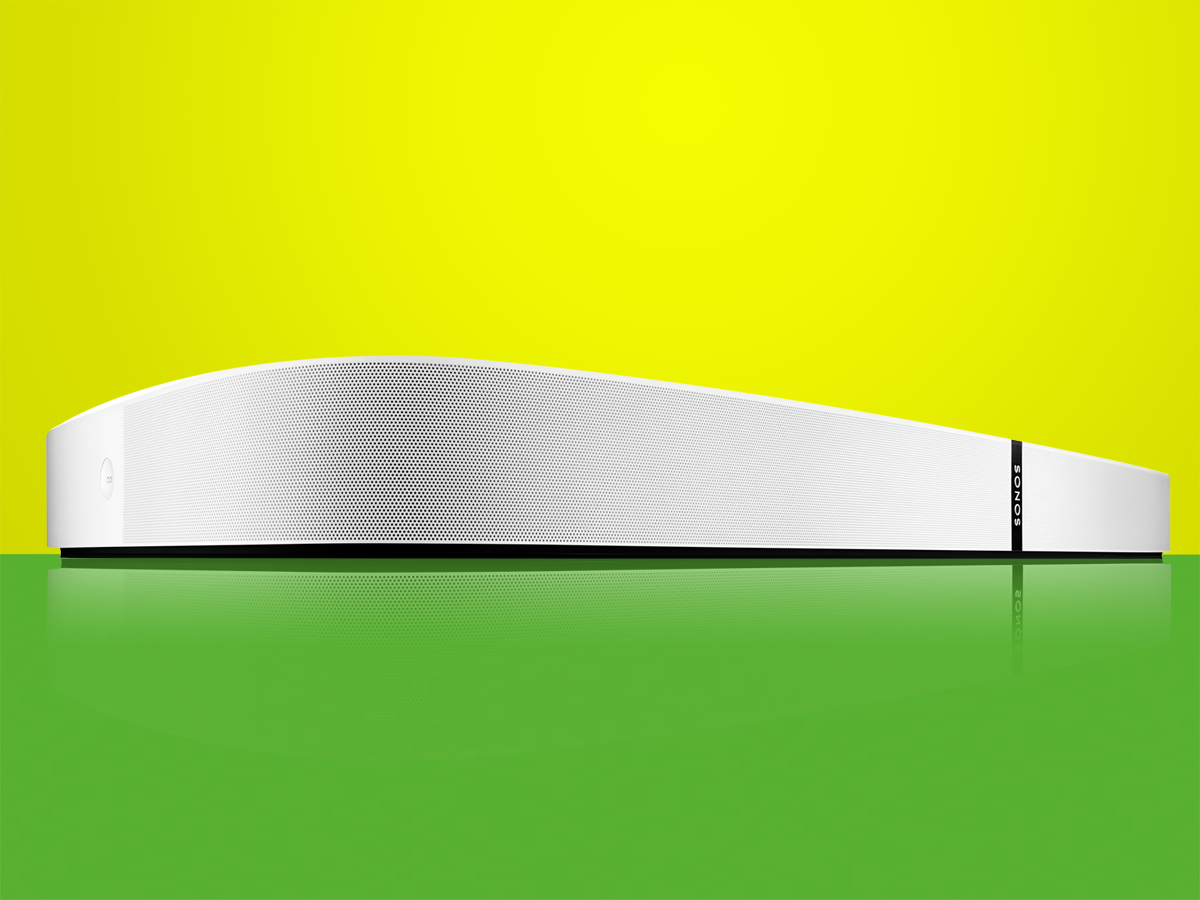 SONOS PLAYBASE
If you want a Sonos speaker to use with your TV but aren't the wall-mounting type, the PlayBase might be an option to consider. Any TV weighing up to the 35kg can be plonked upon this stylish slab of minimalism, and connected to it via optical cable. Other than the PlayBar's extra ethernet cable, the two TV-boosting devices don't really differ in terms of features – but they do differ in terms of sound. The PlayBase sounds even bigger and more authoritative than the PlayBar, with more natural bass, greater detail and more punch. But it's also got a rather harsh treble that can be a bit annoying for the ears whether you're playing a movie or listening to music.
SONOS SUB
In the world of subwoofers, the Sonos Sub is a work of art. Rather than an ugly box too big to hide, Sonos has come up with a design so handsome you'll want to leave it out on display – even though its comparatively slim dimensions and comfort in either a vertical or horizontal position make it far more tuckawayable than most. It doesn't even need to be wired to your other Sonos components, with power being the only essential connection. What does the Sub do? It adds great big dollops of extra bass to any Sonos speaker. Clearly it makes most sense as an upgrade to the PlayBase or PlayBar, as it can make your movies extra epic, but it can also be added to Sonos' music players.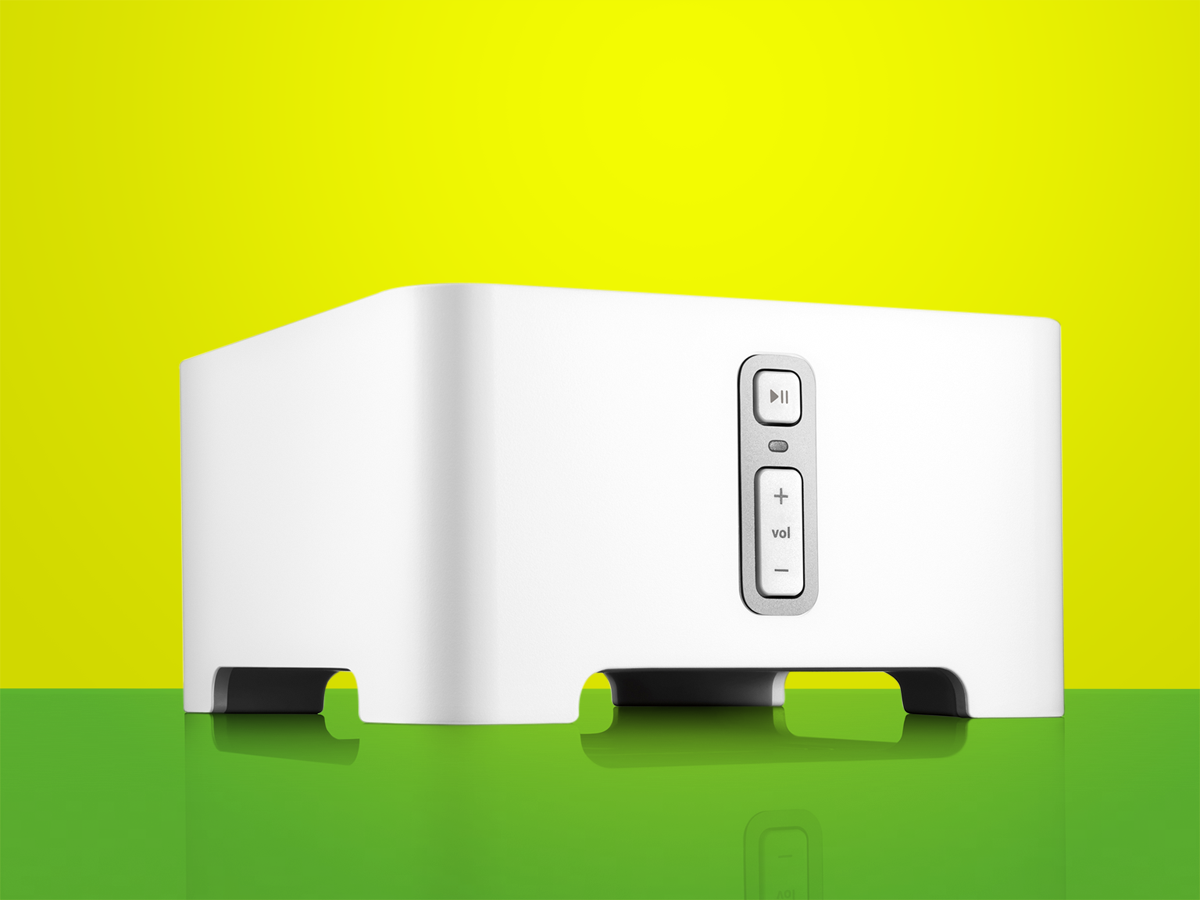 SONOS CONNECT
What if you want Sonos in your life but already have a beloved hi-fi? You get the Sonos Connect, that's what. Think of this simple white box as a Sonos speaker without the speaker bit and you've essentially got it. Instead of making a sound itself, the Connect outputs audio via optical, coaxial or stereo analogue, at which point your existing amplifier and speakers can do their thing with it. Thanks to stereo analogue inputs, the Connect is also a great way to integrate more traditional hi-fi sources into your multi-room system. For example, you can plug a turntable into it (assuming it's got a phono stage) and then listen to your vinyl through every Sonos speaker in your house. Neato.
SONOS CONNECT:AMP
The Connect:Amp is just like the Connect except for the addition of – you guessed it – a built-in amplifier, which means you just need to add a pair of traditional stereo speakers to get a Sonos player that resembles a micro hi-fi system of old but can do a heck of a lot more. The Connect:Amp might look like an expensive, last-gen route to go down, but add a good pair of bookshelf speakers to it and you'd have a sonic performance that would floor even the Play:5.