WhatsApp Channels: the Twitter-like update explained
A WhatsApp update will soon bring community feeds to the app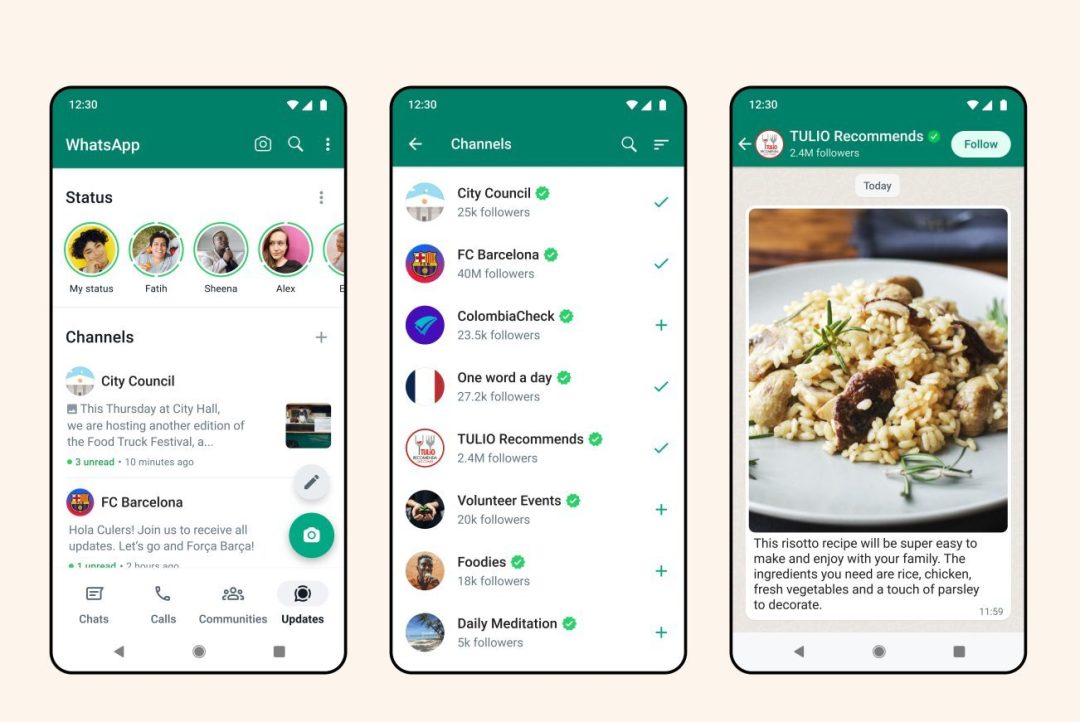 Until now, WhatsApp has been known as the world's most popular messaging service, and the place for giant lasagne news updates. But WhatsApp will soon be adding a new feature. That'll be WhatsApp Channels, a Twitter-like space for updates from people, organisations and communities all within the app.
Do we really need another social media? Until the feature is here, we won't really know. Channels will roll out first in Colombia and Singapore and will arrive in other countries in the next few months, WhatsApp owner Meta stated in a blog post. But for now, here's all you need to know about WhatsApp channels, from everything we know.
---
WhatsAppening?
WhatsApp. Encrypted message sharing app. Place for family group chats. Social media platform? Not just yet, but a new update from WhatsApp will soon add social media-like features to the encrypted messaging app.
The update will allow users to follow accounts outside of your address book. It'll apparently work like a Twitter feed, but without the blue ticks (for now). It'll have its own section called 'updates' that'll appear on the toolbar at the bottom of the app, and will be separate to private chats, calls and communities.
---
How will it work?
Unlike regular WhatsApp, you won't need to add a phone number to access the updates page. Rather, users will be able to search for people, communities, organisations and interests through the app. Followable pages will be called 'channels'. On these channels, text, photos, videos, polls and more can all be uploaded to a channel and shared with its audience.
Channels will be private broadcast services, claims Meta. Page owners and followers will have private details like phone numbers and profile photos hidden, and channels can also be set to private. This will block it from being found via search. Updates will disappear from Meta's servers up to 30 days, but channels will not come with end-to-end encryption. Meta has stated it might consider end-to-end encryption for some specific channels in the future.
Channel admins will be able to block screenshots and forwards, ensuring that whatever is posted in the channel remains in the channel. In the future, Meta also says it has plans to integrate payment and other monetisation services into channels.
---
Can I make a channel?
Apparently yes, but we're not sure of the specifics just yet. So far, Meta has stated that the football team Manchester City, the World Health Organization and more have signed up for the new service. Eventually, anyone and everyone should be able to make their own channel. But for now, we don't know how this will work or be moderated.
---
Why?
For Meta, turning WhatsApp into another social media (of sorts) is a no-brainer. Users are in search for a Twitter-like alternative. A curated WhatsApp feed with extra security could attract those who want to de-spam their social media timelines. The feature will also likely attract businesses keen to spread its messaging without the risk of doing so on entirely public forums. However, we really wouldn't want to see WhatsApp become a speakers corner for advertisers.
The likes of Instagram, TikTok and Twitter already have ways for users to broadcast live, host spaces and post reels. A WhatsApp specific service beyond its existing 'Communities' feature will likely serve a function.