Sony Xperia 10 vs Moto G7 Plus: The weigh-in
2019's new mid-range warriors enter the battlefield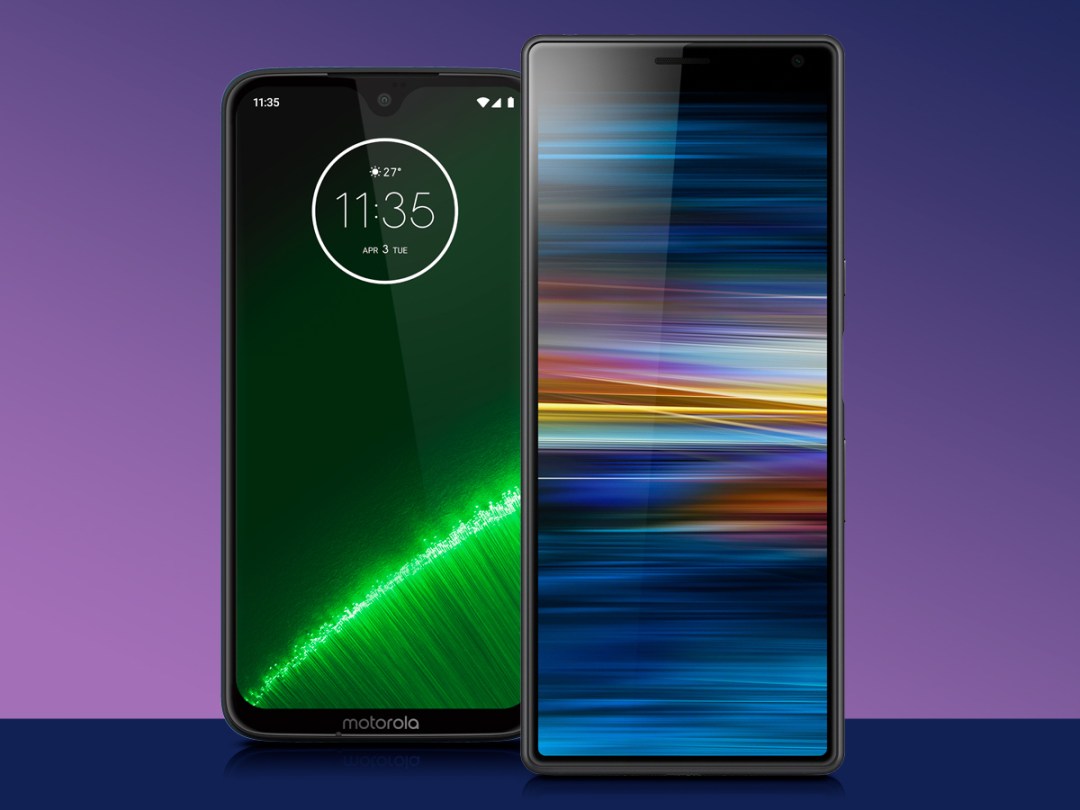 Sony is going a different route with its flagship effort this year, ditching the XZ branding and avoiding notches and hole-punch screens alike with the super-tall Xperia 1. And that same approach will drip down to the mid-range Xperia 10, too.
The Xperia 10 expectedly trims down the specs quite a bit, but still has that distinctive 21:9 aspect ratio – and lobs £550 off of the Xperia 1's price tag, as well. It could be the mid-range phone to watch this spring… that is, if it can beat Motorola's excellent Moto G7 Plus. The top-tier G7 model packs a bit of flagship gloss while arriving at a similarly trim price point.
Which will prevail? We don't know yet – but here's a preview of how this battle will shake out now that we've been hands-on with the Xperia 10.
Design: Teardrop or taller?
The Moto G7 Plus packs a little more punch than last year's model, adopting a teardrop notch like those seen on much pricier handsets. The design isn't as intricately polished as flagships, but it comes close to that level of allure without breaking the bank.
On the other hand, Sony's Xperia 10 shows that you can stand out in today's phone scene without adopting a notch or any other screen-limiting approach. Quite the contrary: it has a big chunk of bezel on top, but the super-extra-tall screen gives the phone a unique silhouette. It's really enticing.
Note that the Moto G7 Plus puts its fingerprint sensor on the back, while the Xperia 10 has it on the power button on the right side of the phone.
Screen: Should be close
Like last year's device, the Moto G7 Plus has a great screen for a mid-ranger. This time around, it's a 6.2in LCD at 1080+ resolution. It's crisp, punchy, and the black levels go solidly deep even if it doesn't match up to ritzier OLED panels.
We're curious to see how the Xperia 10 matches up. It's a little smaller at 6in, yet looks taller thanks to the 21:9 aspect ratio and top bezel. It's also a 1080p LCD. Sony's flagship screens have looked fabulous of late, so let's hope some of that trickles down to the mid-range too.
Camera: The 2x battle
Pricier phones are dipping into triple, quadruple, and quintuple main camera setups – but at this price level, you'll get two back cameras on both of these phones. And that's plenty fine.
The Moto G7 Plus impresses for the price, certainly. You get a 16-megapixel (f/1.7) main sensor with a 5MP depth sensor alongside, and the main camera gets optical image stabilisation too. It often turns out very nice shots in good lighting, while low-light snaps are pretty solid.
With the Xperia 10, you get 13MP and 5MP sensors – and while we haven't used it extensively enough to really say for sure, our hands-on reviewer remarked that "the few snaps we took were fine, but this phone won't be remembered for its photography chops, and nor should it be at that price."
Sony hasn't routinely had the best smartphone snappers around, so we'll see how this one shakes out during testing.
Performance: New > old
The Moto G7 Plus has the most powerful chip in the G7 line, with a Qualcomm Snapdragon 636 processor onboard. It promises a 40% speed boost over the previous Snapdragon 630 mid-range chip, and the phone responds well with 4GB RAM onboard. It struggles a little bit with glossy 3D games at the highest settings, but for the most part it performs admirably.
As for the Xperia 1… well, it uses the old Snapdragon 630 chip with 3GB RAM. Even if it ends up feeling pretty swift in everyday use, that lack of comparable speed is bound to show up somewhere.
Battery and perks: About the same
Motorola's phone provides a pretty strong day's usage with its 3,000mAh battery pack. The Xperia 10 comes up a smidge smaller at 2,870mAh, but we're not expecting any dramatic difference in uptime. Neither offers wireless charging, expectedly.
They both ship with 64GB internal storage, as well, with the ability to expand out via microSD cards.
Initial verdict: Too early to tell
We already know that the Motorola Moto G7 Plus is one of the best sub-£300 phones you can buy today. But what about the Sony Xperia 10?
The super-tall display gives the Xperia 10 a distinctive silhouette, but some questions remain. Will the older processor still provide enough speed? And can Sony's dual-camera setup match up with Motorola's?
At £299 for the Xperia 10 compared to £269 for the Moto G7 Plus, they're close enough on price to make this battle primarily about the overall experience – and we'll find out for sure very soon. Keep an eye out for our full review, and we'll update this comparison once it posts.