Samsung Galaxy Z Flip 5 specs, info and release date: everything we know
Samsung's next clamshell needs to be flippin' brilliant
Book-style foldables that open out into big screen tablets sure are nice – but the wallet-worrying prices they carry aren't. It's why clamshell phones have risen up the ranks of best smartphone lists everywhere: as well as putting a new spin on the classic flip phone, they're also a lot more attainable. Samsung's Galaxy Z Flip 4 is the current champion – but with it approaching its first birthday, a successor isn't far away. Here's the scoop on the upcoming Galaxy Z Flip 5.
The upcoming handset is almost certain to make an appearance alongside the Galaxy Z Fold 5 at Samsung's late July event in South Korea, and the rumour mill has been working overtime. We've followed the trail of leaks and whispers to paint a picture of what to expect when it finally arrives, and put together a feature wish list of the things we'd love to see make the cut.
Samsung Galaxy Z Flip 5 expected release date and price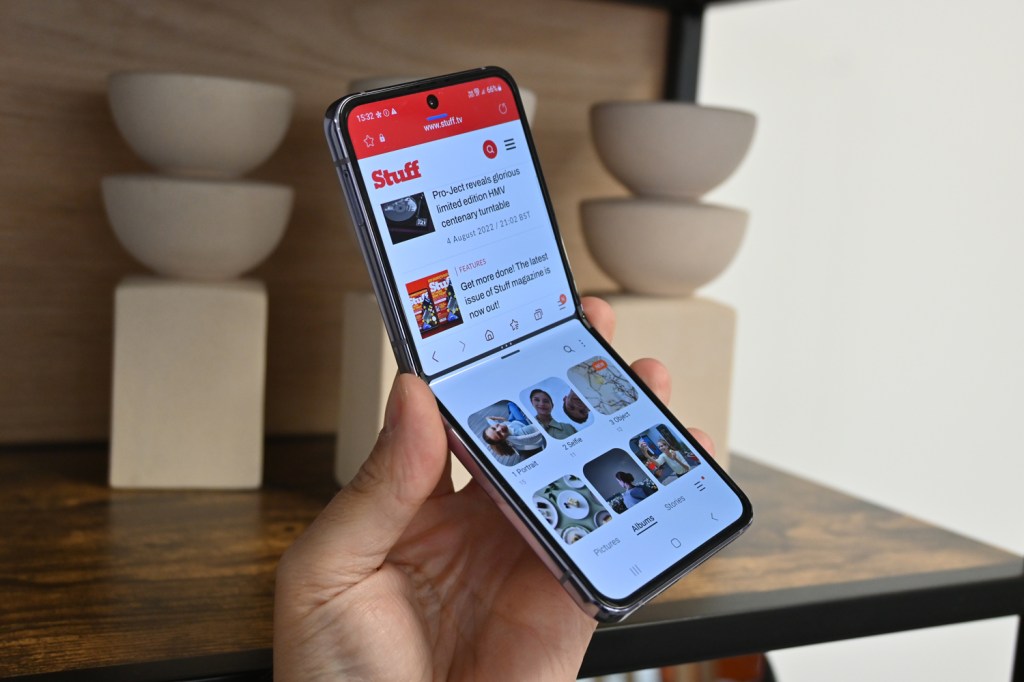 It's official: Samsung is hosting a launch event in "Late July" in South Korea, where we'll likely see the new Galaxy Z Flip model introduced. The current version is a top seller in the foldable world, and Samsung reckons it will outsell the regular Galaxy S series in a few years' time. The firm has yet to outright confirm a Z Flip 5 is on the way, but all signs are pointing to a reveal at the Seoul event.
Galaxy Z Flip 4: launched 10th August 2022
Galaxy Z Flip 3: launched 24th August 2021
Galaxy Z Flip 2: launched 5th August 2020
While Samsung's three previous efforts all launched in August, a recent report from Korean tech website The Elec has the 26th of July circled for a reveal date, with phones going on sale a week or two later. That would be a two or three week head start over previous years, apparently because Samsung is keen to boost its earnings ahead of its next financial report. It lines up nicely with Samsung's event confirmation.
We aren't going to start guessing prices just yet: increased shipping and raw materials costs, bad exchange rates and a global cost of living crisis mean it would be a total shot in the dark. But for background, the Galaxy Z Flip 4 arrived at £999/$1000. We'd hope Samsung could at least match it for the new model, but wouldn't be surprised if it's slightly more.
Samsung Galaxy Z Flip 5 hardware rumours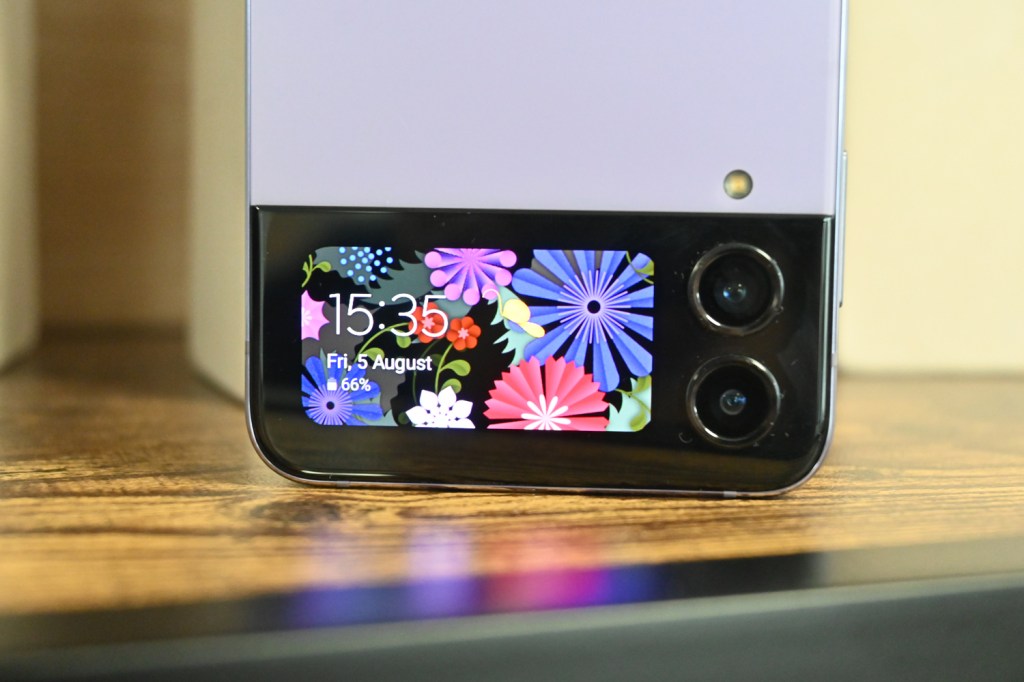 From the outside, the Galaxy Z Flip 5 should look quite different from the Z Flip 4 thanks to a much larger cover display and relocated cameras. Sammobile shared a mockup based on leaked info that shows a screen taking up almost the entire top half of the phone, with an angular cutout towards the edge to make room for two camera lenses. It should mean you're able to do a lot more with the phone without having to flip it open.
The other major design change should be thanks to a new teardrop-style hinge, which will minimise the crease on the internal screen and let the phone shut completely flat. Display analyst Ross Young said it'll be a similar mechanism to the one seen on the Oppo Find N2 and Motorola Razr 2022. We're expecting the phone to arrive in cream, black, pink and green colours, although Samsung will almost certainly come up with its own names for each shade.
Internally power will come from the same Snapdragon 8 Gen 2 seen in the Galaxy S23 trio, according to Twitter tipster Yogesh Brar. Samsung and Qualcomm have a multi-year deal for its chips to appear in Galaxy flagships, and Samsung's bespoke tuning puts it ahead of most rivals in terms of performance. Qualcomm usually releases Plus versions of its CPUs in June/July, but that might be too soon to make an appearance here.
128, 256 and 512GB storage variants are all mooted, with the former using slower UFS 3.1 storage. The other models will apparently use faster UFS 4.0. Charging speeds look set to stay at 25W, but it's currently unclear if battery capacity will grow at all.
Samsung is expected to keep pixel counts for its cameras the same, sticking with a 12MP+12MP duo outside instead of using the 50MP snapper found in the Galaxy S23. It will apparently use a different sensor this time, though, which could hopefully mean improved image quality.
Samsung Galaxy Z Flip 5 feature wish list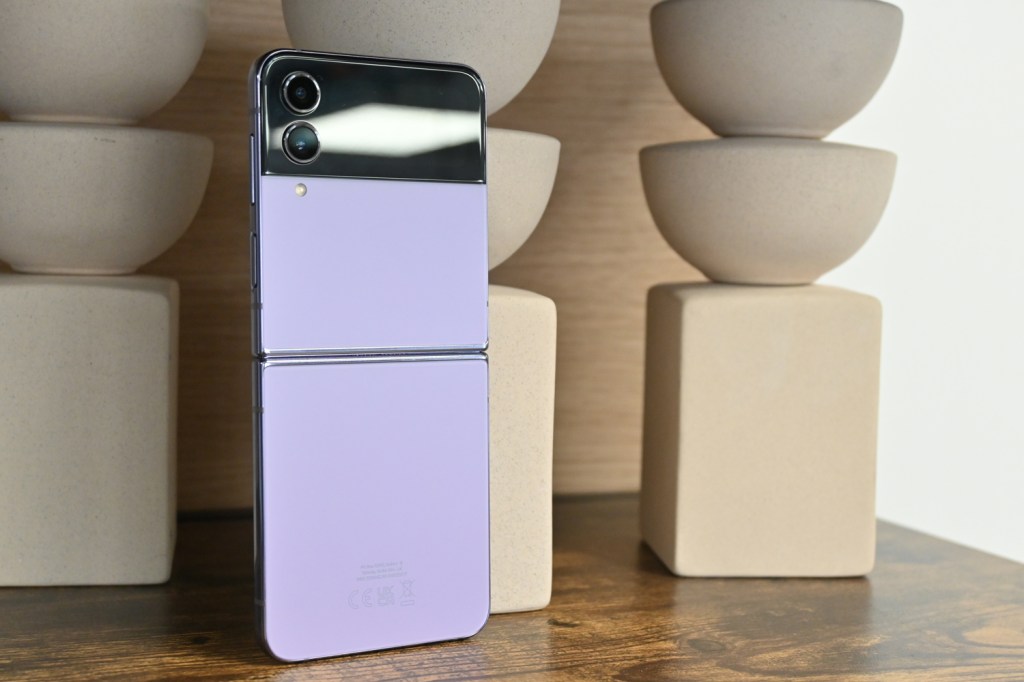 We gave the Galaxy Z Flip 4 four stars when we reviewed it back in 2022. It was comfortably the most complete clamshell phone we'd tested at the time, if not a perfect phone. Rivals are quickly catching up, though. Here's what we reckon Samsung could do to make its successor that little bit better.
Cameras on par with regular Galaxy phones
Samsung's traditional Galaxy flagships have used high pixel count sensors for their main cameras for a few generations now, but the Z Flip 4 was stuck with a 12MP snapper. It takes decent enough photos, with that signature Samsung image processing pop, but technically they aren't on the same level as phones from the firm's own stable that cost less. We're not expecting the S23 Ultra's 200MP main cam to make an appearance, but an upgrade does feel in order.
A bigger battery and faster charging
It might've found room for a bigger battery compared to its predecessor, but the Z Fold 4's 3700mAh cell is still on the small side for a modern top-tier handset. We'd love to see it grow even more for the Z Flip 5, and think Samsung should step up its charging speeds at the same time. 25W is sluggish when folding rivals are managing 44W – and positively pedestrian compared to the 120W+ we're seeing from traditional flagships.
Banish the gap
Both of Samsung's foldable phones have a small gap when closed, a necessary evil to protect the screen where the two halves converge. Rivals have come up with new hinge designs that eliminate that gap, so it makes sense that Samsung would want to do the same for its latest generation models. Otherwise it would risk losing its place as folding phone innovator – something it wants to avoid at all costs while long-time rival Apple is yet to join in with a folding phone of its own. Based on current rumours, this one seems very likely to come true.