Olympus OM-D E-M10: hands-on with the powerful retro compact system camera you can afford
Olympus takes the best bits of the E-M5 and the E-M1 and puts them in a cheaper package. Is it too good to be true?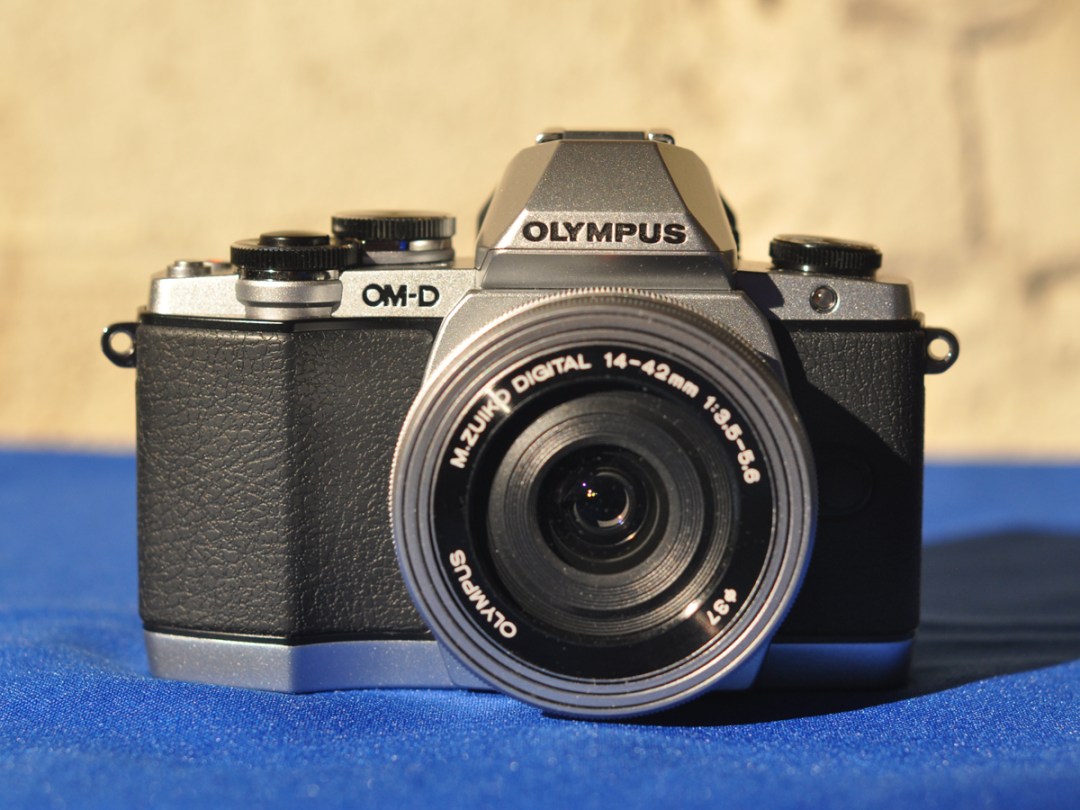 We're not shy of telling the world how much we like Olympus' OM-D range. Its first son, the E-M5, was our camera of the year in 2012, and its incredibly talented sibling the E-M1 lifted the very same gong at the 2013 Stuff Gadget Awards.
So it's with no little excitement that we greet the arrival of a camera that takes the best bits of both and combines them in a smaller package with a price tag that won't have you pawning your children. Say hello to the £700 E-M10.
(OK, so it's not cheap – but considering what you're getting, it's a bargain.)
We got to go hands-on with an E-M10 prototype, and our first impressions are that it's a bit good. Better than the award-winning and considerably more expensive E-M5, in fact. Here's why.
READ MORE: Olympus OM-D E-M1 hands-on review
READ MORE: Olympus OM-D E-M5 review
Design and build: this thing is tiny, and lovely
The truth of the sub-head above rather depends on your aesthetic proclivities, but as far as we're concerned Olympus is crafting the most beautiful cameras money can buy. Except for the Nikon Df, perhaps. In any case, the E-M10 continues the tradition of cladding the camera's compact internals in angular metal and topping it off with deeply gnurled knobs, giving the impression of a gadget you could seriously hurt someone with.
What the OM-D lacks compared with its big brothers are a powered accessory port and some weatherproofing, but there are a number of improvements over the E-M5 and E-M1. The body is smaller, yet there are now pair of control knobs rather than just the one on the right-hand side. Even more usefully, it has a pop-up flash – something missing from both its predecessors. It feels well balanced, solid and is easy to hold for a small camera, although it inevitably lacks the grabability of a big-grip SLR.
The optional M.Zuiko Digital kit lens is a wonder of engineering: a versatile 14-42mm equivalent with electronic zoom and an f3.5-f5.6 aperture that fits into a 22.5mm pancake and opens with a satisfying click. Olympus reckons that with this lens attached the E-M10 will still fit inside the carcasses of rival SLR bodies – it's 63.9mm thick in total. That's half as long as an iPhone. No mean feat.
Electronics: a few compromises, but theoretically better than the E-M5
In order to fit the pop-up flash in while keeping the price down, the trumpeted in-body 5-axis image stabilisation of the E-M10's predecessors has been reduced to work in a more conventional three axes. That means it can compensate for the pitch, yaw and roll of shaky wrists, but uses electronic compensation for additional horizontal and vertical shake.
While the 16MP four thirds-size sensor in the E-M10 is the same two year-old model from the more expensive E-M5, the processor is the upgraded TruePic VII out of the E-M1. That, says Olympus, means improved high-ISO performance over the E-M5, among other things. It's also capable of shooting 1080p video; the E-M5 topped out at 1080i.
Otherwise, performance is limited (possibly artificially, given the potency of the electronics inside) to shoot 8 frames per second in burst mode compared to 9 for the E-M5 and 10 for the E-M1. We can live with that.
Viewfinder and screen: sharp and fast, plus there's Wi-Fi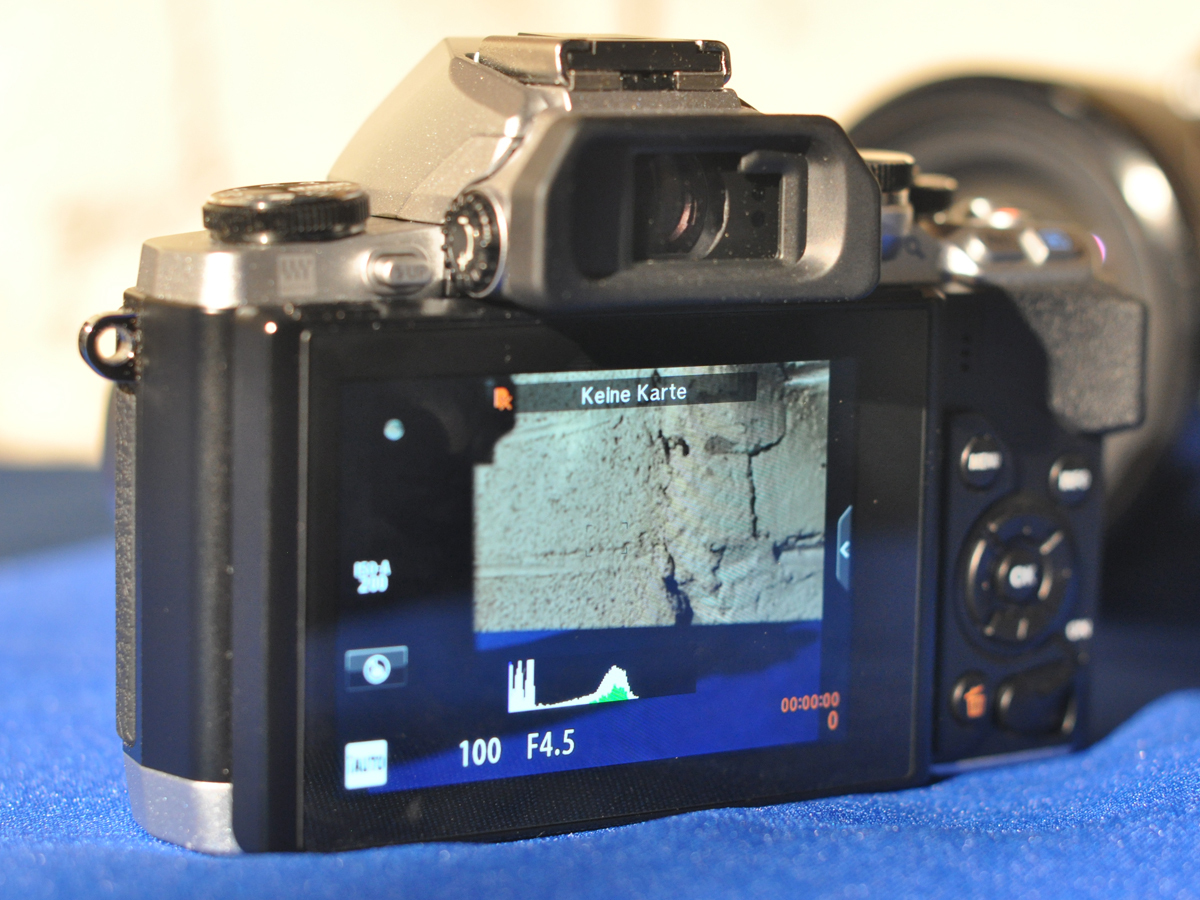 Both the 3in tilting touchscreen (LCD rather than the E-M5's OLED) and electronic viewfinder pack 1.44 million pixels, and both are crisp and fast, without a hint of ghosting in movement. The viewfinder gathers 100% of the scene, so what you see should be what you get.
The E-M10 can also hook up to an iOS or Android app via Wi-Fi. We didn't see it in action, but Olympus tells us the usual functions are present and correct: you get a live stream of whatever information is hitting the sensor, and you can use the app to frame your shot, take a photo, apply Instagram-like filters and share to social networks. With the electronic pancake lens you can even zoom in and out.
Performance: incredible autofocus, otherwise we'll have to wait and see
The prototypes we tried out weren't ready for a detailed inspection, so it's not possible to comment on the quality of the E-M10's photos or video at the moment.
What's clear is the lightning autofocus from previous O-MDs hasn't gone walkies, and the 'touch screen to shoot' control method works wonderfully, focusing in on the spot you select and snapping in a split second.
Initial verdict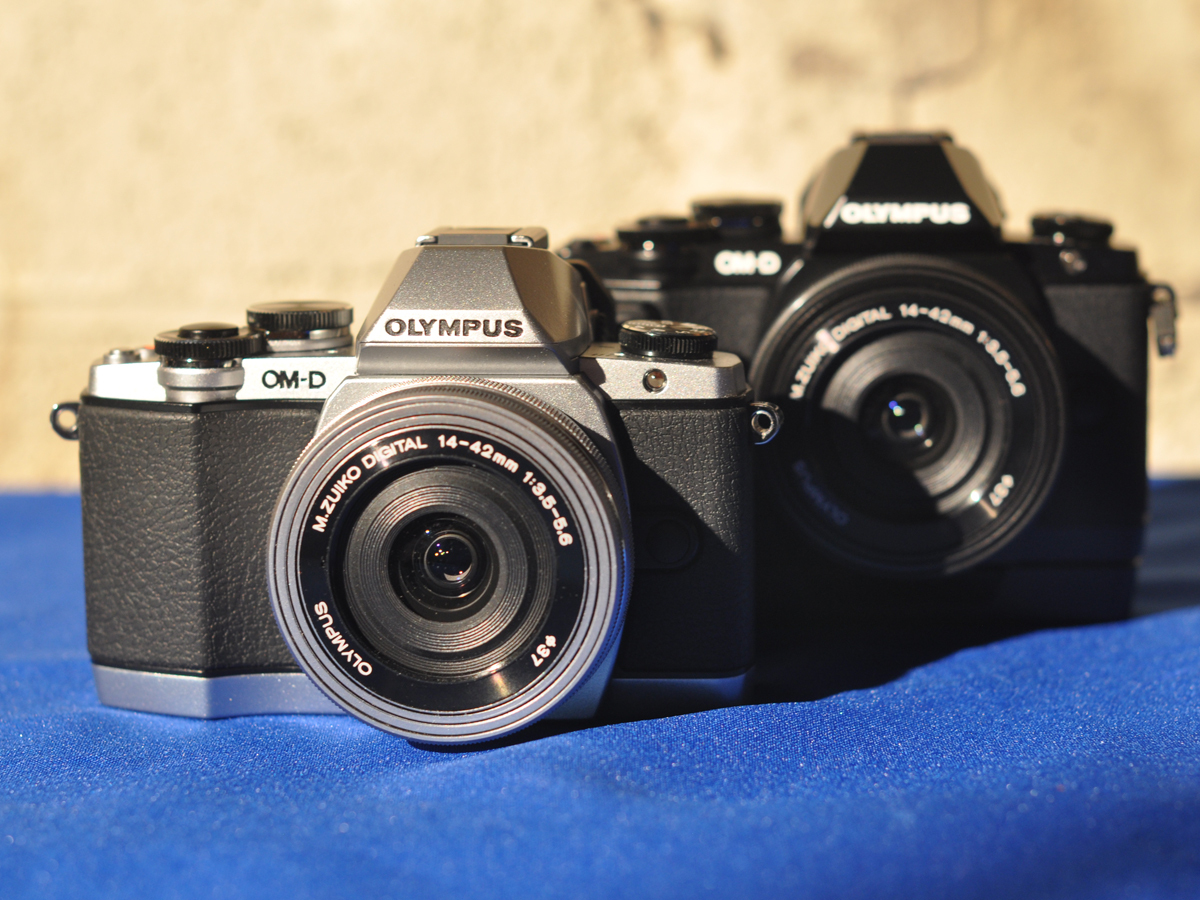 It's impossible to judge a camera until you see the quality of the images it captures, and harder still when your playing time is confined to a dark Las Vegas bar. But our first impressions are resoundingly positive.
Assuming quality on a par with or better than the OM-D E-M5's, we can't think of a good reason you'd buy that camera over this. Sure, it's less protected from the elements and has less comprehensive image stabilisation, but the E-M10 compensates with better controls, a pop-up flash, a smaller body and built-in Wi-Fi. Oh, and it's £200 cheaper.
If the E-M10 is better than the E-M5, that puts it head and shoulders above price rivals, including full size SLRs such as the Canon EOS 700D. It might just be the new de facto choice for budding photo enthusiasts.
This is one we're going to watch with interest.
READ MORE: The 10 Best System Cameras in the World