Ikea Trådfri smart lighting vs Philips Hue: Which is right for you?
UPDATE 23/5/17: You'll soon be able to chat with Ikea's Hue-bothering lights
Ikea's whole thing is smart design at insanely affordable prices, right? So there's surely reason to be excited about its first foray into connected lights.
The addictive homestore recently started rolling out its Trådfri smart lighting system, and it hits a lot of the same basics as its rivals: LED bulbs that connect effortlessly to a wireless bridge, a remote and smartphone app access.
Naturally, it's affordable enough to make it into dangerous impulse-buy territory too. But is there a trade-off in terms of deeper functionality?
Before you grab some Trådfri bulbs while stocking up on pots, pans and cheap shelving, here's our look at how the system compares to Philips Hue, the long-standing leader in this softly lit space.
Versatility: White or… white?
Let's start with one of the main differences between the systems vying to be the lights of your life: versatility and colour options.
Philips Hue just keeps expanding and enhancing its smart lighting team, despite being largely unchallenged. You've got colour-changing bulbs, plain white bulbs, stick-anywhere lightstrips, unique Bloom and Iris bulbs, an array of table, ceiling, and wall lights, a motion sensor, and various switches. You can also pair up to 50 devices to a single bridge.
Ikea's offering is noticeably simpler, which is understandable in these early days. The Trådfri starter kit (Trådfri being the name of the Ikea's smart LED bulb and its companion app) comes with two E27 "white spectrum" screwbulbs, the wireless bridge (which you need in order to use the app), and a portable remote. You can also get a dimming kit with a bulb, a wireless motion sensor with bulb, and a dimmable warm light bulb with remote. GU10 and E14 bulbs are available, too.
Uniquely, Ikea's Home Smart lighting comes in large light door and light panel offerings, with flat LED lights that can be affixed to various Ikea cabinets, or mounted on a wall or ceiling if you have rooms without much natural light.
The one thing missing from all of Ikea's options so far? Colour. While the varying white bulbs make Trådfri an easy swap for the average buyer's existing lamps and fixtures, the lack of colour-changing LED bulbs is the biggest omission from the line. It's also one of the absolute coolest things about smart lighting, so that's disappointing.
Winner: Philips Hue (unless you want smart, illuminating cabinet doors)
Connectivity: Solo spotlight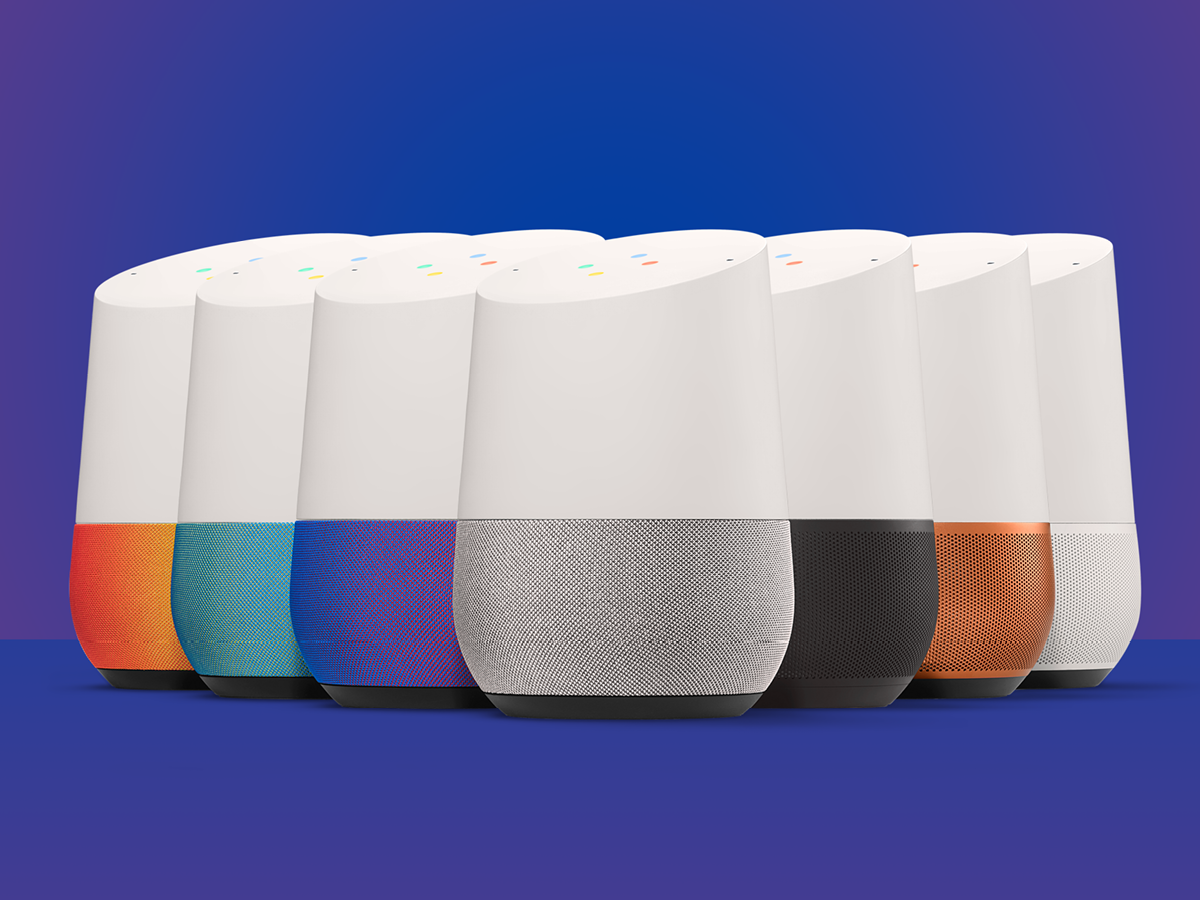 Both the Philips Hue and Ikea Smart Lighting systems have a wireless bridge, which connects to your router and the app on your iOS or Android smartphone.
The Hue system has a lot of compatible friends in the connected home ecosystem: you can voice control your lights via an Amazon Echo or Google Home, for example, and they also plug into Apple's HomeKit platform. Pair Hue with some fellow HomeKit friends like Lutron's connected blinds and a Netatmo thermostat, and you could create an evening scene that closes the blinds, turns on the lights and raises the temperature in the lounge – all with one button press.
If that's not enough, IFTTT applets can be used to enable an amazing amount of extra features and interactivity, such as matching the coloured lights to your latest Instagram post, or setting off a light show when your favorite team begins a match.
As of now, Ikea's smart bulbs don't do any of that bonus stuff. You have a smartphone app for local control, but there are no interactions with the Amazon Echo or Google Home right now, nor can it plug into HomeKit. Likewise, you can't connect to other companies' devices or services.
Some of that will change before long, however. In May, Ikea announced plans to add support for the Google Assistant, Amazon's Alexa, and Apple's HomeKit "during the summer and early autumn" in the UK, which means we should have a lot more options for voice control within a few months' time.
That'll be a great start, but it seems like Trådfri will still have a ways to go before it's as connected and flexible as Hue. We'll see how long it takes Ikea to catch up, assuming they want to add that kind of optional complexity at all.
Winner: Philips Hue
App: Smart enough
The updated Hue 2.0 smartphone app (which arrived in April 2016) made the system much more intuitive while adding a lot of new options. The main idea is grouping lights together by room and creating customisable scenes.
Within that, there's some real depth to the tweakery on offer. You can even create scenes based on saved photos, and develop routines based on your daily usage. You can also change colours and use voice commands at will. It's fully featured and easy to use.
As far as Ikea's Trådfri app goes, it offers much of the same core functionality, albeit not all of it right now. From the start, you can create groups of lights, control them individually, use pre-set lighting moods and design your own.
Then in autumn 2017, the app will be updated to include 'Away from Home' functionality that lets you set timers, check to see if you remembered to turn lights off, or remotely turn lights on scare guests.
Right now, the app is appealingly simplistic and easy to understand in a very Ikea-like way, although some of the functionality feels very simplistic, as explained in our full review. It's also a bit slow, with a bit of a delay while the app connects to your gateway.
With only white bulbs available, Ikea's app isn't quite as essential as the Hue app within its own ecosystem – although those incoming features should help a bit.
Winner: Philips Hue
Value: Cheaper on the low end
We assumed that Ikea would undercut the competition with its pricing, but that's only true in some respects.
For example, Ikea's starter gateway kit with two white spectrum bulbs and a remote costs £69. However, the basic Hue starter kit, with two white bulbs and the gateway, is £60.
Of course, the Hue bundle lacks a standalone remote, which we think is a smart move on Ikea's part as it gives you and any guests the option of phone-free control. But if it's two smart bulbs with lots of connectivity options you're after, then Hue is better value.
The colour Hue starter kit is quite a bit more expensive, priced at £150 with three colour/white bulbs and the gateway. But the extra functionality is well worth it once you've seen what those dazzling bulbs can do with your space. That's not part of the Ikea platform for now.
You'll save a bit with Ikea's single white bulbs, however. The plain white bulbs are £9 each from Ikea, while Hue bulbs come out to £15 apiece, and then the "white spectrum" bulbs – which let you change between warm and cold white varieties – are £15 for Ikea and £25 for Hue.
That'll add up if you buy a few bulbs. You also get a small magnetic remote with the Ikea bulb, however, so at least there's some added control. And it also comes with a free excuse to go to Ikea.
And the initial buy-in cost can be a lot less if you're aiming for simplicity: you don't need a hub to use the £29 Trådfri dimming kit, which is ready to use right out of the box.
So if you're dabbling in smart lighting or just want to build up from something simple – or only care about white bulbs anyway – then you can spend less to get started with Ikea's option. Hue gives you more options and more abilities alike, but you'll also pay quite a bit more to get to that level.
Winner: Ikea Trådfri
Verdict: Ikea is limited by design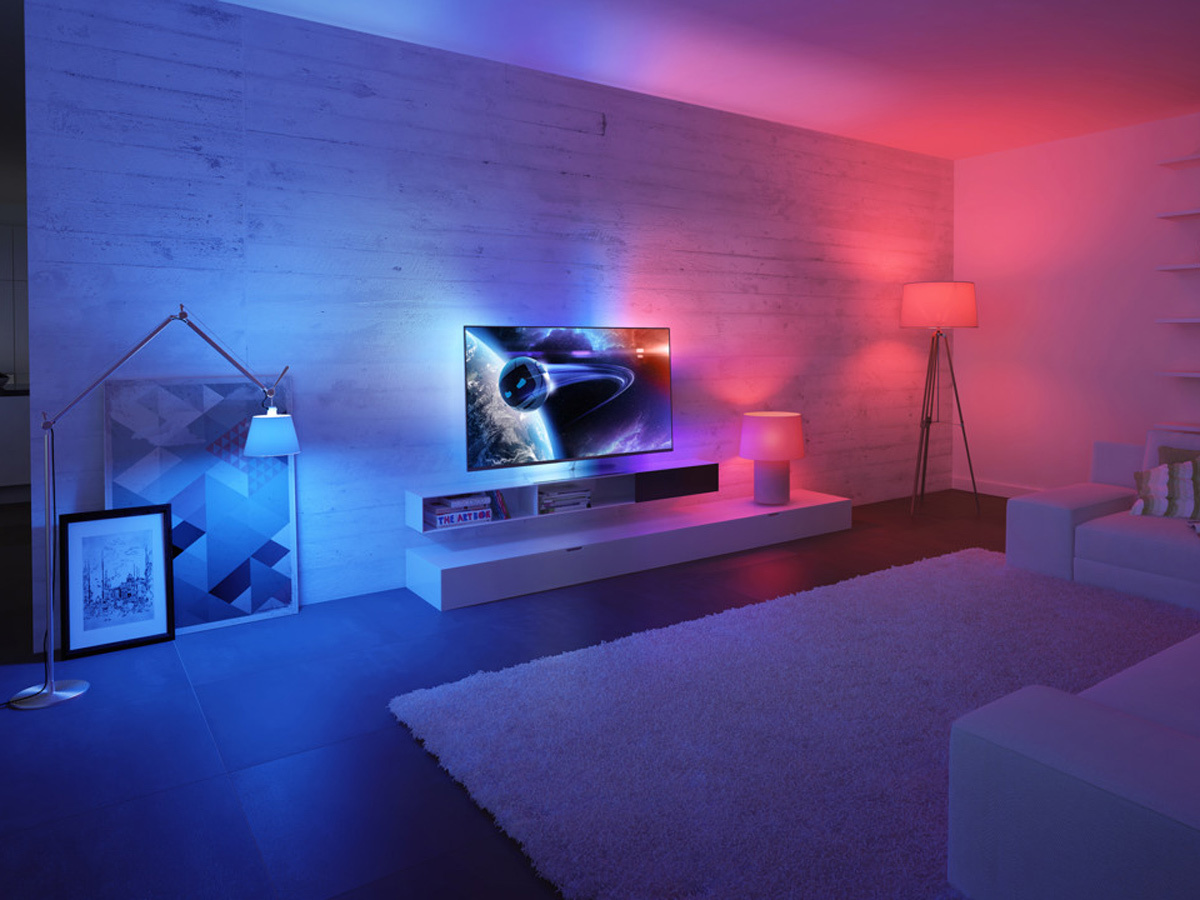 The goal of Ikea's Trådfri smart lighting collection seems to be making smart bulbs easy and approachable, with a limited range of options and few high-ticket-price items. Fair enough! If it helps smart lighting take off beyond super-nerds looking to recreate the northern lights in their lounge, that can only be a good thing.
Put it head-to-head with Philips Hue, though, and we're not really seeing the advantages for tech-savvy buyers (that's you). Hue offers a lot more options, most notably colour bulbs, and connects with the Amazon Echo and Google Home for voice controls, not to mention IFTTT applets for loads of handy benefits and silly gags alike.
You'll save a bit of money on the low end with Ikea, however, saving £6-10 per bulb depending on style. Ikea also has the lower buy-in cost if you just want a bulb and a dimmer switch – no gateway needed.
Luckily, Ikea seems keen on opening up its platform and patching connectivity holes in the near future, with Amazon Echo, Google Home, and Apple Siri/HomeKit support coming by early autumn. And hopefully, we'll be able to work in IFTTT applets and compatibility soon thereafter.
Still, for now we'd resist that impulse buy when strolling through Ikea's Marketplace and stick with Philips Hue. It does a lot more, offers plenty more possibilities, and can give you the much cooler overall setup if you're willing to invest in and tinker with the platform.
Winner: Philips Hue