Huawei Mate 20 Pro vs Apple iPhone XS Max: Which is best?
Which huge, feature-packed phone should be in your pocket?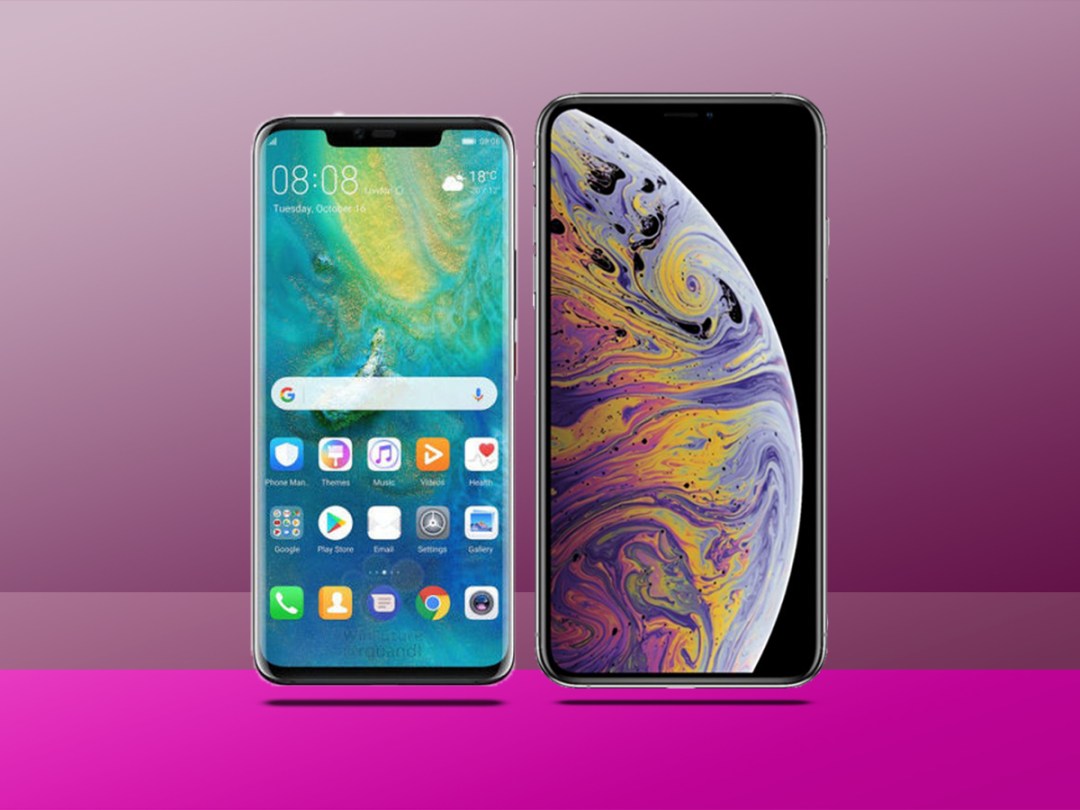 On the hunt for a big, beautiful smartphone this autumn? You've got plenty of options, certainly, and two of the boldest are the Apple iPhone XS Max and Huawei Mate 20 Pro.
The iPhone XS Max builds off of last year's iPhone X foundation and then goes larger, delivering an expanded 6.5in edge-to-edge display that's a stunner in action. Toss in the ultra-speedy A12 Bionic chip, an improved dual-camera setup, and other high-end perks, and you have a serious super-phone… with a supremely high price, to match.
The newly-announced Huawei Mate 20 Pro arrives at a lower asking price, but packs in no fewer features: it has a huge, high-resolution screen, sleek design, plenty of power, and the new class-leading triple-camera module.
Can Huawei upset Apple's latest and greatest with its own iPhone-esque flagship? Here's what we think, now that we've fully reviewed both handsets.
Design: Mean screen machines
The iPhone X was the first headline phone to carry a screen notch and kick bezel to the curb, and the iPhone XS Max just does a larger rendition of that approach. It's roughly the size of the iPhone 8 Plus, but the screen feels so much larger thanks to the lack of big borders around it.
With stainless steel along the sides and sleek glass on the back, it's a phone that looks and feels as premium as the price tag suggests.
The Mate 20 Pro certainly is very close in overall design. It has a comparably-sized notch atop its screen (which you can "hide" with black software bars on either side), but also has a small chin of bezel at the bottom; Android makers haven't quite nailed the same kind of seamless approach as Apple so far. The sides are a more common aluminium, but the phone still looks super sleek and attractive. It's also a bit curvier than Apple's handset, if you like that sort of thing.
In fact, the backing has a leg up on the iPhone XS Max. Whereas Apple just has plain backing colours, the Mate 20 Pro comes in an alluring Twilight gradient finish (like the P20 Pro), plus there are "Hyper Optical Pattern" versions with etching on the glass for a grippier feel.
One wins the front, the other wins the back – we'll call it a draw.
Verdict: Draw
Screen: Big and bold
It's a very close call here. The iPhone XS Max has one of the best screens on the market today, with that 6.5in OLED display packing more dynamic range than last year's iPhone X, along with a slight resolution bump (2688×1242) to keep the same level of clarity as the smaller iPhone XS.
The Mate 20 Pro, on the other hand, goes even higher-resolution at 1440p for its 6.39in panel, which is also an OLED and likewise looks fantastic. Even with the resolution bump, there's no clear leg up on the iPhone XS Max here: they're both phenomenal screens.
Note that the Mate 20 Pro has the unique capability of an in-display fingerprint sensor, as well, which augments the facial security option. That's a bonus feature, though – not something indicative of the visual performance of the display.
Verdict: Draw
Camera: The Triple
Prior to the Mate 20 Pro's debut, Huawei's P20 Pro had the best smartphone camera setup on the market, with three cameras working in unison to deliver epic detail, 3x optical zoom, and 5x hybrid zoom. And the Mate 20 Pro is even better.
It keeps the tri-camera approach, but drops a monochromatic sensor in favour of a new 20-megapixel ultra-wide-angle one. Paired with the 40MP wide-angle and 8MP telephoto cameras, it's just as strong as the P20 Pro's but with newly added close-up and wider-shot capabilities.
We had put the P20 Pro a smidge ahead of the iPhone XS Max in terms of camera skills, and the Mate 20 Pro lightly widens the gap. Even so, it's hard to complaint about what you get with Apple's XL handset.
With two 12MP cameras on the back, the iPhone XS Max takes stellar shots on a consistent basis, with oft-brilliant daytime results and pretty good low-light shots as well. The Smart HDR feature takes several shots and then merges them into one result, enhancing highlights and shadows in the process, plus you can now tweak the background blur and bokeh effects of Portrait shots long after you take them.
Up front, the Mate 20 Pro has the same kind of sensors to enable 3D scanning for facial security and animated emoji, and we've found them to work just as well as on the iPhone XS Max thus far.
Verdict: Huawei Mate 20 Pro
Performance: Bionic boosted
Both the iPhone XS Max and Mate 20 Pro feature bespoke processors built from a new 7nm production process, which packs more and more power into a tiny frame.
The iPhone XS Max is a no-doubt powerhouse, as its A12 Bionic chip towers above all existing Android competition in benchmark testing – just as its predecessor did. And the Mate 20 Pro likewise is plenty, with its new Kirin 980 chip showing serious processing capabilities.
But when it comes to benchmark testing, the Kirin 980 doesn't seem to be quite on par with Apple's A12 Bionic. Phone Arena put the Mate 20 Pro through a battery of benchmark tests and found that it lagged behind the A12 in every single one of them.
That may not matter much in everyday usage, as both phones should have more than enough power to handle anything you throw at them – and they run different versions of apps and games on different operating systems, so it's not a perfect comparison. But the iPhone XS Max does seem to have that much more extra, should you need it.
Verdict: Apple iPhone XS Max
Battery and perks: Go Pro
The iPhone XS Max has the heartiest battery seen to date on an iPhone, with a capacity of 3,174mAh. But given the huge screen and power needs of the phone, that's enough for a strong day's usage – not more, unless you're barely touching it.
Meanwhile, the Mate 20 Pro has a huge 4,200mAh battery. In our testing, we didn't find it to be quite capable of the day-and-a-half target of the P20 Pro, likely because of that larger, higher-resolution screen, but it can still easily push a day. It's a small, but meaningful advantage here.
Both phones support wireless charging, plus the Mate 20 Pro has a unique perk of its own: the ability to put another phone on its back and wirelessly charge it. We haven't seen that one elsewhere, and certainly not on the XS Max.
As far as storage goes, you can get a lot more on the iPhone XS Max… if you'll pay for it. It comes with 64GB in the base model, but there are 256GB and 512GB versions for extra cash. Meanwhile, the Mate 20 Pro comes with a fixed 128GB inside the base model, but you can slot in Huawei's new Nano Memory Cards to add onto that tally.
Verdict: Huawei Mate 20 Pro
Verdict: It's the Mate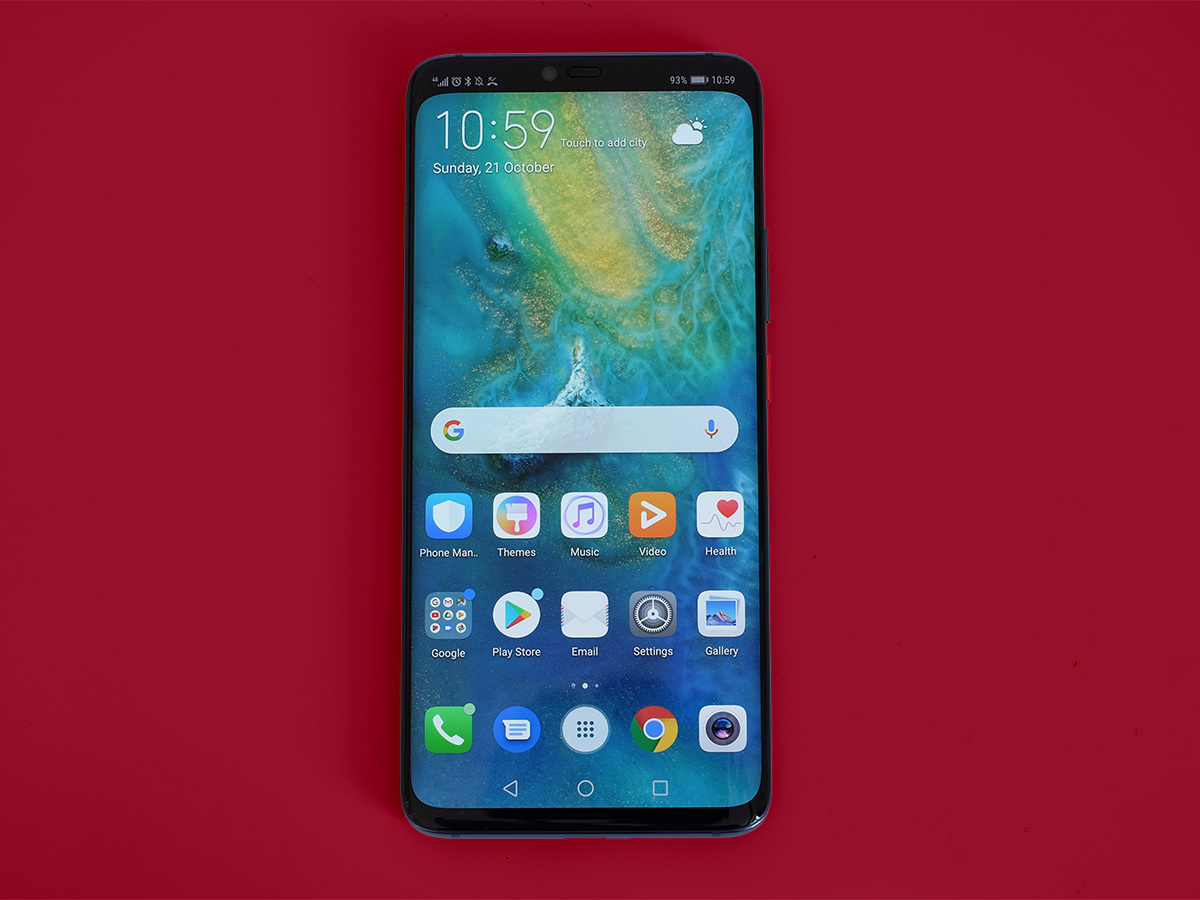 The iPhone XS Max is an excellent handset, packing in power, premium allure, and Apple's signature OS experience inside arguably its best-ever smartphone. However, it's incredibly expensive at £1099 – even more so than last year's iPhone X, which earned plenty of flak for its £999 tag.
But as an extra-refined take on the P20 Pro, our previous favourite handset, the Mate 20 Pro even edges out Apple's latest and greatest. And it's £200 less, at that.
They're neck and neck in design and screen quality, while the iPhone XS Max has a smidge more processing grunt within – but the better camera setup, along extra battery life and base internal storage, help make the Mate 20 Pro just a bit more appealing.
If you're already an Apple devotee and can't see switching now, then proceed directly to the Apple Store and claim your iPhone XS Max. It's awesome. Otherwise, the Mate 20 Pro is the better overall bet at the better overall price.
Winner: Huawei Mate 20 Pro