Hands on review: Huawei Ascend P6, the world's slimmest smartphone
We wrap our mitts around the world's thinnest smartphone – Huawei's all-metal, premium Ascend P6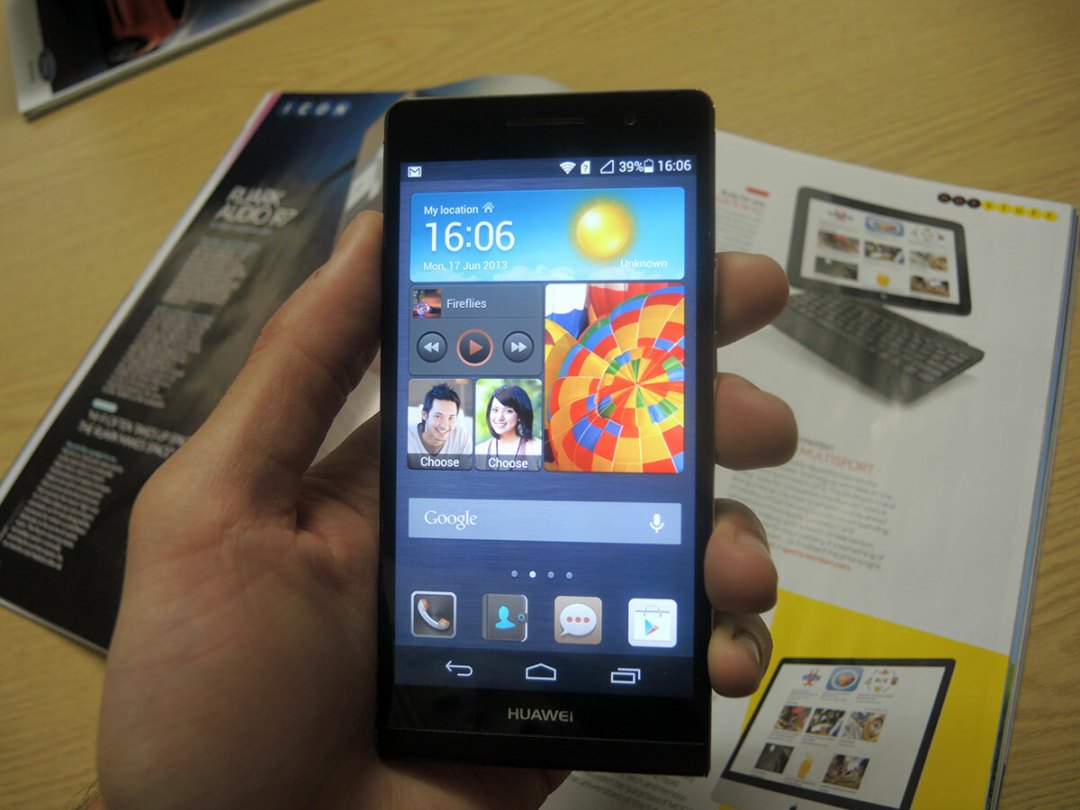 The newly unveiled Huawei Ascend P6 has been hailed as the thinnest phone in the world.
It's the Chinese company's first foray into the premium market, with a metal build and an emphasis on quality – but has it got what it takes to go toe-to-toe with the fiercest Android competition to date?
Design and build
From the sides, the 6.18mm P6 looks like an iPhone that's had a run in with a rolling pin, with brushed steel banding sandwiched between the screen and black brushed-metal rear. Its edges are almost sharp when rubbed with the fingertips but not enough to cause any real concern.
Save for the rounded plastic strip at the bottom (which we presume houses the antennas), the P6 does feel like a truly premium device – it's definitely the best looking phone to come out of Huawei's doors to date. Our thumbs prefer the smoothness of the iPhone 5 and HTC One's aluminium to the slightly rough brushed metal back of the P6, but all in all it feels very solid premium device.
The only niggle we have with it is that the micro SD slot cover isn't quite flush with the side of the device. That's the sort of attention to detail that puts the likes of HTC and Apple at the top of the design pile, and consistency is key if you want to make a name for yourself in the premium category.
The P6's brushed metal back also looks like it'll be prone to scratches (just like the black iPhone 5), so you might be better off getting the white (or pink) version if you decide to spring for it. It's non-removable though, so let's hope that 2,000mAh battery is big enough to last a full day's use.
Its 120g weight is light in the hands and overall this is definitely a phone you'll take pleasure in holding and caressing. Slip in into your pocket and you could forget that it's even there.
Oddly, the micro USB port is on top, though volume and power buttons are where you'd expect them to be on the right, along with micro SIM and micro SD slots on the same side.
There's an odd circular metal protrusion on the bottom left, which we initially thought was a lanyard attachment. A bit of fiddling and pulling to detach it reveals a headphone port, as well as a handy tool for opening up the SIM and SD slots on the right. A nice touch – though we'd lose it within the first hour, knowing our luck.
Screen
The P6's 4.7in 720p LCD screen is nice and bright with excellent viewing angles, and colours are vivid without the over-saturated cartoon-like quality of an AMOLED display. It might not be as pixel-packed as the 1080p HTC One, Sony Xperia Z or Samsung Galaxy S4 on paper (with 312 ppi), but it's not far off the iPhone 5's 326ppi count.
Even with our noses pressed against the glass, we can't find much to complain about and it's more than sharp enough at this screen size.
It's also easy for one-handed use and it hits the screen size sweet spot for most people.
Camera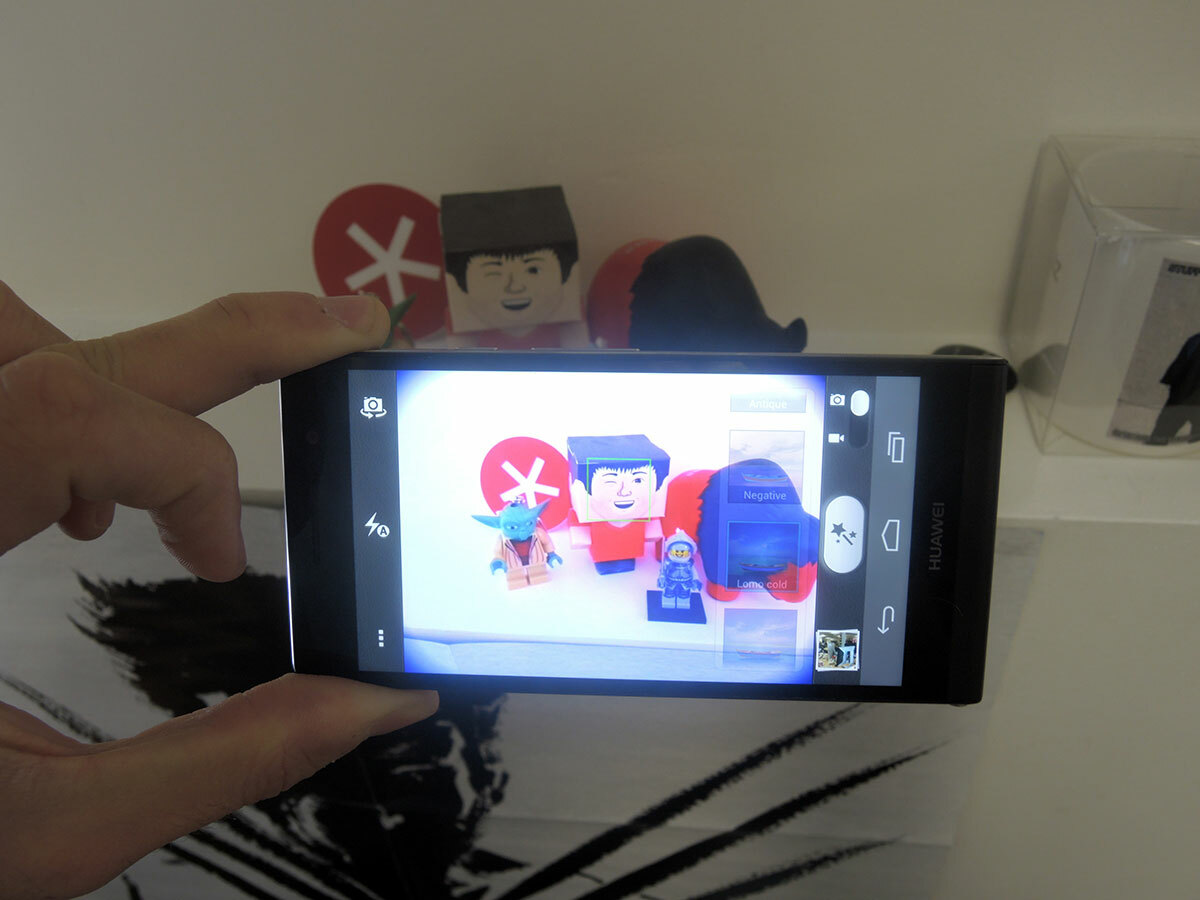 The Huawei P6's 8MP camera takes decent shots in good lighting conditions from what we've seen so far, with a HDR mode that emphasises the difference between light and dark areas quite well. There's plenty of effects on hand for Instagram-loving shutterbugs and you can add even more filters after a shot has been taken in the image editor. A auto-focus mode which tracks subjects is also a potentially useful feature and did a decent job of following out hands around during our brief test.
Low light performance also is also quite good with the bright flash bringing up plenty of detail even in a completely dark room, though naturally there's still noise present. Hold on for our full review for a proper comparison to the likes of the Galaxy S4 and HTC One's cameras.
Panorama mode is impressive, with consistent stitching and an easy to use sweep function. 1080p video also seems clear enough after recording for a short while, though we sometimes found ourselves having to manually maintain focus. The ability to pause and resume recording is also a handy feature.
The front 5MP camera, coupled with the beauty function, does well to soften our crow's feet and will be a welcome bonus for image-concious video callers.
Software and OS
Huawei has heavily skinned Android with its Emotion UI, but it's actually rather impressive if you can get past the initial shock of no app drawer.
Its drag-down settings bar is useful, with all the options you could ever want, and you can even tweak it with your most used shortcuts if you prefer.
Huawei's home screen widget is also rather pretty, displaying the weather, a clock, frequent contacts and a gallery slideshow.
The music player is more attractive than the stock Android one and has the same handy Dolby virtual effects as the Huawei Ascend Mate for you to play around with to enhance your music. Though most genres are covered, we found the default Dolby setting worked best for most songs.
There are also a few pre-loaded themes ranging from the subtle zen-like offering to the plain crazy cookie icon pack. Handy, if you like to change the feel of your phone on a regular basis. You fashion victim, you.
One thing that's a little annoying is that you cant minimise the soft keys like you can on the Ascend Mate – it would make even more sense on the P6's smaller screen.
A quick scroll through the setting reveals a handy power manager which lets you choose normal, smart and endurance modes and shows how much time you've got left for each one, along with the ability to choose which apps load at start up.
Motion controls like flip to mute, shake to change wallpaper and raising the phone to your ear to make calls are also present.
Lastly, there's a gloves mode which increases the screen sensitivity for glove use. All in all the P6 is far from the stock Android experience, but it looks slick and offers some genuinely useful features for the most part.
Power and browsing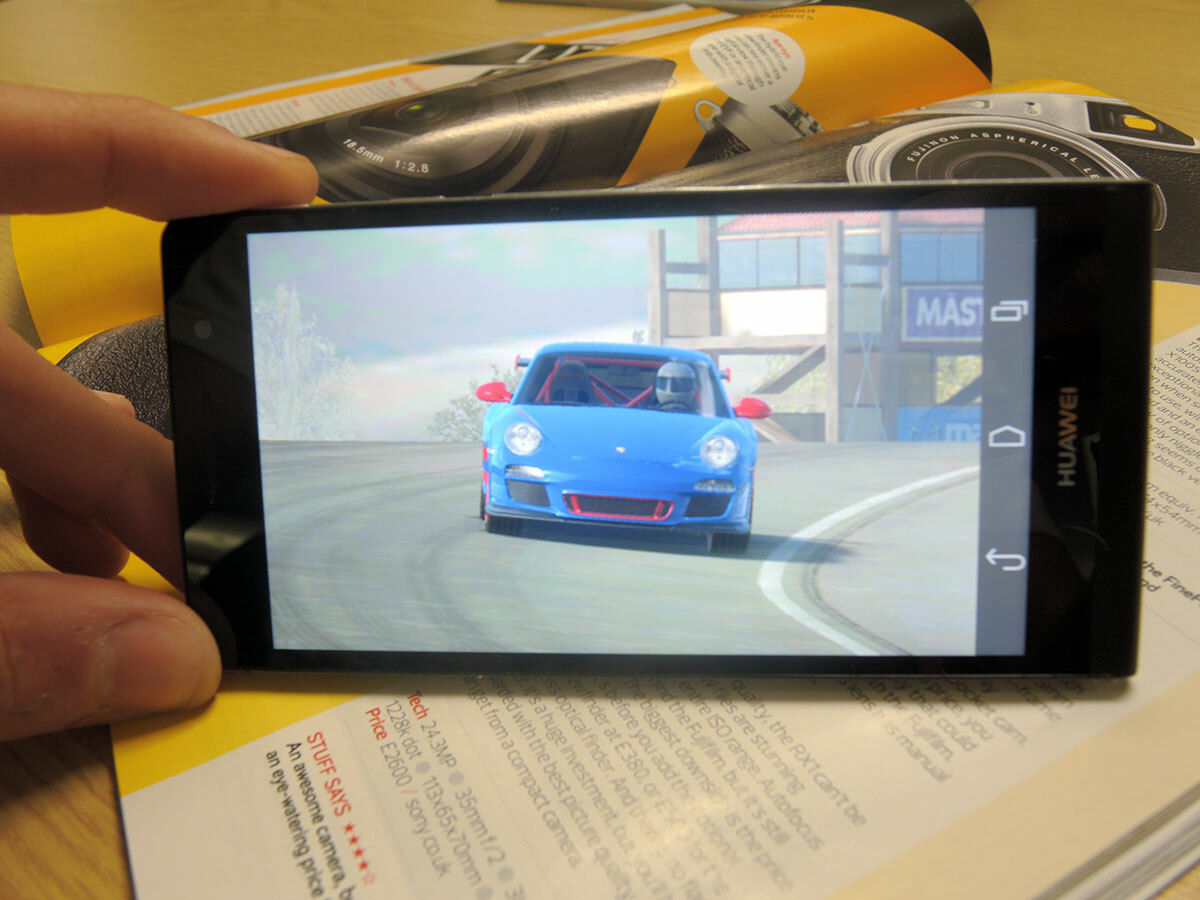 Apps and transitions are slick and smooth, and the pre-loaded Riptide GP racer ran smoothly with virtual water droplets happily splashing away onto the screen with no problem. Carmageddon still has the same disappointing screen tearing problems that we saw on the Ascend Mate though. Maybe it's something to do with Huawei's own 1.5GHz quad-core processor being incompatible with the game itself?
Real Racing 3 looks gorgeous as ever and is playable, but the framerate is noticeably not as smooth which is a constant annoyance while playing. Huawei's homegrown silicon just can't cut it against Qualcomm's or Samsung's offerings, at least going by first impressions.
Browser text is crisp and easy to read, though scrolling is a bit laggy. Zooming in doesn't always resize text to fit the screen very well either. Also, there's no NFC or 4G support, which will be a problem for some.
We found that the back of the P6 got pretty hot during out time with it, too – possibly due to the metal back's heat conduction.
Initial verdict
The Ascend P6 is easily the nicest phone Huawei has ever made – we really like its solid metal, slim profile. It's a pleasure to hold and you'll have people commenting on how thin it is the minute they wrap their hands around it.
Its 4.7in screen is very impressive, with plenty of brightness, vivid natural colours and excellent viewing angles, so no complaints there.
However, performance is disappointing – despite the quad-core innards. Perhaps there are a few niggles to iron out with Huawei's homegrown quad-core chips before it hits store shelves, but at least general operation and transitions are slick enough.
All in all the P6 wraps pretty software in a seriously thin, attractive body. Let's hope performance niggles are ironed out in time for our full review – stay tuned.