Google Pixel Fold 2 preview: specs, release date and everything we know
What to expect from Google's second-gen foldable effort
There's sure to be a Google device or two on anyone's list of upcoming phones worth getting excited about. For us, it's the Pixel Fold 2 – the expected successor to the firm's first attempt at a foldable smartphone.
The next generation Pixel Fold is surely still a long way off, but that hasn't stopped the rumour mill from creaking into action. As well as hinting what to expect when it finally arrives, we've also looked back at our Pixel Fold review and picked out the areas we hope Google will improve on for the sequel. Here's everything expected from the Pixel Fold 2.
Google Pixel Fold 2 expected release date
There's only been one Pixel Fold generation so far, which isn't enough to spot patterns when it comes to announcements, release dates or pricing. And with Google not saying anything official just yet, we're in the dark as to when a Pixel Fold 2 will arrive.
The Pixel Fold was officially revealed at Google's I/O dev conference in May 2023, and went on sale a month later. Next year's I/O conference will almost certainly take place in May, so there's a chance we'll see the Fold 2 there – but equally Google traditionally focuses on software at I/O, so may choose to bump its hardware reveals to another time.
Pricing is also an unknown right now. The first Pixel Fold cost $1799/£1749 at launch, which made it a direct rival to the $1800/£1750 Samsung Galaxy Z Fold 5. Book-style folding rivals from Honor, Oppo, Tecno and Huawei didn't really shift the needle, so there was little need to lower the price.
That changed with the recently-launched OnePlus Open/Oppo Find N3 duo, which has been getting rave reviews at a more wallet-friendly $1699/£1599. We're hoping it will encourage firms like Google to bring the price down in order to compete.
Google Pixel Fold 2 hardware & design rumours
The closest thing we have to anything official is reference to a device codenamed "Comet" within the Google Pixel Buds companion app, as spotted by 9to5Google. Google has used dog breeds for its most recent Pixel phone codenames: Husky, Shiba and Akita. The Pixel 9 generation will apparently be named after reptiles, too. That would suggest Comet is a standalone model, most likely a foldable.
Until we have any major leaks, much of what we think we know about the Pixel Fold 2 is speculation – but there has been word from one or two respected industry analysts that hints one is certainly in the works. Display specialist Ross Young indicates the Pixel Fold will get a larger screen, but there's no info yet on whether he means the 5.8in cover screen or the 7.6in internal display.
Other hardware rumours? A Tensor G3 processor looks likely if Google will launch Pixel Fold 2 in the next twelve months. That would put it on par with the Pixel 8 and Pixel 8 Pro. Should the firm decide to wait a little longer, though, a Tensor G4 could be possible. Could Google swap to Snapdragon power, now Qualcomm has made some big AI advances? That seems unlikely, but stranger things have happened in the tech world.
Camera upgrades seem very likely, as Google usually makes photography one of the key reasons to buy any Pixel device. The Pixel 8 Pro's trio of rear lenses take fantastic snaps, but whether there's room for them inside a foldable remains to be seen; the original Pixel Fold used a different set of sensors to the Pixel 7 Pro, reportedly due to packaging issues.
Other upgrades, such as a larger capacity battery, will likely boil down to how much larger Google makes the Pixel Fold 2's screens; there's only so much room inside the device, after all.
Design-wise, we're expecting Google to stay very close to the original Pixel Fold. The rear camera bar may be more pronounced if the firm decides an extra millimetre or two is worth it for significantly better camera hardware. The rear glass may borrow the frosted finish seen on the Pixel 8 Pro to keep fingerprints at bay, too. Slimmer dimensions will surely be on the cards, too; the Pixel Fold is now looking a little portly compared to some newer rivals.
Google Pixel Fold 2 feature wish list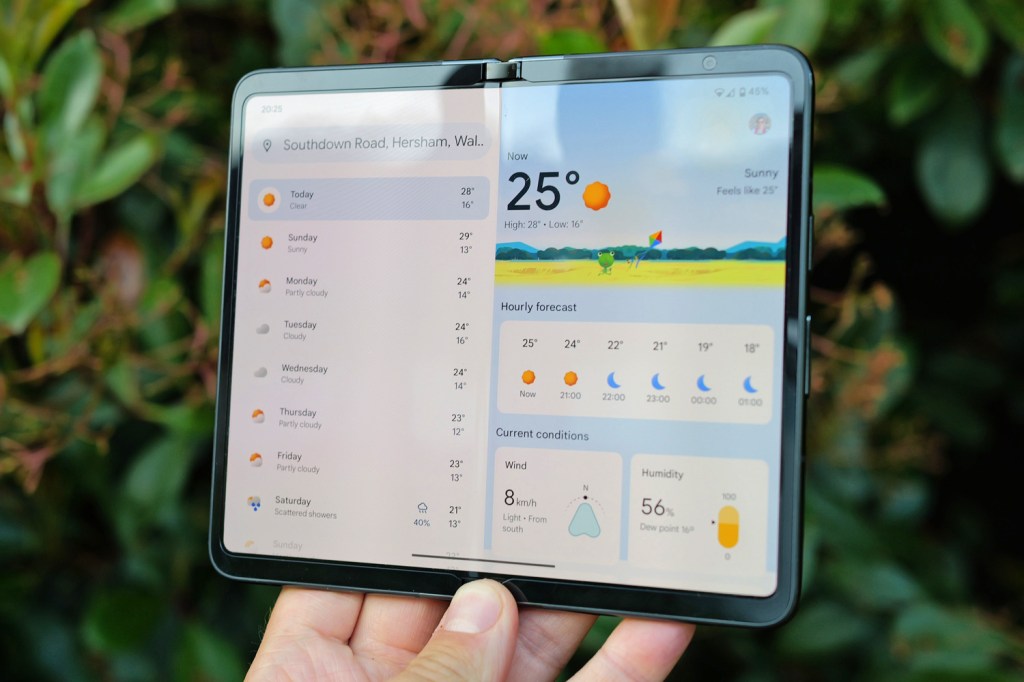 As much as we liked the Pixel Fold, it fell short of top marks in our review. The four-star phone has room for improvement, then – something that Google will want to address for the sequel, at a time the foldable competition has never been tougher. Here's what we think a Pixel Fold 2 could change to be better than its predecessor:
More balanced battery life
One of our biggest criticisms of the Pixel Fold was its mediocre battery life. An update to Android 14 did help it last a little longer between top-ups, but it still fell far short of folding rivals. The 4800mAh battery seemed plenty big enough, so the blame may be down to the Tensor G2 processor. The new Tensor G3 seen in the Pixel 8 Pro is more efficient, which bodes well for the sequel, but we can't help but see what Qualcomm is doing with its flagship Snapdragon silicon and wish Google would catch up. Faster charging would be a welcome addition, too; 30W feels pretty pedestrian when rivals are pushing north of 65W or more.
Camera parity
The Pixel Fold took a pretty tasty photo, but then the Google Pixel 8 and Pixel 8 Pro arrived and showed what the firm was really capable of. When a smartphone costs $1700, you expect the very best, and that just wasn't the case here. Given the Fold came out months before the Pixel 8 Pro, and we expect that pattern to repeat next year, it will be difficult to address that balance. We seriously doubt the Fold 2's launch would get pushed back to coincide with the next-gen Pixel 9. But it would still be nice to think you're not compromising on cameras by buying a foldable over the more mainstream model.
Streamlined software
When the Pixel Fold launched, only Samsung had done more in terms of optimising Android for larger screens. Google's take on the app launcher and multi-window was pretty slick, and it put real effort into updating its apps with two-column layouts. Only being able to open two apps at once with a vertical split felt limiting, when Samsung has been offering more apps, in different orientations, and floating window support for a while now. The OnePlus Open does fantastic things with two smaller windows and one larger one using gesture navigation, too. Anything Google can do to catch up on this front would be much appreciated.