Google Pixel 6 vs Pixel 6 Pro: what's the difference?
How to pick a Pixel
Confirming the worst-kept secret since, well, the Pixel 5, Google has finally unwrapped a pair of fresh flagships: the Google Pixel 6 and Pixel 6 Pro.
While a torrent of online leaks revealed the key features weeks ago, we now have the full, official specs of each Android 12 smartphone – from refresh rates to camera resolution.
So what's new with Google? And what are the benefits of going Pro? We've combed through the tech specs to highlight what's unique to each handset – and which skills are shared by both. All the details are down below, so let's dive right in.
Design & build: raising the bar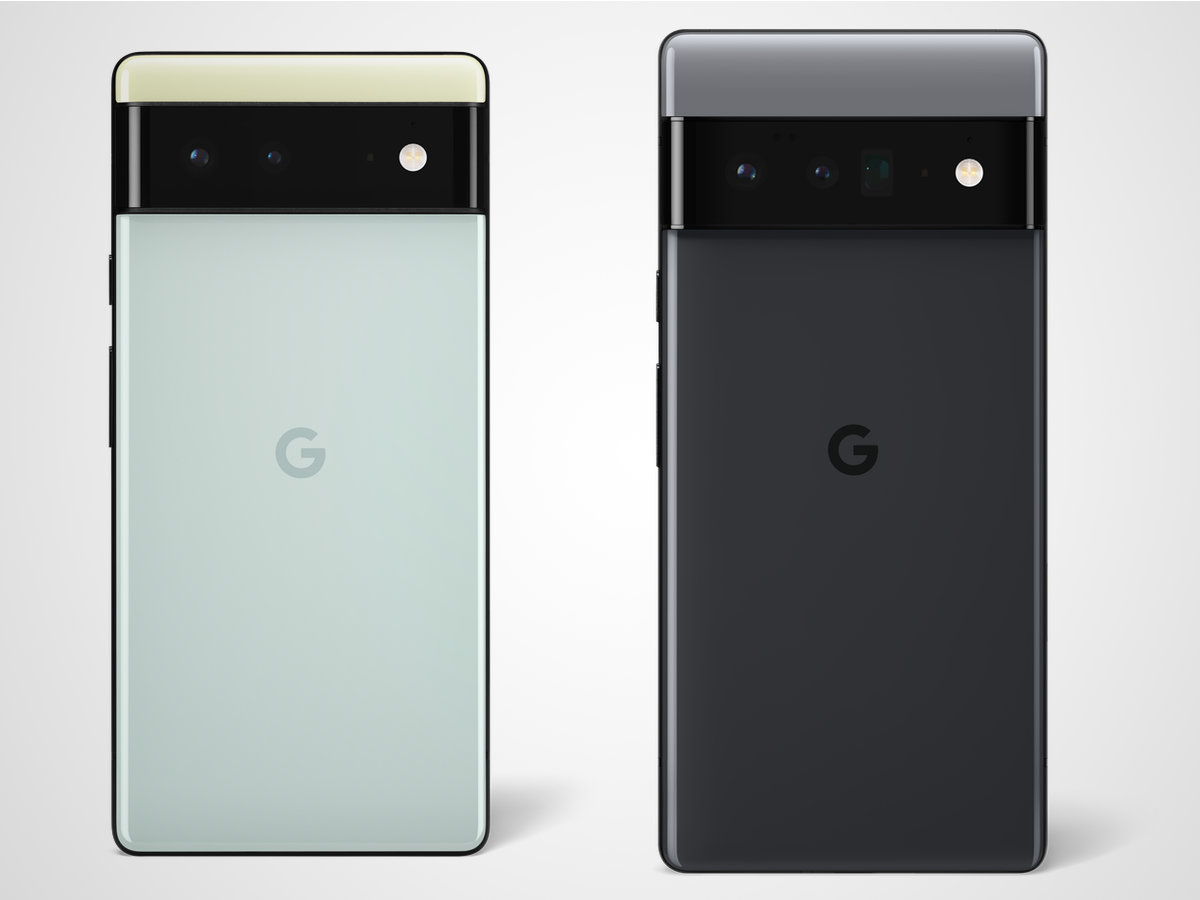 Previous Pixel devices kept costs down with bland design. Not the Pixel 6. Both the vanilla variant and its Pro sibling ditch familiar aluminium in favour of 'edgeless' rear panels crafted from glass. These wrap around to meet an alloy frame at the edge, while a distinctive camera bump now divides the back. Can't tell the two apart? Look for the one with more space above the bump: that's the Pixel 6 Pro.
Buyers of the standard Pixel 6 will find perfectly sturdy Corning Gorilla Glass 6 shielding the rear of their handset, while Pro purchasers receive the even tougher Gorilla Glass Victus. Both should be sturdy enough to resist scratches. And both will probably end up protected by cases anyway.
From the front, the new Pixel 6 devices share a similar design language. Both feature barely-there frames, with squarer corners than the rounded ones seen on the Pixel 5. Each Pixel 6 also features a centred hole-punch camera, rather than offset lens which previously appeared on the Pixel 5.
But there are also some visual differences between the Pixel 6 and Pixel 6 Pro, especially when viewed face-on. Besides a larger display (see below), the Pixel 6 Pro has noticeably slimmer bezels on either side of the screen, giving it a more streamlined, premium look. In contrast, the standard Pixel 6 features a thicker bezel that's pretty much uniform around the entire display. It also lacks the neat colour accents top and bottom which appear on the Pro.
Speaking of which, both devices ship in a trio of two-tone designs, with contrast panels found above the camera bump on the rear of each. Both ship in Stormy Black, with the Pixel 6 also available in Sorta Seafoam or Kinda Coral – while the Pixel 6 Pro comes in Sorta Sunny or Cloudy White.
Each Pixel 6 also features IP68 water-resistance. Google actually states that the devices are designed to comply with the IPX8 standard (which means full waterproofing) but doesn't guarantee that you can safely use your new smartphone underwater.
The Pixel 6 Pro is marginally wider (by 1.1mm) and significantly taller (by 5.3mm) than the Pixel 6, which tells you plenty about the differences in bezel width and display size. Both devices are 8.9mm slim and weigh essentially the same (the Pixel 6 Pro is 3g heavier at 210g).
Screen: size matters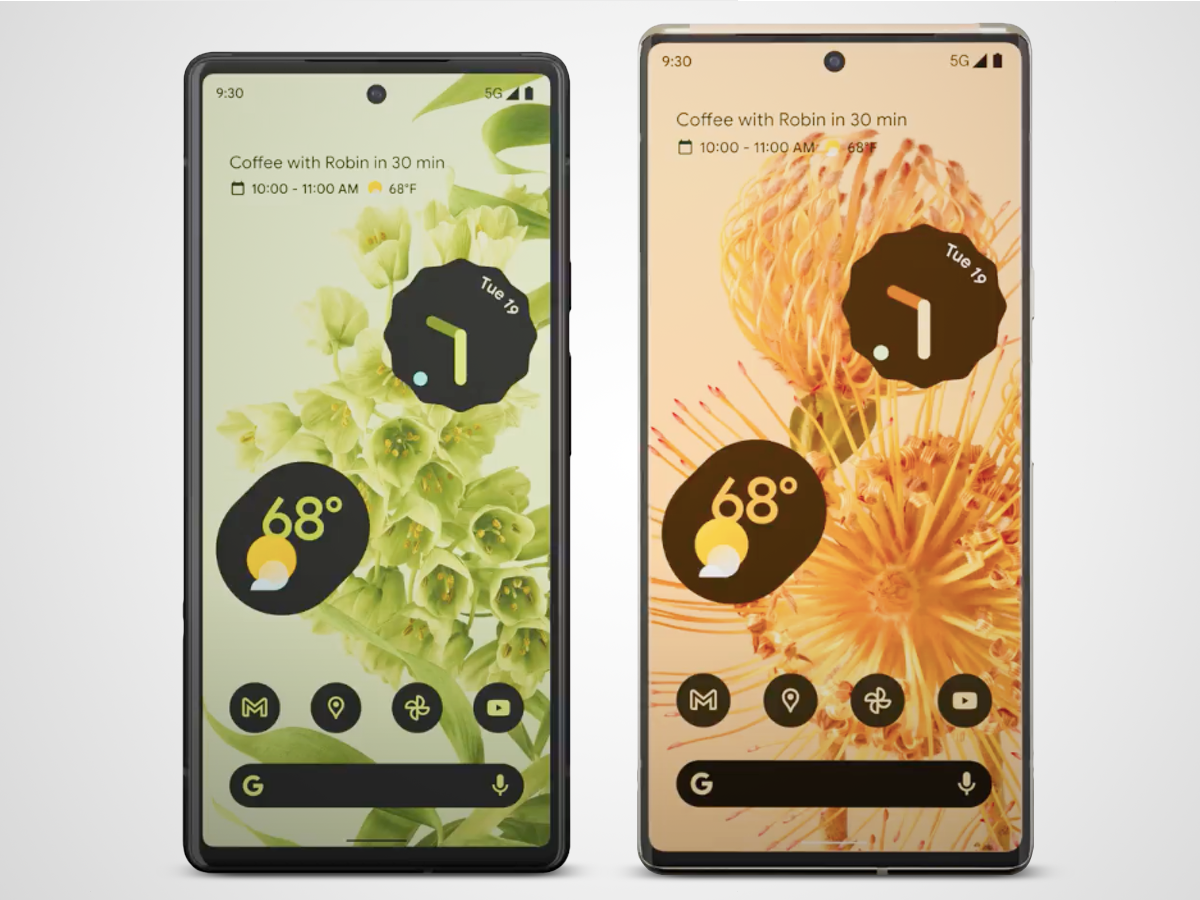 Both the Pixel 6 and Pixel 6 Pro feature OLED screens which support HDR with full 24-bit colour depth. That should translate to vibrant hues, deep blacks and a very nice viewing experience. And they both work with Google's At a Glance feature, for always-on info without unlocking your phone.
It's display size which instantly sets the Pixel 6 and Pixel 6 Pro apart: the former features a 6.4in panel, while the latter goes bigger with a 6.7in display. So if swiping space makes the difference, Pro is the way to go.
There's more to divide the two devices than size alone, though. The panel on the Pixel 6 features a Full HD resolution with 411ppi and refresh rates of up to 90Hz. So it should be more than sharp and slick enough for everyday use.
But if you need something even sharper and even slicker, the Pixel 6 Pro is where you'll find it. At 1440×3120, its QHD+ display delivers a resolution which works out at 512ppi. That's almost as sharp as the Samsung Galaxy S21 Ultra. Which is saying something.
What's more, the Pixel 6 Pro panel is an LTPO number (the same tech used by the OnePlus 9 Pro to deliver adaptive refresh rates without sapping so much battery). This can deliver refresh rates up to a silky smooth 120Hz (ideal for rapid mobile gaming action) or responsively drop down as low as 10Hz to extend longevity when you're tackling tasks which don't require the smoothest visuals.
Cameras: Pro for telephoto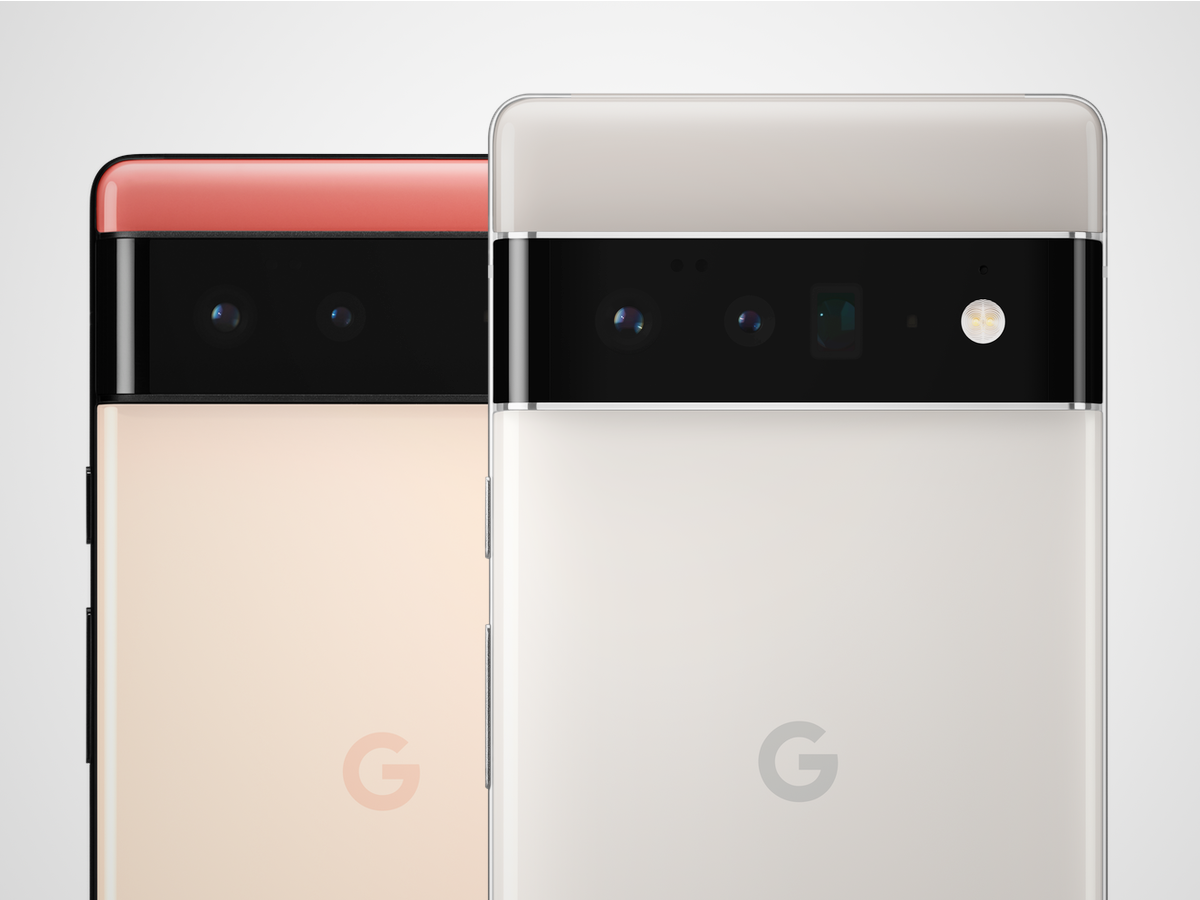 After steadfastly sticking to 12MP sensors on previous Pixel devices, Google has finally made the leap higher resolutions. Both the Pixel 6 and Pixel 6 Pro get a more powerful photography setup than any Google phone that's gone before.
As expected from leaked specs, both models feature a 50MP main snapper with an f/1.85 aperture and 82-degree field of view. Google reckons it captures '150% more light' compared to the main camera on the Pixel 5, which should be good news for night owls.
Each Pixel 6 also comes equipped with a 12MP ultra-wide lens, covering a much broader 114-degree field of view for expansive landscapes. Laser detect autofocus is also deployed by both, as is optical and electronic image stabilisation for sharper shots when shooting handheld.
But the Pixel 6 Pro goes even further. Like its equivalent in Apple's iPhone line-up, the Pro variant gets an extra lens – in this case, a 48MP telephoto camera. Its sensor size is solid at 1/2in, which should mean better low-light performance, while a 4x optical zoom range is decent (if not quite as generous as the iPhone 13 Pro's 6x or the Samsung Galaxy S21 Ultra's lengthier 10x). Still, Super Res software smarts can digitally extend the range to 20x, will get you much closer to the action (especially compared to the 7x offered by the standard Pixel 6).
The Pixel 6 Pro also offers a sharper selfie camera, with a resolution of 11.1MP (versus an 8MP sensor on the Pixel 6). It covers a slightly wider field of view too, which could be handy if you're the go-to shooter for group photos.
Both devices benefit from a fleet of fresh software tricks, including a 'Magic Eraser' which will allow you to remove unwanted elements (or people) from images, a 'Motion Mode' to add dramatic depth and movement blur to action shots, plus a 'Face Unblur' tool to sharpen unfocused portraits.
Performance: homemade muscle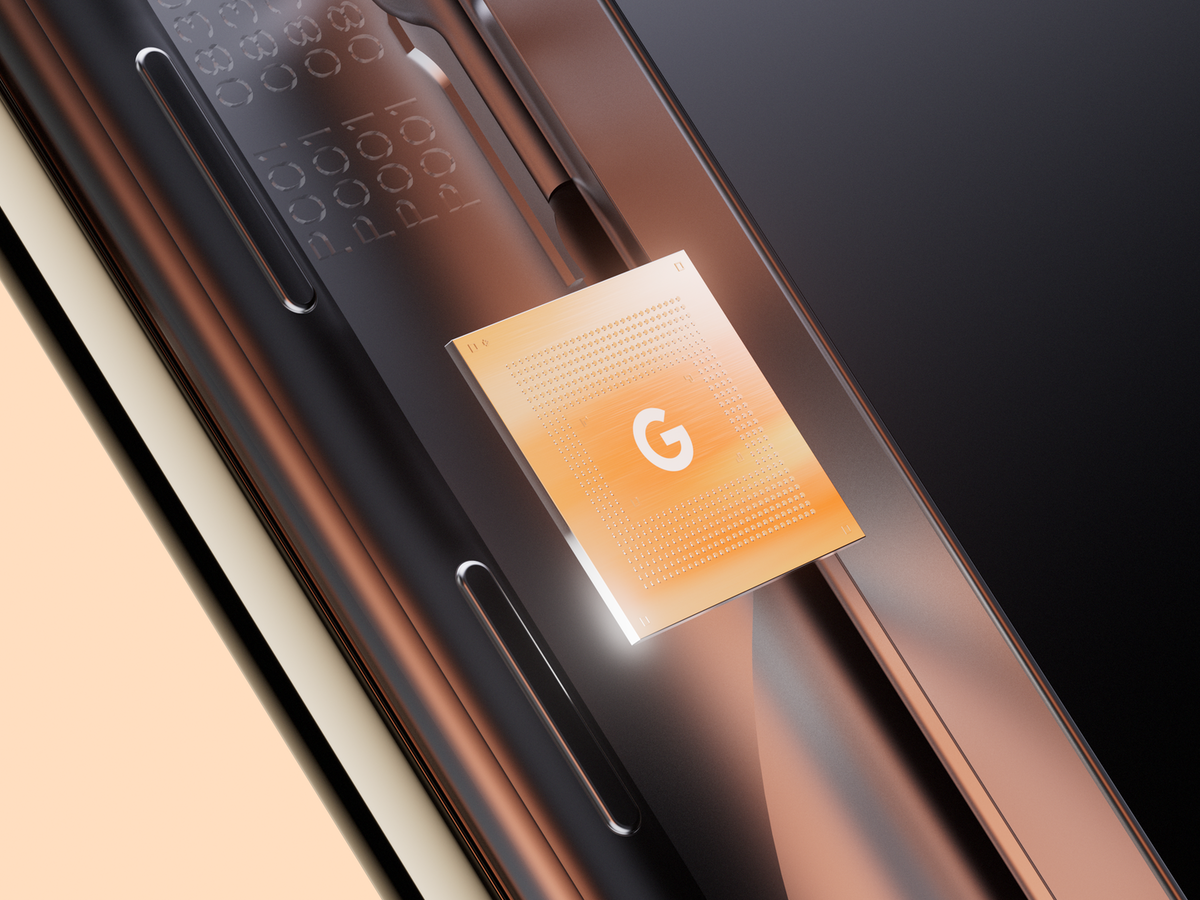 As was widely reported, the Pixel 6 and Pixel 6 Pro feature the first ever processor made in-house by Google. Aping Apple's split from Samsung, the search giant is stepping away from Qualcomm's Snapdragon hardware and taking care of the cores itself.
Both new handsets feature the tailor-made Tensor chip. Google claims it makes the new Pixel 6 pair the 'smartest and fastest' Pixel phones yet, offering up to 80% better performance than the Pixel 5. That should mean a smoother experience on both devices, whether you're multi-tasking or mashing buttons.
Tensor has been built from the ground up to provide stronger security, a fluid user experience and huge improvements in machine-learning smarts, as well as the engines which power AI voice commands, translation and dictation. A custom image processor also powers those fresh camera tricks. Tensor is meant to be more efficient too, helping to eke out battery life.
Whether that all translates into the outright raw power required to rival the performance offered by fellow flagships isn't clear. But one thing's for sure: either Pixel 6 variant should represent a big step up from the Pixel 5's mid-range engine. That said, if you want the most power possible, you'll want to go for the Pro: the standard Pixel 6 features what should be a suitable speedy 8GB RAM, but the Pixel 6 Pro benefits from a beefier 12GB. How much difference that makes in day-to-day use remains to be seen, but it could be a boon for gamers.
Battery life & fast-charging: power share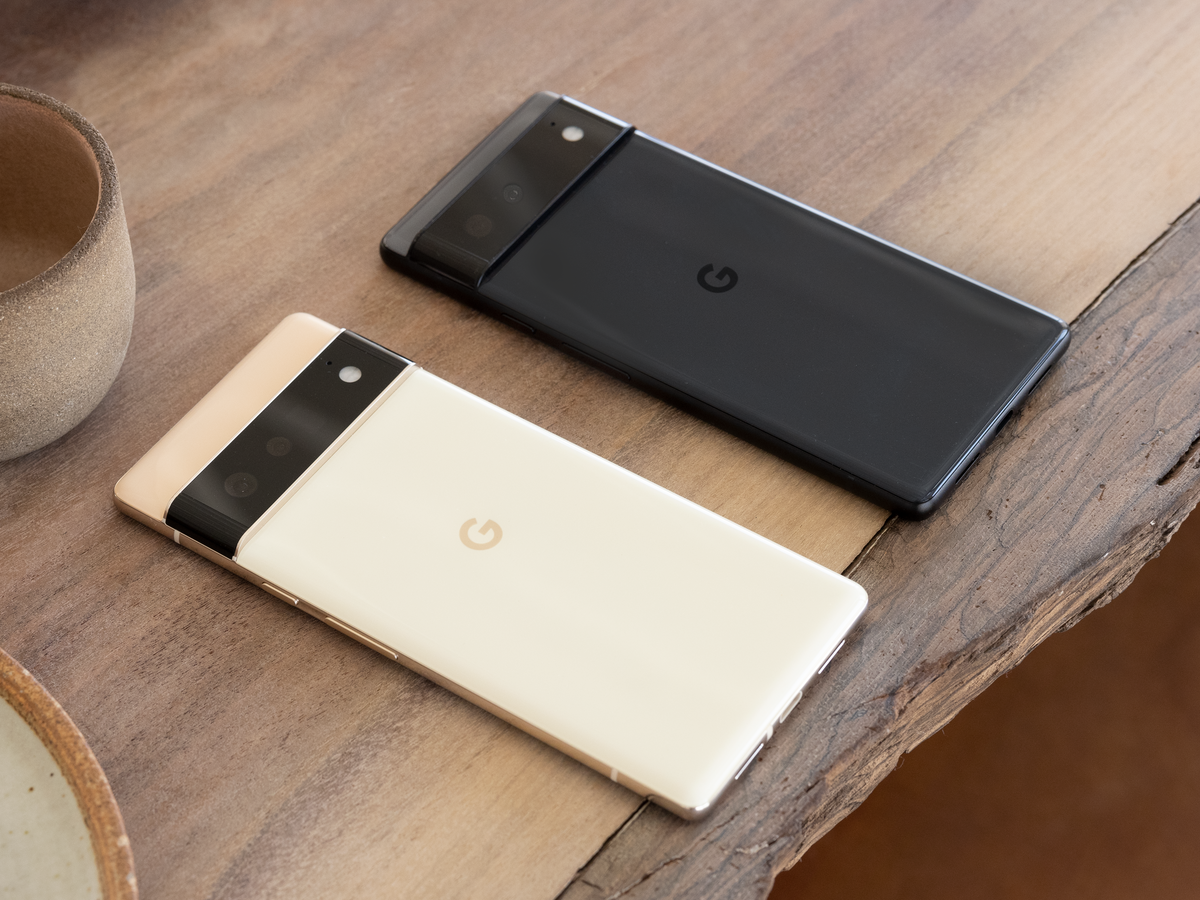 Bigger screen, bigger cell: the Pixel 6 Pro has a larger battery capacity than the Pixel 6, with 4905mAh at its disposal (versus 4524mAh for the standard Pixel 6). But because of the extra pixels the Pixel 6 has to power, Google rates both batteries at the same longevity. That means more than 24 hours on a single charge. Enable Extreme Battery Saver (which keeps only essential apps running) and you can eke it out to 48.
How that bears out in real-world usage will have to wait for our full reviews, but those numbers compare favourably to both the iPhone 13 and the Samsung Galaxy S21. Google reckons much of the power efficiency comes courtesy of the 'Adaptive Battery' found inside both Pixel 6 variants, which saves its energy for your favourite apps (and doesn't waste any on ones you rarely use).
So both handsets look set to see you through the day. What's more, both the Pixel 6 and Pixel 6 Pro support fast charging with Google's 30W USB-C charger (sold separately). Which means you'll be back to half-full in just 30 minutes.
Both smartphones also work with the updated Pixel Stand (2nd gen). While previews were right to predict that the Pixel 6 Pro would support speedier wireless charging, the difference is marginal. Drop the standard Pixel 6 on Google's wire-free plinth and you'll get 21W charging. Go Pro and you'll see 23W. And if you don't go for Google's own solution, you'll be limited to 12W with Qi-certified EPP chargers.
Software & perks: Sharing 12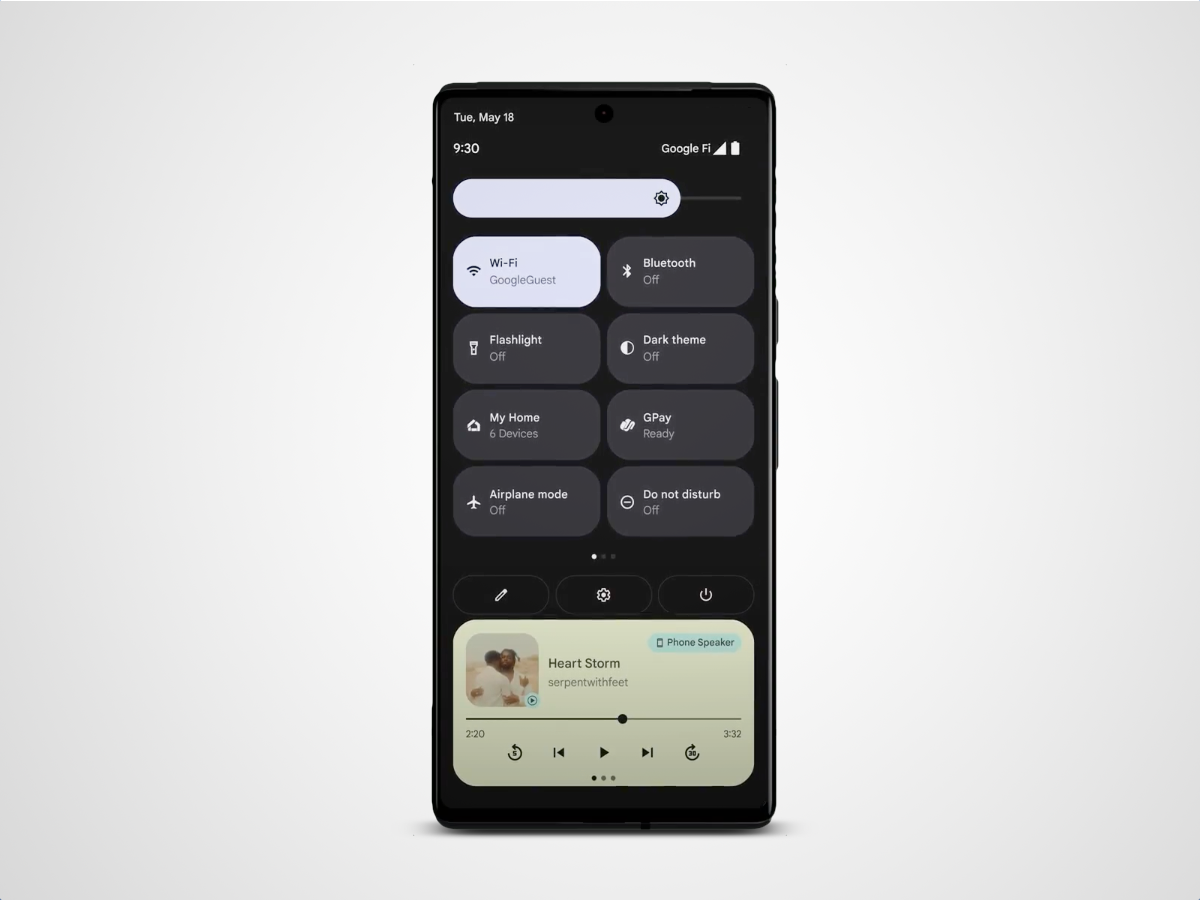 It was pretty much a given that Google's new phones would launch with Android 12, but 'Material You' is the most significant software revamp we've seen from the search giant in years. Overhauling how the entire interface looks, feels and responds to inputs, it features fresh widgets, automatic theming, device-wide searching and an updated always-on display. The good news? Both Pixel 6 devices run the same software – and both will receive five years of Pixel updates.
Both devices also feature what Google is calling 'the most layers of hardware security in any phone,' thanks to a Titan M2 security coprocessor which sits alongside the Tensor chip That should contribute to enhanced encryption, superior privacy protection and beefier defences against phishing, malware and digital nastiness.
As for hardware elsewhere, the spec sheets of the Pixel 6 and Pixel 6 Pro align on almost every other element. Both feature under-display fingerprint scanners, USB-C ports and Bluetooth 5.2 connectivity – although only the Pixel 6 Pro features an ultrawideband chip for spatial awareness.
Planning to stash your entire photo archive on your Pixel? Both devices are available with 128GB storage capacity, but only the Pixel 6 Pro also comes in a 256GB variant – so it's the one to choose if you need more room.
Initial verdict: which Pixel should you pick?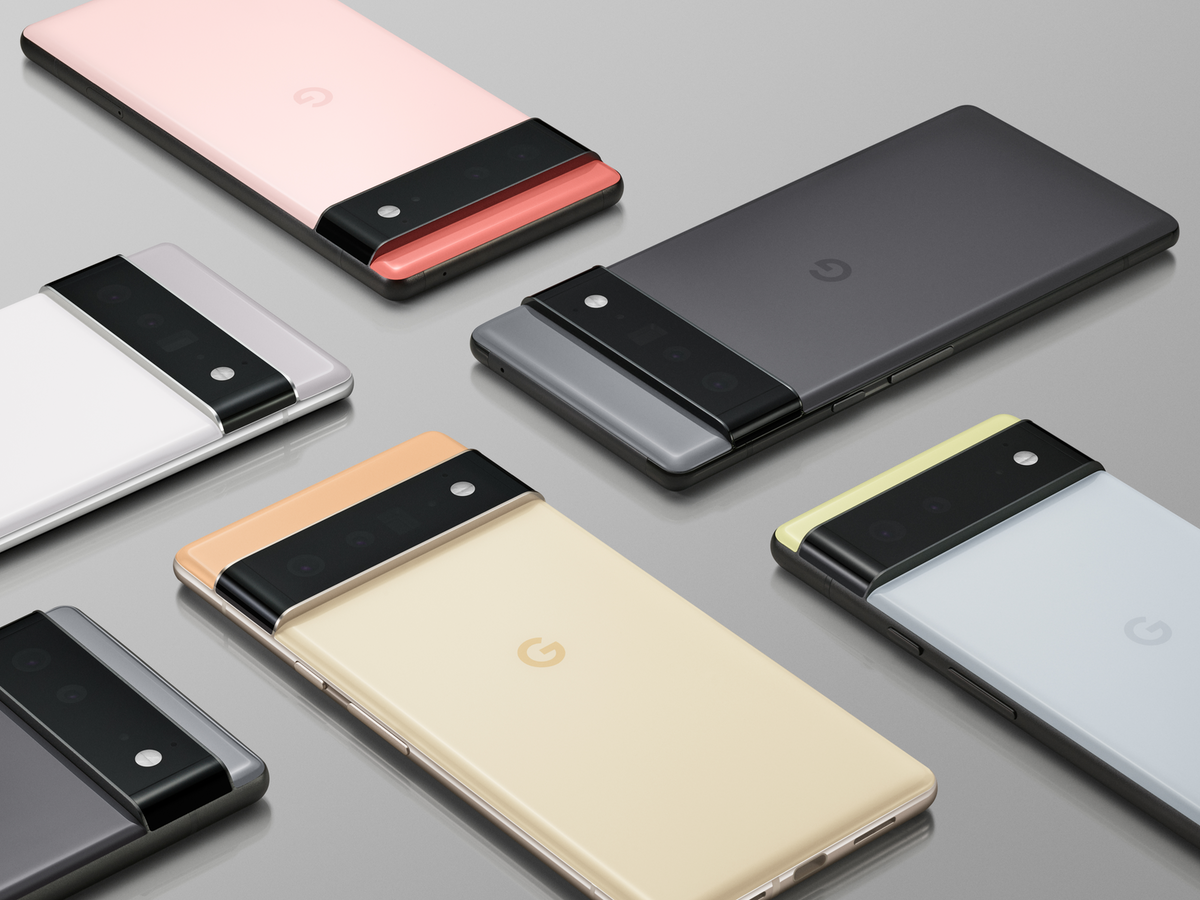 Picking between the Google Pixel 6 and Pixel 6 Pro is a tricky task. Until we've had proper hands-on time with both devices, it's impossible to say which one offers better value. What's clear from a spec sheet inspection is that both Android 12 phones offer a more powerful, premium experience than the Pixel 5, with better cameras, faster processors and nicer designs.
What's also apparent is that going Pro does get you clear improvements: besides the bigger, sharper, slicker screen (with slimmer bezels around it), you get an extra telephoto lens with useful 4x zoom, a wider front-facing camera and an additional 4GB RAM for blitzing through tasks. You can also opt for twice as much storage capacity.
Whether those upgrades are worth a £250 premium will depend on how you like to use your smartphone. For social shooting and scrolling, there's every chance you won't need that telephoto lens or the 250Hz refresh rates of the Pixel 6 Pro. But if you want a bigger, better screen for gaming – plus more power to run the show – it could be worth the extra expenditure. Watch this space for our full review of both handsets.