Google Pixel 6 Pro vs iPhone 13 Pro: which smartphone should you buy?
It's Apple versus Google all over again
No more Pixel 5 complaints: Google's gone premium with the Pixel 6 Pro. Revamped, redesigned and equipped with Google's first self-made processor, the search giant is aiming upmarket with its latest flagship smartphone.
And just to make its intentions clear, Google's added an Apple-approved moniker to the name of its best blower. But what puts the Pro in Pixel 6 Pro? And how does it square up against Apple's top-end contender? To find out, we've delved into the details of the Pixel 6 Pro and the iPhone 13 Pro to see which one wins in a battle of the specs.
Run the numbers
Google's Pixel 6 Pro starts at £849 for the 128GB version. Need more storage? You can size up to 256GB for £949.
Apple's equivalent iPhone 13 Pro will set you back an extra ton. The line-up starts at £949 for the 128GB version, with 256GB available for £1049. Apple also offers 512GB (£1249) and 1TB (£1449) options.
For an equivalent 6.7in display, you'll need to buy the iPhone 13 Pro Max. That starts at a significantly more expensive £1049 for the 128GB version, rising to £1149 for the 256GB variant.
Design & build: fresh versus familiar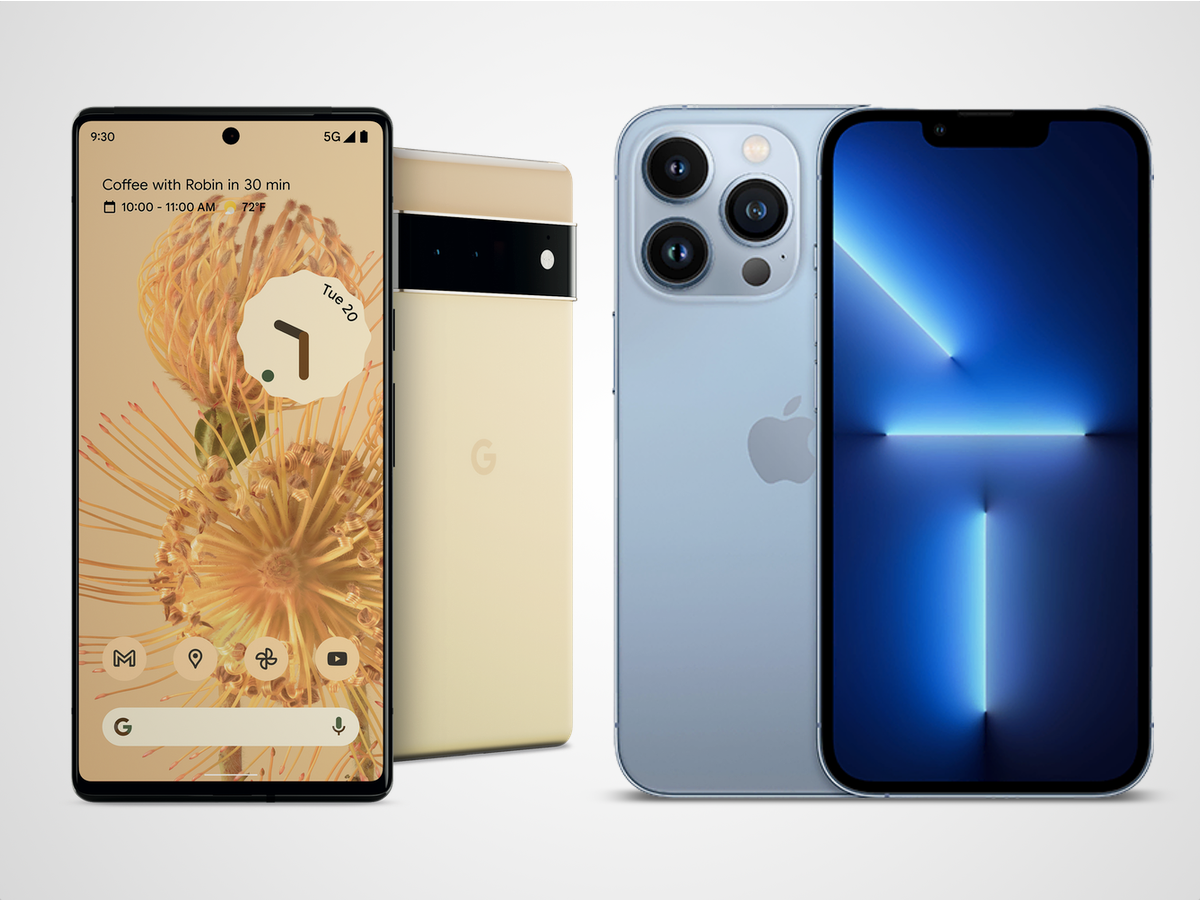 Anyone who's encountered an Apple device in the last few years will be instantly familiar with the iPhone 13 Pro's design cues. You've got the matte glass back, the classy flat-panel aluminium sides and a Ceramic Shield front and centre. It's neat, chic and understated – if not especially adventurous. And the colours follow suit: Sierra Blue, Silver, Gold and Graphite.
Google's gone a different way with the Pixel 6 Pro. Ditching the bland build of the Pixel 5, the latest Pixel phones feature an 'edgeless' rear panel. Made using Corning's tough Gorilla Glass Victus, this curves around at the edges to meet a streamlined alloy frame. The back itself is divided by a raised camera bump that's protected by metal accents.
Shipped in three colour schemes, the Pixel 6 Pro tries a bit harder to stand out. Available in Stormy Black, Cloudy White and the limited-edition Sorta Sunny, each finish features an alternate shade above the camera bump. It's relatively subtle – and time will tell how well it ages – but the two-tone approach represents a refreshing departure from one-colour rectangles.
Physically, there are a few differences between the Pixel 6 Pro and iPhone 13 Pro. Google's flagship smartphone measures 163.9×75.9×8.9mm and hits the scales at 210g. Apple's rival is shorter, slimmer and ever so slightly lighter: 146.7×71.5×7.65mm, with a weight of 204g.
While a 6g difference won't be noticeable in the real world (and the 1.25mm margin will probably be annulled by whatever case you choose to use), the Pixel 6 Pro is significantly taller than the iPhone 13 Pro. In fact, it's even taller than the iPhone 13 Pro Max, which makes it quite the giant. And it's all down to screen size.
Screen: Everybody Hertz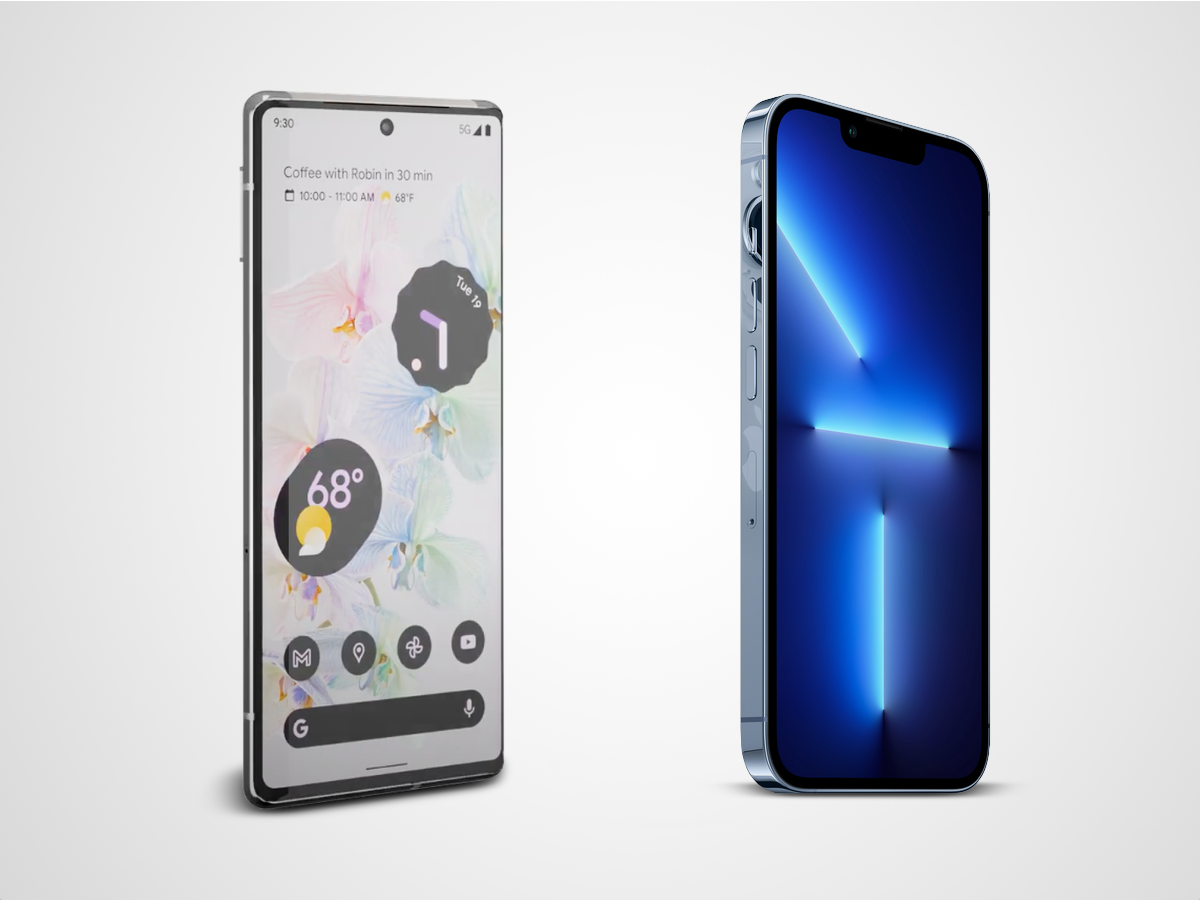 The iPhone 13 Pro and the Google Pixel 6 Pro each feature screens which fill their fronts. Bezels are barely there on both devices, although the two take slightly different approaches. The iPhone 13 Pro has rounder corners, with a uniform frame around the display (apart from the camera notch which continues to encroach at the centre-top).
The Google Pixel 6 Pro has much squarer corners. Bezels appear slimmer at the sides, partly because they curve to meet the alloy rim (in contrast to the iPhone's completely flat front). The frame is also a little thicker top and bottom, accentuating the Pixel 6 Pro's rectangular design. And there's no notch: the Pixel 6 Pro uses a much subtler hole-punch camera lens at the top of the display.
What most clearly sets the iPhone 13 Pro and Pixel 6 Pro apart is screen size. The 'standard' iPhone 13 Pro packs a 6.1in panel with a 2532×1170 pixel resolution (equivalent to 460 ppi). The Pixel 6 Pro dwarfs that with a 6.7in display and 3120×1440 resolution.
In fact, not only is the Pixel 6 Pro's screen bigger and sharper than the iPhone 13 Pro's, but it matches the iPhone 13 Pro Max's display on dimensions. And it still comes in sharper than Apple's ultimate iPhone, with 512 ppi (versus the Pro Max's 458 ppi). So the Pixel 6 Pro is quite the visual performer and a ready rival to the iPhone 13 Pro Max. Which means a lot of swiping space, but also a lot to handle.
As for the actual panels, both handsets feature OLED displays with HDR. Apple touts a contrast ratio of 2,000,000:1, while Google is less specific, claiming the Pixel 6 Pro is good for more than 1,000,000:1. Whether there's any difference in reality will have to wait for a side-by-side eye test.
While Apple likes to ham things up with superlative labels (Super Retina XDR with ProMotion), both the iPhone 13 Pro and Pixel 6 Pro can deliver silky smooth 120Hz refresh rates. The Pixel 6 Pro utilises an LTPO panel which, like Apple's equivalent, can intelligently adapt refresh rates to suit the task at hand – so you get the slickest motion for gaming, but much more efficient rates (as low as 10Hz on both devices) to save battery when you're simply scrolling.
Cameras: three's the magic number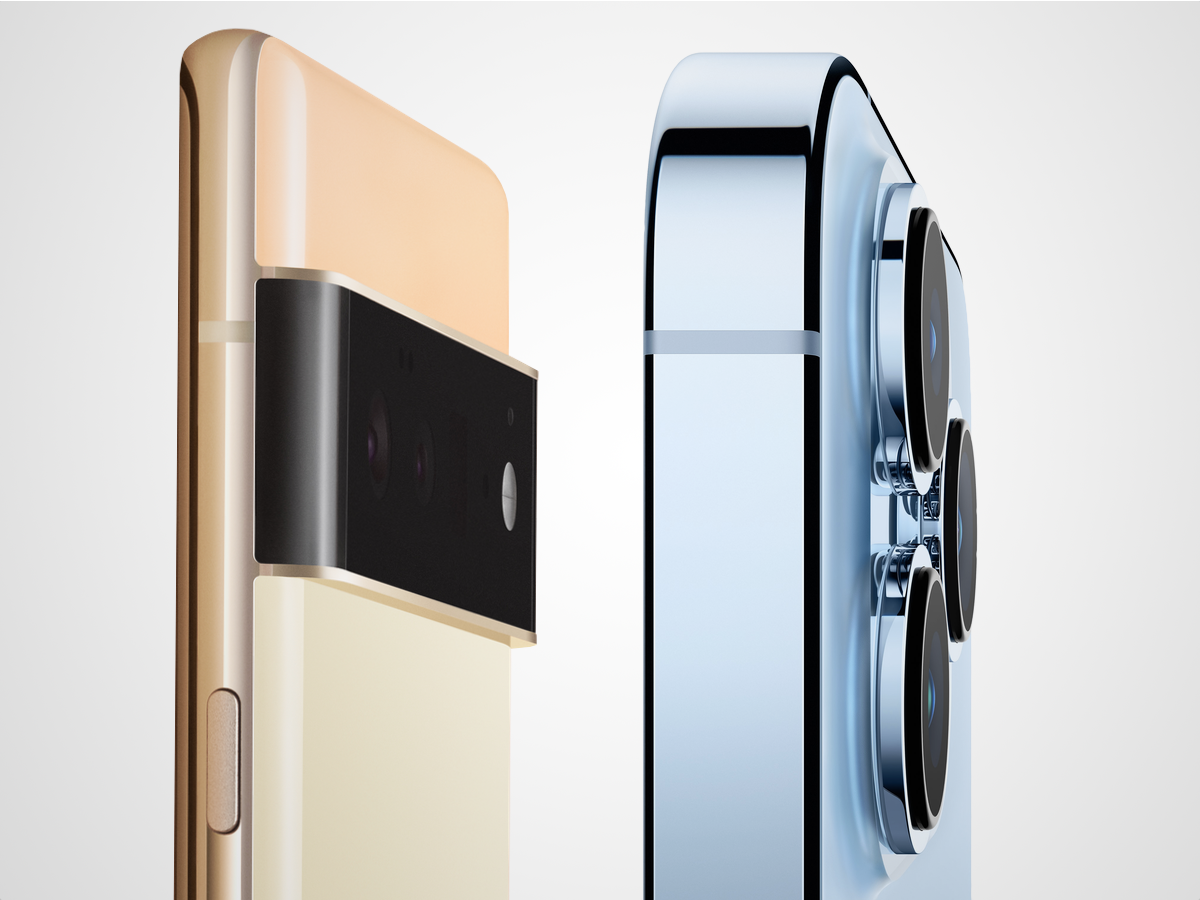 For a long time, Google's Pixel phones featured 12MP camera sensors. But while Apple continues to do the dozen with the iPhone 13 Pro, the Pixel 6 Pro finally takes the leap to bigger numbers: the main sensor weighs in at 50MP, with a 12MP ultra wide and a 48MP telephoto to back it up.
But as we've seen many times, megapixels are just one aspect of the photography story. Software smarts and sensor size also have key parts to play in imaging performance. Only once we've had chance to fully test the Pixel 6 Pro's cameras will we know what difference the extra resolution makes.
What we do know is that the iPhone 13 Pro (and Pro Max) features the best camera array ever seen on an Apple device. Like the Pixel 6 Pro, there's a standard wide-angle sensor, plus a telephoto lens and an ultra-wide. In our testing, all three produced superb results, with outstanding low-light performance in particular (thanks to sizeable pixels).
On paper, the Pixel 6 Pro and the iPhone 13 Pro can go tit for tat when it comes to snapping. Resolution aside, the Pixel 6 Pro's main sensor is marginally larger at 1/1.3in (versus 1/1.65in). Google reckons it can capture up to 150% more light than the Pixel 5, which bodes well for night owls.
The Pixel 6 Pro's ultra wide captures a slightly narrower field of view than the iPhone 13 Pro's equivalent (114 degrees against 120), while the two are pretty evenly matched on zoom: Google's good for 4x optical zoom (with up to 20x available digitally with Super Res), while Apple offers an optical range of 6x (3x in, 2x out) plus 15x digitally.
It's a similarly even score for selfies. The Pixel 6 Pro features an 11.1MP front camera with a wide 94-degree field of view. The iPhone 13 Pro's TrueDepth equivalent features a 12MP sensor – although Apple doesn't state its field of view, so Google might have the edge when it comes to group shots.
Both devices also feature optical and electronic image stabilisation, plus each can capture 4K footage at up to 60fps (although only Apple can deliver Dolby Vision support).
As you'd expect, both smartphones also feature their fair share of software tricks. New for the iPhone 13 Pro is a Cinematic setting for Hollywood focus effects and a Macro mode for close-ups, while the Pixel 6 Pro benefits from Face Unblur for rescuing fuzzy portraits, a Magic Eraser for removing unwanted elements and a Motion Mode for adding dynamism to your images. In short: both devices deliver plenty for photographers. Which one is right for you could depend on what and how you like to shoot.
Performance & battery life: in-house power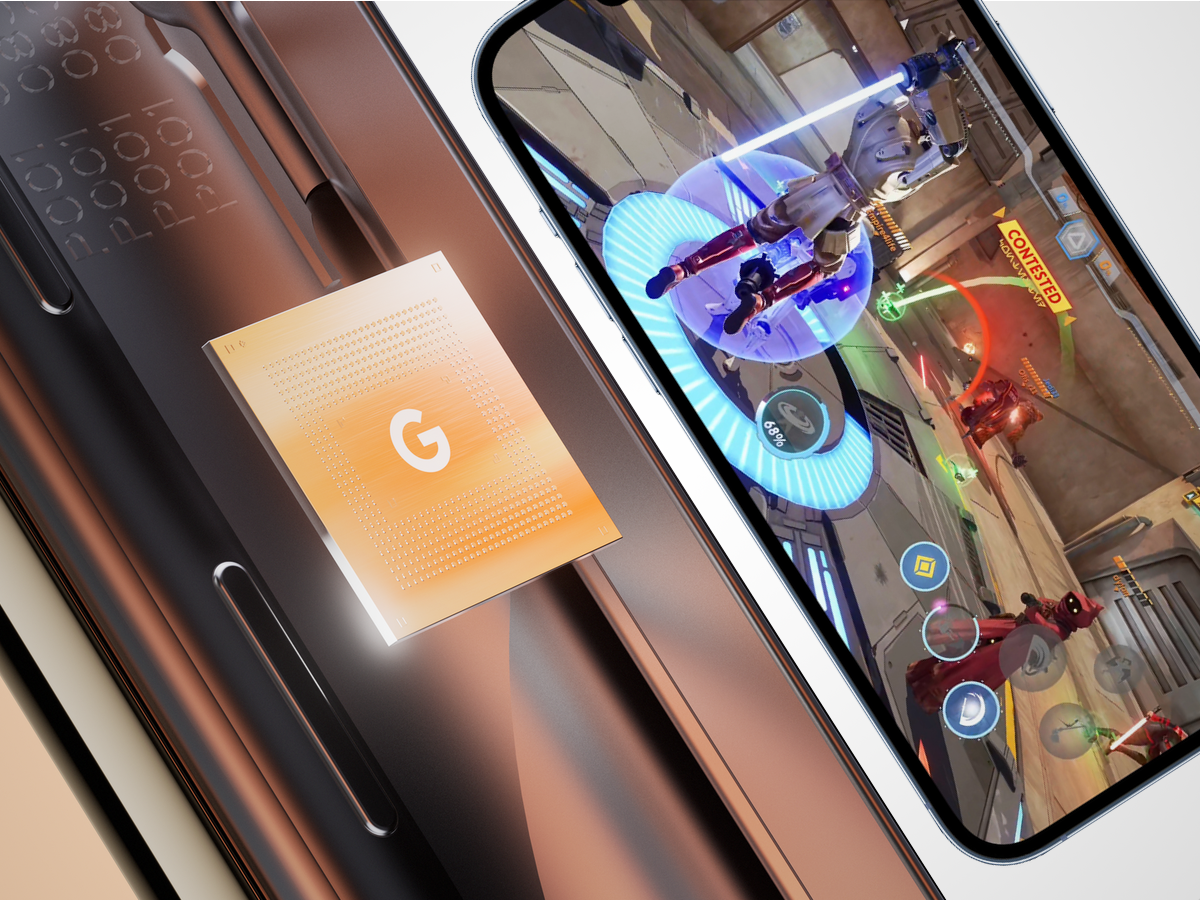 Comparing the on-paper performance of each Pro phone is tricky, given that Apple isn't particularly open about the tech specs of its flagship chip. We know that the A15 Bionic processor at the heart of the iPhone 13 Pro features a six-core CPU, plus five further cores dedicated to graphics and an additional 16 in the Neural Engine – designed to supercharge machine learning. The real-world result is a device that zips through absolutely any task you can think of.
Google's a little more open about its custom-made Tensor processor – the first smartphone chip it's created in-house. The headline here is the Tensor Processing Unit, which Google reckons will deliver huge improvements in machine-learning smarts, as well as the engines which power voice commands, translation and dictation.
Besides the TPU, the Tensor chip features a pair of powerful Cortex-X1 cores, plus six further cores – alongside a 20-core GPU. There's also a dedicated image processing core which drives the Pixel 6 Pro's new photography features, as well as a Titan M2 security chip, which Google reckons gives the Pixel 6 Pro 'the most layers of hardware security in any phone'.
Software efficiency could have a key role to play in defining how the Tensor's performance stacks up against the A15. The Pixel 6 Pro packs twice the RAM of the iPhone 13 Pro (12GB versus 6GB). Previously, Apple's bridged this gap by building bespoke software to suit its chips. But with Google now making its own processors, the Pixel 6 Pro could well have the chops to go toe-to-toe with – or, as the specs suggest, outgun – the flagship Apple handset.
As for battery life, Apple is again coy about capacity. It claims the iPhone 13 Pro offers 'all-day battery life' (or a solid 22 hours of video playback). Google also goes for the 'all-day' phrasing, but further reveals that the Pixel 6 Pro packs a sizeable 4905mAh cell. It reckons you'll get more than 24 hours on a single charge from the Adaptive Battery – or up to 48 if you enable Extreme Battery Saver (a barebones mode for which Apple doesn't have an equivalent). Only through proper testing will we know which one actually lasts longest.
When it's time to refuel, the Pixel 6 Pro supports fast charging with Google's 30W USB-C charger, while the iPhone 13 Pro delivers 20W power via Apple's adapter. Interestingly, despite the different power ratings, both makers claim their devices will reach 50% capacity in 30 minutes. Each also works with wireless chargers. You'll get 23W wireless charging via Google's second-gen Pixel Stand or 15W from Qi-certified EPP chargers. Apple's MagSafe charger is rated at 15W, with half the power from Qi chargers. So the Pixel 6 Pro would seem to have the edge, at least if you're keen to go cordless.
Software & interface: apples and Androids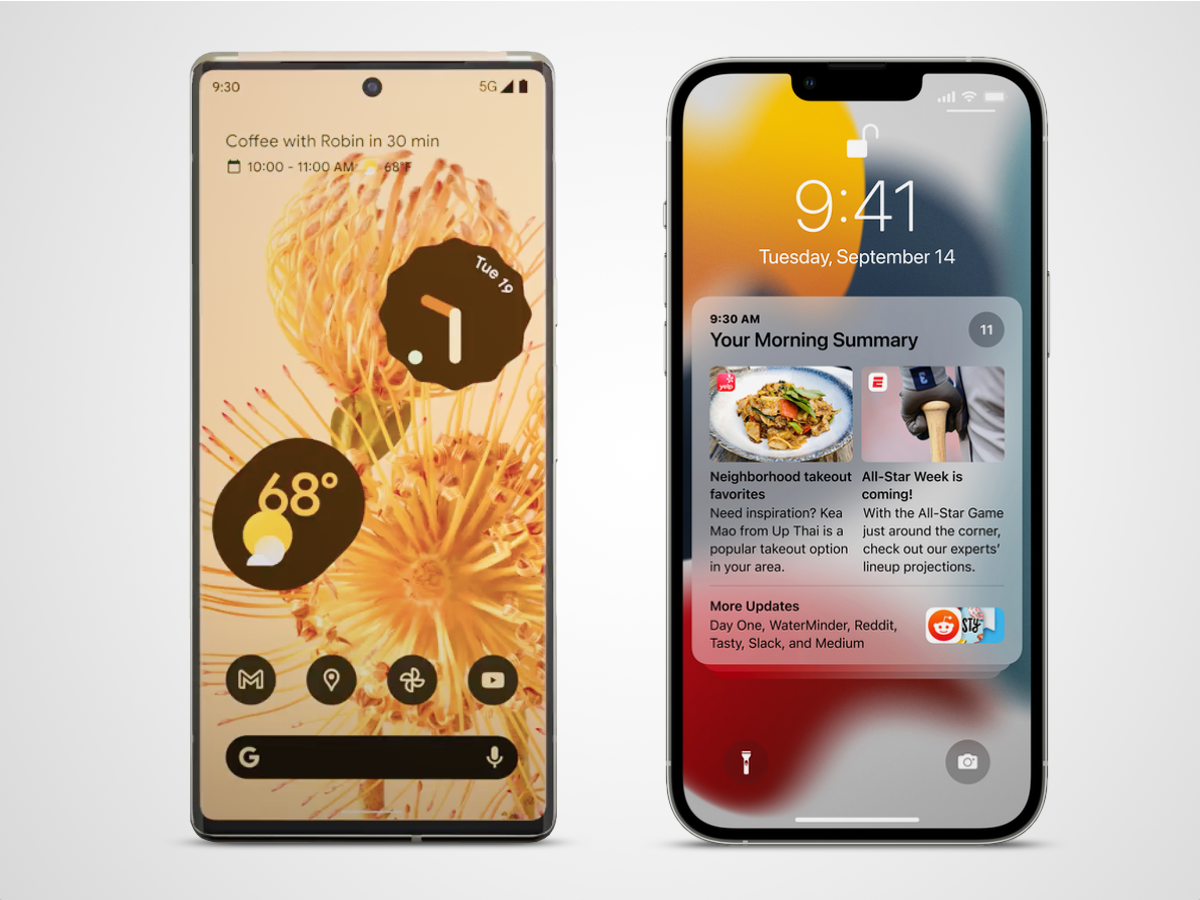 Comparing iOS 15 to Android 12 would require an entire article of its own. Each interface has its fans and its detractors. Android is the more open, customisable interface, for example, but iOS works more seamlessly with other devices from the Apple ecosystem.
Where iOS 15 is broadly an evolution of recent Apple software, Android 12 represents the biggest revamp by Google in recent years. It heralds the arrival of 'Material You', which overhauls how the entire interface looks, feels and responds to inputs, featuring fresh widgets, automatic theming, device-wide searching and an updated always-on display.
Which one is right for you will largely come down to personal preference. There's more overlap between iOS and Android interface elements than in previous years (iOS now features widgets and an app list, for example), but the two systems still do a lot of key things differently. If you're trying to work out which better suits you, we recommend heading to a store and getting hands-on with both.
Hardware & connectivity: pick a port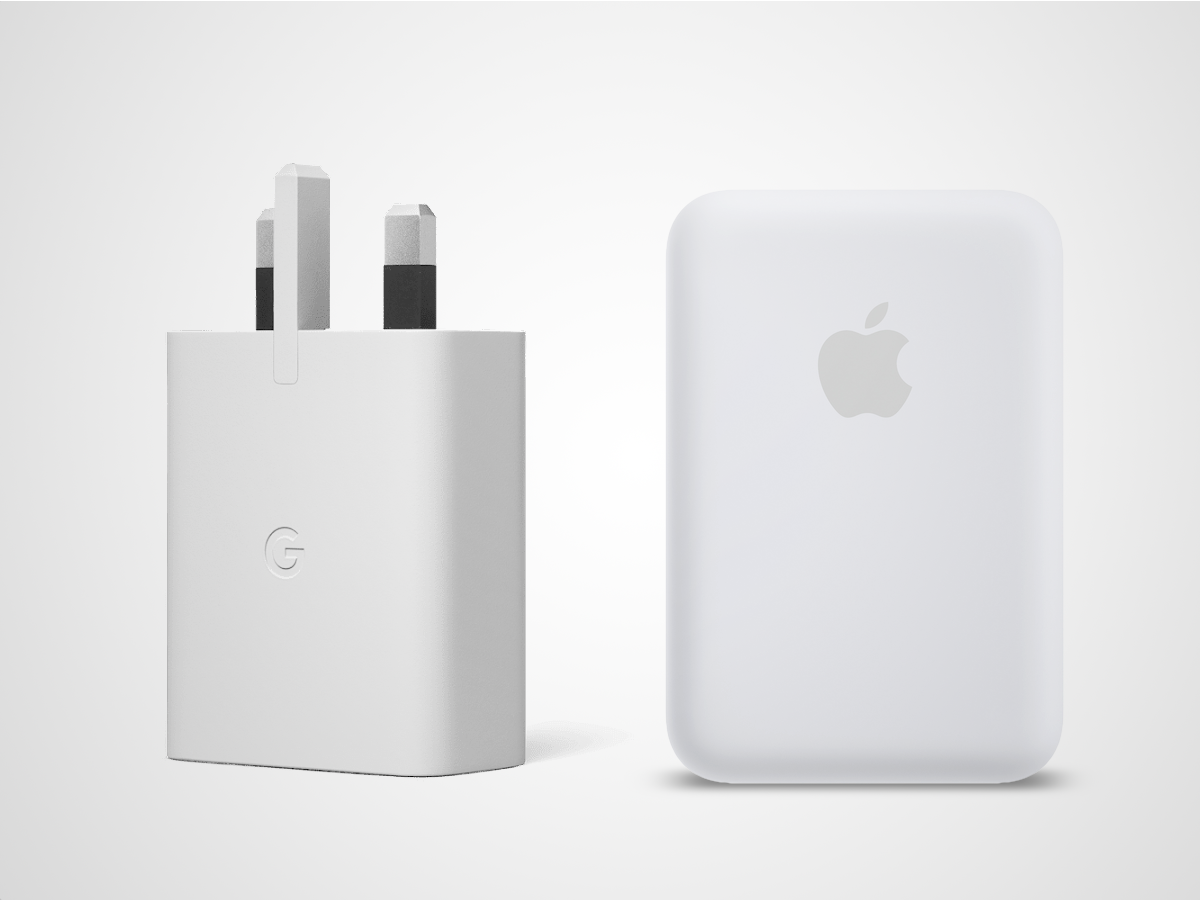 When it gets to the miscellany, there's more to separate the Pixel 6 Pro from the iPhone 13 Pro. Both devices are available with 128GB and 256GB storage capacities, but only the iPhone 13 Pro also offers 512GB and 1TB options. Those will be overkill for most people, but if you like to store heaps of media offline, Apple's got the edge.
But if you like to sign-in with your fingerprint, Google's the one to go for. The Pixel 6 Pro features an under-display fingerprint sensor. The iPhone 13 Pro? None whatsoever: it's Face ID or nothing.
As for the port, it's a classic face-off: USB-C vs Lightning. We may see Apple make the switch to the USB-C in years to come, but for now the iPhone 13 Pro sticks with Apple's proprietary format. This won't be a dealbreaker for most people, but if you demand a reversible cable that can charge your MacBook and your smartphone in 2021, Google has the answer.
Drawn by the power of magnets? Apple's MagSafe makes a useful return on the iPhone 13 Pro, allowing you to lock Apple's wireless charger onto the rear of the phone, as well as accessories such as wallets – plus compatible backup batteries. The Pixel 6 Pro doesn't have an equivalent
Finally, both devices are IP68 water-resistant, which is a drop down from the IPX8 waterproofing offered by the Pixel 5. Google says the Pixel 6 Pro was designed to pass IPX8 tests, but isn't officially approved for dunking.
Verdict: which flagship should you buy?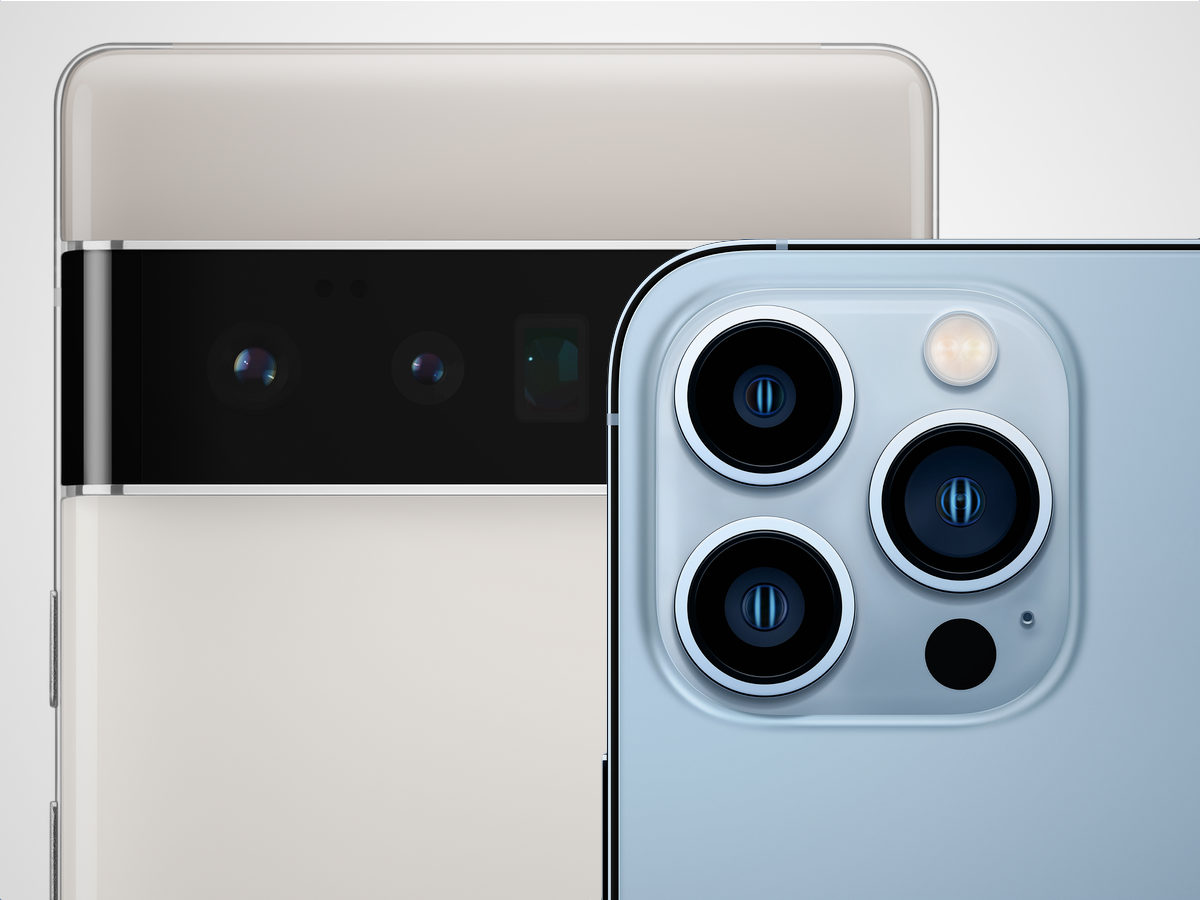 So should you buy the Google Pixel 6 Pro or the iPhone 13 Pro in 2021? Until we've had chance to fully test Google's new flagship, we can't make a concrete recommendation either way. But the numbers paint an interesting picture.
With the Pixel 6 Pro, Google has gone full-steam into flagship territory. Its display size and physical dimensions pitch it squarely against the iPhone 13 Pro Max, while the rest of its specs suggest it has the power, battery life and camera skills to give the iPhone 13 Pro a run for its money.
For many, the choice will come down to two factors: cost and software. For those of a fervent Android disposition, the iPhone 13 Pro won't even make it on the radar – and vice versa.
But perhaps more importantly, the Google Pixel 6 Pro offers serious performance and premium design for £100 less than the equivalent iPhone 13 Pro. That's not an insignificant saving, especially when you consider that the iPhone 13 Pro Max (which has a comparable 6.7in screen size) actually costs £200 more. So while the Pixel 6 Pro can't be called affordable at £849, it certainly seems a better deal than Apple's flagship.