Compact system cameras supertest: Which mirrorless cam should you buy?
There's never been a better time to ditch the bulk of a DSLR and go mirrorless. But which is the best?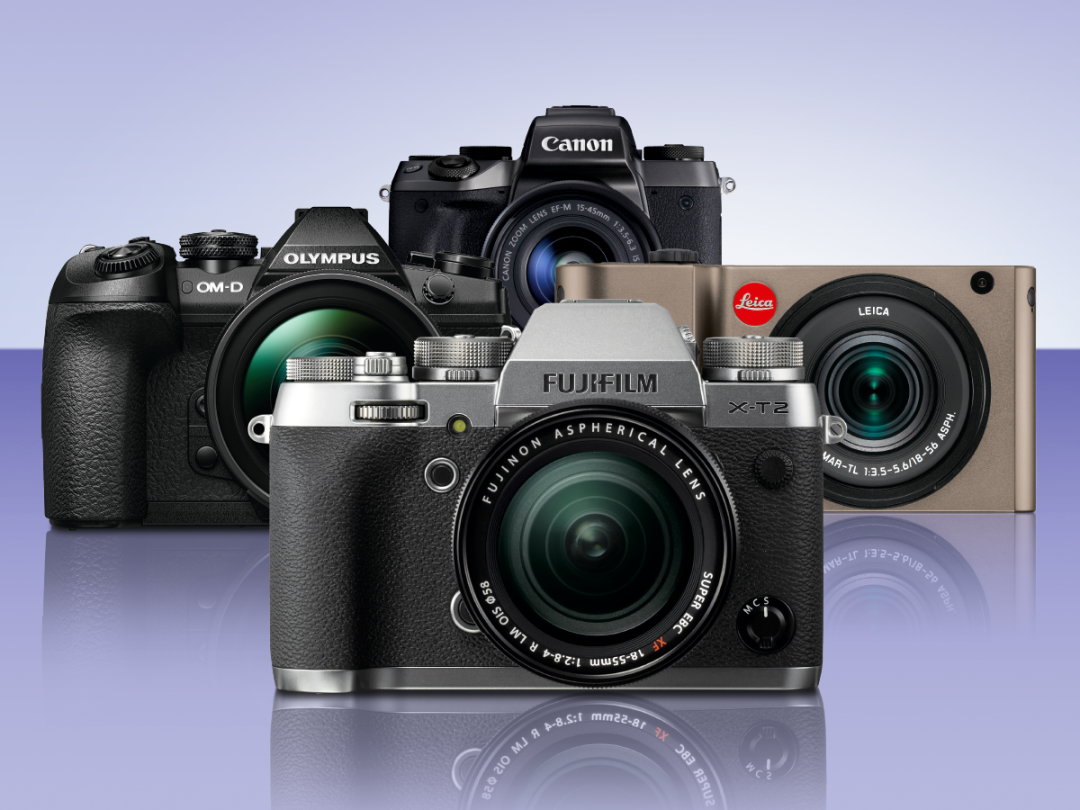 Photography has gone through a momentous change in the past decade – and we don't just mean smartphones transforming every tween with an Instagram account into Rankin.
Just as important is the rise of compact system cameras that, by virtue of removing the bulky mirror used in DSLRs, have made high-end photography possible in an impressively small package.
CSCs squeeze the power and flexibility of a DSLR into a body that's often almost half the size. They're also often at the forefront of new tech developments in photography, from 4K video to touchscreens to clever shooting modes.
The sheer number of CSCs tumbling into an already bulging market each year makes picking a mirrorless camera a confusing prospect, though – which is why we've drawn together four of the leading lights into a winner-takes-all face-off.
The contenders
1. Olympus OM-D E-M1 II
Olympus' beloved E-M1 gets a sequel, and like any Hollywood blockbuster follow-up it's gone bigger, better and flashier.
2. Fujifilm X-T2
We've previously called this "the best camera on the planet", but that was before any of its competitors here were launched into our orbit.
3. Canon EOS M5
The DSLR king's first really competitive foray into the mirrorless world looks impressive on paper – but has Canon come ten years too late to claim this throne?
4. Leica TL
Milled from a block of aluminium and relying on a touchscreen, the sleek Leica TL is as much a design statement as a photo-taking tool.
Olympus OM-D E-M1 II (£1850)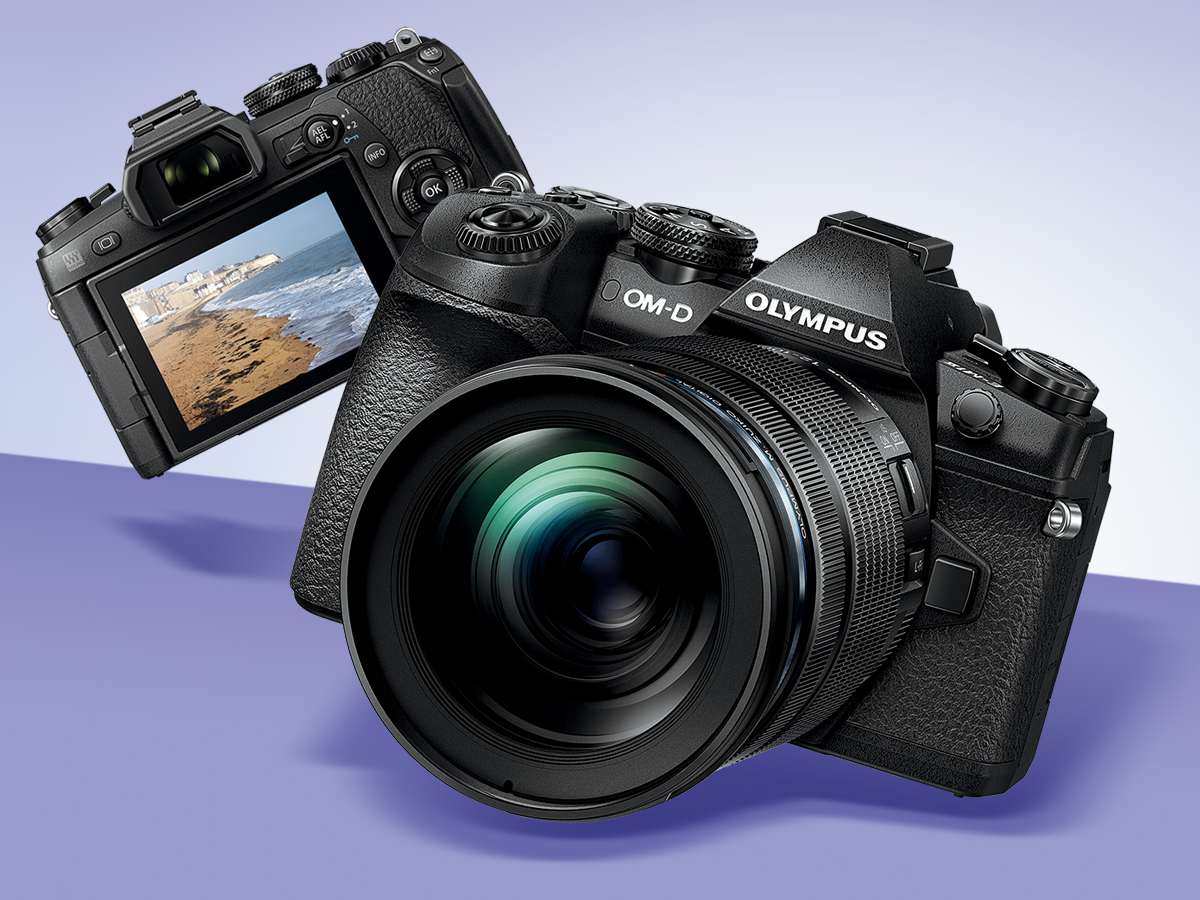 Forget the frightening price tag for a second; the OM-D E-M1 II is a hugely impressive flagship compact system camera from a company that has championed CSCs from day one.
It's built like a bank safe and thoroughly weather-proofed – we used it in a horrific January downpour and got splashed by a wave from the ocean; it did not care one bit. It's also extremely fast: it'll snap bursts at an insane 60fps (albeit for less than a second at that speed, and only in electronic shutter mode), while the autofocus is almost as rapid, not to mention military-like in its precision.
Heck, shoot in the buffering Pro Shutter mode and it'll even let you go BACK IN TIME to get a shot you'd otherwise have missed. How? Well, as soon as you focus by half-pressing the shutter button, the E-M1 II will begin buffering images; fully press and it'll start snapping away, but will also keep the last 14 of those buffered shots. It's a great feature that you'll come to rely on in certain situations.
There's also five-axis image stabilisation inside the body, meaning any lens you bolt on will benefit from the anti-shake technology and while there's no pop-up flash, Olympus included a mini external unit that can be fitted on the hot shoe. It's the least they can do at this price.
It's not without slight issues, though: it's the biggest and heaviest camera of the bunch (but still almost feather-like compared to a high-end DSLR), and at £1850 before you've even bought a lens, it feels just a little bit too expensive in comparison to the Fujifilm. Nor is the E-M1 II's electronic viewfinder as large and clear as the Fujifilm X-T2's.
The biggest issue, though, is the Micro Four Thirds sensor: as we mention below, its smaller size means it's not quite as handy in low-light situations as we'd like at this price.
Now add this
Olympus M.Zuiko 17mm pancake lens
The E-M1 II isn't the most compact of compact system cameras, so fitting it with a tiny, fast prime such as this cheap pancake is a way to make it more discreet. The focal length gives you a moderate wide-angle field-of-view to work with – ideal for indoor shooting and street snapping.
Buy the Olympus M.Zuiko 17mm pancake lens from Jessops for £191
The detail
User interface
The flip-out twist-and-tilt screen makes the OM-D E-M1 II arguably the most flexible of all the cameras here when it comes to viewing angles – it can even face fully forward for selfie facilitation. It's also touch-sensitive, and you can tap once to both set a focus point and immediately take a shot. Not only that, but it also folds around so that the surface faces inwards when closed – handy if you want to store the camera in a bag without risk of getting some nasty scratch marks on the screen's exterior. 7/10
Lens selection
Olympus' adoption of the Micro Four Thirds format and mount means it's compatible with a load of high-quality glass: you can choose from scores of lenses made by Olympus, Panasonic and the likes of Sigma. Of all the models here, it offers the widest scope of compatible lenses. 9/10
Video quality
The E-M1 II's 4K video looks gorgeous: rich, detailed and, at 30fps, reasonably smooth. There's also a healthy selection of tweakable video settings, giving wannabe Tarantinos some welcome creative control for visual masterpieces. 9/10
Image quality
The Micro Four Thirds system's shortcoming is sensor size; the Olympus' image sensor is physically smaller than that of the APS-C sensors used by the other cameras here, and that means each of its 20 million-odd pixels is smaller and able to capture less light in shorter shutter speeds. That translates into noisier performance or longer shutter speeds in low light, and while the five-axis stabilisation helps with the latter, shots in less than ideal light aren't quite as punchy and clean as we'd like from a camera that costs this much. 7/10
Stuff says: ★★★★★
The E-M1 II is a highly desirable, high-performance camera with a few seriously impressive tricks. If you can live with its small sensor and big price, you'll be very happy with it
Buy the Olympus OM-D E-M1 II (body only) from Wex Photographic for £1849
Tech specs
Megapixels 20.4MP • Sensor Micro Four Thirds • Video 4K @ 30fps • Burst shooting 60fps (electronic shutter) / 18fps (mechanical) • Lens system Micro Four Thirds • Battery 440 shots • Dimensions 134 x 91 x 68.9mm, 574g
Fujifilm X-T2 (£1399)
The X-T2's chunky body, bristling with buttons and dials, could appear daunting to newcomers, but after a brief bedding-in period most will find its array of manual controls a huge asset. The ability to swiftly change aperture, ISO, shutter speed and exposure compensation without taking your eye off your subject for a second is priceless.
It's a tough, solidly-built camera too, with full sealing against dust and rain and a magnesium alloy body. Shape-wise, it's in the same "mini DSLR" mould as the Canon and Olympus models; size-wise it's somewhere in the middle of the two. As with the Olympus, you get two SD card slots here: you can either shoot JPEGs to one and RAWs to the other, or just fill them up one after the other.
The X-T2's focus skills set it apart from the other models here though: while the Olympus cuts it close, it's markedly quicker to lock on to subjects than the Leica and Canon cameras, and tracks subjects excellently: if you want to shoot fast-moving things, Fujifilm's camera has got your back like no other here. Meanwhile its quick-fire burst mode, which shoots stills at up to 14fps, makes things even tastier.
Its only flaw? The battery life is a wee bit stingy, meaning if you're heading out for a full day of shooting you'll probably want to invest in a spare, or even Fujifilm's neat battery grip. You're not going to want to miss a shot with this.
Now add this
Fujinon XF35mm F2 R WR
We know: prodding you to shell out £309 just after dropping £1399 on the X-T2 might sting, but this 35mm fast prime lens – perfect for portraits and street photography – will make your photos and videos sing. While it isn't Fujifilm's very best 35mm (that would be the F1.4 version, which costs £499), it's a better balance of price and performance.
The detail
User interface
Ever the traditionalist, Fujifilm has eschewed touch controls in favour of a standard LCD rear panel, albeit one with a curious (and useful) design feature: it flips not only up and down but sideways too. Before you get all giddy with excitement, it only twists to one side, and then only to about 70 degrees, so forget any thoughts of a full 180-degree flip to engage (shudder) Selfie Mode. Commiserations SnapChat fanatics, but if you do need a screen that faces fully forward, the Canon EOS M5 is the model to go for. Still, with dedicated dials for ISO, shutter speed and exposure compensation, you have the creative control to create pictures just the way you want them. 7/10
Lens selection
The Fuji X mount is relatively new and doesn't include that many lenses – there are way more for Micro Four Thirds, for instance. But what it lacks in quantity it makes up for in quality: nearly all of the 17 Fuji-made lenses are superb. We used the 18-55mm zoom for this test, but the superb primes are where true excellence lies – stick on the 16mm f1.4 or the 56mm f1.2 and prepare to be dazzled. Although bear in mind that they're also all pretty pricey. 8/10
Video quality
Not only does the X-T2 offer proper 4K video recording (which looks gorgeous), it also lets you use the camera's superb autofocus during capture. Whatever you do – zoom in or out, change subject – it'll keep pace. 9/10
Image quality
The X-T2's 24.3MP sensor is physically the same size as the others here (ignoring the Olympus), but its extra megapixel count means there's a touch more detail in its photos. That extra detail means more scope for cropping – and it's aided by the removal of the low-pass filter too. Colour reproduction is glorious, and the film simulation modes add a bevy of understated Instagram-style filters to alter your output. The X-T2's noise control is also excellent, with ISO 12800 being usable – if a little less contrasty than lower settings. 10/10
Stuff says: ★★★★★
With superb image quality, excellent 4K video, a solid build and a brilliant control layout, the X-T2 is a consummate all-rounder which gets almost everything right
Buy the Fujifilm X-T2 (body only) from Park Cameras for £1399
Tech specs
Megapixels 24.3MP • Sensor APS-C • Video 4K @ 30fps • Burst shooting 14fps (electronic shutter) / 8fps (mechanical) • Lens system Fujifilm X • Battery 340 shots • Dimensions 133 x 92 x 49.2mm, 507g
Canon EOS M5 (£1050)
Canon's previous EOS M models have been universally disappointing, as if the venerable company wasn't taking mirrorless cameras seriously. The EOS M5, however, feels like a step in the right direction – Canon's finally twigged that it needs to up its game to rule the CSC world as it usually does with DSLRs.
Essentially a baby version of the excellent 80D (it's got the same 24MP sensor), the EOS M resembles a mini DSLR: it's got a chunky grip on the right and a bulge at the top for the electronic viewfinder. It has that in common with the Fujifilm and Olympus models, but it's also more compact than either of those overall; mount a small lens and you could just about get this in your jacket pocket.
With buttons and dials dotted everywhere, this is a camera designed with enthusiasts in mind rather than those who have only previously used a smartphone to capture stills. Particularly handy is the ability to customise most of the controls, including the two dials on top; get your perfect setup and you'll be snapping away fluidly.
The M5's autofocus is quicker than the Leica's, but slower than the Olympus and Fujifilm's, so it shouldn't be the top choice for anybody looking to snap away at fast-moving subjects (sport, wildlife, sugar-fuelled kids). But it's certainly worth considering if you're already bought in to the Canon ecosystem.
Now add this
Canon Mount Adapter EF – EOS M
Want Canon's massive range of EF lenses for SLR cameras at your EOS M5's fingertips? Pick up this adapter, which lets you fit any of them to your camera (at the loss of autofocus).
Canon makes dozens of EF lenses, ranging from 8mm to 800mm – meaning you're bound to find something you need.
The detail
User interface
The EOS M5 rocks a sharp and vibrant tilting screen, which can actually flip around the entire underside of the camera to face almost the opposite way. It's also a touchscreen, so you can tap it to change certain settings, as well as fix a focus point with your finger. Traditionalists needn't worry, though – unlike the Leica's touch controls, these aren't an integral part of the camera's design; you're totally welcome to ignore them entirely and stick to the physical controls. Important for midnight snaps when you're all gloved up. The M5's electronic viewfinder is bright and clear, but sadly smaller and less vibrant than the Olympus and Fujifilm's. 7/10
Lens selection
The EOS EF-M system is a pretty new one, and this immaturity means it lacks the sheer number of lenses you could fit on the Olympus or Fujifilm: there are only seven currently available. You'll need an adapter to fit others, of which there are, thankfully, hundreds. 7/10
Video quality
With 1080p at 60fps being the top movie option, the M5 feels like a decidedly second division video contender. It's another sign that Canon is still playing catch-up to Panasonic, Olympus and Sony in the compact system camera market. 6/10
Image quality
The M5 does justice to Canon's glorious photo heritage, producing the sort of vivid, rich and punchy images associated with the brand's beloved DSLRs. When it comes to noise, everything is well controlled up to ISO 3200 – which is still usable if you're planning on keeping your prints small. The camera's upper sensitivity reaches of ISO 12800 and 25600 are best avoided, though – they've got more grain than a whisky distillery. The 18-150mm kit lens we used is brilliantly versatile, and well priced at £400. 8/10
Stuff says: ★★★★✩
Canon's best CSC by far while still feeling a couple of years behind the top competition. If and when Canon catches up with the likes of Olympus and Fujifilm, it'll be an exciting day
Buy the Canon EOS M5 (body only) from Park Cameras for £1049
Tech specs
Megapixels 24.2MP • Sensor APS-C • Video 1080p @ 60fps • Burst shooting 7fps • Lens system EF-M • Battery 295 shots • Dimensions 116 x 89 x 60.6mm, 427g
Leica TL (£1400)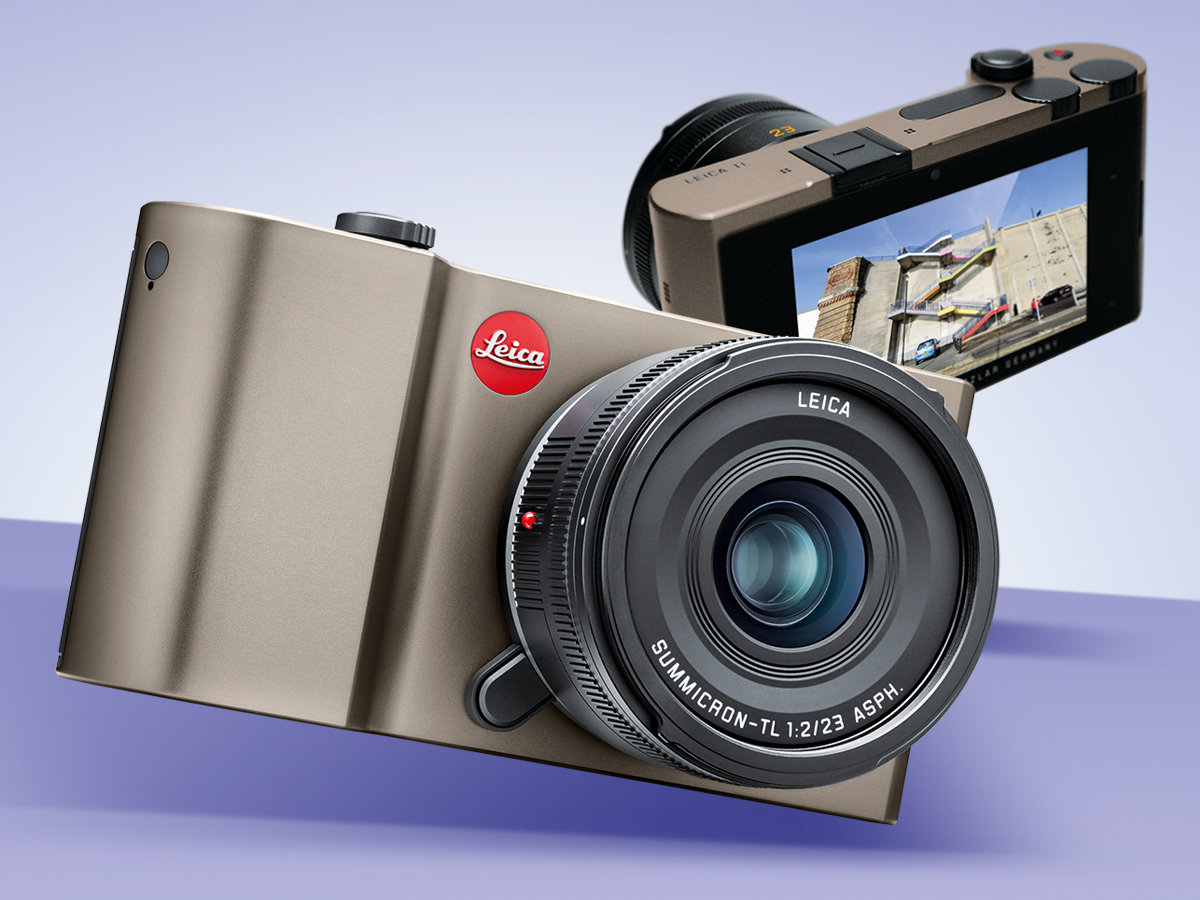 Leica is synonymous with luxury, and the TL is a camera that ranks high on the premium scale. With its sleek body milled from a single block of aluminium which is then hand polished for 45 minutes, it's the most visually striking of the four models, and a departure from the standard "mini DSLR" shape of its competitors. It's got a couple of lovely little features too, for instance twist the power button a notch past the 'On' setting and the TL's flash pops up, like a secret function on a Bond gadget. Very cool indeed.
With no lens attached, it's also the smallest camera here, but unlike the others there's no built-in viewfinder and the screen doesn't flip or tilt, which can make composing your shots tricky.
Strangely for Leica, the TL isn't the most expensive here – at £1400 for the body alone, it's cheaper than the Olympus and on a par with the Fuji. However don't be fooled: the T-mount lenses are eye-wateringly expensive, with even the cheapest of them setting you back more than £1000. Pair it with the 11-23mm wide angle zoom we used here and the total rises to an eye-watering £2800. At least you won't need to shell out extra on an SD card though – there's a generous 32GB of integrated storage space.
Photo quality lives up to Leica's lofty reputation, with the 16MP stills looking gloriously rich and sharp. But while the TL is a fine performer, it's not the best of the bunch here, and imaging purists will be happier with the quality of the Olympus or Fujifilm – especially if they're interested in capturing great video as well as stills. The TL's autofocus is also the slowest of this bunch, which doesn't bode well for snapping moving subjects.
Now add this
Leica Visoflex (Typ 020)
If there's anything left in your bank account after copping the TL and a lens or two, this official electronic viewfinder is a must buy. Yes, it's £360, but not only does it offer a gloriously rich LCD view through the TL's lens, it tilts and swivels for easy eye access at odd angles. Oh, and it also adds a GPS receiver, for geotagging shots.
Buy the Leica Visoflex (Typ 020) from Clifton Cameras for £360
The detail
User interface
While the 3.7in screen doesn't tilt or flip, it's impressive for another reason: touch sensitivity. Leica has built the whole TL user experience around touch controls, with a tap of the screen's camera icon bringing up a customisable 'grid' of settings. Rather than press buttons or twist dials, you prod icons to tweak the exposure compensation, white balance or ISO – even to select whether you're shooting in aperture, program, shutter, scene or manual mode. A bold move, sure, but we're not convinced it works. 6/10
Lens selection
Because the TL system is so new, it currently features just six lenses: three zooms and three primes. But with adapters you can attach glass from Leica's long-running R and M series, boosting the count by dozens. And some lovely glass it is too… 7/10
Video quality
The TL doesn't jive with 4K footage – 1080p and 720p at 30fps are the only video options, and while the footage looks decent, it's clear from the limited options that Leica doesn't really treat video very seriously; it's a bonus feature. 6/10
Image quality
The 16MP APS-C sensor produces beautiful images, particularly at low ISO settings, with the natural colours and punchy contrast that Leica's famous for – it's particularly adept at producing striking black and white images. At higher ISOs (around 2500) noise starts to creep in, but the camera's electronic brain does a fine job of mitigating its effects by transforming it into fetching, almost film-like, grain. Of course, you can also shoot in RAW format, should you feel that you can do a better processing job yourself. 8/10
Stuff says: ★★★★✩
The most striking model here by far, but the TL doesn't quite deliver on the ease-of-use front, while its video capabilities feel like an afterthought
Buy the Leica TL (body only) from Park Cameras for £1400
Tech specs
Megapixels 16.3MP • Sensor APS-C • Video 1080p @ 30fps • Burst shooting 5fps • Lens system Leica TL • Battery 400 shots • Dimensions 134 x 69 x 33mm, 384g
The winner: Fujifilm X-T2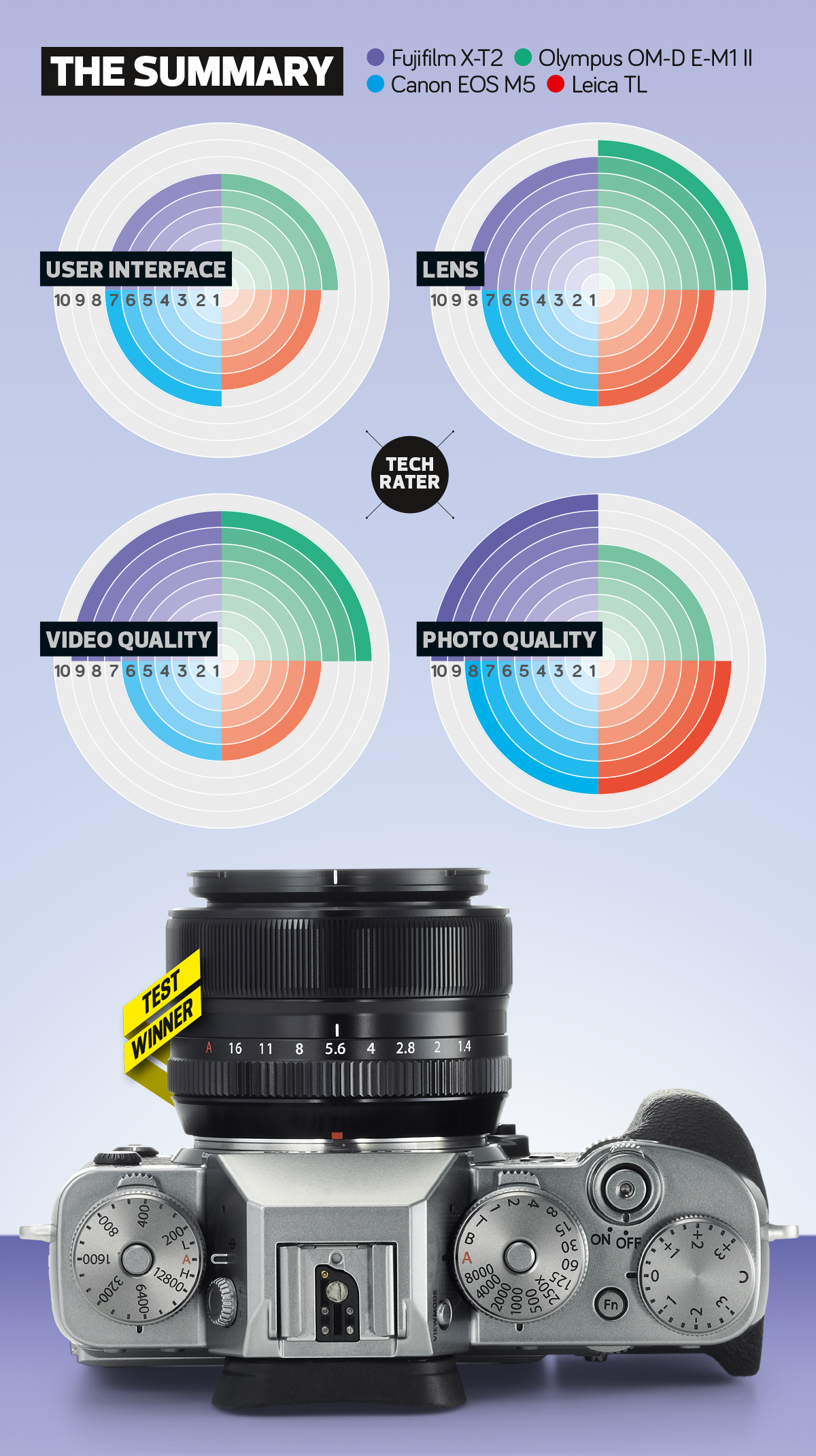 While the Olympus OM-D E-M1 II is an excellent camera and put up a spirited fight in our test, the lower price, slightly lighter weight and overall image quality of the Fujifilm X-T2 makes it the leading CSC camera in this price bracket.
The Leica TL, while a beautiful object capable of shooting equally beautiful photos, feels too limited by its touchscreen system, while the Canon EOS M5 is a fine all-rounder but comes up short on too many points; Canon might be the king of DSLR, but they still can't quite crack compacts. And the Olympus? Well, if were cheaper it would be a close-run thing, but as it is the slightly diminished low-light abilities of the Micro Four Thirds system count against it. For that price, you'd want the very best image quality.
Cracking good image quality is exactly what you get with the Fujifilm X-T2, together with excellent build quality, attractive looks and all the control flexibility of a full-size DSLR, but in a much smaller body. That it records 4K video too is just a great bonus. There's really nothing to dislike about it.
In fact the only drawback to buying it could come in the form of the newly launched X-T20, which has almost all of the features here but for nearly the price. Might be worth waiting for our full review of that before you splash out on anything right now…
What's next?
The digital camera world never sits still for long. The last few years have seen 4K video recording become a near-standard feature, advances in autofocus that massively boost speed and accuracy, and 5-axis image stabilisation to counter the wobble that comes from handheld shooting.
We've also seen the first shots of a sensor war. You wouldn't know it from the four models here, all of which have fairly modest megapixel counts, but look a bit further and there are Canon's 50MP 5DS and Sony's 42.4MP A7R II, frantically waving at you and screaming, "LOOK AT ALL MY MEGAPIXELS!". We wouldn't be surprised to see sensors get more pixel-packed in the near future.
The other CSC trend? Size. Panasonic's recently-launched GX800 is absolutely tiny, and you can expect more manufacturers to further shrink their mirrorless cams.