The 15 best Nintendo Wii U games
The essential games for Nintendo's quirky console
Nintendo's Wii U was obvious follow-up to the Wii and the DS, bringing the benefits of two-screen gaming to the living room, and attempting to span the gap between handhelds and full-size consoles. Unfortunately it was underpowered compared to the PlayStation and Xbox consoles it was up against, and didn't receive the third party developer support it deserved. Here's our guide to the best Nintendo Wii U games.
It's a sad fate for the innovative platform because while we would never recommend it as a primary console for most players at the time, it had enough spunk and appeal to warrant your attention. More importantly: it had Nintendo games. Sweet, sweet Nintendo games, something its replacement, the all-conquering Switch, has capitalised on.
Luckily, while game quantity was an issue, Nintendo slowly but surely built a strong core lineup of Wii U titles punctuated by some of the (arguably) greatest versions of beloved franchises, along with some intriguing indies and third-party picks. Got a Wii U or considering a retro purchase? Here are the 15 essential games we recommend you start with.
The Legend of Zelda: Breath of the Wild
Did you know one of the best games on the Switch was also on the Wii U? It's the system the game began life on, and while there's been a graphical downgrade from the more sophisticated Switch version – though the art style survives the transition largely intact – Link's open-world adventure loses none of its charm, and it's still an outstanding game.
Read More › The Legend of Zelda: Breath of the Wild review
Super Mario Maker
The Wii U already has a few smashing Mario entries (keep reading), but Super Mario Maker puts the tools in your hands: with the GamePad, you can create your own weird, wild, and wonderful 2D platform stages and share them online.
Not only is that fun and intuitive, but you can also play everyone else's stages, plus Nintendo bundled its own stages in the package – so even if you're not crazy about level creation, it's still a blast.
Xenoblade Chronicles X
The Wii U is not the console to own if you're desperate to play open-world epics such as The Witcher III or Fallout 4 – but the exclusive Xenoblade Chronicles X is a pretty fitting alternative.
It drops you into a vast wonderland of monster-slaying and (eventually) mech piloting, with an anime-esque sci-fi story and plenty of RPG grind in store. It's a tough nut to crack, but rewarding: stick with it and you may find much to love.
Splatoon
We've come around to Splatoon. True story! While we were admittedly underwhelmed by the launch experience, due in part to the limited array of initial content, our enjoyment and admiration for this team-based, paint-spraying, alt-shooter has grown as the game itself has.
Now there are enough maps and modes to keep you satisfied, not to mention a great community around it. Cheers to Nintendo for not only doing something different, but also continuing to support the game.
Minecraft: Wii U Edition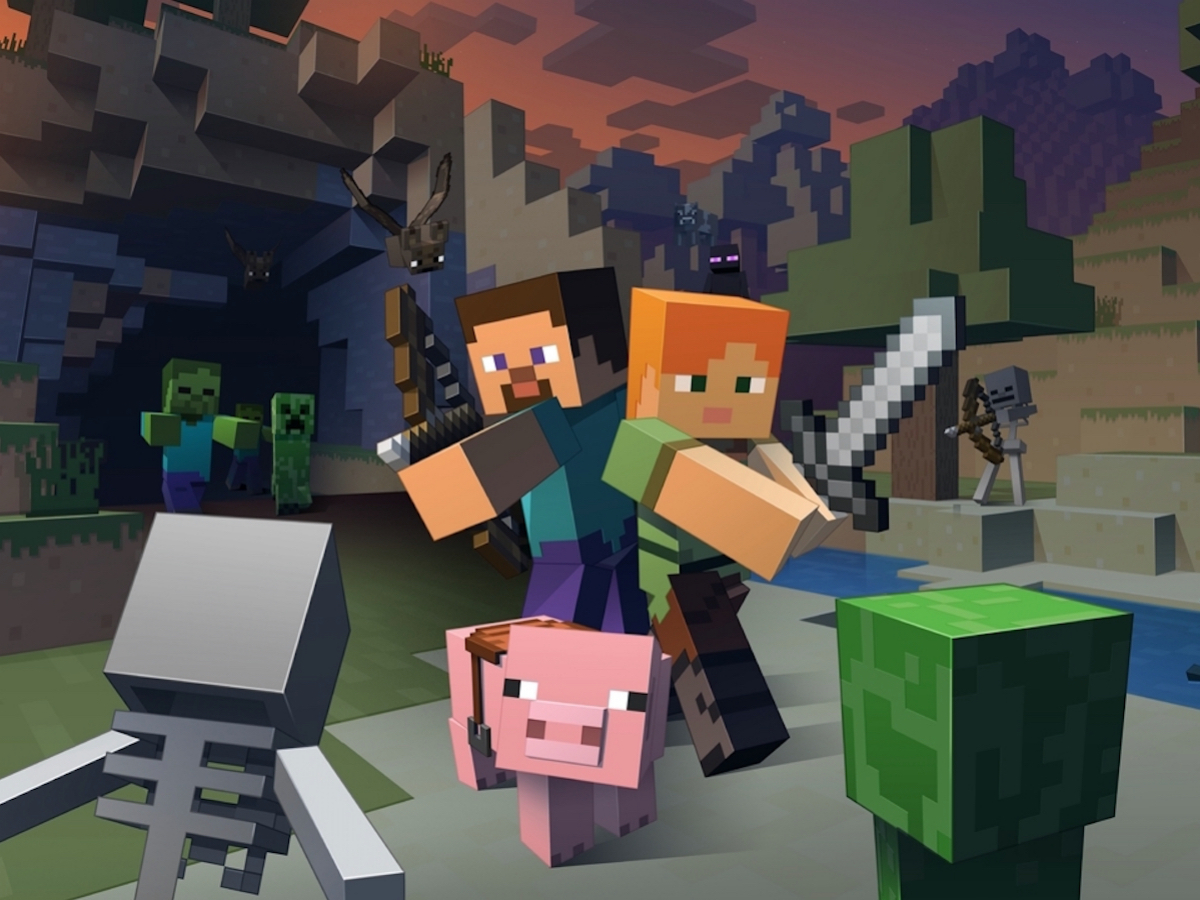 While it's a shame that the Wii U Edition doesn't take significant advantage of the GamePad – aside from off-TV play, of course – it's still Minecraft on Wii U.
Given the rather compact library, the release of the block-building favourite makes an even larger impact on Nintendo's box. It's playable with up to four local or eight online players as you survive the unknown or create pixel-packed wonders together in the blocky unknown.
FAST Racing Neo
Ignore the dreadfully dull title: FAST Racing Neo is a truly exhilarating throwback to the anti-grav racing greats of old: think F-Zero and Wipeout.
It's more like the former than the latter, really, since it lacks weapons, making maintaining your insane speed the sole priority as you whip around an array of twisty tracks. In fact, it's fitting that Neo is a Wii U exclusive, since it has the feel of an N64-era racer – just much, much better looking.
Pikmin 3
A horticultural real-time strategy game might sound wrong, but this is one garden party no Wii U owner should miss. You command three micro-astronauts as they harvest hordes of flower-headed Pikmin to help battle giant bugs, as well as find ways to collect the oversized and seductively named fruit they need for their daily juice fix.
The pitch-perfect puzzles and charming characters make Pikmin 3 even more enticing than gulping down your astronauts' supply of velvety dreamdrop juice.
Mario Kart 8
No list of the best Nintendo console games would be complete without a Mario Kart entry and, lucky us, here's Mario Kart 8. It's the same Mario Kart you know and love (except, of course, when the blue shell strikes), but with gloriously shiny graphics and new tracks to sink your tires into.
With multiplayer more hectic than ever, you'll be swearing and cheering in equal measure in no time. And not only is the main game a treat, it's also been expanded out with some excellent DLC tracks that even bring in Legend of Zelda and Animal Crossing elements. It's familiar, sure, but utterly essential for Wii U owners.
Super Mario 3D World
Hands down the best next-gen platform game on the block, Super Mario 3D World hits the sweet spot between the multiplayer joy of New Super Mario Bros. Wii and the 3D wizardry of Super Mario Galaxy.
From the familiar head-stomping to new additions such as Mario's kitty onesie and Captain Toad's puzzle asides, it's a masterclass in game design. To paraphrase Samuel Johnson, when a man is tired of Mario, he is tired of life – and this is proof that there's still plenty of excitement and exhiliration to find in the series.
Bayonetta 2
Considering Nintendo's long-standing reputation for conservative content, a Bayonetta sequel appearing on Wii U seemed incredibly unlikely. And Nintendo publishing it as an exclusive, especially after the original game only hit Xbox 360 and PS3? Totally bizarre. And yet here we are.
Perhaps most surprising of all is that Bayonetta 2 is a downright spectacular action game (even more so than the original), delivering insane boss fights and hugely satisfying hack-and-slash combat that can stand with the genre's giants. The highly sexualized nature can be off-putting, but it's a wild ride for sure.
Super Smash Bros. for Wii U
It's the game that nearly every Wii U owner was waiting for, and amazingly, it lived up to the hype. Super Smash Bros. for Wii U isn't a dramatic reimagining of the multiplayer brawler experience – it's just bigger and more beautiful, but that's plenty to make it worthwhile.
The familiar cast of Nintendo characters is expanded with even more guests, including Mega Man and Pac-Man, and it's packed with amazing stages full of retro gaming fan service along with plenty of modes to enjoy. The combat is still ultra-simple and can turn repetitive after a while, yet Super Smash Bros. remains such a joyful, endearing experience.
The Legend of Zelda: The Wind Waker HD
It'll be another year before we're playing the brand new Legend of Zelda for Wii U, but this is a damn fine consolation prize: GameCube classic The Wind Waker has been bumped into high-definition for a sterling port well worth experiencing again.
Granted, The Wind Waker is a divisive entry, with some fans grumbling at the cartoonish take on Link and his adventures – but it's a stunning game and a fantastic adventure, plus the Wii U version has some subtle tweaks to overcome frustrations from the 2003 original.
Deus Ex: Human Revolution: Director's Cut
Yes, you saw this on the PlayStation 3 and Xbox 360 back in 2011, but the Wii U has the definitive version of this slick, clever and stylish cyberpunk creep 'em up. The disappointing boss fights have undergone extensive and successful surgery, and the trademark brains-over-brawn action still thrills.
And since we now live in an age of passport-carrying cyborgs, it is essential prep for when we inevitably all become bionic people living in a corrupt urban dystopia. Shame the Wii U won't enjoy the upcoming sequel, however.
Shovel Knight
The Virtual Console offers various great retro games to download and enjoy, but one of the best old-school experiences on Wii U was just released last year. Indeed, Shovel Knight is a modern game, but this throwback side-scroller does an incredible job of mimicking the best of the past.
In fact, it feels like a cross between Mega Man, DuckTales, and Super Mario Bros, sending you into challenging 2D stages as a warrior armed with a garden tool. You'll bash enemies, bounce on your shovel, and dig up treasure, all while soaking in the impeccable 8-bit-esque graphics and music.
Rayman Legends
Mario's not got a monopoly on Wii U platforming thanks to Rayman. Forget some of the so-so Rayman games of old: Legends' wacky action is a barrel full of fun, wrapped in gorgeous visuals and backed with a fab two-player mode where one player uses the GamePad to move platforms and tickle enemies.
Just try the demo's joyous Castle Rocks level, where you sprint around to the sound of a totally bonkers version of Black Betty, and you'll be hooked. Super Mario 3D World might have 3D platforming locked down on Wii U, but Rayman Legends takes the cake for side-scrollers.
Donkey Kong Country: Tropical Freeze
Nintendo's brought a couple of its own side-scrolling franchises into HD, and while New Super Mario Bros. U is solid, it's Donkey Kong Country: Tropical Freeze that really stands out. It maintains the look and feel of the great DKC Returns from Wii, all while implementing new game elements and a fresh setting.
As the title implies, Tropical Freeze sees the islands doused in ice, which creates fresh gameplay challenges while maintaining the spirit of the SNES classics. It's extremely difficult in spots – probably more than you'd expect, given the cartoonish exterior – but it's a platformer you can really dig into and savor.