Best cordless vacuum cleaner 2023: ultimate stick vacs
Six sticks to rule them all. But which will be crowned the best cordless vacuum cleaner?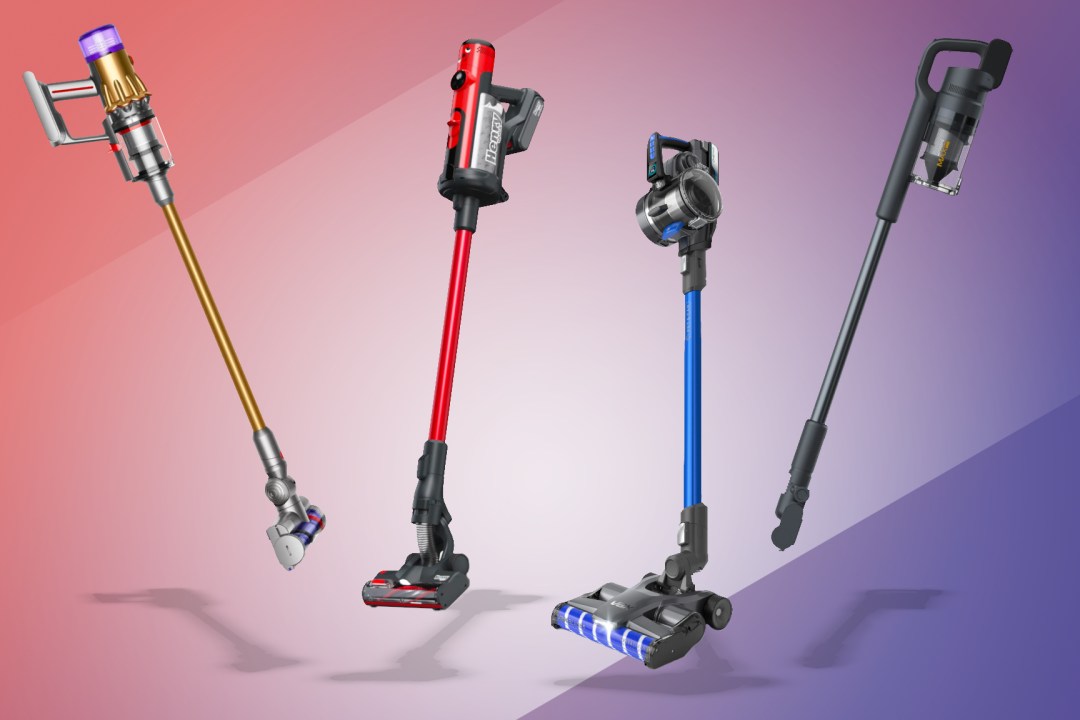 How long do you spend vacuuming? How long do you want to spend vacuuming? Well, one of the best cordless vacuum cleaner options should make the job easier.
In a world where convenience and compact designs reign supreme, cordless vacuums have emerged as the must-have cleaning tool. Free from the constraints of cords and power outlets, these handy little stick vacs offer a level of agility that traditional vacuums could only dream of.
Navigating through the multitude of options can be overwhelming, but luckily for you, that's where we come in. We've tested the most popular cordless vacuum cleaners from all the big brands, testing everything from their suction prowess and battery life to their performance across various surfaces.
The best cordless vacuum cleaners you can buy today: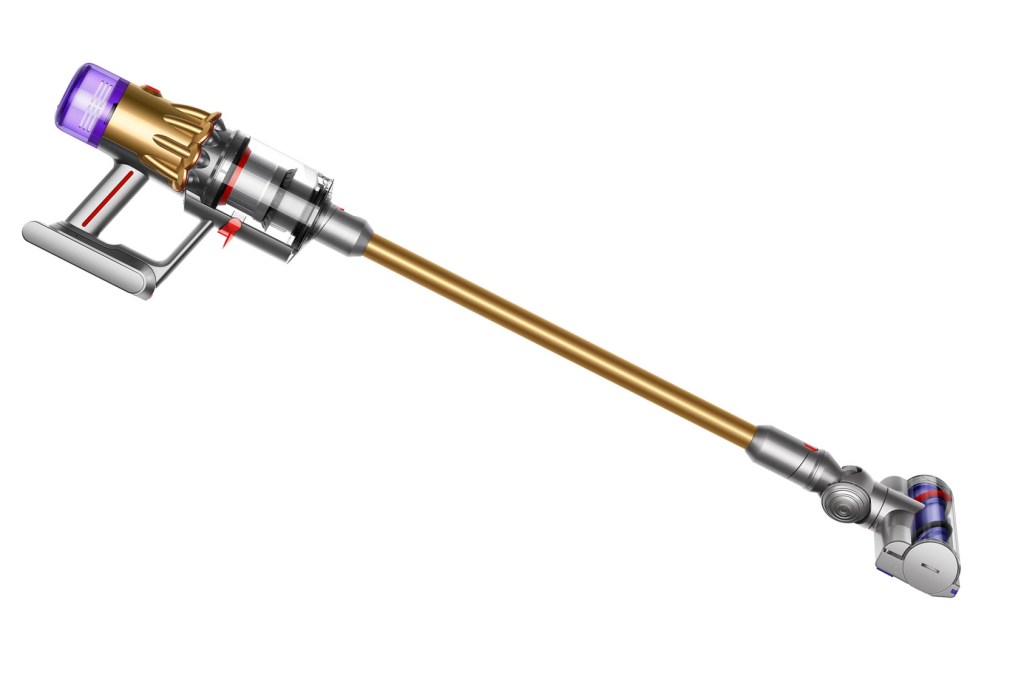 1. Dyson V12 Detect Slim Absolute+
Stuff Verdict
Light in the hand and the laser in front illuminates the Dyson's performance brilliantly.
Pros
Lightweight
Excellent range of accessories
Cons
Smaller capacity than V15
Different floors require different heads
| Dyson V12 Detect Slim Absolute+ specs | |
| --- | --- |
| Capacity | 0.35L |
| Runtime | 60 mins |
| Power levels | 3 |
| Weight | 2.2kg |
This boasts the same features as the Dyson V15 but is slimmer. In fact, it's the lightest vacuum on test. One thing Dyson does brilliantly is charging docks. You can route the cable so that the cleaner automatically charges whenever it's docked. No fiddling around, it's always charged and good to go.
The dock holds the Dyson's weight and stores two tools. A see-thru accessory clips to the vac's tube and lets you carry two more tools. So that's all four smaller tools covered. But you still need to find somewhere to store the second floorhead and the powered brush.
The Dyson comes in plastic-free packaging. The paperwork is minimal, just a quick start guide. For full instructions, download the MyDyson app. You must register, which is annoying, but it's worth it for fab short video guides to everything.
The vac is pleasantly light in the hand but it's not lightweight in terms of accessories. It arguably comes with too many: two floorheads (a 'Fluffy Optic' roller featuring carbon fibre and a 'Motorbar' roller with angled brushes to pick up hair), a conical, powered brush for pet hair and four more hand tools. Both open without tools, so you can clean the rollers. The Motorbar opens with a coin, and the Fluffy Optic opens easily by hand. It also comes with two 90° bends for low furniture and high spots. We'd prefer a single, larger floorhead and fewer accessories but the benefit is that it's lightweight.
Edge performance is good in front of the floorhead and great at the side. The fluffy floorhead boasts a green laser at the side, angled to illuminate the floor. You can see every speck of dirt… pass back over and see that it's gone. It makes vacuuming satisfying. Also satisfying is the piezo sensor and display, quantifying how much you've picked up in terms of particle sizes. Exactly how dusty was your house?
There are three floorhead power levels: eco, boost and auto which adapts to needs. Auto works brilliantly. The on button is the large red one on the front (so you need two hands) but it's chunky, so you can whack it on and off without looking. The end of the cylinder has a colour display and a button to select power: again, you need two hands. The Dyson usually starts in auto/medium but the conical, powered brush starts in boost, which is loud and powerful.
With a single battery, small capacity and a charge time of 4 hours, the V12 isn't trying to be your primary vacuum unless you live in a tiny flat. But it's outstanding as a spot cleaner: lightweight, always charged and ready for action.
---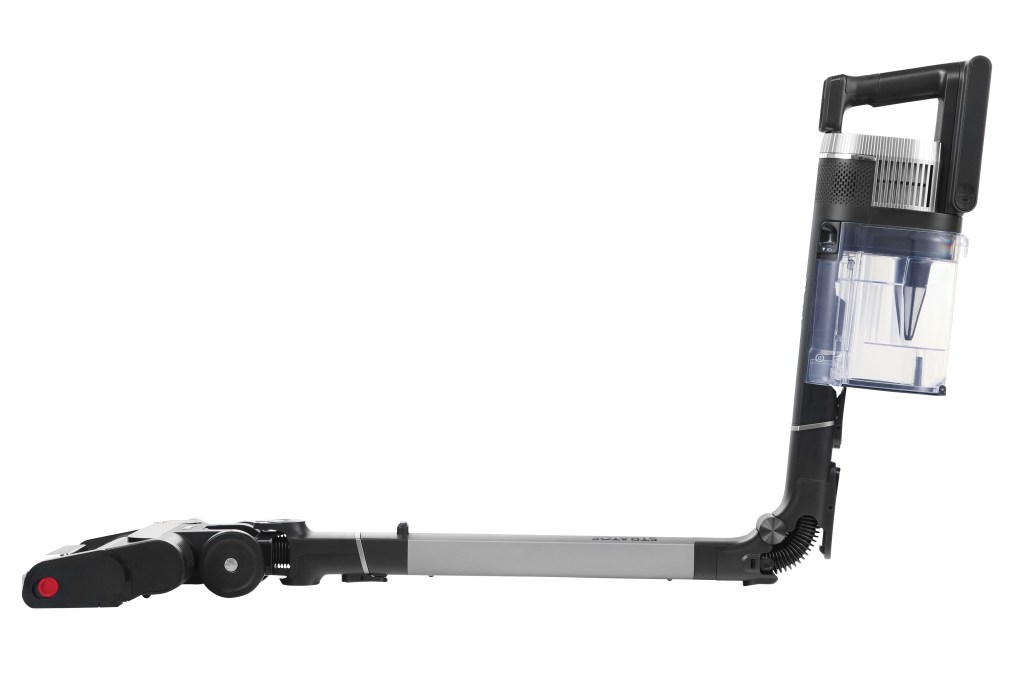 2. Shark Stratos Anti Hair Wrap Plus Pet Pro IZ420UKT
Stuff Verdict
The Shark's fold is genius and its battery life is superb.
Pros
Excellent battery life (with two batteries included)
Anti-wrap hair head works well
Large capacity
| Shark Stratos Anti Hair Wrap Plus Pet Pro IZ420UKT specs | |
| --- | --- |
| Capacity | 0.7L |
| Runtime | 2x 60 mins |
| Power levels | 3 |
| Weight | 3.6kg |
This new model, aimed at pet owners, sits at the top of Shark's range of stick cordless vacuums and it's clearly one of the best cordless vacuums you can buy. It boasts a pet tool, anti-hair wrap and two batteries for an extended run time of two hours… which is more than you should ever need.
You can charge one or both batteries in a dock, or charge one by plugging in directly. There's no wall dock, not even a simple mount to hang the cleaner. Instead, press a button and the Shark folds for storage, doubling over so its height is halved to fit in a cupboard.Is it any good?
The Shark arrives in plastic-free packaging. Accessories include an upholstery tool with a stiff brush, a crevice tool, a thin dust brush and a powered small brush for pet hair. There aren't too many accessories and a fabric storage bag is supplied.
Like the Vax, there's just one floorhead but it features two rollers: fluffy and brush. The Shark's fold is clever and intuitive. You can also press the folding button to clean under low furniture without bending down. Five LED headlights illuminate cleaning well.
Controls are under your thumb, for one-handed cleaning. There are two power levels: standard and boost. But most of the time you'll use the CleanSense IQ setting, which boosts power when it detects dirt. It works effortlessly. The display is easy to read but shows battery percentage. Estimated minutes would be better. In CleanSense IQ mode, a white light strip across the top of the floorhead gives a visual indicator of how much power you're using.
Edge performance is good in front of the floorhead and great at the side. Accessories impressed: the thin dust brush cleaned Venetian blind slats well and the powered pet hair brush also lifted stubborn dirt from a doormat.
Pop the Shark body off the tube to take it to the bin, then push one button to empty the dust canister. Accessing the filters to wash them is a bit harder to figure out, or you can RTFM. The anti-odour cartridge arrives sealed in a tin and smells full-on Lynx when you open it. Turn it in the floorhead to adjust between four scent levels, it's actually pretty mild in use.
We love the fold-over design, power, battery life, and accessories. The Shark is hard to fault: an even better storage bag is the only thing that springs to mind.
---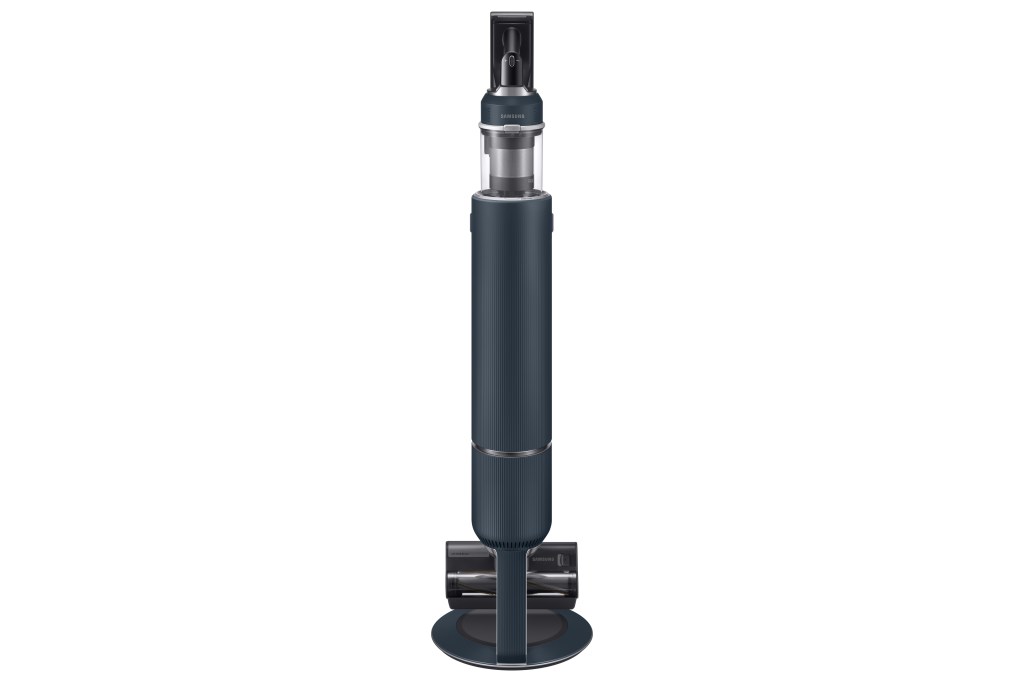 3. Samsung Bespoke Jet Complete Extra
Stuff Verdict
Always ready for action, rarely needs emptying, but needs a lot of floor space.
Pros
Empties itself
Lots of heads and tolls included
Cons
Requires dust bags
No anti-tangle roller
| Samsung Bespoke Jet Complete Extra specs | |
| --- | --- |
| Capacity | 0.5L (2L) |
| Runtime | 2x 60 mins |
| Power levels | 4 |
| Weight | 2.7kg |
This is the only vac on test with a floor-standing docking station. It's bulky but designed to look good. When docked, the Samsung dust canister is automatically emptied into a larger dust bag in the 'clean station'. It comes with three 2-litre bags.
This model comes with a 'spray spinning sweeper' head: a spinning polisher for hard floors. It also comes with a caddy that stores the polisher, all three tools (crevice nozzle, multi-tool, powered small brush) and charges the second battery. So, you need lots of floor space and two power sockets. Unusually, the Samsung doesn't have headlights but a light across the top of the battery indicates when it's in use or charging.
The Samsung arrives in a huge box with single-use plastic bags that should be a thing of the past. It's large and looks good, but you can't help feeling that buyers would put it in the utility room anyway… and pay someone else to do the cleaning. That said, it's refreshing that the makers have thought about where to stow accessories. There will be no bag of forgotten tools in the cupboard under the stairs.
The tube is the only one on test that's telescopic (525-665mm) for users of all heights. It has a single vacuuming floorhead featuring dual rollers, fluffy and brush. Buttons are under your thumb. Tap one to power on/off. Then plus and minus buttons select from four power levels: min, mid, max, and jet. Tap the button at the top of the dock when you want to empty the vac into its 2-litre dust bag. This takes 20 seconds and works well.
The floor polisher head is simple: a spray water bottle and a pair of spinning pads. But the same Samsung buttons control it. The spray is liberal, you don't need much. If you don't want the polisher, there's a version without for around £100 less.
But the vacuum worked well. Performance is good, even on min, but it defaults to mid each time you turn it on. Edge performance is great, cleaning up to 2mm from the wall both from the side and front. The convenience of always being charged, with a second battery at the ready, makes it handy as a spot cleaner or primary vacuum… if you can spare the floor space.
---
4. Numatic Henry Quick
Stuff Verdict
A sturdy, simple vac with dust bags, so you don't have to clean filters.
Pros
Affordable price
Cleans well
Cons
You don't get lots of tools
No anti-tangle brush
| Numatic Henry Quick specs | |
| --- | --- |
| Capacity | 1L |
| Runtime | 70 mins |
| Power levels | 2 |
| Weight | 3.2kg |
Henry is famous for its workhorse cylinder vacuum cleaners. This is its first stick-style cordless. It's available in iconic red, discreet graphite grey or pink (the Hetty Quick).
It's affordable and, unusually, bagged. It comes with 26 'pods', 1-litre disposable bags with a dust seal, made from largely recycled material. Pods act as filters too, so you get a fresh filter with every change, no need to clean them. 26 pods should be enough for a year or more.
Run time is 16-70 minutes, depending on the power setting, and recharging fully takes 150 minutes. You plug the battery in to charge it, whether attached to the cleaner or not.
It arrives in plastic-free packaging. It's sturdy: a no-nonsense workhorse worthy of the Henry name. It comes with just two accessories: a crevice nozzle and a combi tool with a sliding brush. The cleaner's wall mount can hold them both. You can also route the cable to charge the cleaner when docked, but you must plug it into the side of the Henry each time and unplug it afterwards. It also comes with an optional scent capsule that pops at the top of the cleaner body. The scent is tropical fruity but not overkill.
The grip is ergonomic but the three buttons (power on/off, boost, brushbar) are on the front of the cleaner body. That positioning is annoying, forcing you to use two hands. It always starts in standard power mode with the brushbar on. Four lights indicate battery charge.
The floorhead has a single spinning roller, with brushes to pick up hairs. There are three LED headlights. Edge performance is great, cleaning up to 2mm from the wall both from the side and front. Standard power is enough; Boost is blistering but rarely needed.
Henry comes with an unusual, optional extension handle that clips securely onto the main handle. This gives you a slightly longer reach, good for tall people. If you get a blockage between the tube and floorhead, you can unclip the top of the flexible hose for access. That's handy: with most vacs, you need a screwdriver.
Henry Quick is a solid spot cleaner or good for small apartments. It doesn't have the features and battery life to be your primary vac for a large house. And we really wanted controls under the finger or thumb, for one-handed vacuuming.
---
5. Vax ONEPWR Blade 5 Dual Pet & Car
Stuff Verdict
Good value, you get lots of cleaning power and battery life.
Pros
Multi-floor head is good
Two batteries are useful
Cons
Large, awkward design
Not the most powerful
| Vax ONEPWR Blade 5 Dual Pet & Car specs | |
| --- | --- |
| Capacity | 0.7L |
| Runtime | 2x 45 mins |
| Power levels | 2 |
| Weight | 3.85kg |
The Vax has a large floorhead featuring dual rollers, fluffy and brush, for improved performance on all floors. Plus it comes with two batteries for a total max runtime of up to 90 minutes. A colour display indicates mode and runtime.
There are two batteries but you can only charge one at a time. Pop the battery off and put it in a charger. There's a simple wall mount for the Vax but it doesn't charge. The mount has space to stow two accessories but the Vax comes with four hand tools, including a powered brush for pet hair and a soft 'tech tool' brush for cleaning gadgets. At the time of writing, it also came with a free Vax Pro Kit 3 containing three more tools, a hose and a storage bag.
Packaging is largely paper, with just plastic bags on the two batteries. The first thing you notice is the depth of the two-roller floorhead. Width and height are standard and it beats having to change floorheads.
Cleaning one-handed is a breeze because the controls are at your thumb. One button powers it on, others select the roller speed for hard floors or carpets. The fourth and final button lets you select boost power, which reduces runtime dramatically from 45 to 15 minutes (less with rollers spinning). Standard power is sufficient, you rarely need a boost. But it's well worth using the rollers to pick up more dirt.
It's a little heavy in the hand but the display and controls are brilliantly intuitive. If you power off and then tap within 2 seconds, it stays on the same setting and the headlights stay on. Pause for longer and it defaults to standard power and no rollers. Edge performance is better with the side of the floorhead than the front, so you find yourself going over the edges of the room again, sideways. The Vax's three LED headlights are in the middle but the light spreads wide enough to illuminate the floor in front and see under furniture.
An on-screen alert tells you when it's time to wash the fabric pre-filter and wipe the metal separator. Hang on to the instructions, so you know how to reset the warning. Emptying is a two-hand job. Unusually, the dust canister sits horizontally. The easiest way to empty it is to pop it off the cleaner body, and then hold it over a bin.
The Vax gives you a lot of power, plenty of tools and a long run time. It's the heaviest on test but it does a good job and could be your primary vacuum cleaner.
---
6. Roidmi X300
Stuff Verdict
The magnetic wall dock and modern design mean you don't mind this being visible.
Pros
Attractive design
Good for dust and dirt
Cons
Awkward power button
Not great for larger debris
| Roidmi X300 specs | |
| --- | --- |
| Capacity | 0.65L |
| Runtime | 90 mins |
| Power levels | 3 |
| Weight | 2.8kg |
Roidmi was founded just eight years ago. One of its first products was a crowdfunded, award-winning cordless vacuum cleaner. This new model is its most powerful to date, with an upgraded motor and new design for improved suction.
Its floorhead features a soft roller with stiff, diagonal brushes. There are just three tools: a crevice nozzle, a brush and a powered small 'mattress' brush that's good for lifting pet hair from upholstery. It also comes with two small cleaning brushes and a spare washable dust filter. Unusually, the cleaner, tube and floorhead click together without buttons: you just pull the join apart to release. It looks great.
The Roidmi arrives in single-use plastic packaging: a sea of clear bags that should be a thing of the past. The setup is good aside from the companion app. The QR code insisted on the app in Polish, so we hit the Play Store. The Bluetooth pairing didn't behave either. In theory, the app lets you check battery power and get alerts. The Roidmi's OLED display is a better place for all this.
A strip of 24 LEDs illuminates in front of the floorhead brilliantly, but weirdly they only come on in the dark. This misses the point as headlights are needed for floor edges and kitchen plinths, even when it's light.
Its two buttons are under your thumb for one-handed cleaning, an improvement on its predecessor, the X30 Pro. The display uses colours to indicate power level: eco (green), standard (blue) and boost (red). You also get battery percentage and alerts. Turn it off and it displays how many calories you've burned; the number is dismayingly low. The power button needs to be pressed for half a second, not just a tap. This takes a little getting used to.
In both eco and standard modes, suction varies automatically as needed, which is great. Boost is overkill, eco feels a little wimpy, and the standard is perfect. There's no tool storage but the three tools are plenty and they're good. Unusually, the crevice nozzle has a handy light at the tip. Edge performance is better with the side of the floorhead than the front, so you find yourself going over the edges of the room again, sideways.
Emptying the dust canister is one button and a bit of a shake over the bin. Accessing filters is tricky to figure out at first but the supplied brushes and spare filter encourage keeping the Roidmi clean.
Charging is elegant. You wall-mount its magnetic dock precisely 1m off the floor. The vac rests on the floor with the battery at the right height to charge. The display shows battery charge as a percentage, so you're confident it's docked. This always-ready convenience and variable suction make it a great spot cleaner.
---
How to buy the best cordless vacuum
As a spot cleaner, these stick vacs are your hi-tech dustpan and brush, making quick work of spills and the detritus under the dining table or highchair.
Or they may serve as your only vacuum cleaner. Cleaning power is no longer a problem, it's a question of cleaning time. Some models come with two batteries, for double runtime. Or you might clean differently. Rather than cleaning your whole home weekly, you might clean one room at a time, as needed.
Gone are the days when you had to take the quoted battery runtime and halve it, because cordless vacuum cleaners were only any good on their top power mode. The best cordless vacuums included in this guide do a great job on standard, not boost, power.
The weights quoted here are of the cleaner body, battery, tube and floorhead, the way we use them most of the time. The cleaners were tested in a real home, filled with pets, children and grime. We tested accessories but also looked at storage. That detail tool is of no use if it's at the other end of the house. A bag is helpful, onboard storage is brilliant. And two or three good tools are enough, you don't need dozens.
How to vac in an environmentally friendly way
Unboxing the vacs, it's interesting to see how far we've come with packaging. Most came wrapped in paper, not plastic. This matters. Plastic is a great material for a product that you want to last. It's a terrible material for single-use packaging: those flimsy bags will end up in landfill where they will outlive us all.
Finally, if you're an eco-worrier, you also want your vacuum to last. If performance is low, don't scrap it, clean it. Cleaning filters thoroughly makes a huge difference. And if you're not someone who will realistically clean them, consider the Henry Cordless, which uses old-school dust bags instead.