Best cheap compact cameras – reviewed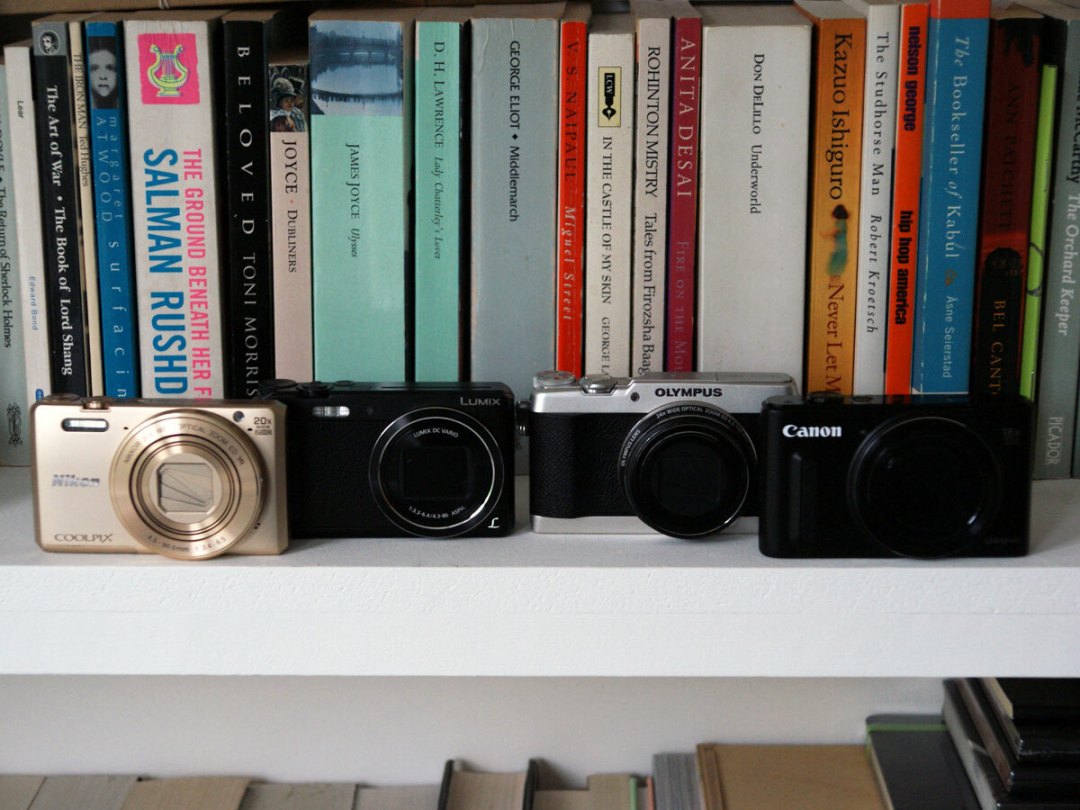 Amidst all the fevered excitement about the latest cameras' lens-swapping, full-frame sensors and 4K video recording, it's sometimes easy to forget about compact digital snappers. You know – the digital cameras that far more people actually buy and use.
And we shouldn't discount the humble point-and-shoot, which has come a long way in recent years. Due to the rise of smartphones, we all already carry a decent camera in our pocket. That fact has meant traditional camera makers have been forced to up their compact game, cramming more performance and functionality into ever-smaller snappers.
We've collected some recent examples from four of the leading manufacturers, so let's see how they shape up against each other and find out if they're truly worthy of replacing a smartphone as your "main" everyday camera.
Nikon Coolpix S7000 (£130)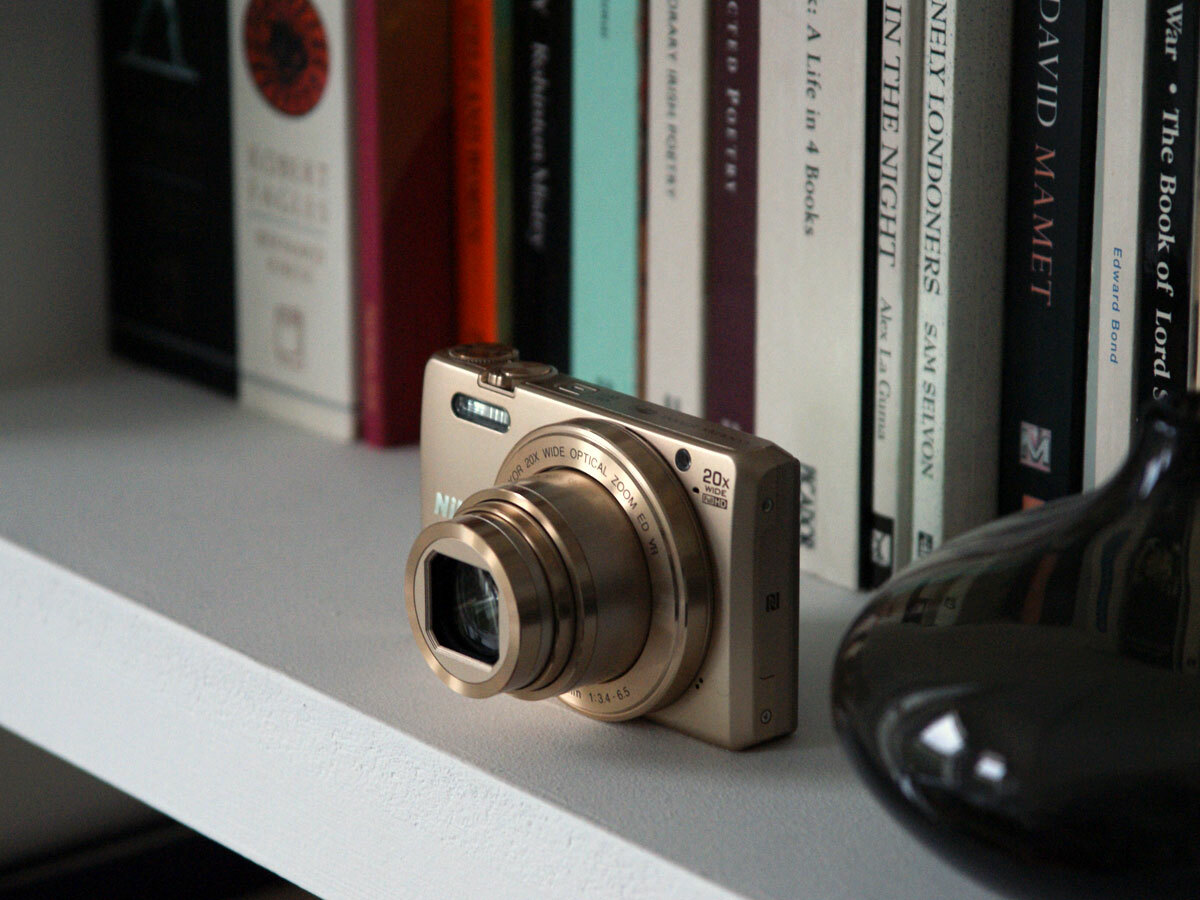 What's the story?
If small and light is the way you need to go, you should take a long look at Nikon's S7000. It's the most pocketable of the four models we tested, weighing an airy 161g and being 27mm thick at its chunkiest point. Jam it in your jeans and you won't even know it's there.
However it still packs a 20x optical zoom and extra-sensitive back-illuminated 16MP sensor, however, as well as 4-axis image stabilisation and Wi-Fi (with NFC to make pairing it with an Android device decidedly less fiddly). It's no lightweight when it comes to features.
I'm not totally sold on the S7000's gold finish, but it's only one of four available options (black, silver and pink are the others). The body exterior is mostly metal and reassuringly solid, but I found the mode dial to be a bit loose – prone to turning of its own accord when the camera was taken in and out of a pocket.
Picture perfect?
As with the other cameras in the test, the Nikon has a physically small sensor (just 1/2.3 of an inch in corner-to-corner diameter). It's never going to produce images and video with the clarity and realism offered premium compacts with 1in sensors or system cameras with even larger APS-C or full-frame sensors.
Here, there are areas of grainy noise even when the lighting is good and the ISO is at its lowest setting of 125 – just like with all the other models – but I also found that the "Night Landscape" mode, which takes several higher ISO 900 shots and melds them together, delivered impressively similar results in much lower light conditions. So you take the rough with the smooth.
Tech specs:
Sensor: 16MP sensor, Zoom: 20x optical zoom, Wi-Fi and NFC: yes, Dimensions: 99.5 x 60 x 27.4mm, Weight: 161g
Olympus Traveller SH-2 (£220)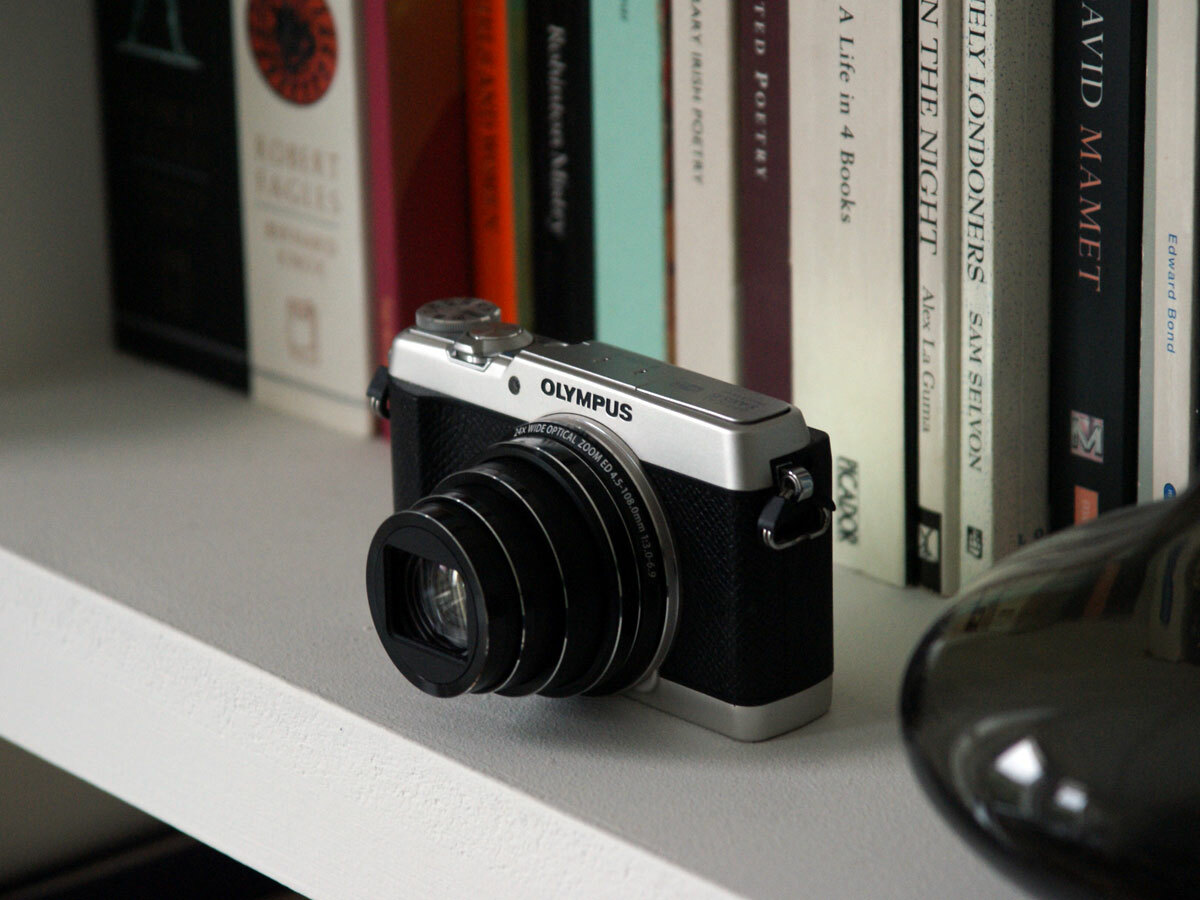 What's the story?
By some margin the bulkiest and priciest camera in this test, the Olympus also has the largest optical zoom reach and the most "premium" build quality and features. Want full 5-axis image stabilisation to counter the effects of your trembling mitts? This camera is the only one of the four that delivers.
There's also a touchscreen, which might sound gimmicky on a camera but comes in really handy at times: just tap an area on the screen and the camera will set focus and exposure at that precise point. It's much quicker than doing it manually.
The classy styling owes a lot to Olympus' retro-inspired PEN compact system cameras, and that's a good thing, but the SH-2's somewhat hefty size and weight means you may struggle to fit it in anything but a large coat pocket.
Picture perfect?
Despite its price premium, the SH-2 doesn't offer a great deal on the performance front over the other models here. There's a wee bit more range on the zoom, of course, and that's potentially valuable if you're shooting far-off subjects.
In terms of the actual JPEGs the camera produces, there's little to no difference when you zoom in to take a close look on your computer screen. Even in the lowest ISO shots there's grainy noise visible, and there's purple fringing creeping at high contrast sections in the corners and edges.
But, and it's a big but, the SH-2 also shoots in RAW, so if you're really fussy about how snaps look, you have far more scope for tinkering after the fact than you do with the other models here.
Tech specs
Sensor: 16MP sensor, Zoom: 24x optical zoom, Wi-Fi: yes, Dimensions: 108.8 x 63.2 x 42.4mm, Weight: 271g
Panasonic Lumix TZ57 (£120)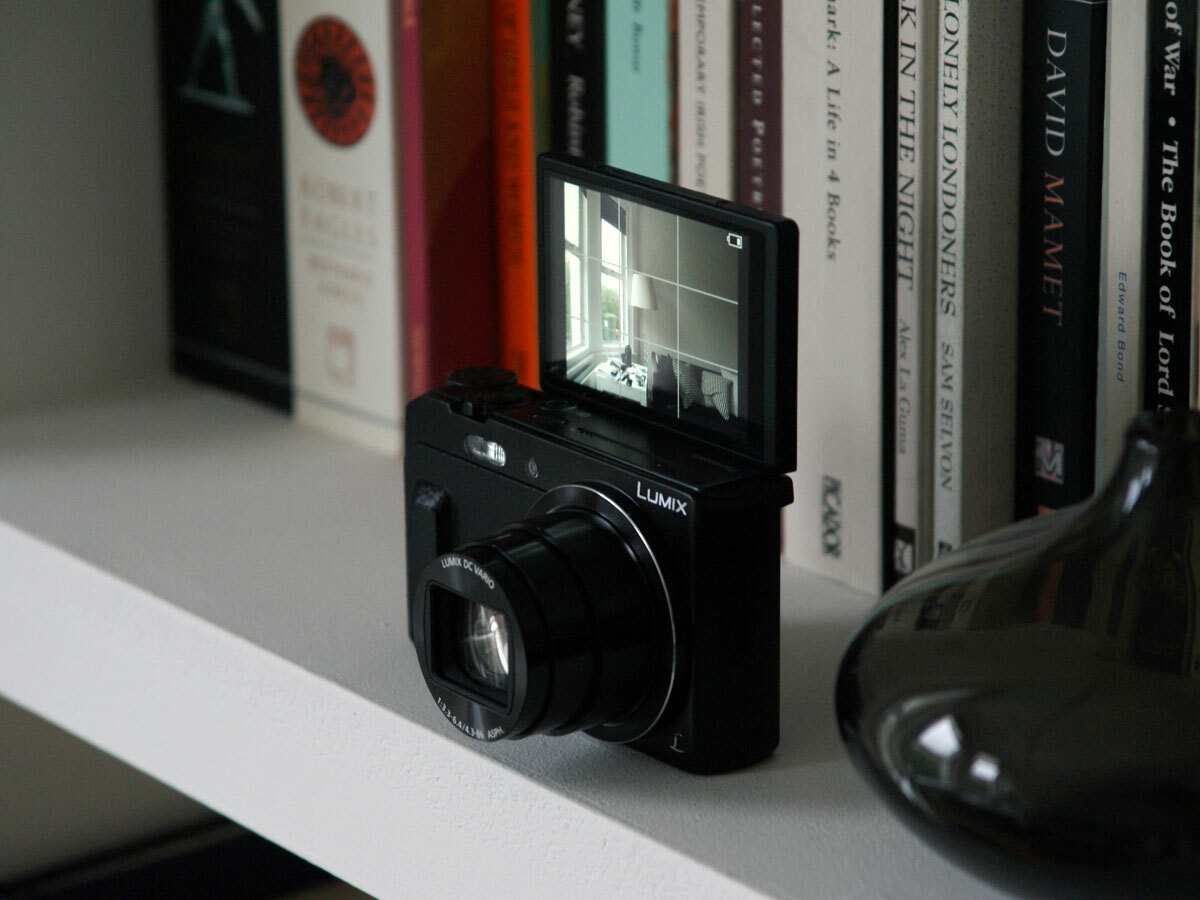 What's the story?
Huge surprise here, folks: this is a small camera with a big zoom – just like all the others in this test. While not as slinky as the Canon or Nikon snappers, the TZ57 will happily sit in an inner jacket pocket ready to be whipped out at a moment's notice.
The big differentiator with this camera is its LCD screen, which can be flipped up 180 degrees to face forwards. That means you can point both the TZ57's lens and screen at your face at the same time and, in theory, take better self portraits. And you don't even need to press the shutter button to do so: a simple wink of your eye will trigger the camera when the screen is in selfie mode.
So if you're someone who knows their "good" side from their bad, and has spent far too long perfecting their duckface, Panasonic's is almost certainly the compact for you.
Picture perfect?
The TZ57 has a small 16MP sensor and produces stills and videos of similar quality to the other cameras here. You're not going to be able to achieve totally noise-free images here, even by shooting in bright sunlight. Unless you're zooming in on your computer screen or making poster-sized prints, the graininess won't prove problematic until you get up to ISO 800.
This Panasonic also has a tendency to underexpose images a touch, but again it's nothing to cause undue concern: the images can easily be brightened up by upping the exposure compensation or tweaking a little on your computer afterwards.
Low-light shots come out fairly well too, at least if you use the handheld night mode which takes several images and melds them together to create a cleaner picture.
Tech specs
Sensor: 16MP, Zoom: 20x optical zoom, Wi-Fi: yes, Dimensions: 107.9 x 59.9 x 32.1mm, Weight: 248g
Canon PowerShot SX610 HS (£140)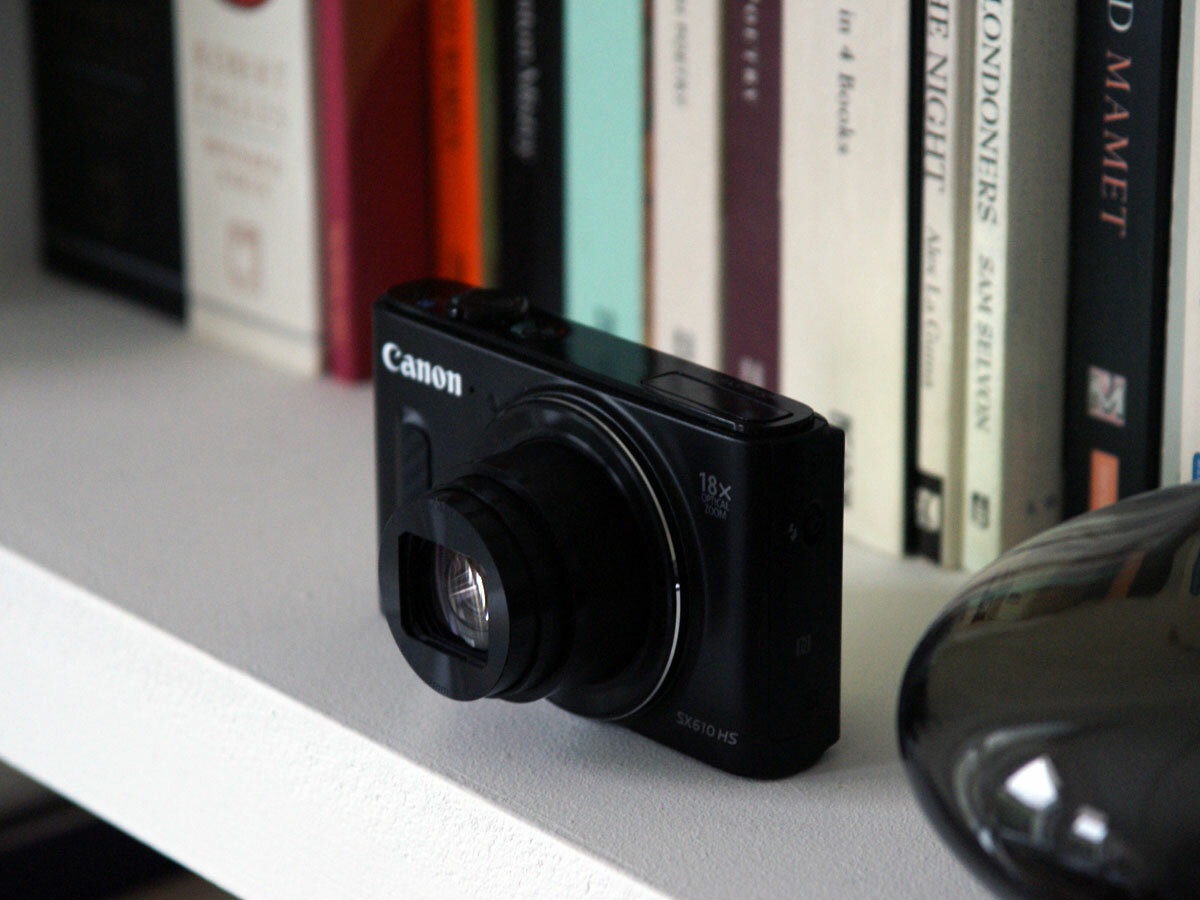 What's the story?
Not as compact or lightweight as the Nikon S7000 but still far more easy to pocket than the Panasonic and Olympus models, Canon's camera boasts an elegant design, impressive image stabilisation and a simplified user interface that suggests it's pitched at the wet-behind-the-ears photographic beginner.
Non-noobs needn't fret too much, though: they can flick the switch – yep, a sliding switch rather than the dial used by the other models here – into Program mode if they want dive in and tweak settings.
The SX610 HS's sensor packs the most megapixels of the four models in the test, but it's physically the same size, so there shouldn't be any expectation of significantly different image quality. The 18x optical zoom range, meanwhile, is the shortest of the four models here. Not by a huge margin, but it's something worth considering if you're foreseeing shooting a lot of far-off subjects.
Picture perfect?
As thought, the extra megapixels don't give the Canon any great edge over the other models here, and its image quality for both stills and movies is broadly the same: even at the lowest sensitivity setting of ISO 80, there's noticeable noise in images viewed at 100 percent zoom in Photoshop. That's simply a hallmark of compact point-and-shoot cameras. But the SX610 is a solid performer, delivering relatively clean and crisp JPEGs up to ISO 800, as well as grainier but usable low-light shots at higher ISOs.
HD video is also decent, with the image stabilisation doing a good job of smoothing out pans and hand shaking, but there's nothing in the performance that makes the Canon stand out above, say, the Nikon S7000 – which more compact and has better zoom range.
Tech specs
Sensor: 20.2MP, Zoom: 18x optical zoom, Wi-Fi and NFC: yes, Dimensions: 105.3 x 61 x 26.7mm, Weight: 191g
Overall verdict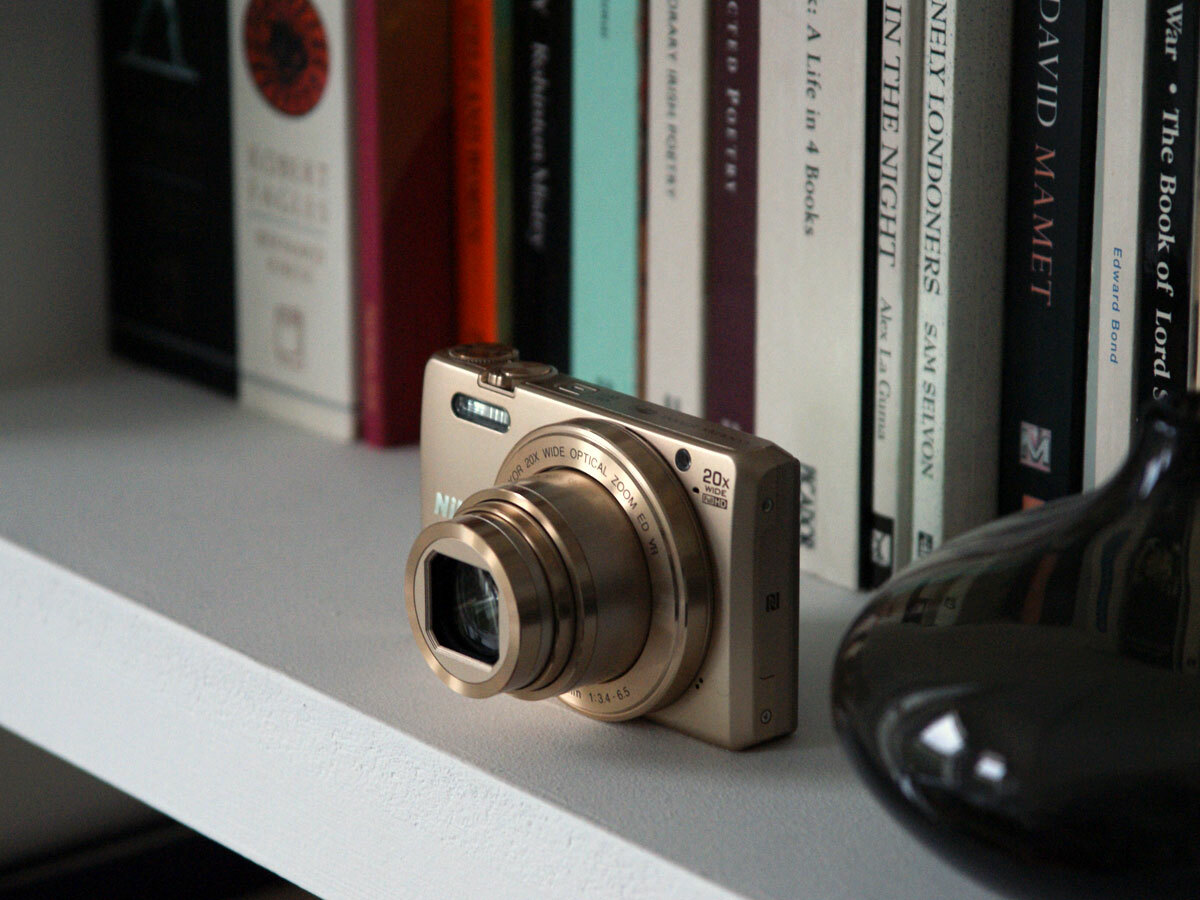 Because all four of these cameras offer a proper optical zoom – and in all cases a substantial one – they all represent a big step up from your smartphone in terms of capabilities. Some go farther than others, though: the Olympus SH-2's RAW shooting greatly expands your creative capabilities, while the Panasonic TZ57's front-flipping screen means it can take selfies that'll blow snaps from your smartphone's piddly front-facing camera out of the water.
Balancing price and performance with size and weight, though, has led us to pick the Nikon S7000 as our test winner. Barely bigger than a phone (and lighter in weight than many), it nevertheless offers a huge 20x zoom lens and reliable all-round performance.
It makes an ideal travelling companion for those times when you suspect your smartphone's camera skills will come up short.
Jump to