Apple Watch Ultra 2 vs Apple Watch Ultra: what's new?
Second-gen watch flagship goes up against its predecessor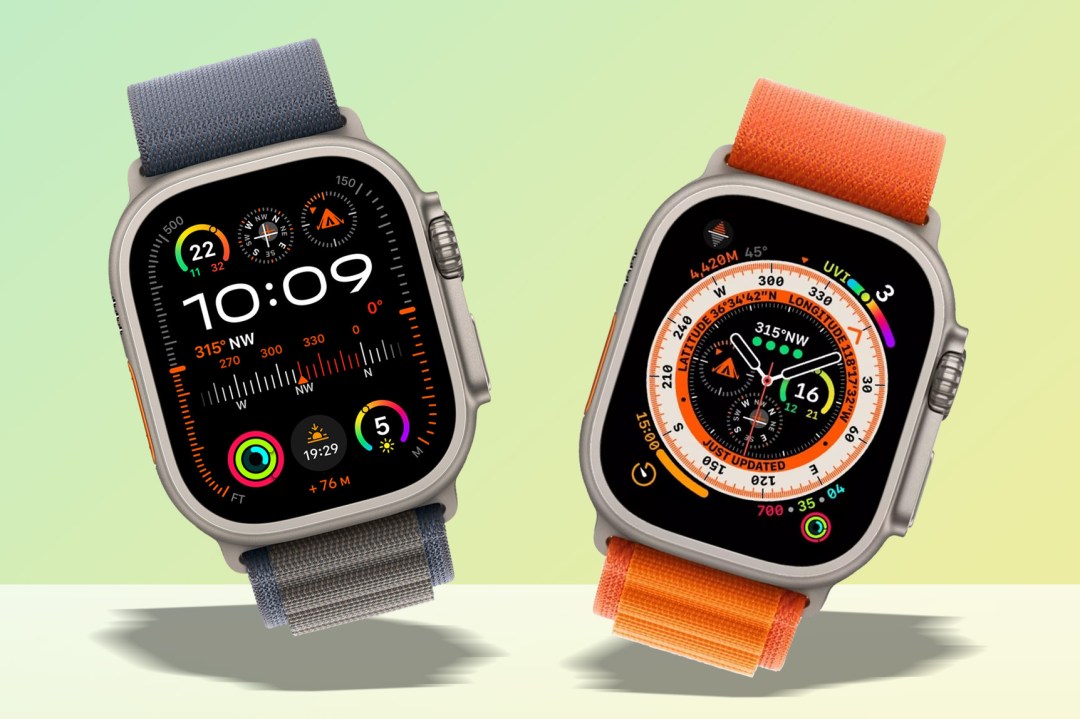 When it landed last year, the Apple Watch Ultra quickly slotted in as the best smartwatch the firm made. An aerospace-grade titanium casing, oversized screen and 36-hour battery life positioned it as the rugged wearable for hikers, divers and climbers, while everyone else swooned over the chunky styling.
Yet now it has been toppled by its direct sequel, the Apple Watch Ultra 2. This year's model brings some welcome upgrades, but isn't a massive overhaul. Is there enough here to justify an upgrade? This is how these titans of the outdoors square up.
Apple Watch Ultra 2 vs Watch Ultra design: if it ain't broke…
The Apple Watch Ultra 2 looks very similar to the original rugged Apple Watch Ultra. One modest design change aside, this has been the way throughout the Apple Watch's lifetime, with new releases staying the same size and general layout as those that have gone before.
All the big upgrades are on the inside of the watch, so the Apple Watch Ultra 2 is still available in the same 49mm size as the original, though now incorporates more recycled materials in its construction. There's a mix of titanium, ceramic and sapphire glass, which is as sturdy as you'd expect from a watch targeted at runners, swimmers and general daredevils. The only really new thing on offer here is the smart black colour option.
Both watches are waterproof down to 100m, and have an IP6X dust resistance rating – the highest you can get.
Screen: blinded by the lights
The Watch Ultra 2's flat sapphire glass screen is protected by a ridge of titanium, which rises up from the surrounding case to fend off impacts. It has an always-on Retina LTPO OLED display, with a 502×410 resolution, and is capable of putting out a remarkable 3,000 nits of brightness.
That's the biggest difference between it and the old model, which tops out at 2000 nits peak brightness. Both are bright enough to see clearly outdoors, but it's the Watch Ultra 2 that shines best.
Software & health tracking: new sensors on board
The Apple Watch Series 9 got a sensor makeover for this generation, and the same is true of the Ultra 2. The new S9 SoC in charge of the watch's functions is based on the A15 found in the iPhone 13 and 14, and is supplemented by a new U2 ultra-wideband chip – the same model found in the iPhone 15. This will aid in accurately locating the watch if you lose it down a crevice in the mountain you're climbing.
Elsewhere, there's a new optical heart-rate sensor, an upgrade from the third-generation heart monitor in the Apple Watch Series 8 and the original Apple Watch Ultra, along with minor upgrades and tweaks to the watch's internals.
Performance & battery: still not a long runner
The big problem with powerful smartwatches like this is the battery life. OLED screens use up a lot of power, and with Wi-Fi and Bluetooth on board, plus the option of LTE too, there's a lot of demand for the small rechargeable lithium-ion battery to satisfy. The Apple Watch Ultra has always been capable of going for two days without needing a charge, or three if you leave it alone and don't really use it.
The Ultra 2 is no thicker than its predecessor, which is a good thing as it was already a chunky watch, but means battery life could only really be extended through improved efficiency in its chips. Even with clever software tricks that turn off energy-hungry features when they're not being used, it's still able to manage 36 hours per charge, or up to 72 hours in low-power mode. This level of endurance is still better than the Google Pixel Watch, however.
Apple Watch Ultra 2 vs Apple Watch Ultra initial verdict
The Apple Watch Ultra has always been a smartwatch in search of an audience. It's a great idea, and is just the rugged, tough device devotees of exciting and exhausting outdoor sports will turn to in order to monitor their rugged and tough activities. It's a premium product with a premium price, however, and just like the standard Apple Watch – and a lot of competing devices – the battery life isn't going to attract anyone planning an expedition that takes them away from charging points for long periods.
The new Apple Watch Ultra 2 continues this legacy, bringing some new sensors but remaining a beautifully made premium product without endurance levels of those who'd wear it.