Apple Watch Series 8 vs Samsung Galaxy Watch 5: which is best?
Battle of the bands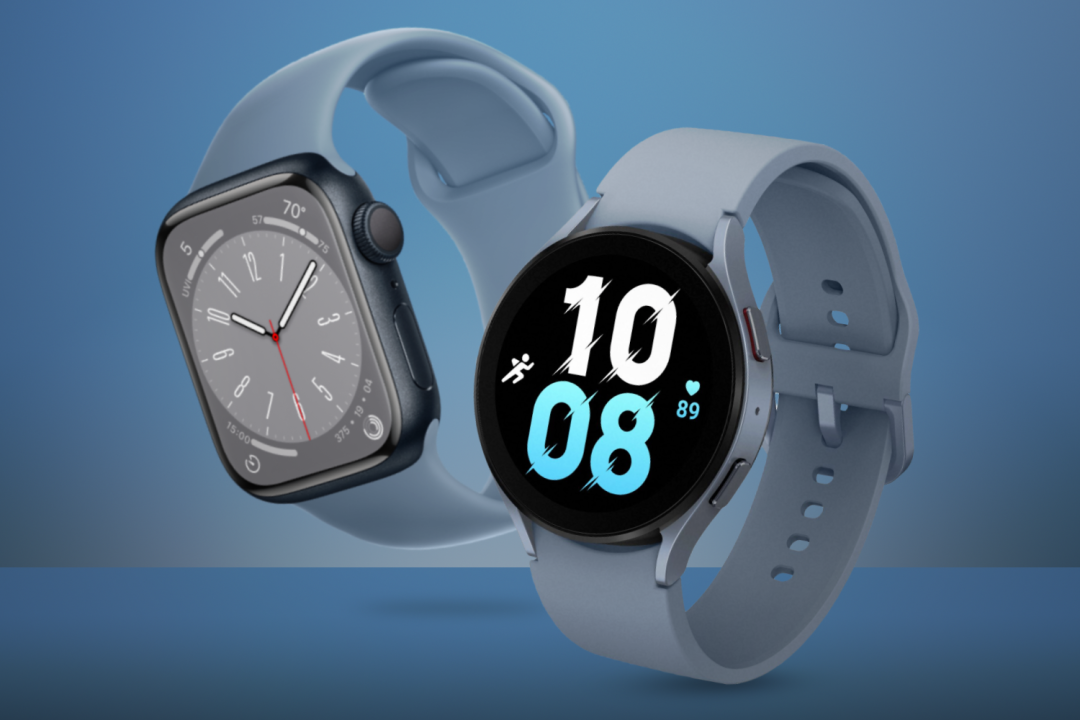 The latest generation Apple Watch is now official, bringing new health and fitness features alongside new watch faces, better sleep tracking and less intrusive notifications. Only it's not alone: Samsung has also launched a wearable recently. So the Apple Watch Series 8 best, or does the Galaxy Watch 5 have it beat?
While Apple's effort naturally is intended to be paired with an iPhone, and Samsung would prefer you pair a Watch 5 with one of its Android handsets, it's not just a simple case of picking based on which phone you're currently using. We've compared specs and prices, and added a healthy dose of opinion to help you put the right watch on your wrist.
Additional words by Chris Rowlands.
Apple Watch vs Samsung Galaxy Watch 5: price & release date
The Apple Watch Series 8 can be pre-ordered now, with availability from 16 September. It's available in 41mm and 45mm sizes, with two case metals to choose from: aluminium and stainless steel. Prices start at $399/£419 for a 41mm aluminium Watch with GPS. They rise to $749/£779 for a 45mm stainless steel version in gold, with cellular connectivity. Costs can also increase significantly depending on strap combo. Colour options vary by metal, with graphite and space black finishes reserved for the stainless steel edition.
The Galaxy Watch 5 is available to buy right now, in 40mm and 44mm sizes. Prices start from $280/£269 for the 40mm Wi-Fi only model, and climb to $360/£339 for a 44mm Watch5 with 4G connectivity. All models include 16GB of built-in storage. Colour options include pink gold, graphite and silver for the 40mm, and sapphire, graphite and silver for the 44mm watch.
Apple Watch vs Samsung Galaxy Watch 5: tech specs
Apple Watch Series 8
Samsung Galaxy Watch5
Screen
1.7in, 430×352 OLED / 1.9in, 484×396 OLED
1.2in, 396×396 OLED / 1.4in, 450×450 AMOLED
Memory
1GB
1.5GB
Storage
32GB
16GB
Operating system
WatchOS
WearOS
Battery
282mAh (41mm) / 308mAh (45mm)
284mAh (40mm) / 410mAh (44mm)
Connectivity
Bluetooth 5.0, NFC, Wi-Fi, 4G (optional)
Bluetooth 5.2, NFC, Wi-Fi, 4G (optional)
Durability
50m water-resistant
5ATM water-resistant
Dimensions
41mm: 41x35x10.7mm, 42.3g
45mm: 45x38x10.7mm, 51.5g
40mm: 39x40x9.8mm, 28.7g
44mm: 43x44x9.8mm, 33.5g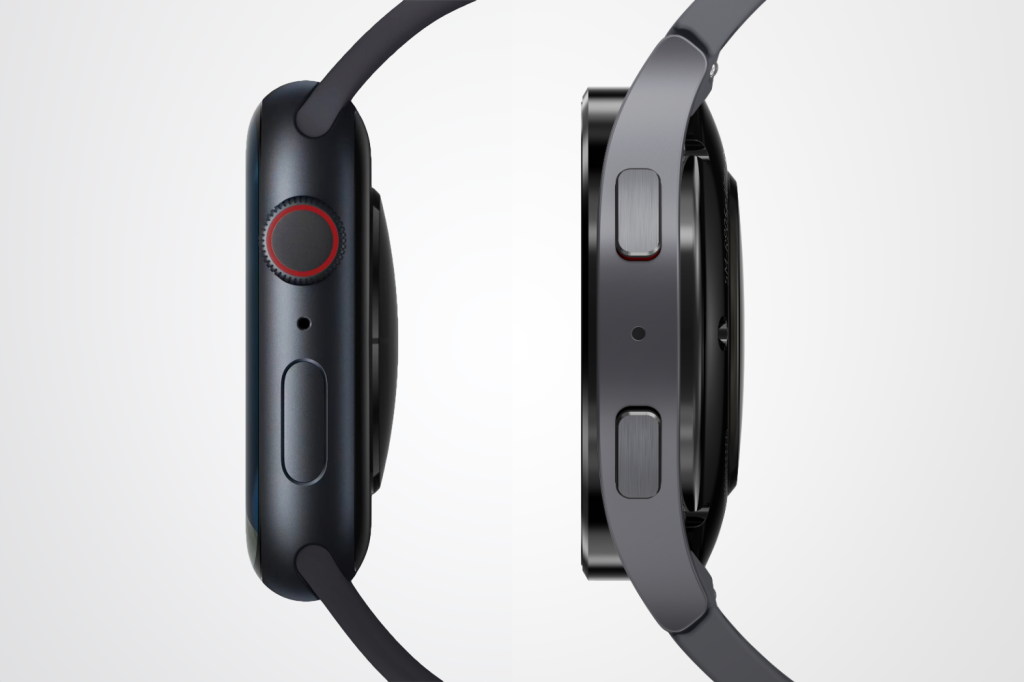 Design: same same
Neither contender does much to mix things up from its respective predecessor. Besides a handful of new case colour options, the Apple Watch Series 8 is physically identical to the Series 7 before it. So it's still a rounded square with neat packaging, slender bezels and front crystal which wraps around at the edges. Shipped in stainless steel or aluminium, it's as slick as you'd expect, with the familiar Digital Crown and side button setup complementing the touchscreen. Plus there's no shortage of strap options, including sporty bands for those who want to test its swim-proofing.
The Galaxy Watch 5 doesn't shake up the recipe, either. Like the Watch 4, it features a circular display largely free of bezels, set into a metal frame with two buttons on the crown. There's no rotating bezel option this time around, although the 'virtual bezel' returns for easy UI navigation. It's impressively slim in both sizes, and is fully water-resistant for swimming as well as land-based exercise (not to mention getting caught in the rain). Each watch comes with a rubber strap in your choice of colours, but Samsung also offers a range of leather, metal and fabric alternatives.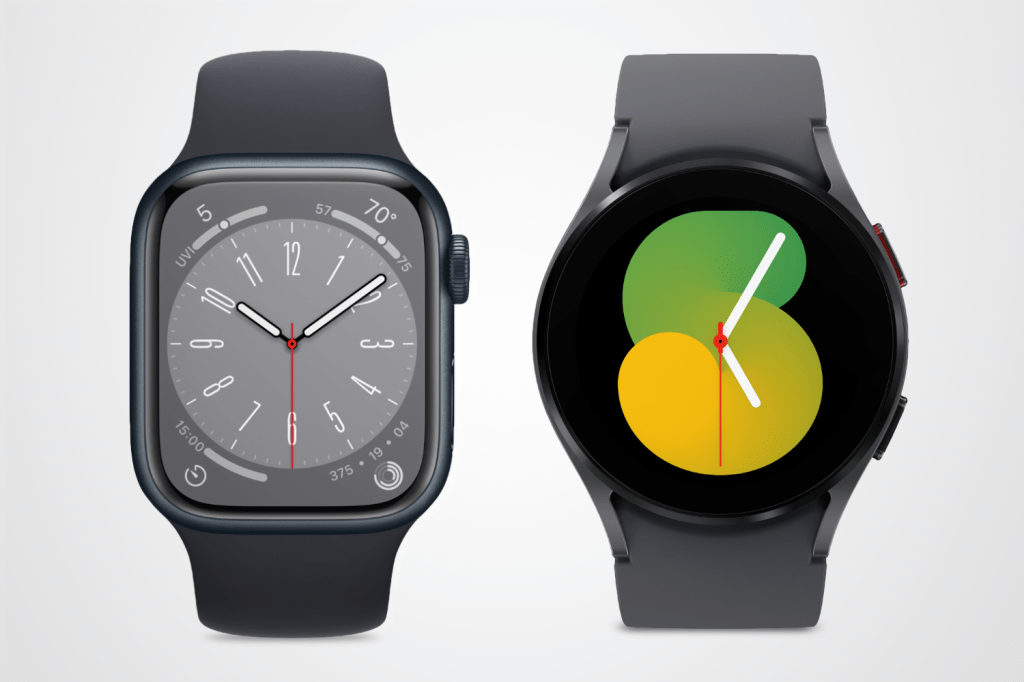 Screen: throwing shapes
Apple sized up the screen for both Series 7 models, and it uses the same always-on Retina setup for the Series 8. It's notoriously tight-lipped about official measurements, but a ruler reveals all. Actually rectangular, the 41mm Apple Watch has a display dimension of approximately 1.7in and a resolution of 430×352 pixels. The larger 45mm model features a 1.9in panel with a 484×396 resolution. Both use the same LTPO OLED technology to produce vivid visuals and variable refresh rates, with up to 1000 nits brightness for daylight visibility. Each is protected by crack-resistant crystal, but only the stainless steel variant gets a sturdier sapphire frontage.
Apple might think it's hip to be square, but Samsung is all about circles. The Watch 5 has a round screen, which measures in at 1.2in for the 40mm and 1.4in for the 44mm. The former has a 396×396 resolution while the latter gets 450×450, but display density is essentially the same. That means everything looks suitably crisp when held at arm's length. It's AMOLED underneath, with great viewing angles, colourful hues and impressive brightness, which makes it easy to read outdoors. The glass is toughened to a higher standard than last year's models, too, so should better withstand scratches.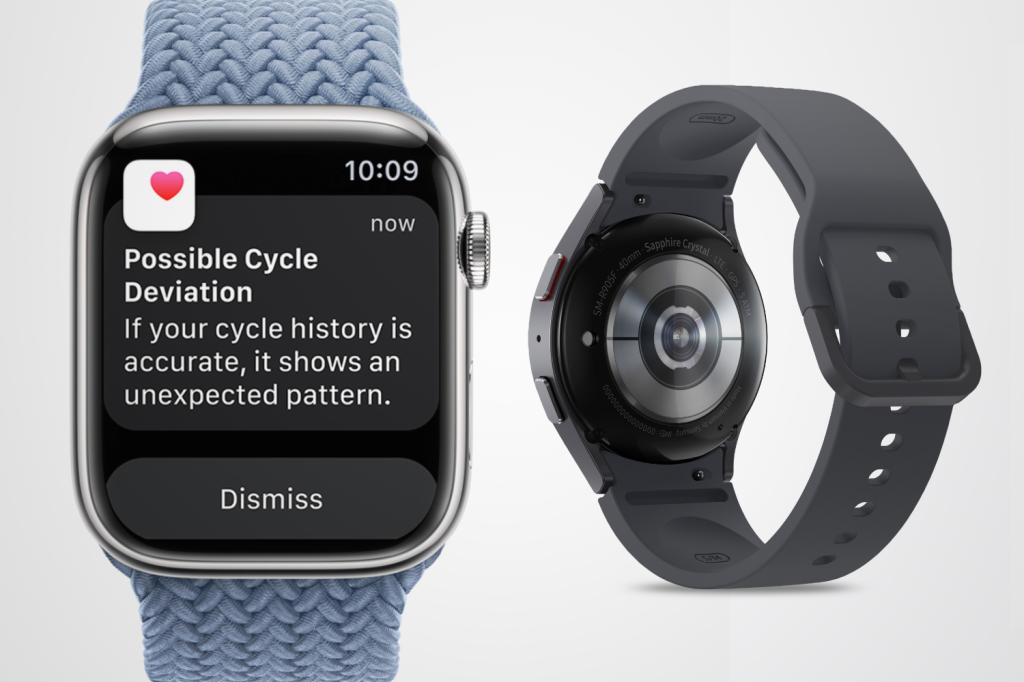 Features & fitness tracking: new sensation
Continuing its record as a capable fitness companion, the Apple Watch Series 8 ships with all the sensors we've come to expect. So you get blood oxygen, ECG and heart rate monitoring, together with sleep stage analysis, daily activity tracking and an improved Workout app in watchOS 9. New to the mix is a skin temperature sensor, which promises to improve the accuracy of fertility tracking. And in case you come a cropper, Apple has also added crash detection: additional motion sensors inside the Series 8 can accurately recognise a collision, then alert emergency services if you're unresponsive. Hopefully a feature you won't need to deploy, but a welcome one all the same.
There hasn't been much change in terms of fitness tracking for the Watch 5, which has the same continuous heart rate and SpO2 monitoring, sleep and step tracking, and automatic run detection as before. It also has the same bioelectrical impedance analysis, for measuring visceral fat, BMI and skeletal muscle. Like the Series 8, it also features a skin temperature sensor, but Samsung hasn't fully enabled its abilities yet. If you want more advanced functions, such as the ability to import GPX format workout routes or track back mapping, you'll need to step up to the Galaxy Watch 5 Pro.
Battery & perks: small tanks
Apple likes to quote battery life in hours, not cell capacity. Like the Series 7, both variants are touted as offering "all-day" battery life, which in Apple's world means 18 hours under normal usage. But if you prefer to work with actual capacities, these are 282mAh for the 41mm model and 308mAh for the 44mm version. New for the Series 8 is a Low Power Mode, which ekes out longevity to 36 hours by disabling certain features. In reality, the Series 8 will still be a wearable that require regular visits to the charger. But fast charging at least means those pit stops can be quick.
For the Galaxy Watch 5, battery life similarly depends on which model you go for. The smaller 40mm model makes do with a 284mAh battery, which is slightly up over last year's model, but not enough to guarantee more than a day and a half of juice between charges. Cut out exercise tracking, or use the power saving mode and it might last the weekend. The 44mm model, meanwhile, has a 410mAh battery that's more likely to last two days before it'll need plugging in. Both watches do benefit from faster charging, though, so you should get a full day's worth of power while you're getting ready for work.
As for each wearable's interface, it's the classic Apple versus Android scenario, albeit with a Samsung twist. The Series 8 runs the responsive watchOS 9, complete with Apple Health for fitness tracking, Apple Pay for contactless payments and the App Store for downloads, plus Siri along for voice support. The Watch 5 runs Wear OS, layered with the slick OneUI interface. That means Samsung Health, Samsung Pay and Bixby, but also access to Google Pay, Google Assistant and the Play Store, as you prefer. WatchOS takes the win when it comes to the size to its app catalogue, but both are otherwise feature-packed software offerings. Each does pretty much everything you'd expect from a smartwatch, including music control, on-wrist notification replies, GPS navigation and direct playback through Bluetooth headphones. Which fits you better is largely down to personal preference.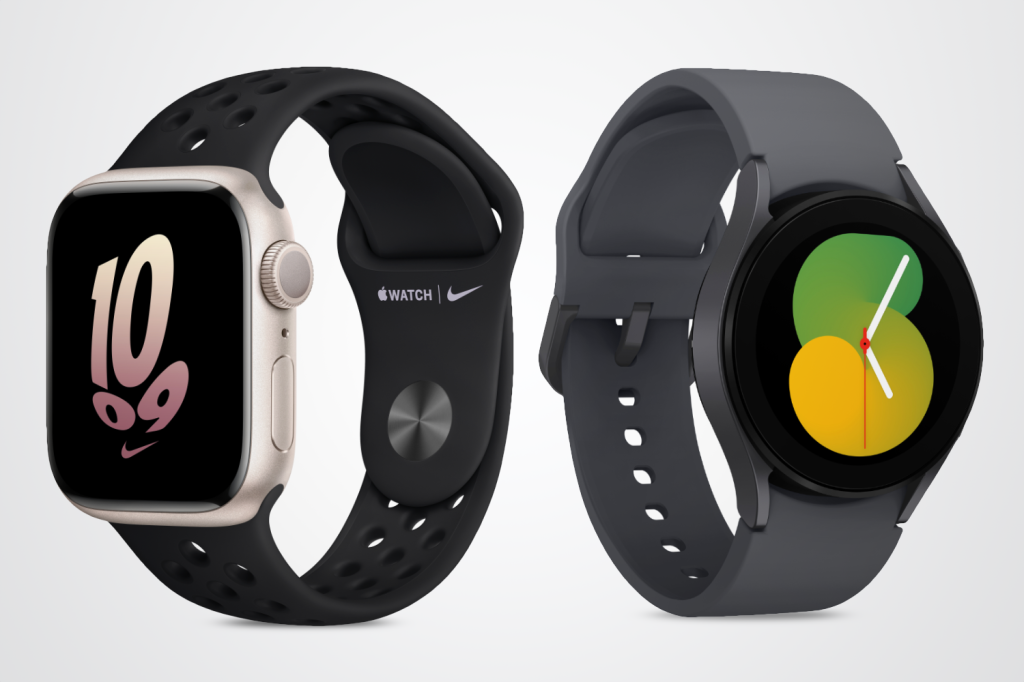 Initial verdict: which smartwatch should you buy?
In many respects, the Apple Watch Series 8 and Samsung Galaxy Watch 5 are very similar devices. Each is an evolution of its wearable predecessor, and each delivers a generous set of smartwatch features. Wrap either around your wrist and you'll have a tool that can track your health, pay for your groceries and control your playlist. Oh, and tell the time.
When Samsung enables the skin temperature sensor on the Watch 5, there will be few differences between the fitness-tracking abilities of each device. Neither has the weeks-long battery life of true endurance watches, although the Watch 5 does eclipse the Series 8 by several hours. And whether you favour round or square is really an individual choice.
Realistically, your smartphone will be a key consideration. The Apple Watch Series 8 is the obvious partner to an iPhone, with watchOS designed to work seamlessly alongside iOS. Likewise, with a Wear OS foundation, the Samsung Galaxy Watch 5 makes the most sense for Android users.
But arguably even more important is price: the Samsung Galaxy Watch 5 in either size is a good chunk cheaper than the equivalent Apple Watch. All else aside, it offers better value as a smartwatch.