Apple iPhone 5S vs LG G2
Can the new iPhone's innovations make it match up to the power of Android's current golden boy?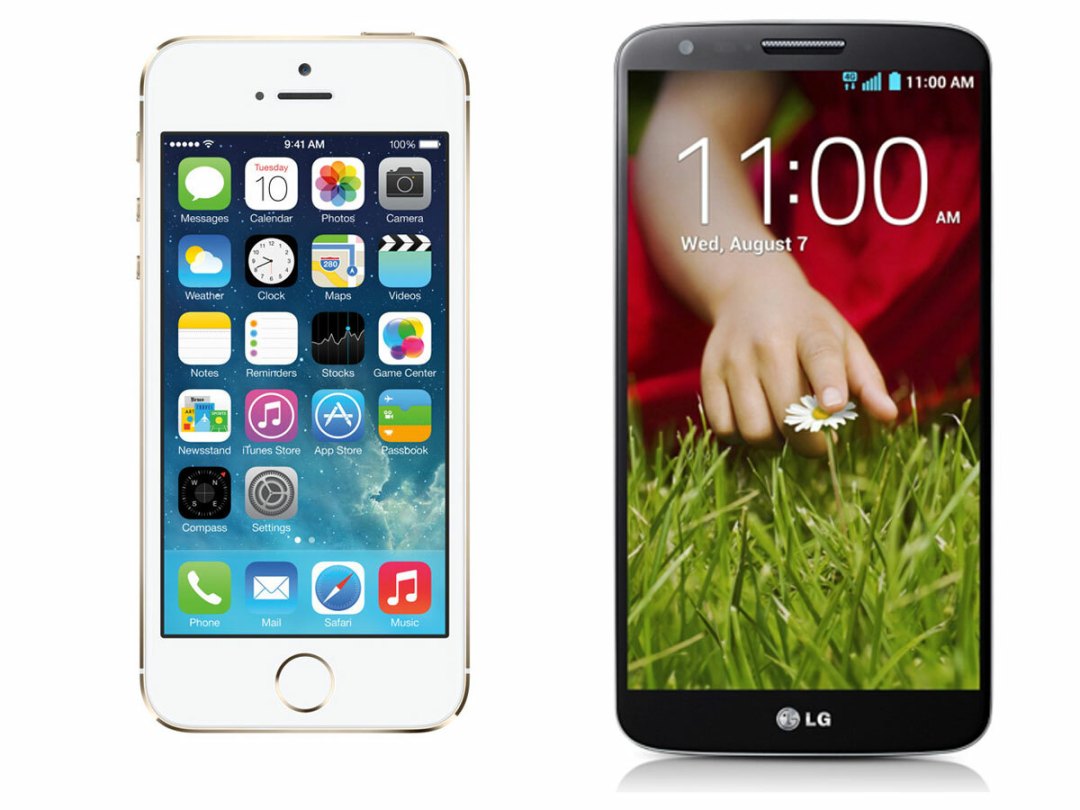 Recently we awarded the LG G2 not only a full five stars but the number one spot on our smartphones Top Ten, officially proclaiming it the most magnificent phone on the face of the planet Earth.
But that was before Apple unleashed the iPhone 5S on the world. Does the new iPhone have what it takes to knock the G2 off its perch? Come with us as we compare the two aspect-by-aspect to see which is the tastier smartphone proposition.
Build quality and design
The iPhone 5S may not be a great leap forward in design terms from its predecessor but it's still one of the best-looking and best-built smartphones on the planet. Tasteful, robust aluminium and glass dominate the exterior, and the thinness and weight feel just right in your hand. It's also smaller than most of its rivals, making it more pocket-friendly and far easier to use one-handed than the big-screened LG G2.
The G2 rocks a large, almost phablet-esque 5.2in screen, but the narrow bezel keeps it down to a fairly manageable size. You'll still struggle to reach your thumb all the way across to tap an icon when holding it one-handed, but it should just fit in a trouser pocket without causing undue discomfort. The body is plastic, and isn't as easy on the eyes as the iPhone 5S, but it couldn't be accused of feeling cheap. Unlike some rivals (***cough***Samsung Galaxy S4***cough***), the G2 doesn't creak or flex when you give it a wrench.
In terms of interesting design tweaks, the 5S has a humdinger: the sapphire glass-covered Touch ID fingerprint sensor, which lets you unlock the phone and make iTunes purchases using your digit. Great stuff.
The G2 has the rear-mounted power and volume buttons, which come across as gimmicky at first and, even once you get used to them, are less convenient to use than side-mounted controls. Thankfully there is the option to turn the phone on by tapping twice on the screen, which can detect touch input even when the G2 is asleep.
Winner: iPhone 5S
Screen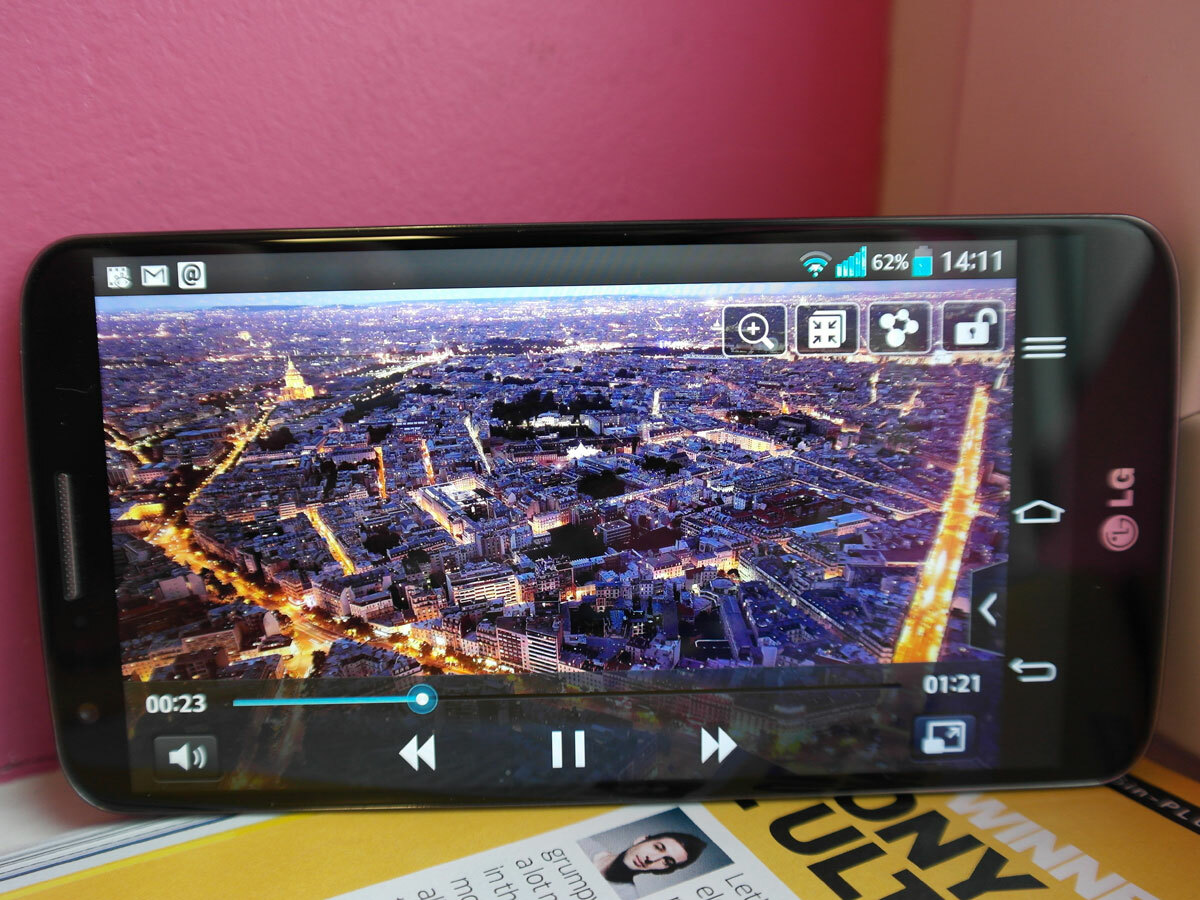 The LG G2 has a huge screen, even by Android phone standards. A 5.2in LCD boasting a full HD 1920 x 1080 resolution (that's a pixel density of 423ppi), it delivers a brilliantly detailed, bright and hi-contrast image. It's truly outstanding.
The iPhone 5S sports the same 4in 1136 x 640 resolution LCD (326ppi) as the iPhone 5, but Apple has made some improvements which result in punchier contrast, purer whites, deeper black and a teensy bit extra detail. It's a classy screen, no doubt about it – but it doesn't impress quite as much as the G2's mammoth, razor-sharp display.
Winner: LG G2
Power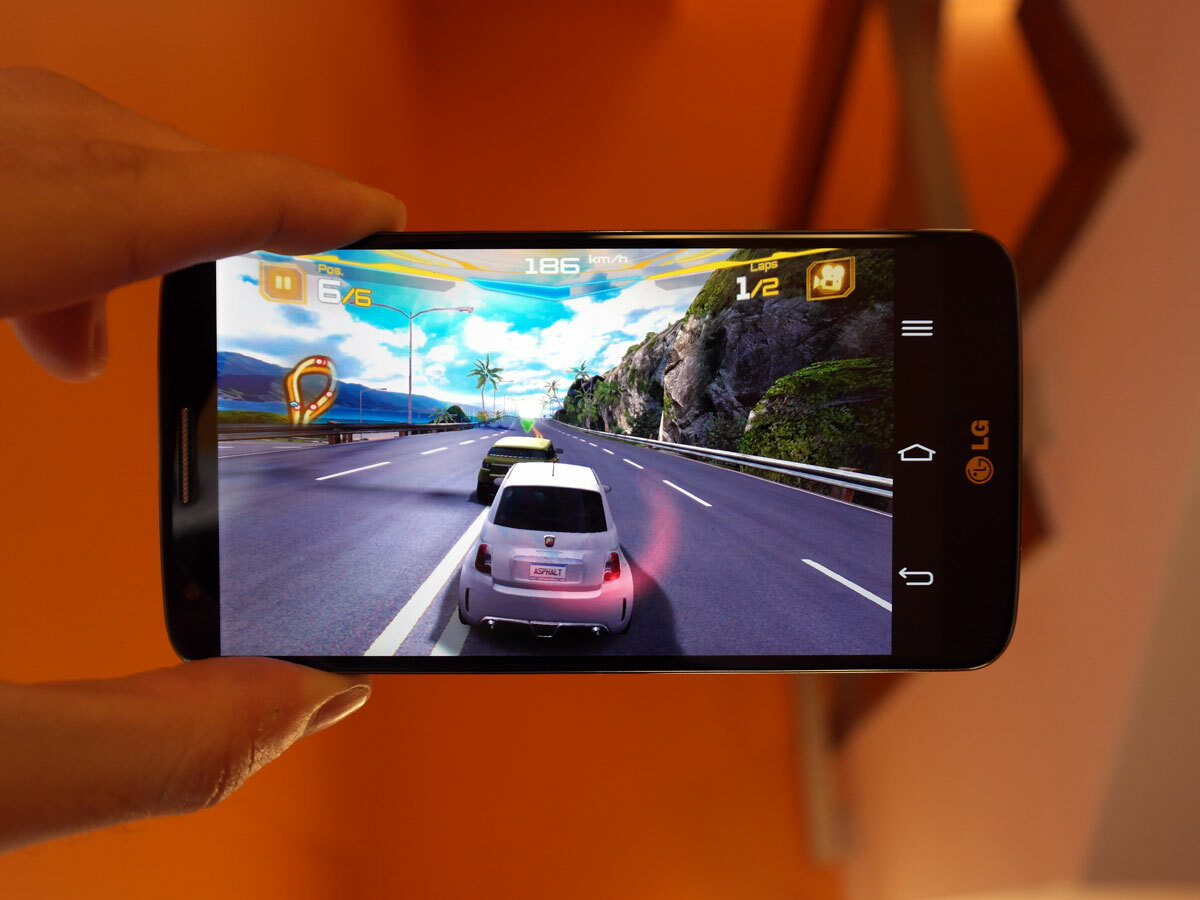 The iPhone 5S is, according to Apple, twice as fast as the iPhone 5 due to its new dual-core A7 processor. Not only is it speedier, the processor features 64-bit architecture (a first on smartphones). Given that the iPhone 5's A6 already handled everything you could throw at it with ease, we're pretty impressed with the power bump, and haven't noticed any lag in our time using the 5S. The 64-bit thing? We'll have to wait a while for more 64-bit apps to appear to really assess its significance.
The LG G2 sports a 2.26GHz Qualcomm Snapdragon 800 quad-core processor and 2GB of RAM, and to get right to the point: it smashes its Android rivals like the HTC One and Samsung Galaxy S4 in benchmarking tests. In real world use, it breezes anything you attempt, delivering the smoothest Android 4.2.2 performance we've ever seen and multitasking better than any phone we've ever used. It's simply the most powerful mobile we've ever tested.
Winner: LG G2
Camera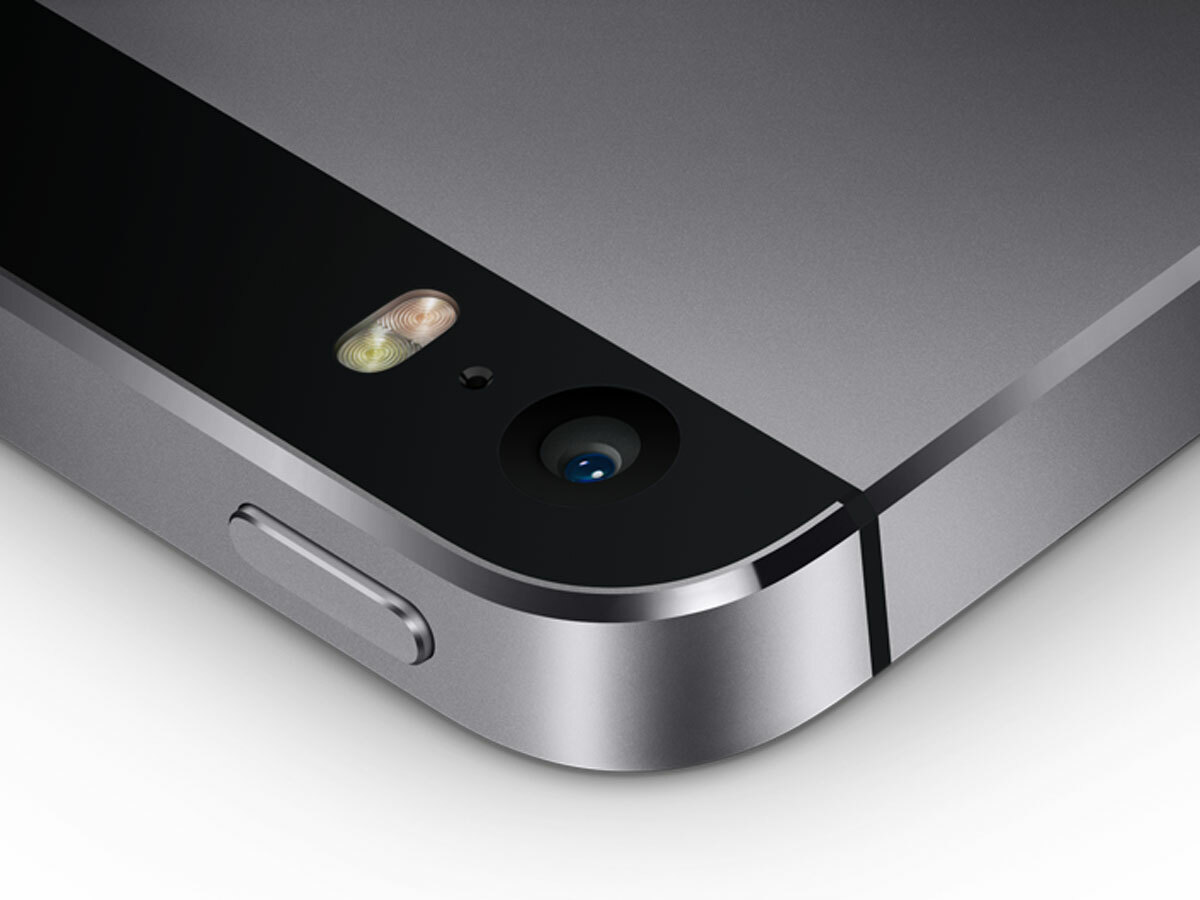 The camera is an area where the iPhone 5S has significantly improved on its predecessor's (already impressive showing). True, the sensor is still 8MP, but this time each pixel is 15 percent larger. The aperture is wider too (F2.2 to the 5's F2.4), and as a result of these tweaks low light performance is much better. Factor in the True Tone double LED flash (exclusive to the iPhone 5S in the smartphone world) which helps to deliver more natural-looking flesh tones, and things are mightily impressive.
The LG G2 has a 13MP rear camera with optical image stabilisation (a boost for low light photography, as it negates the blurriness which can occur when the shutter is open for longer) and again is a truly fantastic camera for a phone.
On the video front, both can capture 1080p, although the iPhone at 30fps while the G2 manages 60fps. The iPhone, however, has slo-mo 120fps video up its sleeve.
This is a hard one to call. The LG G2 has more megapixels, but with the iPhone 5S each megapixel is superior. Both perform well in low light and each has exclusive features (the flash for iPhone, the image stabilisation for the LG) that enhance the quality of your shots.
Winner: Draw
User interface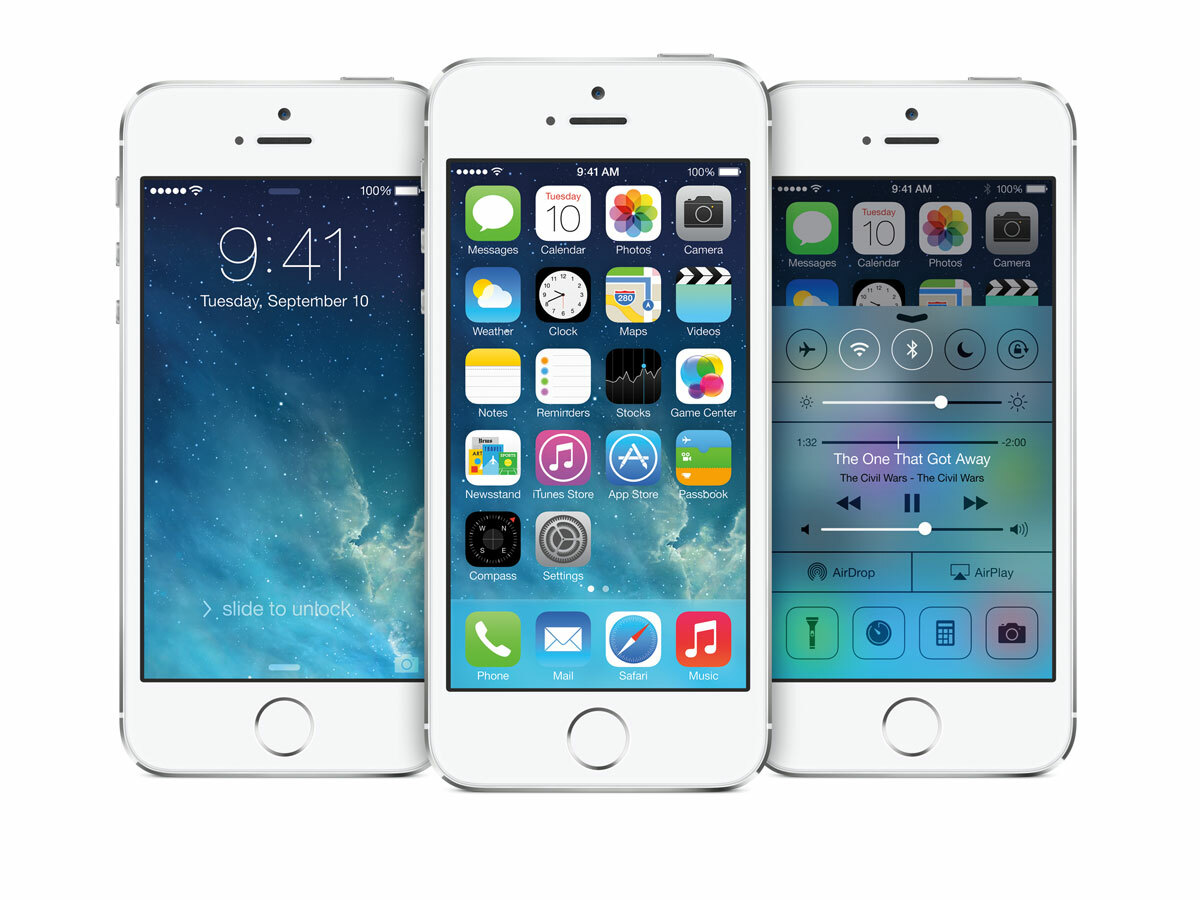 The iPhone 5S comes with iOS 7, Apple's brand new, skeuomorphism-free take on its mobile operating system. It's lovely (you can read exactly why in our full review) and on the 5S it works like a charm – a slick, well-oiled and speedy charm, to be exact. Add in the extra ease-of-use that comes courtesy of the Touch ID fingerprint sensor and you've got a smartphone that's simply a joy to use.
The LG G2 sports Android Jelly Bean 4.2.2 with a series of customary proprietary UI tweaks laid over the top. It's a somewhat cartoonish-looking skin with which we're not hugely enamoured (stock Android is much more tasteful in our opinion), but there are some handy software extras: eye-tracking that pauses videos when you look away from the screen and a Guest Mode that essentially sets up a partition that keeps your vital info and purchasing abilities out of the hands of kids and friends among them. It all runs fast and lag-free thanks to the G2's beefy innards.
One is Android, one is iOS. Chances are you already have a favourite, so us saying that one is better than the other feels almost pointless. But in terms of user experience, we're able to say that the 5S just shaves this round.
Winner: iPhone 5S (just)
Battery life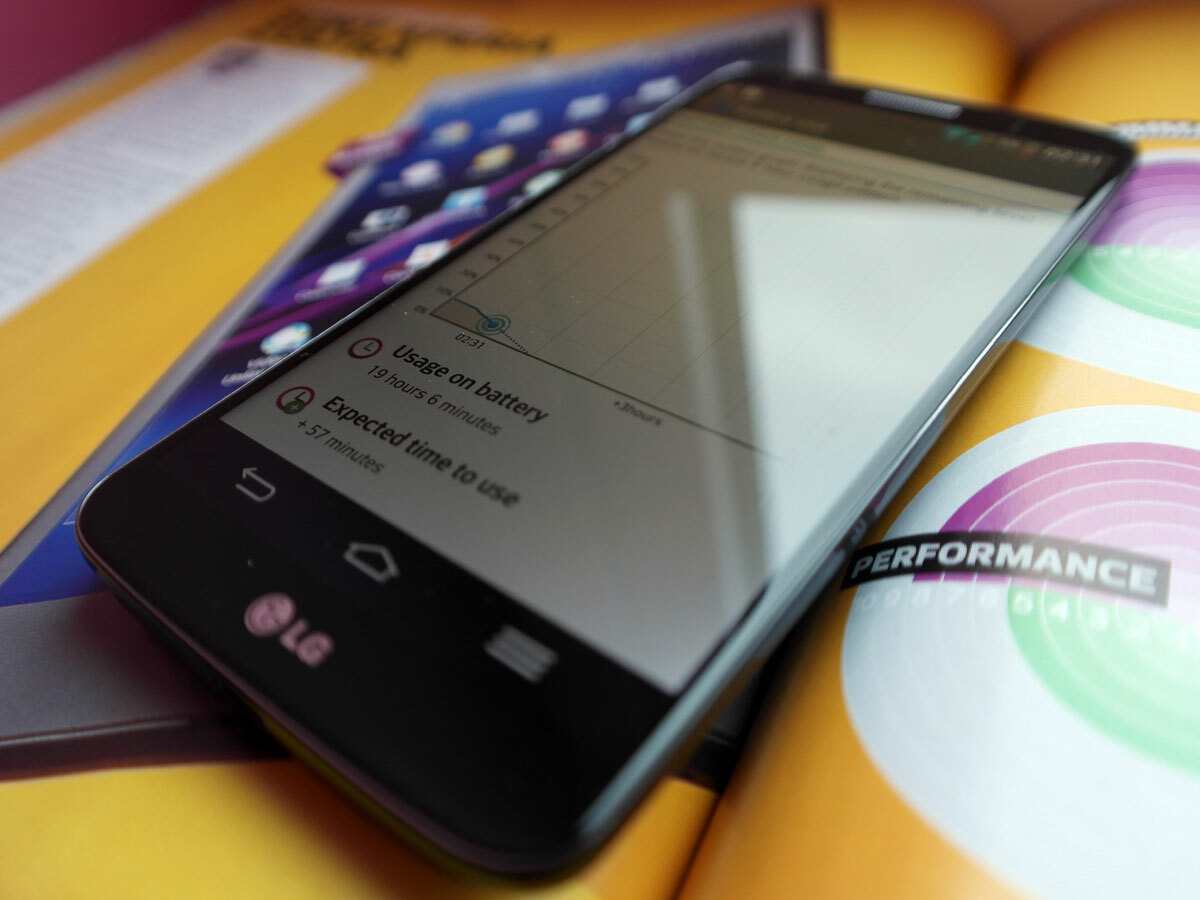 The G2 sports a huge, custom-designed 3,000mAh battery that can't be removed by the user. And it's a monster, delivering around 19 hours of mixed use when we tested it. It also charges speedily, getting from 0 to 30 percent capacity in as little as 20 minutes.
Apple has improved battery life over the iPhone 5 by a small but worthy amount, and claims up to 10 hours talk time (on 3G), or 10 hours of video playback. That about fits in with what we found when testing it. So the 5S is a bit more longer-lasting than previous iPhones, but not up to the G2's standards.
Winner: LG G2
Price
The iPhone 5S comes in 16GB, 32GB and 64GB options priced at £550, £630 and £710 respectively. So it's not cheap. The LG G2 is £470 for 16GB, with the 32GB price unclear at the time of writing. It's a substantially cheaper phone and, build quality aside, you can't really say that the iPhone 5S feels like it justifies being £80 pricier.
Winner: LG G2
Verdict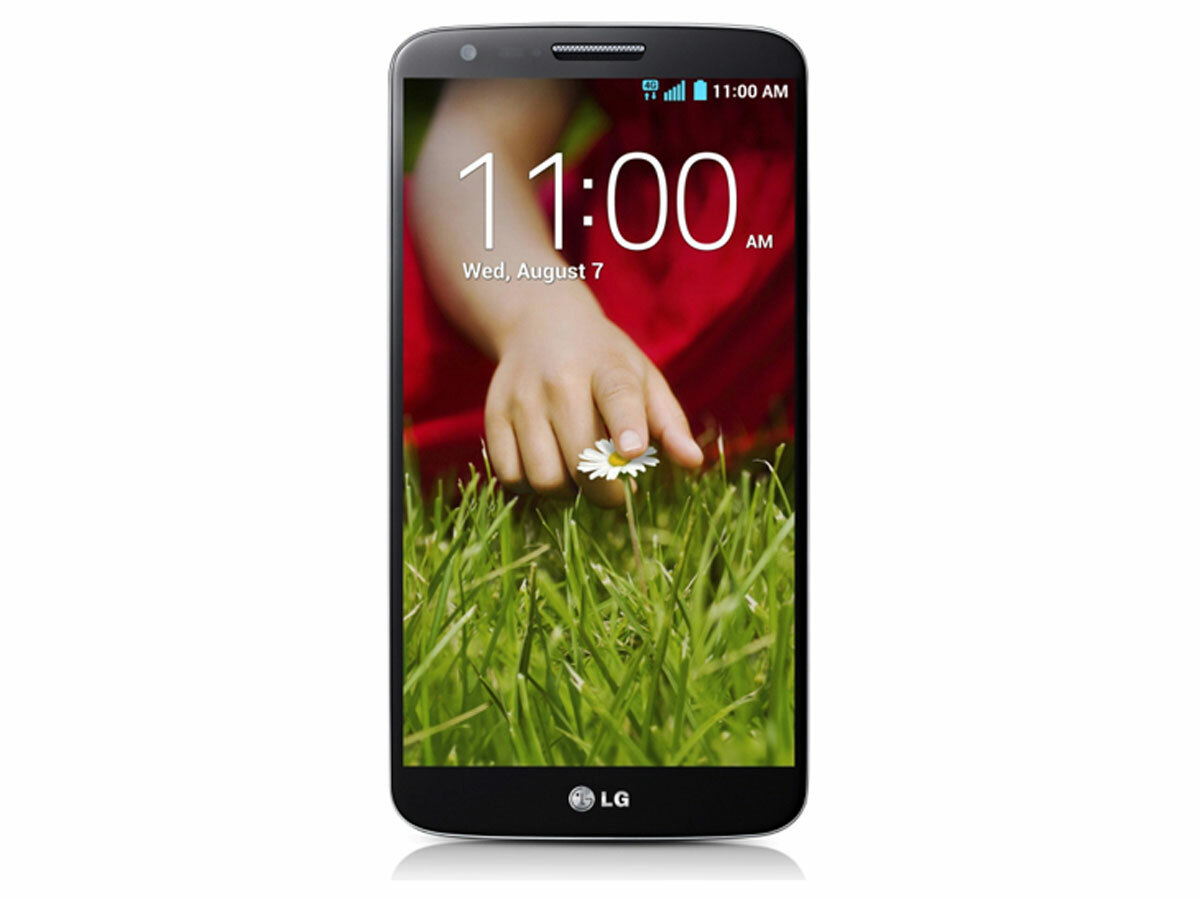 Both of these smartphones are fantastically powerful and well-designed pieces of cutting-edge technology, and neither will let you down should you decide to slap down your hard-earned pounds. Both phones were awarded a full five stars in our reviews.
But if we have to pick a winner, it can only be the LG G2. More affordable, faster, packing a bigger and sharper screen and a battery that lasts for ages, it's still the best smartphone on the market at the moment. Apple may win when it comes to style and build quality, but delve deeper than the G2 becomes a worthy winner.