The 7 best free apps to use with the Galaxy Note 8's S Pen stylus
You need these apps installed to get the most from the smartphone with the best stylus
There's no doubt about it: Samsung's Galaxy Note 8 packs the best smartphone stylus money can buy.
That smart little scribbling stick doesn't just neatly separate the Note from the often-compared Galaxy S8 Plus – it puts a handful of specialised but ultimately indispensible features right at the tip of your nib. Once you're hooked, there's no going back.
It's a shame, then, that there are only a handful of pre-installed Samsung apps that properly utilise the S Pen to its full potential. You could get by with the basics, sure, but you owe it to yourself (and your very expensive new smartphone) to download some more amd really put that Pen to good use. 
Whether you're an artist, professional, student or just an avid scribbler-of-things, we've got the apps to have your S Pen serve you better. And best of all, these apps are all free. 
Samsung Notes
An obvious one to start with: of course Samsung wouldn't let its own built-in notepad to be rubbish.
All the quick notes you scribble down on the lock screen are dumped into Samsung Notes, so you can't really escape it, but thankfully the app itself is pretty decent. You can swap between tools for typed text and written S Pen notes, but you're limited to the dimensions of the phone – there's no zooming in or out here. You can't scribble over text either, which is a real shame.
It's the "brush" options for arty types that really impress, though. You've got plenty of realistic art tools, from pens to brushes and pencils, which can all be subtly modified and fine-tuned. Paints smudge with uncanny realism, watercolours come out the way you want them to, and the pencil markings look as they should.
Download Samsung Notes for free from the Google Play Store
One Note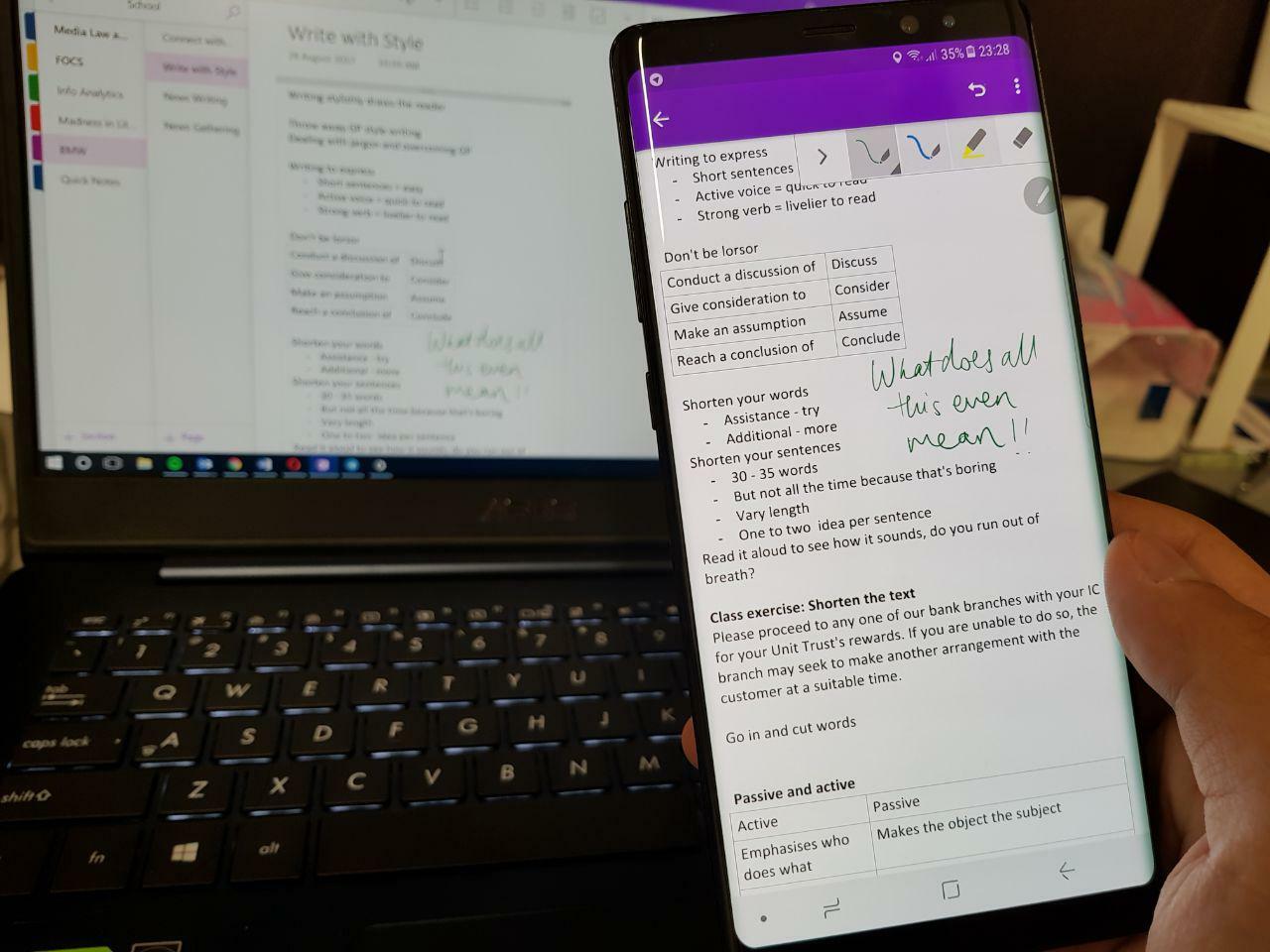 Microsoft's One Note is pretty decent by itself, but really opens up the Galaxy Note 8 to become the ultimate note-taker – especially when you've got a laptop to hand as well.
Boot up your machine during a meeting or lecture, couple it with the Galaxy Note 8, and now your scribbles are instantly synced across both devices. As long as you've got a decent Wi-Fi connection, anyway. If you need to draw a quick graph or annotate on an image, whipping out the S Pen and jotting down on the app is a whole lot easier than trying to do the same with a mouse.
It works a little like a super-portable Wacom tablet, or you can ditch the laptop completely and just take notes on your phone. With a screen this big and versatile, it'll serve you just fine for less complicated tasks.
Download Microsoft OneNote for free from the Google Play Store
Squid
Squids make ink, don'tcha know – hence the cute name.
This app is all about handwritten notes, only with a focus on PDF files that you can import and then annotate on. It should make providing informal feedback on your friends' and colleagues' work much easier, or send digital signatures without the faff of printing and scanning first.
It's pretty great for basic note-taking too, letting you select the kind of paper you prefer, from traditional foolscap spacing to the widely spaced pages you find on your primary school books. You even have grid sheets for graphs and, accounts, musical scores, sports court maps and lists.
So a digital Filofax, basically.
Download Squid for free from the Google Play Store
Inkredible
While nowhere near as full-fledged as Squid, INKredible earns a place on this list for an outstanding writing experience. It's all about the ink (surprisingly enough), picking up pressure and responding to it far better than any app we've come across – Even Samsung's own Notes.
It doesn't have the best UI nor features, but it comes pretty close to replicating the look and feel of a fountain pen in digital form.
Trying to learn caligraphy, maybe? Like your to-do lists to look a little less digital? This app has got you covered.
Download INKredible for free from the Google Play Store
Adobe Photoshop Express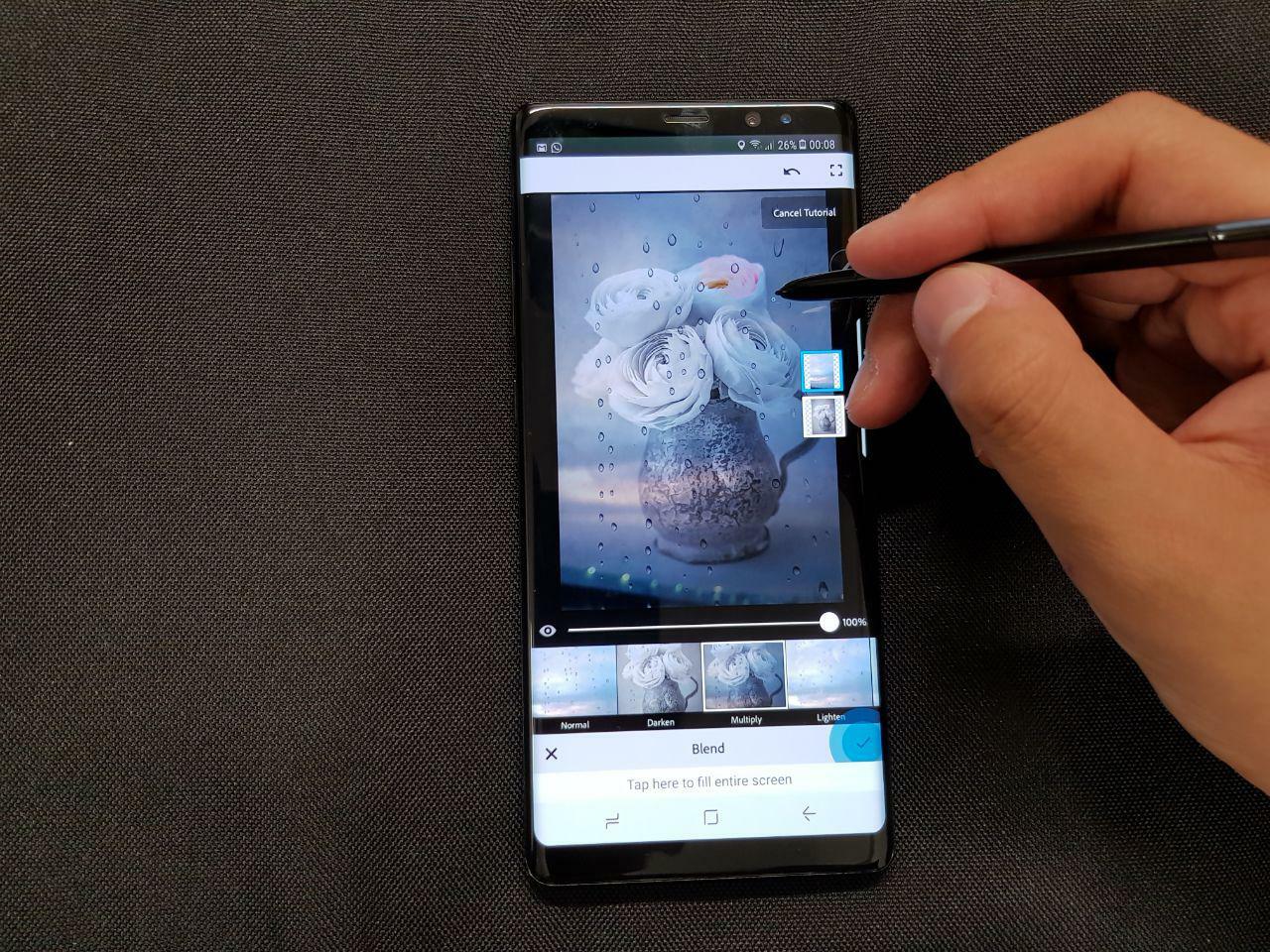 The accuracy of the S Pen is good for more than just writing. Editing is all about the little details, after all, and the Note 8 lets you perfect those details like nothing else.
Our go-to app has to be Adobe Photoshop Express, which enjoys greater accuracy when highlighting specific objects to manipulate and edit. Great results are that much easier to get with a stylus than they are solely by using your fingers.
Sure, Photoshop Express will never rival the sheer number of tools and features available in the full-fat desktop PC version of Photoshop, but you'll probably never find a better companion to make edits on the move.
Download Adobe Photoshop Express for free from the Google Play Store
Colorfy
Adult colouring books are pretty hot right now, as they're the perfect way to zone out and forget about credit card bills, screaming children and impending global nuclear war. Or is that just us?
Either way, if you've tried to download one to your phone before, you'll have quickly realised that your fingers are generally too sausage-like to fill in the spaces. Enter the S Pen.
Colorfy has plenty of designs and templates for you to add colour to, and best of all, doesn't burn any data – making this the perfect travelling companion that can finally replace Instagram and save some precious bytes.
Download Colorfy for free from the Google Play Store
Google handwriting input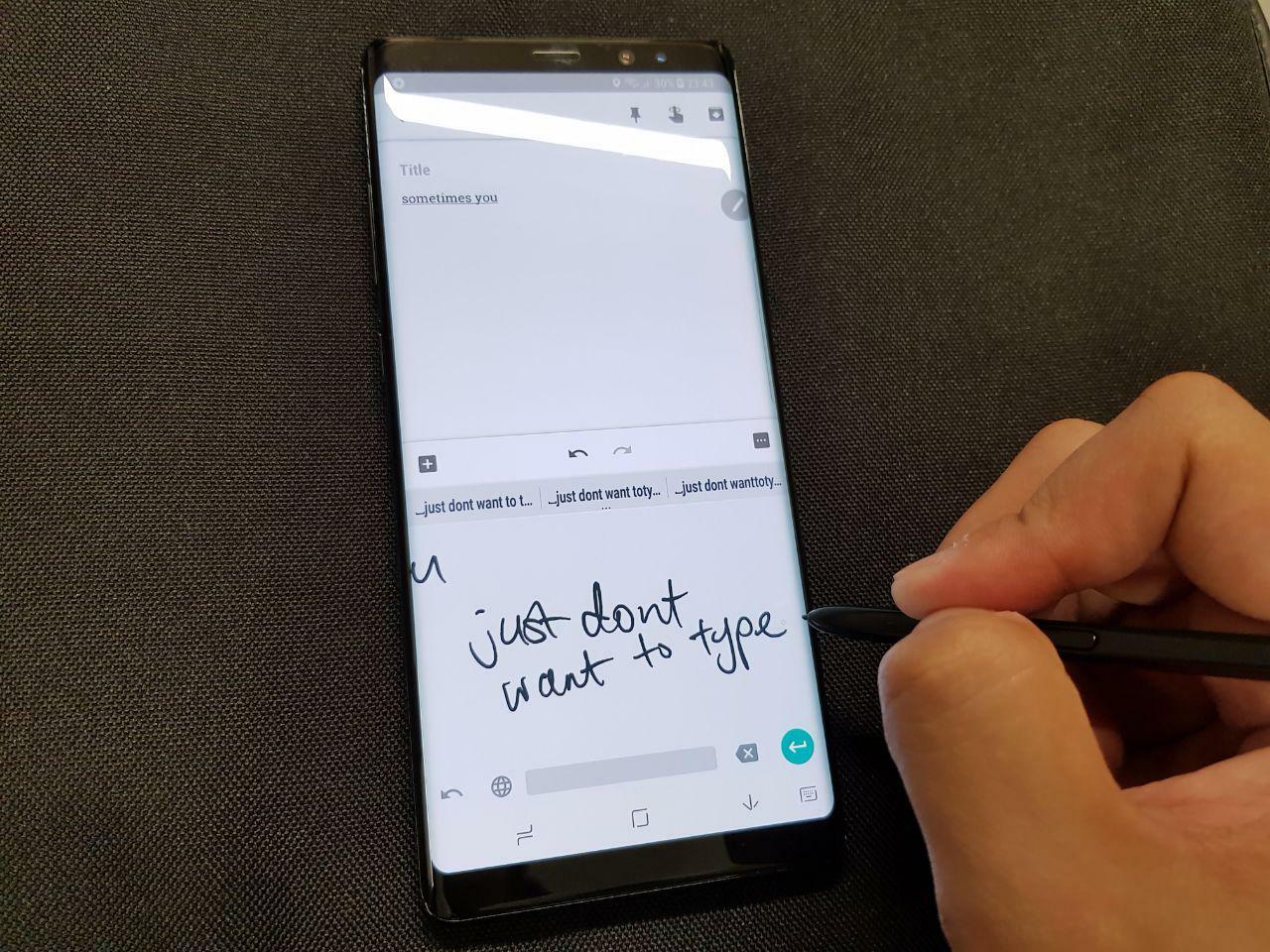 Samsung has its own handwriting option baked into the Galaxy Note 8, but it's strangely concealed – and merely gets the job done. Google's Handwriting Input is much better.
It lets you write with the S Pen, and have it magically converted into typed text, for copying into apps quickly.
This is perfect if you're tired of typing on sterile QWERTYs, if your phone is flat on a tablet and you've only got one free hand, of if you're a real hipster and just like to be different.
Download Google Handwriting Input for free from the Google Play Store
Scribble Racer 2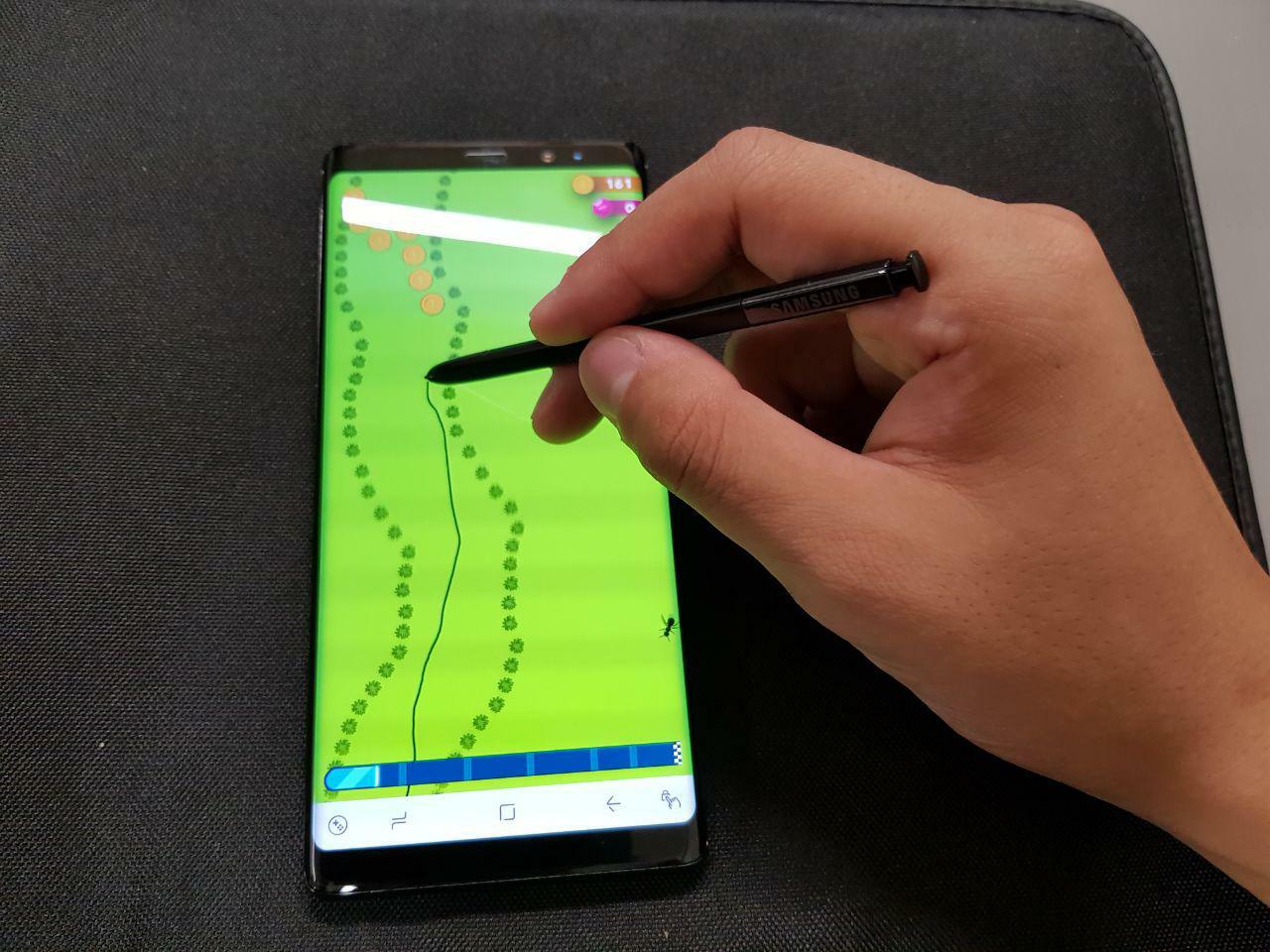 The S Pen isn't just good for notes, but games as well. It offers precision and accuracy, which sadly our thumbs can't quite achieve.
You can take advantage of this in pretty much any game, but there are also plenty of titles designed (intentionally or otherwise) with the S Pen in mind that you may enjoy.
Scribble Racer 2 is a simple runner in which you navigate your way with your stylus, avoiding walls and hazards while picking up prizes and fruits. Don't tell your friends that you have a Galaxy Note 8 and really impress them with your unbeatable high scores.
Download Scribble Racer 2 for free from the Google Play Store
Fruit Ninja
Here's a retro throwback just begging for some S-Pen action.
Fruit Ninja was all the craze five years ago, but maybe it's time to bring it back, thanks to the ultimate pseudo-sword sheathed away in your phone.
With a stylus in hand, you can be ridiculously accurate, and you'll be sure to hit all the combos you want. Time to make Fruit Ninja great again.
Download Fruit Ninja for free from the Google Play Store