Why Spigen is the best brand for protecting your Samsung Galaxy S23
A Spigen case for Samsung Galaxy S23 is sure to keep your new phone looking fresher for longer
Samsung's Galaxy S23 family is here to set new standards for phones in 2023. If you've jumped on board with a handset level-up, or are thinking of doing so, you should also think about protection. No, not that sort of protection. Spigen can help.
These are high-value phones worth keeping in good condition. That holds whether you're a regular upgrader, as fewer scratches mean higher resale value a year later, or someone who holds onto a phone until it's thoroughly out of date or smashed to pieces.
A Spigen case for Samsung Galaxy S23 means that the latter outcome is much, much less likely to happen, and is sure to keep the phone looking fresher for longer. Faithful to our mission: slim Protection made tough; Spigen provides maximum protection with military-spec drop protection.
Spigen is a part of the Samsung Mobile Accessory Partnership Program (SMAPP), and that means when you buy a Spigen case you can be sure it will fit just as well as an accessory made by Samsung itself. Here are some of our favourite Spigen case series now available for the Galaxy S23 phones.
Spigen Ultra Hybrid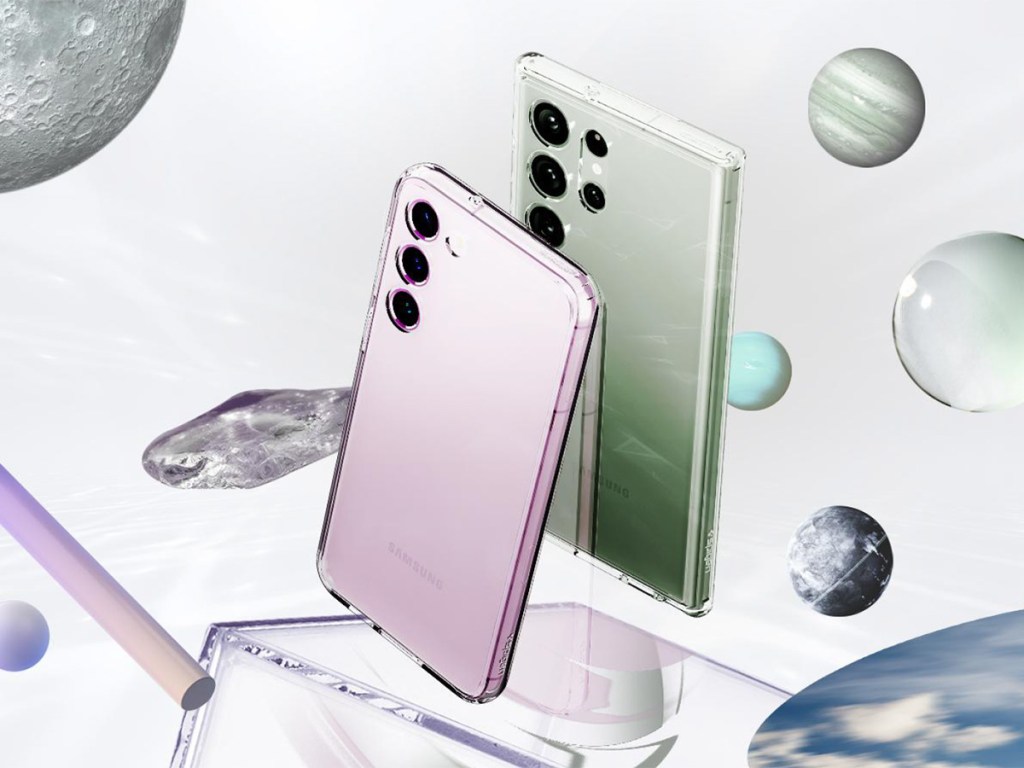 The first case Spigen we tend to recommend to case buyers is the Ultra Hybrid. It's a tried and tested design that lets the underlying look of the phone shine through, as it is completely transparent. Or it can be anyway — Spigen also makes versions with colour accents for some phones.
This is no simple silicone skin either. The "Hybrid" part of the name refers to the two materials used in its construction.
The Spigen Ultra Hybrid's backplate is hard polycarbonate, and the border that holds the phone's sides is TPU, thermoplastic polyurethane. It's tough but flexible, making the case easy to take on and off while improving grip.
Get an Ultra Hybrid for your Galaxy S23 if you don't want to impact its look or feel too much. However, it still provides great drop protection, enhanced by its Air Cushion corners. These depress on impact, soaking up drop force.
An Ultra Hybrid is fit for the long haul, as Spigen's DuraClear tech ensures it won't yellow over time, which can happen with many silicone cases. Both wireless charging and Samsung Pay wireless payments will work flawlessly too
Spigen Liquid Air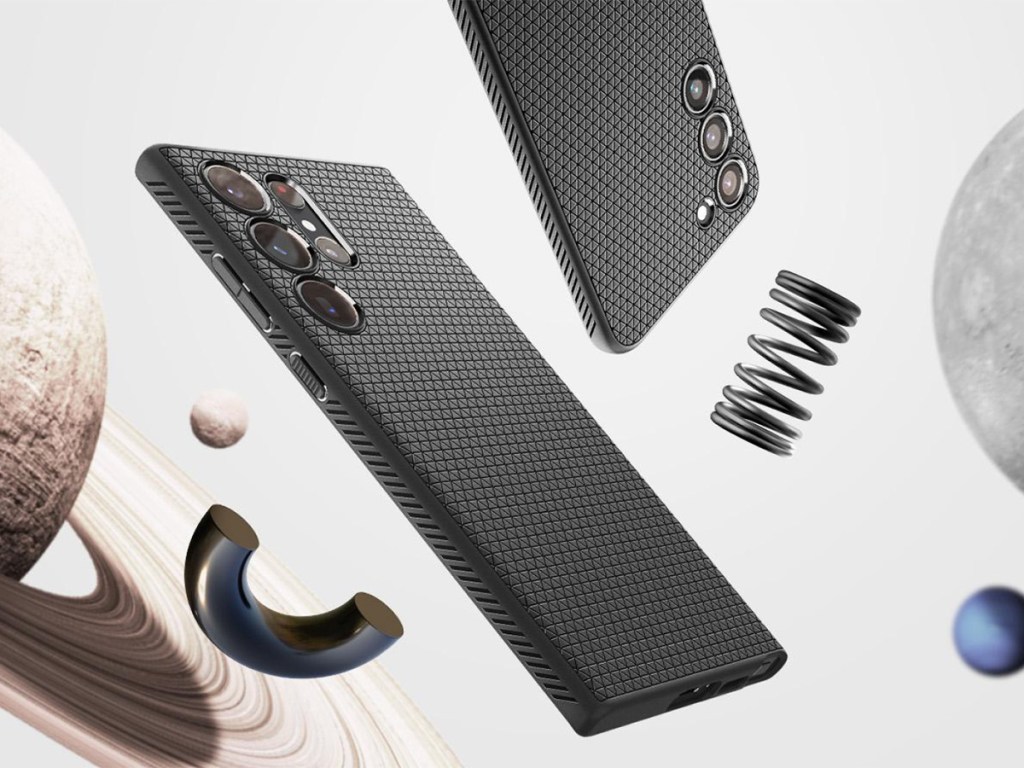 How about something completely different-looking? Spigen says the Liquid Air is a particular hit among Samsung Galaxy phone owners.
It has an eye-catching truss pattern carved into its outer, and this significantly improves grip. Style and accident avoidance in one.
The Liquid Air for Galaxy S23 is also a much lighter case than you might guess. It's a single piece of thermoplastic polyurethane — light, malleable and slightly stretchy, it's a doddle to fit and remove.
Minimal bulk doesn't mean minimal protection, though. While this may not be the Spigen case we'd pick for extreme sport use, it does have shock-absorbing properties. And it employs a raised lip around all three rear camera lenses to avoid any heartbreaking moments when you realise you scratched the camera glass.
Spigen Tough Armor
This is one of Spigen's most memorable Galaxy S23 cases, in our book. The Tough Armor provides exactly what you'd guess — serious protection for the more active or outdoorsy phone fan — plus a little unusual extra feature.
A kickstand sits on the back, ready to pop out when you want to be able to watch a movie or YouTube video hands-free. It also doesn't spoil the feel of your Galaxy S23 in order to provide protection, as the side buttons still feel great and a Touch Armor case does not add inordinately to the handset's thickness.
However, if you're buying a Spigen Tough Armor it has to be primary for its rugged features, right? This is a triple-layer case. There's an outer shell of hard polycarbonate, an inner TPU sleeve and carefully placed foam pads that help dissipate the impact of drops before the force reaches the actual phone.
This helps give the Spigen Tough Armor its all-important military-spec drop protection. Like so many other Spigen Cases the Tough Armor also makes use of Air Cushions in the corners, which are hugely helpful in avoiding case dents and smashed glass panels.
Spigen Optik Armor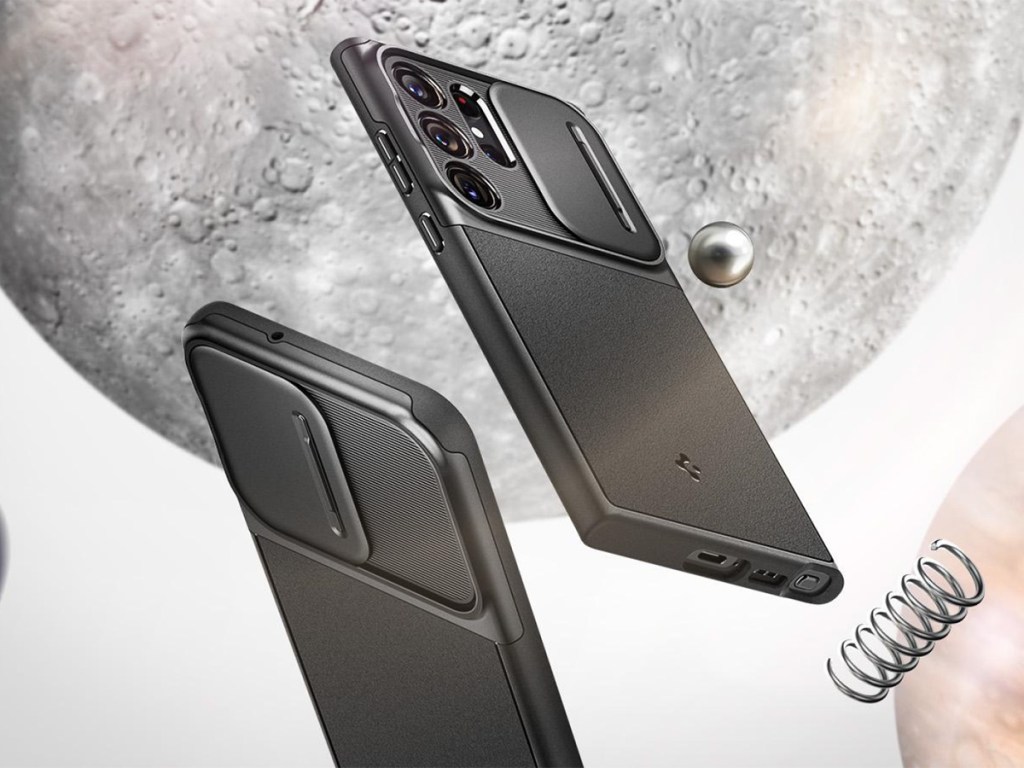 Spigen offers more than one route to superior protection for your Samsung Galaxy S23. The Optik Armor case focuses on what is perhaps the phone series's tech highlight — the camera. It uses a sliding shutter mechanism to completely cover the lenses when they are not in use.
We love this concept for any environment where grit or sand might be present. Beaches, building sites and deserts are just a few of the danger zones for mobile tech. And even if you forget to close the protective shield, the backplane of the case still reaches right up to the lens glass, matching what you'd see in other Spigen cases.
Spigen calls this Snap Lens Protection Technology, and it puts up a 0.8mm barrier above the camera optics at all times.
The construction of the Spigen Optik Armor is likely less bulky than you'd guess too. Flexible and low-weight TPU makes up the main part of the body, while the additional camera housing is polycarbonate, to give the camera slider a robust and tough feel.
Protection for Galaxy tablets, watches and earphones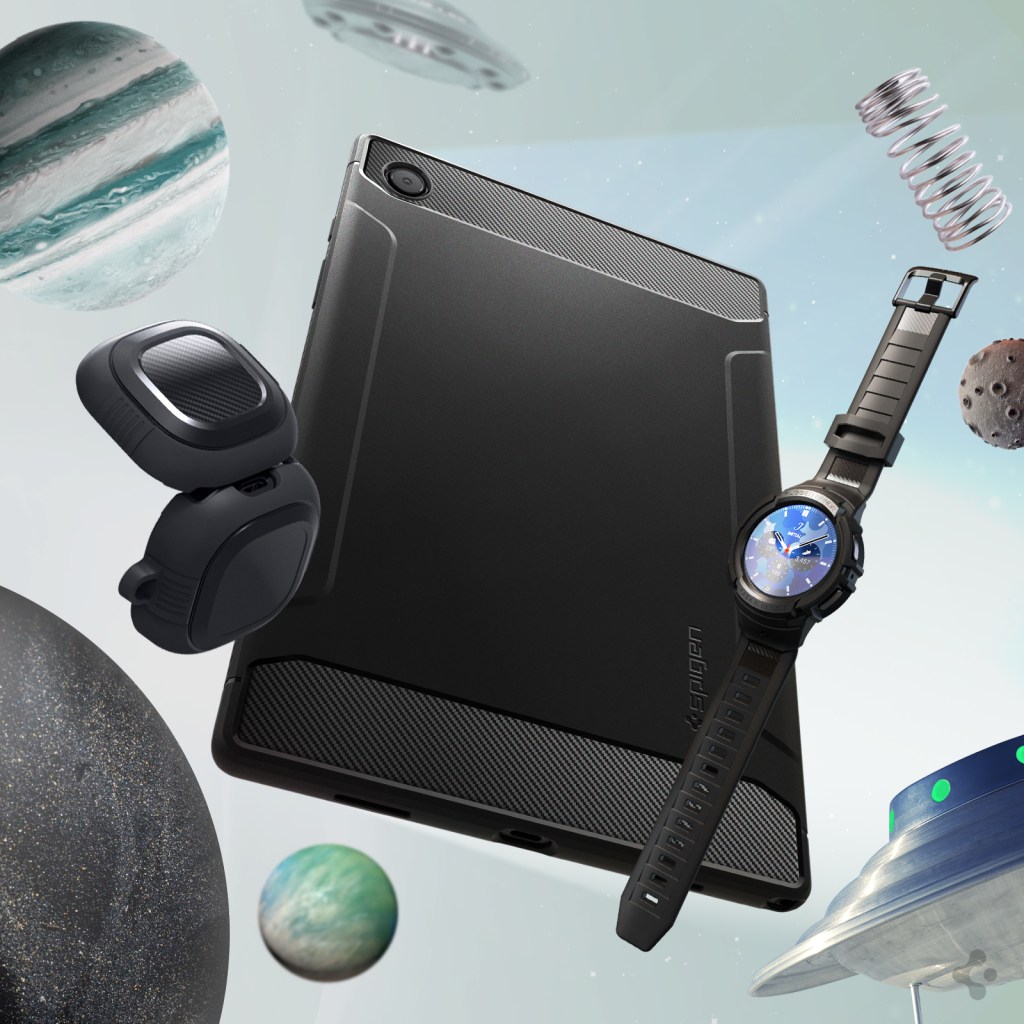 Spigen's range of protective cases doesn't end at Samsung Galaxy S23 phones either. There are solutions for the whole Galaxy family.
The Spigen Rugged Armor for Galaxy Watch is compromised of a strap and protective outer that covers the watch bezel and keeps the touchscreen safe from harm. It gives you a smartwatch the style of a rugged outdoors watch.
Use Samsung's Galaxy Buds earphones? Spigen makes a Rugged Armor case for these too. It's a two-piece design that acts as a shock absorber for both the upper and lower parts of the charge case, without making it tricker to open or use.
An included carabiner can be attached to the lower half too, letting you safely hook your beloved buds to your jeans or a bag.
No member of this family has been left out — the Rugged Armor series is also available for Samsung's Galaxy Tab tablets. Its slim design protects the back and sides of the tablet without adding significant bulk or weight, while the front flap helps keep the display glass scratch-free, and can also double as a stand when needed.
And what about a screen protector or wireless charger?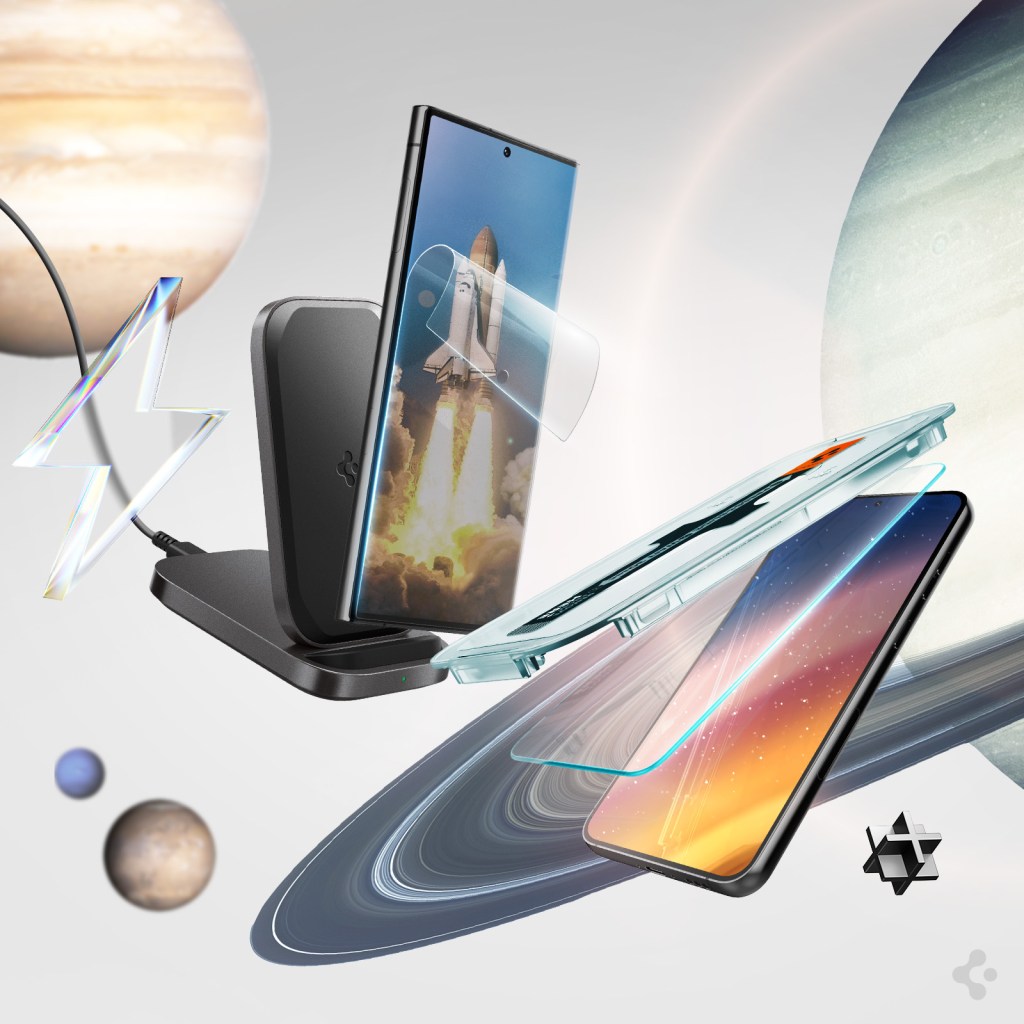 Spigen is also producing the EZ Fit Screen Protector for the Galaxy S23, promising fast and easy installation and precise alignment with your S23 display. It's also got high durability with 9H hardness and high fingerprint resistance thanks to an oleophobic coating. The NeoFlex Screen Protector covers a wide area along the edges. You can adjust it and it's fully compatible with the fingerprint sensor.
Finally, the ArcField Wireless Charger (PF2102) has a simple and sleek design and is the world's first certified 'Designed for Samsung' 15W Fast wireless charger. It features the same module as the official charger, so it charges 1.5x faster than other 15w wireless chargers.