Harness the sun's rays with the fuss-free, money-saving EcoFlow PowerStream
Day and night solar energy made simple - store and save money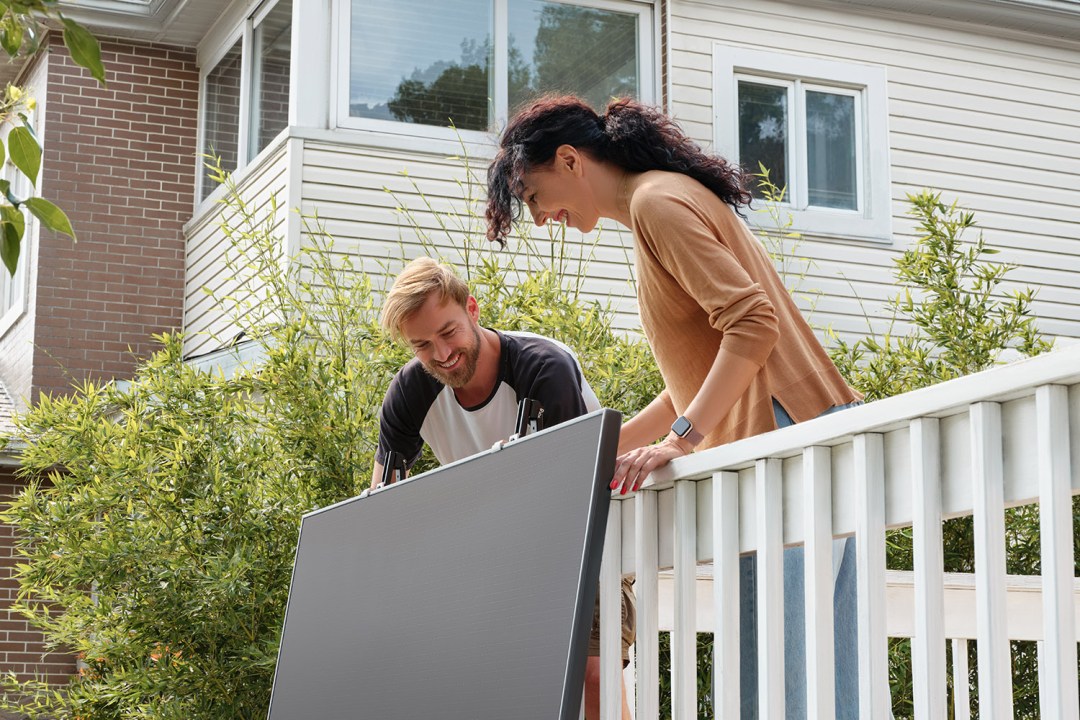 Like the idea of saving money with eco-friendly solar power but don't have a south-facing rooftop – or any rooftop at all? Sounds like you may be in the market for EcoFlow's PowerStream Balcony Solar System, the world's first balcony system with a portable power station.
This system means you can harness the power of solar energy day and night to reduce your energy bills and reduce your reliance on the grid.
Traditional balcony solar systems lack power storage, which means you can only tap into the solar energy during daylight hours, with any excess energy going to waste.
The PowerStream Balcony Solar System is compatible with all EcoFlow portable power stations including the latest DELTA 2 Max system. The system turns sunlight into stored LFP battery power: up to 2048Wh of it (or 6144Wh with optional expansions). Using this, and the power station's wide range of outputs, you can power the vast majority of home appliances and tech gadgets, and even charge up an electric car.
That's right: there's enough power in a full battery to run a 60W fridge for hours or your smartphone, tablet, camera and laptop all at once. This means it can be used as a bill-cutting and eco-friendly supplement to your regular power source, or as a sole electricity source for camping trips or even off-grid living.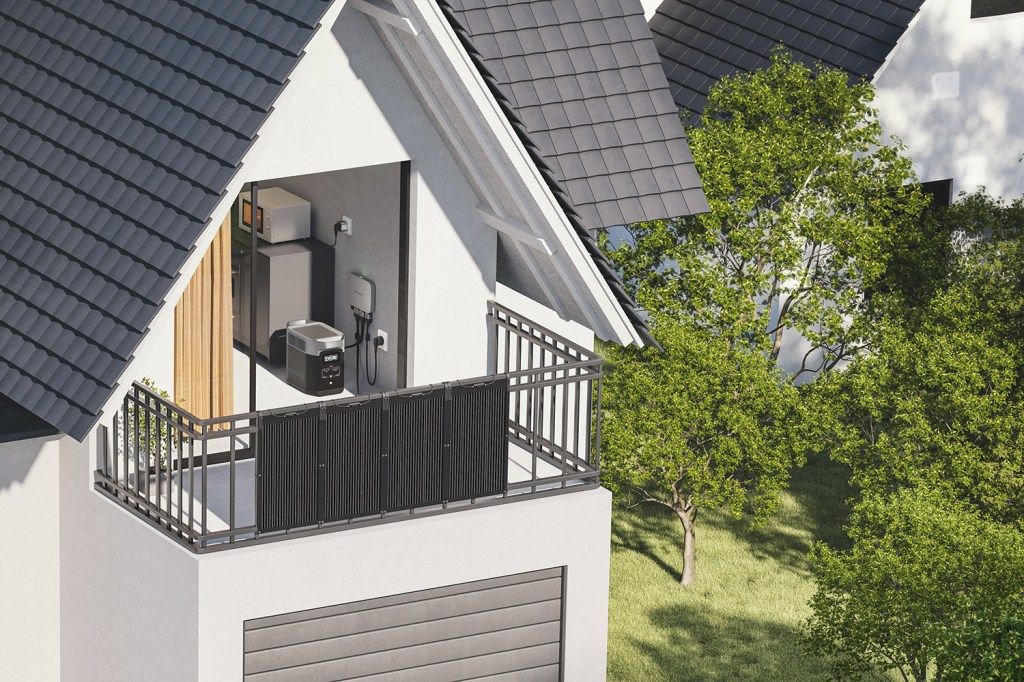 Traditional systems are bulky, ugly and often require professional fitting. Not so here: it's compact and lightweight enough to be carried around your home to wherever it's needed, it sports a sleek look and it has plug and play setup that makes it ideal for DIY installation – no tradesmen required!
The entire PowerStream system consists of just four main elements: a power station that could be a DELTA, DELTA 2 or DELTA 2 Max; an EcoFlow solar panel (100W flexible and rigid panels are ideal for balcony use, but there are also larger 400W rigid panels for more permanent placements such as rooftops); an EcoFlow Microinverter which sits between the power station and panel; and an EcoFlow Smart Plug, used to keep track of your appliances' energy consumption in real time and ensure that the Microinverter allocates the optimal amount of electricity to each appliance accordingly, with the remainder going to the power station's battery for later use. The Smart Plug also provides you with the ability to monitor and manage energy use via the EcoFlow mobile app.
The No Storage Kit includes one EcoFlow PowerStream Microinverter, four 100W flexible solar panels, one EcoFlow BKW-DELTA EB Cable, two EcoFlow Super Flat Cables, two EcoFlow Smart Plugs and is priced at £950.
The 1kWh Storage Kit is for both flat and house uses and includes the No Storage Kit and a DELTA 2, priced at £2049.
The 2kWh Storage Kit is for house use, and includes the 1kWh Storage Kit but with two 400W rigid solar panels instead of four 100W flexible solar panels, and a DELTA Max 2000. This kit is priced at £2405.
You can buy the PowerStream system direct from EcoFlow or Amazon UK as well as the DELTA 2 Max from EcoFlow or Amazon UK.
So there you have it: an all-in-one solar solution for power both day and night, with DIY setup and the ability to take your stored power on the road. For more information on PowerStream and supporting solar products, point your browser to the EcoFlow site.
---
To celebrate the upcoming launch of the DELTA 2 Max, EcoFlow has unleashed some early bird offers for UK and European region customers. Buy the DELTA 2 Max + 400W solar panel Solar Generator bundle and you'll save £139/€149 on the regular price.
Amazon: From 31 May, the first 100 customers who purchase any EcoFlow DELTA 2 Max bundle via Amazon UK will receive a free DELTA 2 Max bag.
Shopify: From 25 May, users who subscribe to the DELTA 2 Max via Shopify will receive 500 EcoCredits, and from 31 May to 6 June, users will receive 2x EcoCredits by purchasing any of the DELTA 2 Max bundles. These EcoCredits can be used to obtain a DELTA 2 Max bag at no additional cost.