Xiaomi Mi Mix review
Blimey, where's the bezel gone on this thing?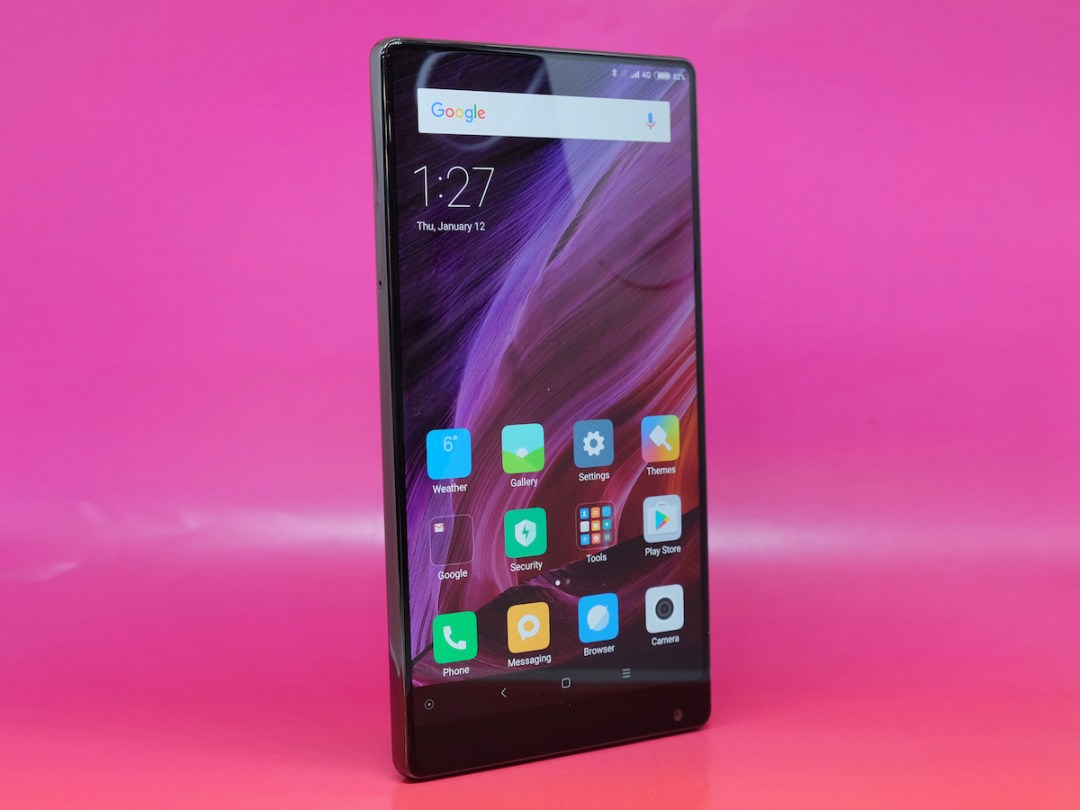 There's good-looking tech, and then there's this. The Mi Mix is the Gal Gadot of smartphones.
It's all thanks to that incredible, almost bezel-free screen, that sits right up against three of the phone's edges. Seriously, this thing looks like it's floating in front of you, not surrounded by mere mortal metal.
This is supposed to be what phones look like in five years, and here I am, with one in my hands right now. Only it's not quite that simple.
Xiaomi calls the Mi Mix a 'concept phone', one that will only be available in China, and one that's being made in small batches. That means actually getting hold of one is going to be harder than spotting Bigfoot, and a lot of the pre-installed apps and features won't actually work here in the UK.
So is it worth all the hassle? Is this really the future of phones?
Let's find out.
LIVING LIFE ON THE EDGE
At first glance, you might think the Mi Mix was just one big screen – the bezels really are that tiny. It's got an incredible 91.3% screen-to-body ratio, higher than any other phone out there right now.
At 6.4in, it's also colossal, but at 1080P doesn't have the pixel density of rivals like Samsung's Galaxy S7 Edge. Get up close and there's a noticeable drop-off in sharpness, one you just don't get on a phone with a QHD screen.
The resolution is actually slightly higher at 2040×1080, which gives the phone an awkward 17:9 aspect ratio. That's not a problem when you're in Google Chrome, Instagram or Facebook, but means YouTube videos suddenly gain letterboxes – undoing the point of having a near bezel-free screen.
Resolution aside, the screen still manages to impress thanks to its high brightness, superb contrast (for an IPS display) and colour saturation. Vibrancy has been given a bump to really make your pictures pop, and even at 1080P (or a little above it) things look sharp from arm's-length.
Viewing angles aren't the best, though. Turn the phone at much of an angle and things start to look a little washed out. Keep it face-on for the best possible picture.
There's a high quality speaker to match. It's surprisingly loud and had a decent range, with clarity in the low-end as well as clean highs. At least as far as smartphone speakers go, it's really rather good. You won't need a pair of headphones just to watch YouTube clips.
SLICKER THAN YOUR AVERAGE
The screen might be its standout feature, but the rest of the Mi Mix is just as eye-catching. Xiaomi has gone for ceramic instead of metal or glass, with a gorgeous mirror-like sheen that reflects light at almost every angle. It's a world away from the metal iPhones, HTCs and OnePluses currently doing the rounds.
Ok, so it's also a massive fingerprint magnet, but it sure looks pretty for those first few minutes after you've given it a polish. It's also very slippery – you'll definitely want to keep a tight grip on the phone, or at the very least invest in a case to keep it looking pristine.
Even with such teeny tiny bezels, this is still a huge phone – and not one for anyone with tiny hands. There's a neat floating menu you can drag around the screen to make things easier to reach, but that won't stop you dropping it.
There's a little resemblance to Sony's Xperia phones around the edges, with chunky power and volume keys on one side, USB C port on the bottom and headphone jack at the top. This might be a phone of the future, but clearly Xiaomi thinks that future still has room for 3.5mm.
It's a shame XIaomi hasn't managed to match Sony's waterproofing, though – the Mi Mix can't take a dip without taking some damage.
The rear fingerprint sensor feels a bit too far down the phone for my oversized man-hands, but other people might not have any trouble hitting it every time.
Xiaomi has had to get creative to make space for that screen, shifting the familiar phone speaker, proximity sensor and front-facing webcam to other parts of the phone, or losing them altogether.
Instead, you get a sonar detector, which works out when you've got the phone up to your face and turns off the screen. The speaker is now a piece of ceramic, set underneath the screen, that vibrates to make sound.
It works surprisingly well, as long as there's not a lot of background noise – calls were clear no matter which angle I held the phone against my ear.
The front-facing camera now sits at the bottom of the phone, which can make for some disturbing, chin-heavy selfies the first few times you go to snap a photo. You've also got to be careful to move your thumbs and palms out of the way, or you'll end up with just half a picture.
PICTURE THIS
With such an attention-grabbing display, there was never any chance the Mi Mix's camera tech was going to make an equally amazing first impression – even though the spec sheet says it should.
After all, it's got a 16MP rear sensor, with f/2.0 lens, phase-detect autofocus and electronic image stabilisation.
In practice, though, picture quality is only so-so. Image processing here tends to favour flat colours, and lacks detail once you zoom in past 100% – even in well-lit scenes. Noise reduction is really, really strong, and while you can rescue your shots slightly by turning Sharpness up to the highest setting in the menus, but there's still not as much detail as you'll find in other high-end phones like the iPhone 7 Plus or Google Pixel.
Videos aren't processed to dramatically, so 4K clips tend to look sharper and more detailed than still images. With so much great competition out there at this price, it's difficult to excuse a good camera when there are plenty of great ones to choose from.
When you switch to the front-facing camera, you might want to spin the phone upside down for a more flattering angle – the app is completely reversible. Quality is decent, but no better than any other mainstream phone. Unless you like looking like an anime character, you'll want to turn off the overly aggressive Beauty mode, too.
The app has a few of the options you'd expect, like HDR, panorama, and a manual mode, but otherwise it's pretty basic. There are plenty of filters and fun effects though, if those tickle your fancy.
OH MY UI
It might be running Android 6.0.1 underneath, but you wouldn't know it – the Mi Mix has Xiaomi's MIUI customisations well and truly slathered all over the phone. And a localised Chinese version at that.
MIUI ditches the familiar app drawer in favour of iOS-like home screens, changes the stock app icons for brightly-coloured squares, and completely transforms the notifications, recents and settings screens.
There's nothing wrong with this layout, it's just very different from vanilla Android. Luckily the phone was set to English when it arrived, so we didn't have to Google Translate every menu until we found the language settings.
Speaking of Google, the Play Store isn't installed as standard. The company we used to import one into the UK actually added it for us, but if you get one without it you'll need to add it manually. The perils of importing a phone from China, everyone.
Xiaomi has at least added a fair few extras to make up for this extra faff – ones that aren't all that common on phones found in the West.
Dual App, for example. Got more than one account for a particular app, but don't want to constantly sign in and out? Add it to the Dual App area and bang – you've got two versions of the same app, that can bet instantly toggled between.
There's also Second Space, which is a bit like having a virtual second phone. Turn it on and you can have certain apps saved to one part of the phone, without having them show up on the other part. Handy for locking off Netflix when your kids want to play Angry Birds.
There are plenty of pre-installed apps, too, as there aren't any default Google ones out of the box, but once you've got the Play Store up and running the Mi Mix is just like any other flagship phone. As long as you don't reset it and end up defaulting back to Mandarin Chinese, anyway.
It's a shame there's no word on when we can expect Android 7.0 Nougat to arrive, too.
LONG LIFER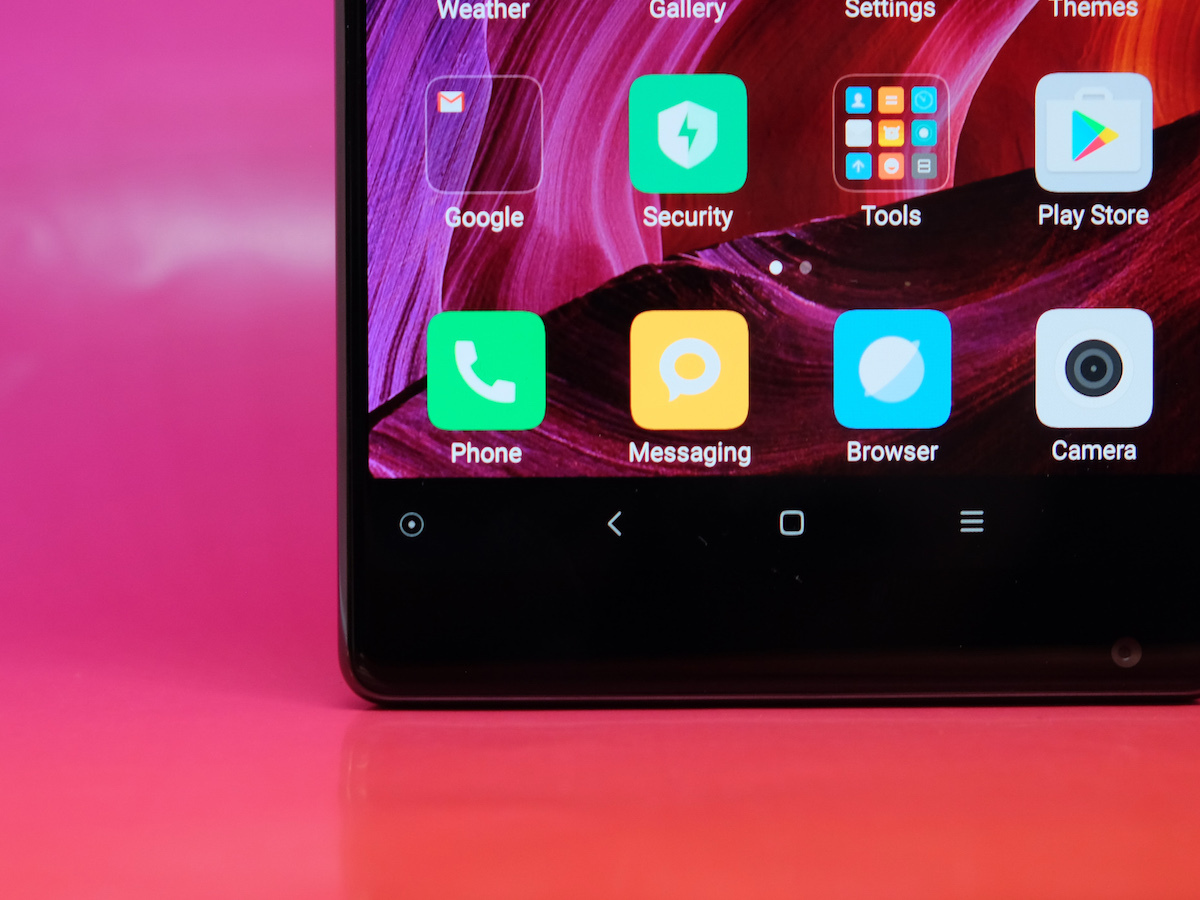 Underneath that stunning screen, the Mi Mix shares a lot of its hardware with the rest of 2016's flagship phones. That means a Qualcomm Snapdragon 821 CPU and 4GB of RAM – enough to run Android perfectly smoothly, even with Xiaomi's MIUI customisations plastered on top.
You can multi-task, run demanding games and do pretty much anything you like with this phone – it won't stutter, lag, or otherwise break a sweat.
You don't get expandable storage, but that's really not an issue when the Mi Mix comes with 128GB built-in. That's easily enough for all the apps, games and multimedia you could want with you at any one time.
There's also room inside for a massive 4400mAh battery – exactly what you need to run a powerful phone with a huge screen.
The Mi Mix can easily last two days when you aren't hammering apps, the camera or the display, and even if you are using it non-stop, it should still get through a whole day without needing a trip to the mains. That Full HD resolution really helps out here, as the CPU doesn't have to work as hard as if it was running a QHD screen.
With a Qualcomm fast charging adapter, you can refuel the phone back to 70% in around half an hour, and be completely full in about two hours. It's all done over USB-C, of course, so there's no fiddling with your cable to get it in the right way round.
XIAOMI MI MIX VERDICT
There's a lot to like about the Mi Mix – but it isn't faultless. Beyond that stunner of a screen, its resolution could stand to be be higher, and camera quality is only average.
It might lead the way when it comes to design, but there's nothing futuristic about its performance or underlying hardware – and when you're paying top dollar, that's a real shame.
Still, there's no doubt it will earn you envious looks on the train when you pull one out for a quick game of Candy Crush. It's a bit like driving a McLaren supercar – there aren't many of them out there, and whenever you get it out in public, people are going to take notice.
Does that alone make it worth going to all the trouble to buy one, though? I'm not entirely sure.
Maybe this is a phone from the future, then. If it is, I can't wait for the rest of the world to catch up.
Buy the Xiaomo Mi Mix here from GearBest
Tech specs
| | |
| --- | --- |
| SCREEN | |
| CPU | Qualcomm Snapdragon 821 quad-core |
| MEMORY | 4GB RAM |
| CAMERA | 16MP rear w/ f/2.0 lens, electronic image stabilisation, phase-detect autofocus & dual-LED flash, 5MP front |
| STORAGE | 128GB on-board |
| OPERATING SYSTEM | Android 6.0 Marshmallow (7.0 nougat update planned) |
| BATTERY | 4400mAh non-removable |
| DIMENSIONS | 159x82x7.9mm, 209g |
Stuff Says…
There's nothing else out there like the Mi Mix – it's a challenge to pick one up, but it's guaranteed to give your phone-loving friends serious tech envy
Good Stuff
Amazing, eye-catching bezel-free screen
Huge amount of storage
Snappy performance
Bad Stuff
Tough to get hold of outside of China
Outdated version of Android
Camera can't keep up with other flagship phones