Ultimate Ears Blast review
Alexa-powered smarts in a really rugged shell
As a stealthy way of sneaking AI into your living room, Amazon's Echo speakers are more effective than Seal Team Six – but aren't exactly portable.
Both the Echo and Echo Dot need plugging in, which isn't great for moving the party outside when you're using them to play music. Even with an extension cable, they aren't waterproof, so you'd still need to run for cover should the heavens open.
That's not a problem for the UE Blast.
Ultimate Ears has taken one of its most popular portable speakers, the Boom 2, and upgraded it with Alexa integration.
That means the built-in assistant will be with you wherever you have a Wi-Fi connection, and the ultra-resistant construction means Alexa can be as adventurous as you are.
BUILT TO LAST
The differences are subtle, but the Blast looks a little more mature than the Boom. It's still a tubular speaker made from a combination of rubber and cloth, but things aren't quite so smooth here, with sharper angles and a flat top.
Then again, how mature can you get in bright, neon yellow colours? The Blast is anything but subtle – unless you pick it up in its more restrained grey hue.
The Blast is roughly the same size as the Boom, and will still fit in a bike bottle holder. It has the same huge, chunky volume buttons at the front, and power button on the top, which now lights up whenever Alexa is listening in for your instructions.
The foam rubber got surprisingly grubby after just a short spell outdoors, but it wipes clean with a damp cloth and you can run it under a tap if things get properly dirty. That'll be the IPX7 water resistance doing it's thing.
CHARGE ME UP
The handy D-ring on the bottom of the speaker makes a return, letting you attach it to a carabiner clip and hook it onto a bag.
It's also where the Blast hides its other party trick: wireless charging.
Pick up the optional PowerUp pad and you can swap the D-ring out for an inductive charging ring. Pop the speaker down on the £35 pad and it'll start recharging – no cables required.
The pad is simple enough, arriving in a box by itself – you have to use the speaker's bundled microUSB cable and power adapter.
It's a lot more convenient than using the microUSB on the bottom of the Blast, which is hidden behind a plastic cover and stops you standing the speaker up vertically while you top up.
However you refuel, you'll manage around twelve hours of wire-free listening – not as high as many purely Bluetooth speakers, but that's the price you pay for AI assistance over Wi-Fi.
SMARTY PANTS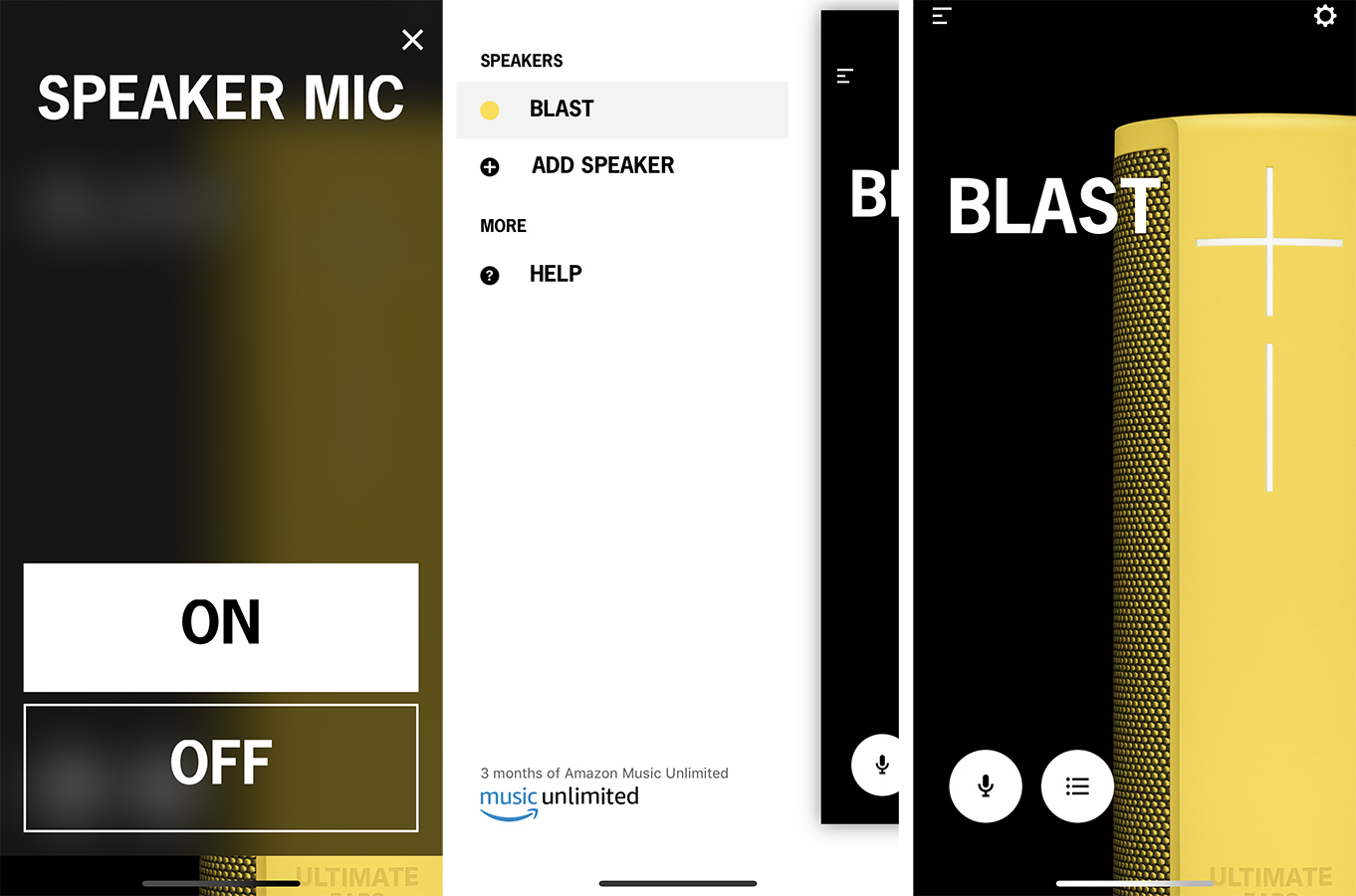 If you've used an Echo or Echo Dot before, you'll have a good idea how Alexa works in the Blast.
The setup process is almost exactly the same, with the Ultimate Ears app connecting the speaker to your Wi-Fi network and logging into your Amazon account. Don't want to use Wi-Fi? Bluetooth pairing works the same as it does in the Boom 2, ie simple and near-instant to connect.
There's no eye-catching blue light ring to let you know Alexa is listening. The power button lights up a bit brighter, but doesn't change colour – you've really got to be paying attention to notice the difference.
A tiny LED is also there to remind you if you've muted the microphone, in case you want a bit of privacy – but again, this is really subtle.
All the usual Alexa commands work here, and you can add skills just like you would with one of Amazon's own speakers, just with a slightly longer delay between asking a question and getting a response than you'd find on an Echo.
It's when you try to play some music that you'll notice the shortcomings. The Blast doesn't support Spotify at launch, y'see. You're limited to Amazon Prime Music, TuneIn and iHeartRadio. Want to use something else? Then it's back to Bluetooth streaming from a smartphone.
The Blast's directional mics don't seem to be all that accurate, either – at least when there's a bit of ambient background noise. With the music volume cranked up, Alexa struggles to hear you shouting its trigger words.
The excellent PartyUp pairing mode that lets you hook up multiple UE speakers together is MIA, too. Not everyone will be able to get their hands on several speakers at once, but it was a neat little extra to have, and feels missing here.
LISTEN IN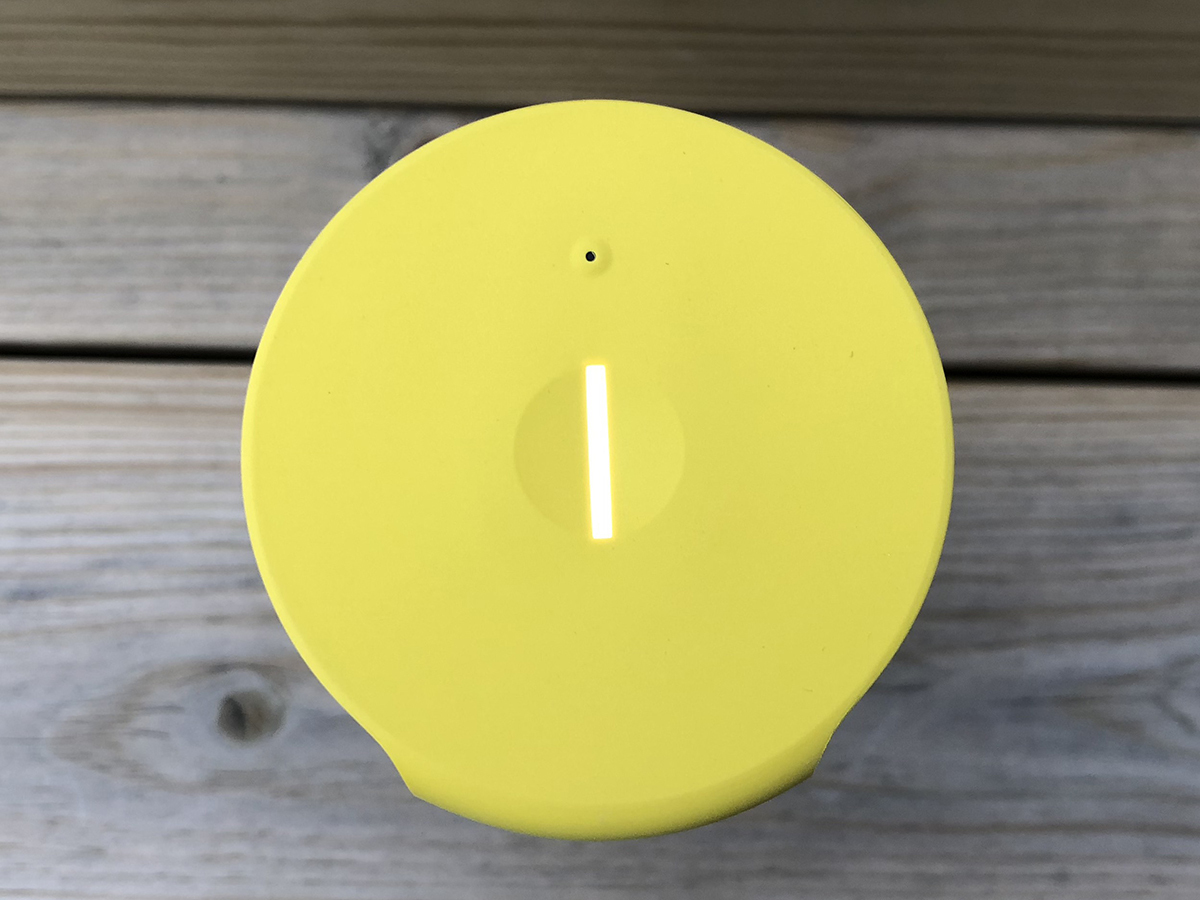 Unless the party is really popping, though, you might find a single speaker will get the job done: the blast gets seriously loud. 80% is usually all the volume you'll need, even for singing in the shower or filling a particularly big living room.
The Blast doesn't distort when you do crank up the volume, either. Whatever level you listen at, it delivers clear and precise sound.
It doesn't have the clarity of the excellent Sonos One, but it doesn't disappoint for the cash, either. You get a great balance between instruments on complex tracks, and it has an ability to keep vocals clean above the rest of the mix.
Softer, more acoustic tracks reveal a few weak areas, with very delicate sections sounding a bit processed, but busier rock and electronic songs have real depth. Bass is really quite impressive for a compact speaker, too.
OK, it's not going to drown out the much larger Megaboom, but it can still deliver an impressive sonic performance. It's easily better than Amazon's second-gen Echo, which sounds weak in comparison.
Ultimate Ears Blast verdict
The Boom 2 and Wonderboom have been some of our favourite rugged speakers for a while now, and the Blast looks set to join that list.
It keeps the same life-proof construction and is as easy to lug around as a bottle of water, but gains handy extras like Alexa integration and cable-free charging.
The £199 Blast is twice the price of the Boom 2, though, and by the time you add the PowerUp charging base, it's £145 more than Amazon's new Echo.
Can you put up with being tethered to the mains? Then you don't have to spend a lot more to get the even better-sounding Sonos One.
If a built-in battery, a portable, weatherproof build and wire-free listening are higher on your list of wants than Spotify playback and an accurate microphone, though, the Blast is an easy buy.
Stuff Says…
One of our favourite rugged speakers gets Alexa support and wireless charging, but it's missing a few features out of the box.
Good Stuff
Gets seriously loud
Built-in Alexa support is great extra
Water resistant rubber makes it pretty much life-proof
Bad Stuff
Can't charge while standing up – unless you buy the dock
Music Unlimited only at launch
No PartyUp speaker pairing