Suunto Spartan Trainer Wrist HR review
A new HR reader gives the Spartan Sport more muscle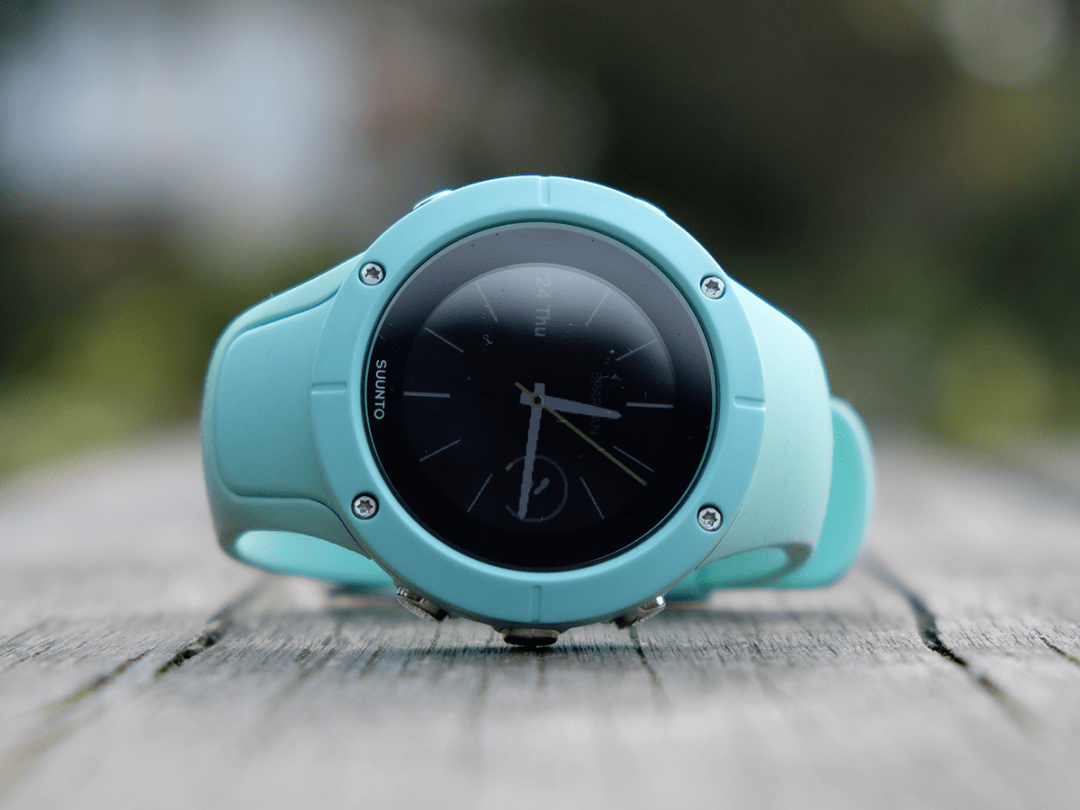 You wouldn't wear your sweaty gym kit to the bar, nor would you don skinny jeans and a tight shirt for the treadmill. Yet Suunto is determined to bridge the gap between your fitness pursuits and your social life with the Spartan Trainer Wrist HR.
Make no mistake, this is a fitness tracker first with a smorsaboard of sport modes and a HR reader to boot. But with a smattering of day-to-day features including step counting and smartphone notifications, this is a watch that doesn't want to leave your wrist any time soon.
Whether the feeling is mutual is another question entirely. It's an accomplished tracker, no doubt, but as your 24/7 watch? It might be best to keep in your gym bag. 
Design: all about dem curves
Most trackers are slim and subtle these days, acknowledging their basic looks and doing their best to hide from the public eye. This Suunto takes the Garmin Fenix 5 approach, though, trying to look as similar to a traditional watch as physically possible.
But while the Fenix 5 succeeded, I'm not as convinced by this Suunto. It looks fine for the gym, but you likely won't want to wear it down the bar. That's mostly because of the silicone strap and plastic bezel – it doesn't exactly shout classy. There is a more premium model with a steel bezel instead, but that'll cost you £60 more.
Maybe I have these gripes because I'm not very fond of my model's 'ocean' (basically mint) colour scheme. The black and blue versions look drastically better – but probably not enough to convince me to wear it outside gym hours.
Display: In a bad light
The non-touch screen is big and round, letting you see the colourful graphics and menus clearly on the 218×218 display – well, inside at least. I found it hard to see the screen on bright sunny days.
You might want to switch the backlight to be permanently on too, as having to hit a button to brighten the display can be rather annoying when all you want to know is the time. Although, that will cost you battery life. I miss the motion-activated backlight found in similarly priced trackers such as Samsung's Gear Fit2.
There are six watch faces to choose from for your homescreen to satisfy both digital and analogue fans, while you can also choose which colour customise it with. They're all rather basic, though, with some having subtle step-count indicators.
Interface: slowly does it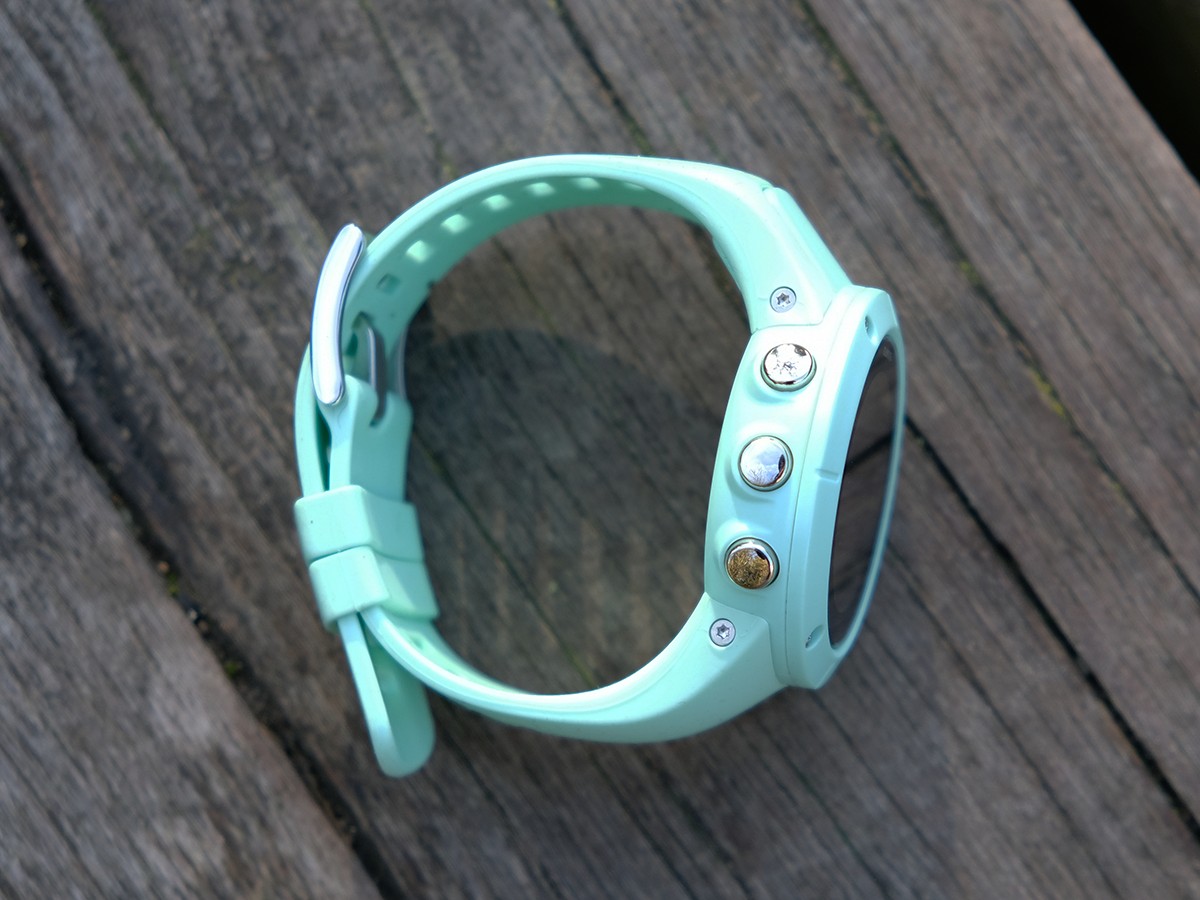 You may initially feel aggrieved that there's no touchscreen here, but do you really want to get sweaty smudges all over its display? We actually prefer using buttons to navigate our trackers, but here they feel clunky and often unresponsive.
That's not helped by the sluggish interface. Frequently I had to wait a few extra seconds for the menus to load. That doesn't sound too long, but it can be frustrating when you're in the middle of your adrenaline-inducing exercise and eager to feel the burn.
Otherwise, the interface is well presented and the five buttons give you plenty of flexibility and control – although it did take me a while to remember the function of each one.
Features: a sporting champion
The headline feature here is the HR reader, which you can use to take your resting beat or see the average rate during your session of any of the sport modes.
By activating one of the sport modes, it will give a more detailed report at the end of your session. There are 80 modes available, from your basic running, cycling and swimming (thanks to water resistance), to more adventurous sports such as snowboarding, martial arts and kayaking. There's even a cheerleading option… if that's your thing. We won't judge.
Suunto claims that battery life can reach 10 hours while in sports mode, but I don't have the stamina to test this. I did test its battery life for day-to-day tasks though, though. While Suunto reckons it can last up to 14 days, it was more around 10 or 11 in my experience. That's still impressive for a tracker of this quality, though.
Other features include GPS route navigation, sleep tracking and step counting – although, I'm not convinced by the latter's accuracy. A Saturday spent indoors building Lego saw me break my step record, but trust me, I'm not that lazy.
Smartphone notifications are a neat addition too. They're not restricted to your usual texts, call and Facebook alerts either. I could even receive notifications from your more unconventional Uber, Amazon and Tinder apps too. You can't respond to these notifications via the watch – an optional auto-reply would be nice – but I still found it useful.
App: Syncing heart
The accompanying Movescount app gives you a stat-heavy report of all your previous activities. After a run, for example, it plotted my pace, speed and heart rate on a timeline graph. It also shows how many calories I burned, which body watchers should love.
Like the watch, the app has lovely animations and uses colour codes to prevent the pages of numbers becoming more overwhelming than an A-Level maths test. The map feature, meanwhile, lets you see where other members of the Suunto community have worked out. This is really handy to find new mountain bike tracks or hiking spots.
Sadly, though, it's not all positive on the app front. It took me a damn age to actually sync it up to my watch. I don't seem to be alone with this problem, as the app's user reviews on the Google Play store has pages of people complaining about syncing issues. Suunto has a guide to fix it on the app's support page (which I can confirm works), but it's still a frustrating process when I expect it to seamlessly work the first time.
While you can export your data to the likes of Strava and Runkeeper on your phone, you can't actually download any apps to the actual watch. This means it misses out on the likes of Spotify, even if used solely as a remote. Not a huge deal, but at £219, you may have been expecting more.
Suunto Spartan Trainer Wrist HR Verdict
First impressions are important, and that doesn't bode well for this Suunto. A clunky and plastic design put me off wearing it 24/7, while connectivity issues with the app were hugely frustrating.
But go on first impression alone, and you'll often make the wrong call. An impressive number of sports mode, a fantastic map for your GPS data and the added heart rate reader means that this ticker hits almost every fitness tracker checkbox there is.
Suggesting that it has enough features to occupy your wrist as a day-to-day smartwatch, though, would be stretching it more than your yoga instructor.
With that in mind, there are other watches available for a cheaper price that offer more-or-less the same features. You're really going to have to love the silicone style to put this number one of your list.
Stuff Says…
Ticks every fitness box, but it's not an ideal day-to-day watch for the price
Good Stuff
80 sport modes
Lengthy battery life
HR now included
Bad Stuff
Syncing issues
Sluggish speeds
Clunky and plastic design for base model