Steep review
An Ubisoft open-world opus that isn't just a side-quest-fest? No, we're not taking the piste...
Snowboarding is hard – really hard. And expensive. Oh, and don't forget dangerous. But mostly hard.
It's why my winter sports tend to be of the digital variety – SSX was always much easier on my wallet, and 1080° Avalanche was less likely to leave me with a broken leg.
They never really managed to replicate that feeling of being on top of the world, though. Standing atop a snowy mountain, awe-inspiring vistas stretching out in front of you with literally hundreds of ways to make it down to the bottom.
That is exactly what Ubisoft has managed with Steep. This open-world on extreme sports featuring the white stuff came out of left-field at this year's E3, but I'm really, really glad it did.
Steep incline
First things first – you aren't bolted to your board like some kind of action figure for the GoPro generation. Steep is a snowboarding game – but it's also a skiing game, a paragliding game, and a soaring wing-suit experience.
Oh, and you can get off and walk when it's time to trek back up the mountains you've just glided down.
It's not like you're tied to a few overly familiar slopes, either. This is one big, big winter sports paradise, delivering large, open mountains to explore however you like.
If you can see it, you can go there. The giant game world is completely open for exploration, and if anyone knows a thing or two about open-world games, it's Ubisoft.
The developers have inspiration from every winter destination, from the Alps to Alaska, with loads of opportunities to grab air, pull off tricks, soar through the sky, and race down zippy trails. You can battle it out in live ride challenges across the mountain, or share your best runs with friends and see if they can match your line.
Seeing all the challenges peppered across the mountain will keep adventurers happy: you've got to get within a kilometre of each one to unlock it on the world map. After that, you can pop into whichever sounds most appealing at the time – or simply move on and continue freely riding and exploring.
There's no loading times whatsoever once you hit the piste, so it's not long before you're completely lost in the thrill of bombing it down progressively harder runs.
Spotting other random riders on the mountain adds another level of realism, too. It's social play on a very large scale.
Snow craze
You don't have to dig into menus to switch between different disciplines, either. Or head back to the ski lodge.
Want to swap your snowboard for skis? Click in a shoulder button and swap on the selection wheel. Found yourself in the perfect spot for a leisurely paragliding tour? It won't take more than a second to set yourself up for the ride.
It's the same when you bail spectacularly and want to restart your run – just hold a button down and you're back at the top of the mountain, bones intact. It's seamless.
It's also got the potential to be overwhelming. You're left to go at your own pace, and it's all too tempting to get ahead of yourself when you should really still be picking up the basics.
Tricks, for example: they're nowhere near as easy to pull off as more arcadey games like SSX. You've got to time your jump perfectly, otherwise you won't get nearly enough height for that triple backflip nose grab.
Steep is a lot more like a simulation. There's no in-your-face attitude, for one, and arguably less personality in general. Sure, you can dress up in a pink unicorn ski suit, but it's still up to you to find new challenges, and they'll take precision to get right on the first try.
Completing runs will unlock new kit and let you access new areas of the mountain, but it's up to you which challenges you actually attempt.
The GoPro generation
The realism even extends to the first person camera. Sorry, I mean GoPro View. And yes, it's properly licensed.
It gives you the same kind of in-the-moment, first-person perspective we're used to seeing from epic action camera footage – only you're the one living the digital experience.
Sure, the standard third-person camera gives you more context for lining up jumps and tricks, or carving out perfect lines, but the GoPro View's added immersion is absolutely unbelievable when you're whipping alongside a mountain wearing a wingsuit, trying to win an event by staying closest to the ground.
It's overwhelming and initially disorienting – but ultimately brilliant. Steep manages to look totally fantastic at that hyper pace, too, which doesn't hurt matters.
The first-person skiing in particular looks incredible… but also seems nearly impossible to maintain at high speeds. Worth a shot, right?
The GoPro tie-in also works well with the game's extensive replay editing engine, which lets you snip, tweak, and enhance your saved footage to create spectacularly shareable clips.
Steep verdict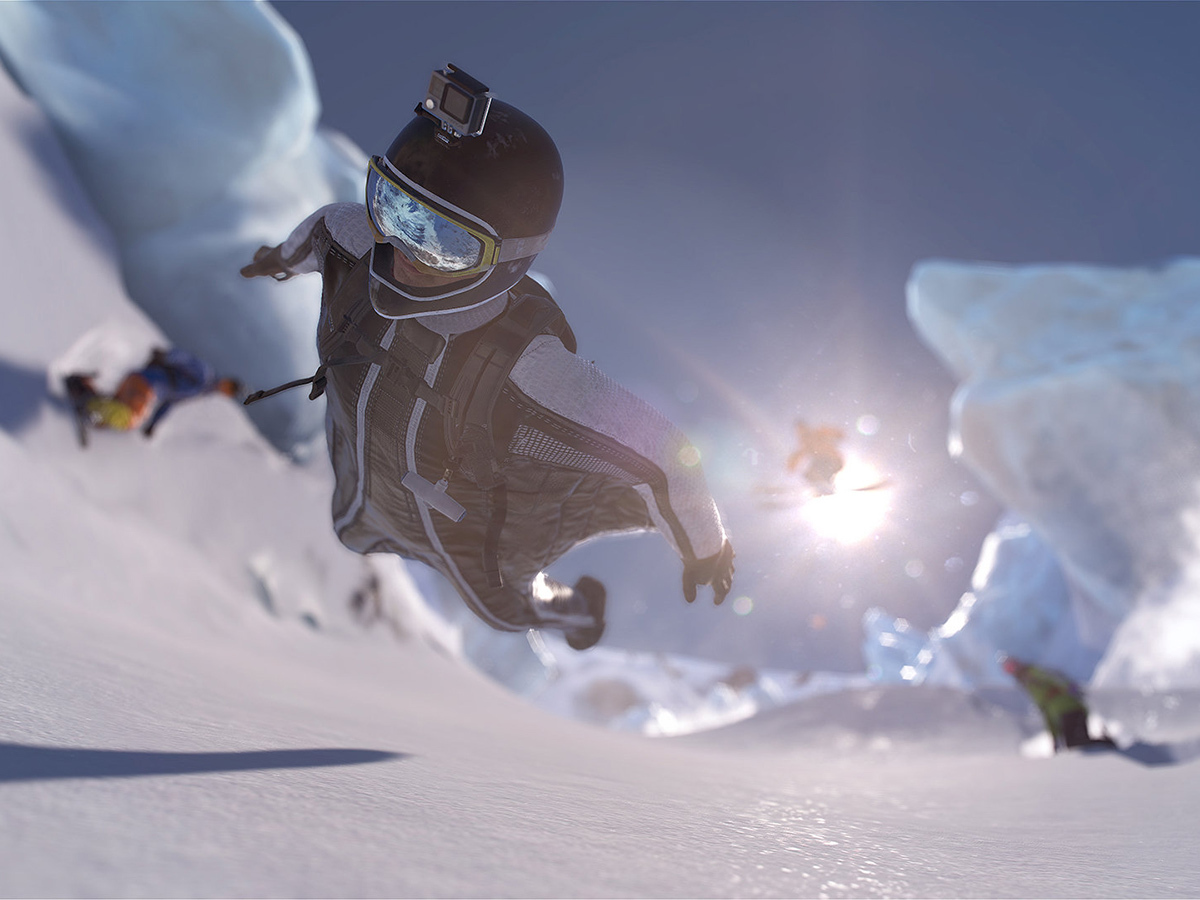 Steep is a massive departure from Ubisoft's usual open-world formula. There's a huge amount of content (and mountain) to uncover, but you're never forced down a particular route.
That means you could miss entire chunks of the game if you weren't paying attention on your rapid descents. You've really got to want to find your own adventure here.
The wingsuit action is intense and fun, especially from the GoPro view, paragliding offers a chilled break from the action, and the social multiplayer modes are promising too, but on the ground, jumps and tricks don't come very naturally.
Steep is probably too open-ended, and as bit too much of a simulation to reel in casual gamers looking for a bit of arcade action. The thing is, I'm not after a five minute blitz. I want to explore, take in the world at my own pace, and create my own challenges. And on that level, Steep is an absolute blast.
Stuff Says…
It's up to you to find the fun here, but Steep's freeform mountain range is the refreshing take on the open-world we've been waiting for
Good Stuff
Massive open world ready for you to explore
Loads of courses, slopes and runs to race your mates on
Looks fantastic at speed, especially in FPV
Bad Stuff
You've got to make your own fun
Tricks and turns aren't all that responsive
Lacking a bit of personality