Sony Xperia Ear Open concept hands-on review
Sony's intriguing in-ears feel almost ready for prime time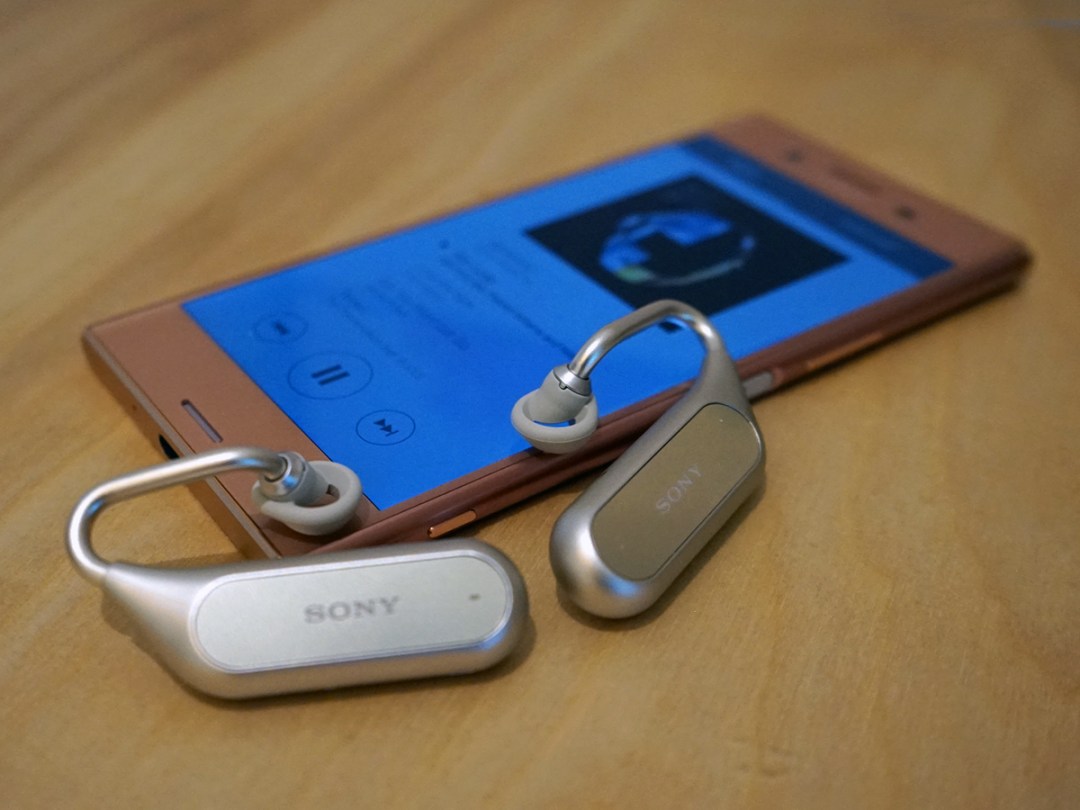 These might be some of the weirdest-looking earphones you've ever seen. Is it any surprise they're a concept, rather than something you can go into a shop and buy?
Don't let the looks deceive you, though.
Sony's been working on its intelligent in-ears for a few years now, aiming to let you enjoy your favourite tunes without blocking the outside world. Rather than use microphones to pump exterior sound into your ears, these buds leave your ears open so you can hear what's going on around you.
Add in an AI assistant and there's plenty here to like – especially for anyone that's exercise-mad.
DESIGN & FIT
Most truly wireless earphones bundle their innards into the buds themselves, meaning they bulge out of your ears. Sony's concept moves all that out of the way, leaving your ears open to hear the world around you.
Instead, all the electronic gubbins sits below your ear. This U shape is impressively secure once you've slotted them into place, and because they hang down, they won't get in the way if you wear glasses. Different ear tips would come bundled with a retail version so you can get the best fit for your ears. They're circular, with a hole for sound to pass straight through to your ear canals.
These are the kind of earphones you really could wear all day, even if you'd look like a Star Trek extra while you were at it.
When it's time to recharge, the hockey puck-shaped charging case will get you topped up. Sony isn't talking battery life just yet, but if its WF-1000 wireless earbuds are any indication, you can expect about three hours between charges. The case should have enough juice for three top-ups before it needs plugging in itself.
FEATURES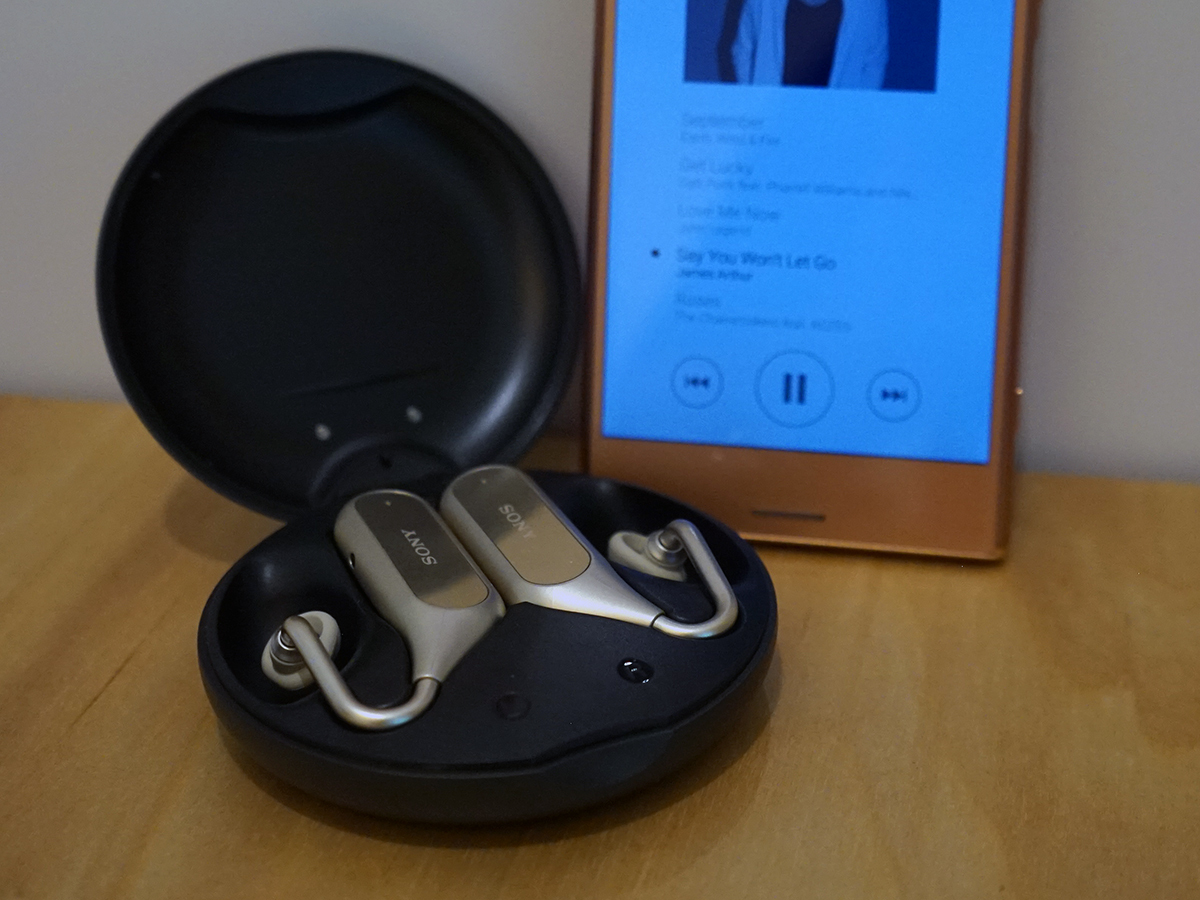 These aren't just a pair of earphones – they're a smart pair of earphones. When a text messages comes through to your phone, you can tap to have it read out to you, rather than pull out your phone. Voice commands mean you just have to say "reply" and then dictate your message – the AI will take care of the rest.
It'll let you know when you've got appointments or meetings, what the weather will be like before you leave the house, deliver walking directions when you're out and about, or record reminders when you don't have a pen handy.
Touch gestures are built into the buds, along with gesture controls. One tap on the earpieces play and pause tracks, skip songs, and change volume. Snap your head to one side and it'll skip tracks too – although animated talkers might need to watch out. We accidentally skipped a few tracks without meaning to.
The voice assistant can be distracting if you aren't expecting it, too. Apparently, most people can keep track of 1.6 conversations at the same time, so with Sony's assistant reading a text message in your ear and someone talking to you face-to-face, it's tricky to take both in – it can be a bit overwhelming.
Otherwise, they work like any pair of Bluetooth buds. Pop 'em out of the case and they'll connect to your phone automatically, waking from sleep once they're in your ears. We didn't have any drop-outs or disconnects during our demo, which is a good sign for any truly wireless earphones.
SOUND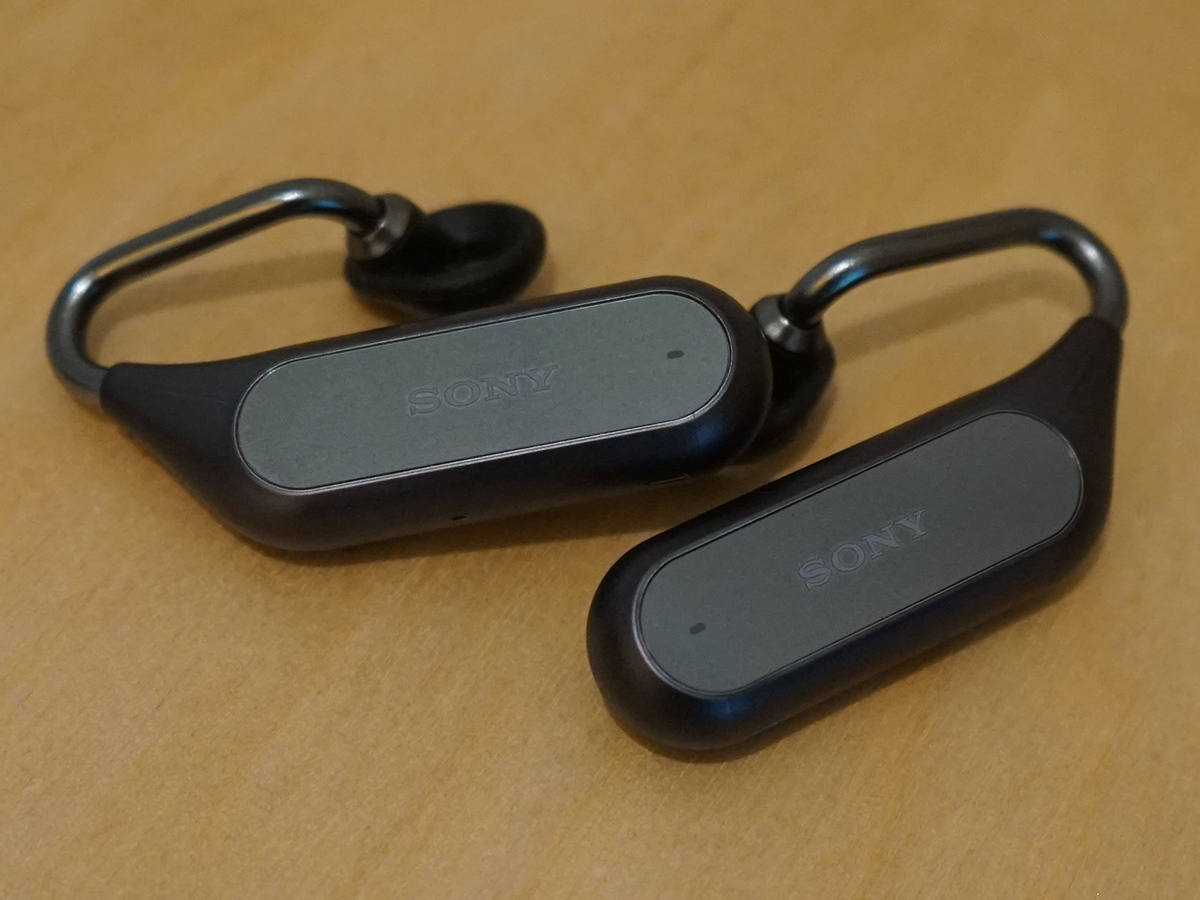 With a completely open design, these buds were never going to immerse you in sound. Instead, it's a bit like having background music that only you can hear – loud enough to sing along to (if you really want) but not so loud that everyone around you will be able to hear your tunes too.
That means you aren't distracted by your music. Think sitting in an airport departure lounge: if the tannoy calls your flight, you're going to hear it. You can have a conversation without pausing playback, because ambient sounds come through loud and clear.
On the other hand, your music doesn't have any real presence. It's there in the background, sure, but it'll never take priority – meaning you can't drown out a noisy office, for example. There's no real bass presence, either, which might be a downer for fans of heavy rock or electronic music.
Sony Xperia Ear Open concept INITIAL VERDICT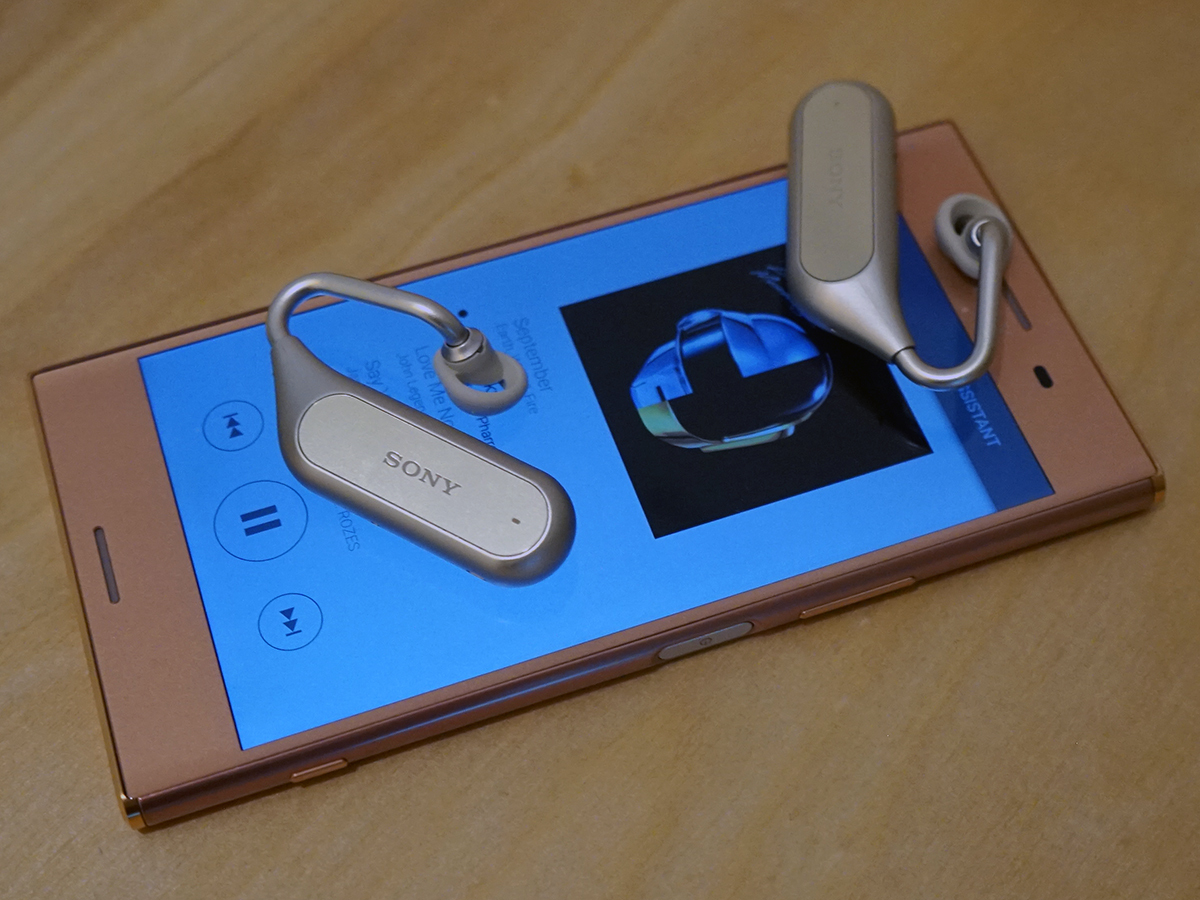 Sony is no stranger to clever concept tech, and unlike a lot of companies, its ideas regularly make it into production. Will these earphones follow suit? We certainly hope so.
The open design makes them pretty much perfect for exercising, letting you hear the outside world clearly and staying safe when out on the road – but with sound quality you won't get from a pair of bone conduction headphones. The secure fit means they won't pop out when you're working hard, too – and that's all before you get to the smart assistant side of things.
Keeping track of your day with a little voice in your ear is very sci-fi, even if we're not convinced you'll be able to do that and keep up with a real-life conversation at the same time. Sound quality is the last hurdle, with a lack of bass in most of the tracks we tested. Are they expensive to produce, too? There's no telling how much a pair might actually cost.
Still, there's lots to like about these wireless wonders. We'll make sure to keep pestering Sony until a retail version gets confirmed.