Smart #1 review: not just another EV
Anyone hankering after a quirky compact SUV would do well to check this out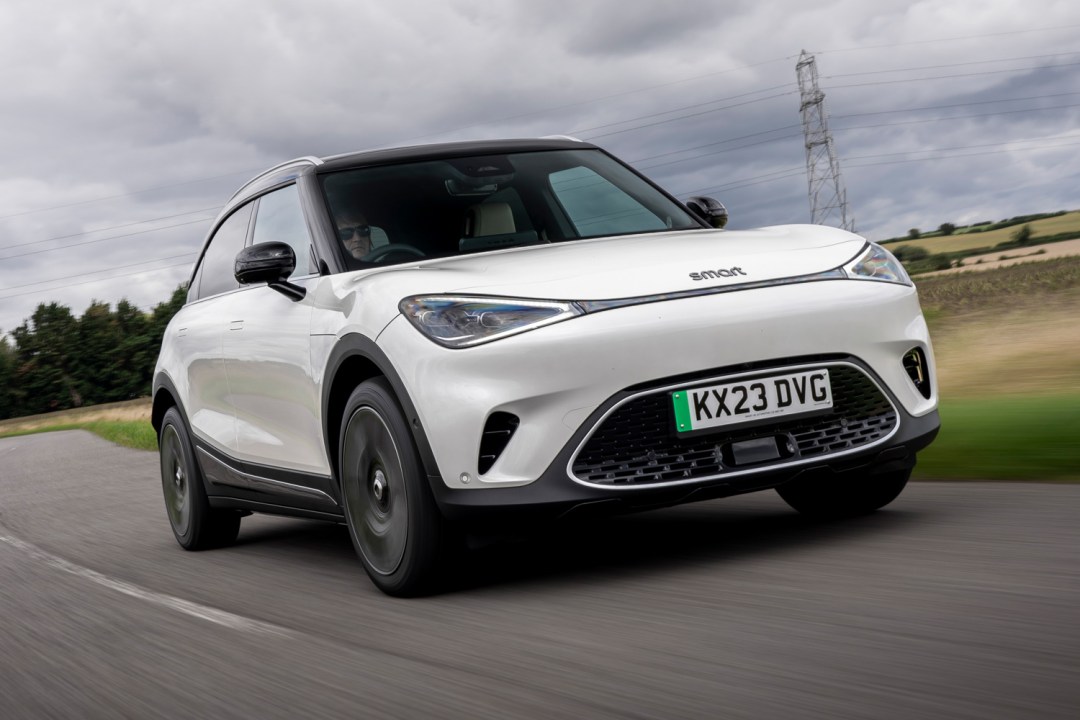 Stuff Verdict
This electric crossover packs plenty of personality, while offering up a fun drive and lots of quirks on the inside.
Pros
Ample performance and fun to drive
Distinctive stying
Well equipped
Cons
Rivals aren't quite so quirky
Infotainment takes some getting used to
Introduction
The Smart #1 compact crossover (or Hashtag 1 if you're pronouncing it as its maker intended) continue the Smart tradition of doing things differently, especially when it comes to design. Considering it sits on the same platform as the Volvo EX30, Polestar 4 and Europe-only Zeekr X, the team has done a fantastic job making it look very different – and that's before you look inside, where things get even more quirky.
This does come at the expense of practicality. Four seats offer up plenty of space, but the reasonably compact boot space takes the edge off its family-friendly credentials. That's true for all three models: the Pro +, the Premium (as tested here) and the Brabus. The first two drive the rear wheels with a single electric motor, while the Brabus is a balls-out performance model features dual motors and all-wheel-drive. It's also £43,450 as opposed to £38,950 for the model we've been driving. If money is tight, head for the Pro +, which costs £35,950.
If you've loved the different approach of previous Smart cars and want an EV that combines personality with practicality and performance, is this one to consider?
The styling
In an age where so many cars look really bland, it's refreshing to see Smart still trying to mix things up a bit and make their models stand out from the crowd. While the exterior of the Smart #1 isn't quite as quirky as expected, it's got a neat line in smooth design touches, sleek front and rear lights and recessed door handles, which help give it a very aerodynamic look. There's also a clever use of colour, with the roof being presented in a contrasting black compared to the lower half of the car. The complimentary dark lower lines of the car, plus dark-coloured 19in alloys also boost the look of the Smart #1.
The interior is where things become much more interesting with some cool design flourishes and an interesting use of materials. The seats are very comfortable and feature a good use of contrasting colour areas to remind you that you're behind the wheel of something with a little more personality than the average EV. After dark, it's possible to enjoy the ambient lighting too – which flashes red if you're pushing the battery to low levels, just in case you're not already worried about it.
While there's more than enough room in the Smart #1, both front and rear, the designers have given us less when it comes to boot space. This can be easily remedied by dropping the 60/40 split rear seats, but if you've got other family members in the car, this might not always be a realistic option. That's really the only downside though, and the overall impression left by the interior is that it's been really well screwed together.
There's lot of kit too, with the likes of dual-zone climate control, heated seats, keyless entry and a heat pump in the Premium model, along with matrix LED headlights making it a strong package.
The drive
The Smart #1 is a nice thing to drive, of that there is no doubt. It sits reasonably low to the ground, which is bit of a surprise if you're expecting a lofty SUV-style stance. Sitting behind the wheel offers up a commanding view of the road, with lots of glass (including a sunroof) making the outlook light and airy. Once you've got the seat electric adjusted to suit your taste the driving itself is good fun, with a selector on the column being used to engage forward motion.
This is an 1800kg car, so unsurprisingly it does feel quite hefty when you're throwing it around, but the 2.75 metre wheelbase feels just about right when you're driving in town. Naturally though, the electric powertrain has more than enough get up and go to make this an interesting car, be it getting away quickly at the lights or when you're bundling along on twisting B-roads.
Smart has tweaked the electric motor of the Premium model, meaning it's got a tad more range than the base-level Pro+ car, but in many ways they're much the same. Both have the 62kWh battery, so ideally 276 miles is up for grabs in the Premium as opposed to the 260 of the Pro+.
In reality, the Smart #1 doesn't feel quite as efficient as you're expecting it to be. Range degradation is least impressive on longer motorway runs, which is the standard curse of EV ownership. Around town and on everyday outings, though, it actually seems pretty good. That's probably what it's going to be used for by most owners.
The technology
If you're prepared to spend a little time playing with the Smart #1's tech there's quite a lot to like, even if everything is slightly unconventional. The chunky 12.8in touchscreen infotainment screen dominates the dashboard and is lively to say the least. There's a colourful globe and icon selection that will look quite quaint to anyone used to sensible infotainment displays. There's even an animated fox in the bottom left-hand corner of the screen, which is, er, interesting.
Rather less eccentric is the 9.2in instrument panel, which tells you everything you need to know. The head-up display is nicely done too, with a good use of colour and graphics. The 360-degree camera works well for parking manoeuvres and supplemented by parking sensors. You also have easy access to Android Auto and Apple CarPlay. Another highpoint is the Beats sound system, which if you love your bass can be tweaked to really hit the spot.
There's a little too much emphasis on the touchscreen for controls though, which can leave people cold (or in fact hot) when it comes to adjusting things like the temperature while on the move. Familiarity with the touchscreen improves things the longer you live with it mind, but even adjusting the door mirrors has to be done via the screen. This is one of those things that if it's just you driving the car and it's set up as you like it, job done but you can see why it's not going to appeal to everyone.
Smart #1 verdict
There's quite a lot of choice now when it comes to compact SUV-type cars – several of which come from parent company Geely's product stockpile. The new Volvo EX30, for example, might prove more tempting to folks who want sensible styling with the same sort of compromises on a key like boot space. Other rivals, the Jeep Avenger being a prime example, offer up interesting design without being too left-field on the inside.
However, if you're keen to drive an electric car with a persona and rather enjoy the funky flourishes, most notably in the cockpit, then the Smart #1 will definitely appeal. Strong looks and performance to match make it a lot of fun too. Buy it in one of the brighter colours from the Smart palette and it makes even more of a style statement.
Stuff Says…
This electric crossover packs plenty of personality, while offering up a fun drive and lots of quirks on the inside.
Pros
Ample performance and fun to drive
Distinctive stying
Well equipped
Cons
Rivals aren't quite so quirky
Infotainment takes some getting used to
Smart #1 technical specifications
| | |
| --- | --- |
| Powertrain | Permanent magnet synchronous electric motor |
| Battery | 62kWh |
| Power | 268bhp |
| Torque | 252lb-ft |
| 0-60mph | 6.7sec |
| Top speed | 111mph |
| Range | 273 miles |
| Charge rate | 150kWh |
| Cargo volume | 411 litres |