Volvo EX30 review: a nearly perfect compact EV
Volvo's new EX30 might be a small EV but it packs in everything that's great about the Scandinavian brand.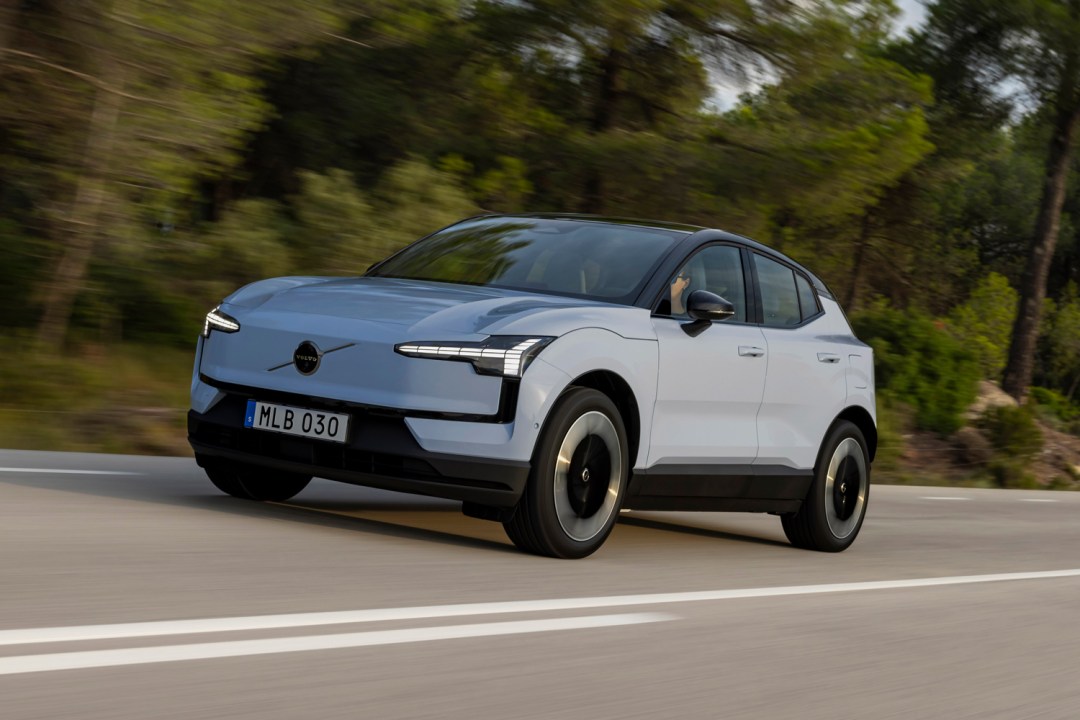 Stuff Verdict
The cute little Volvo EX30 hits the spot-on most fronts and opens up all-electric motoring along with the Swedish brand to a whole new audience.
Pros
Plenty of range as well as performance
Compact dimensions and Scandi styling
Minimal interior packed with tech
Cons
Safety systems can be overzealous
Lots of settings buried in touchscreen menus
Introduction
This is the dinky new Volvo EX30, which is not only the company's smallest model to date, but one that is aimed at attracting new buyers to the brand. It's compact but affordable electric car and offers up lots of minimalist Scandinavian-flavoured goodness that should appeal to anyone who wants less rather than more. However, the Volvo EX30 also comes with all of the kit that most drivers want from their car, including an impressive array of features and functions. Minimalism and cost-saving measures mean much of the cool stuff is found inside the central touchscreen.
Volvo hopes it can pull in new customers who might have otherwise been looking at the likes of the Audi Q2, Jeep Avenger or Mini Countryman. There's the Smart #1 to consider too, which is based on the same SEA platform as the Volvo itself (both fall under the ownership of parent company Geely).
You get a choice of three powertrains: Single Motor, Single Motor Extended Range and Twin Motor Performance. Two trim levels – Plus and Ultra – keeps things simple, and pricing is similarly straightforward. The Single Motor Extended Range model costs £38,545 on the road, while the Single Motor Standard edition is £33,795. If you want the Twin Motor Performance model that'll set you back £40,995; for us the Single Motor Extended Range car looks like the perfect compromise. It does everything you want and saves a little cash too.
We got to experience the Volvo EX30 Single Motor Extended Range Ultra on 19in wheels in a rather fetching Cloud Blue, and also spent time driving the Twin Motor Performance Ultra variant on larger 20in wheels. Here's how we got on.
The styling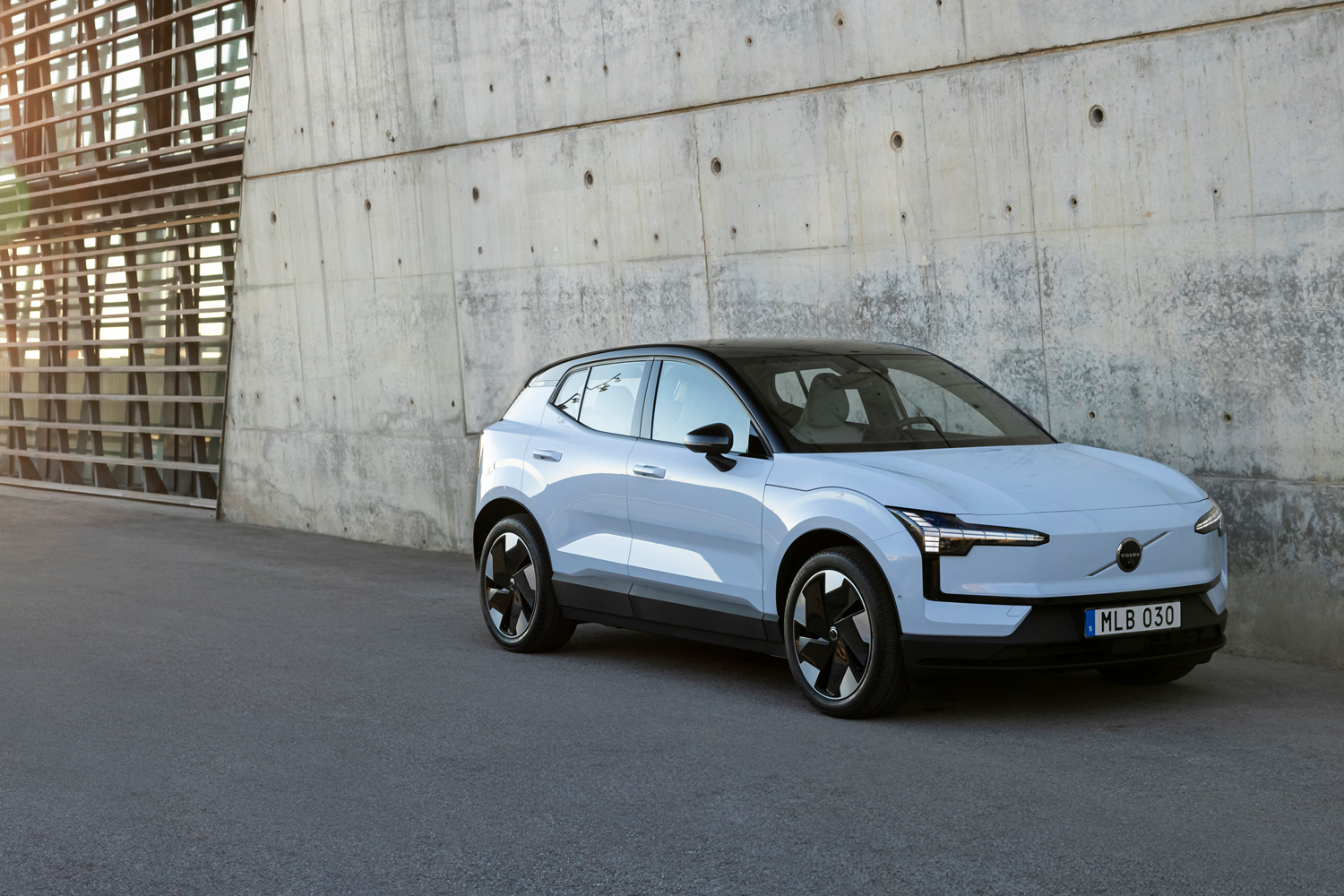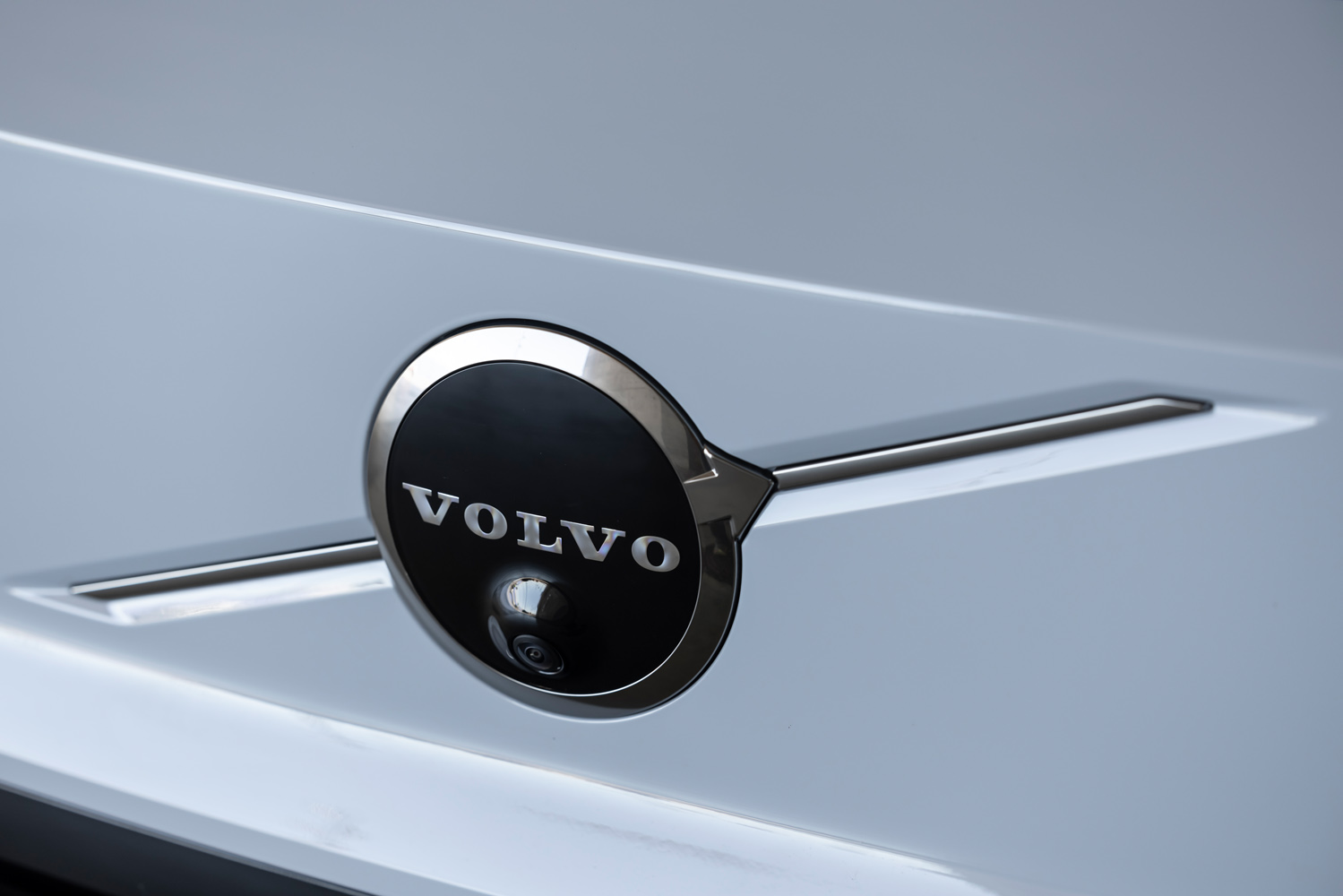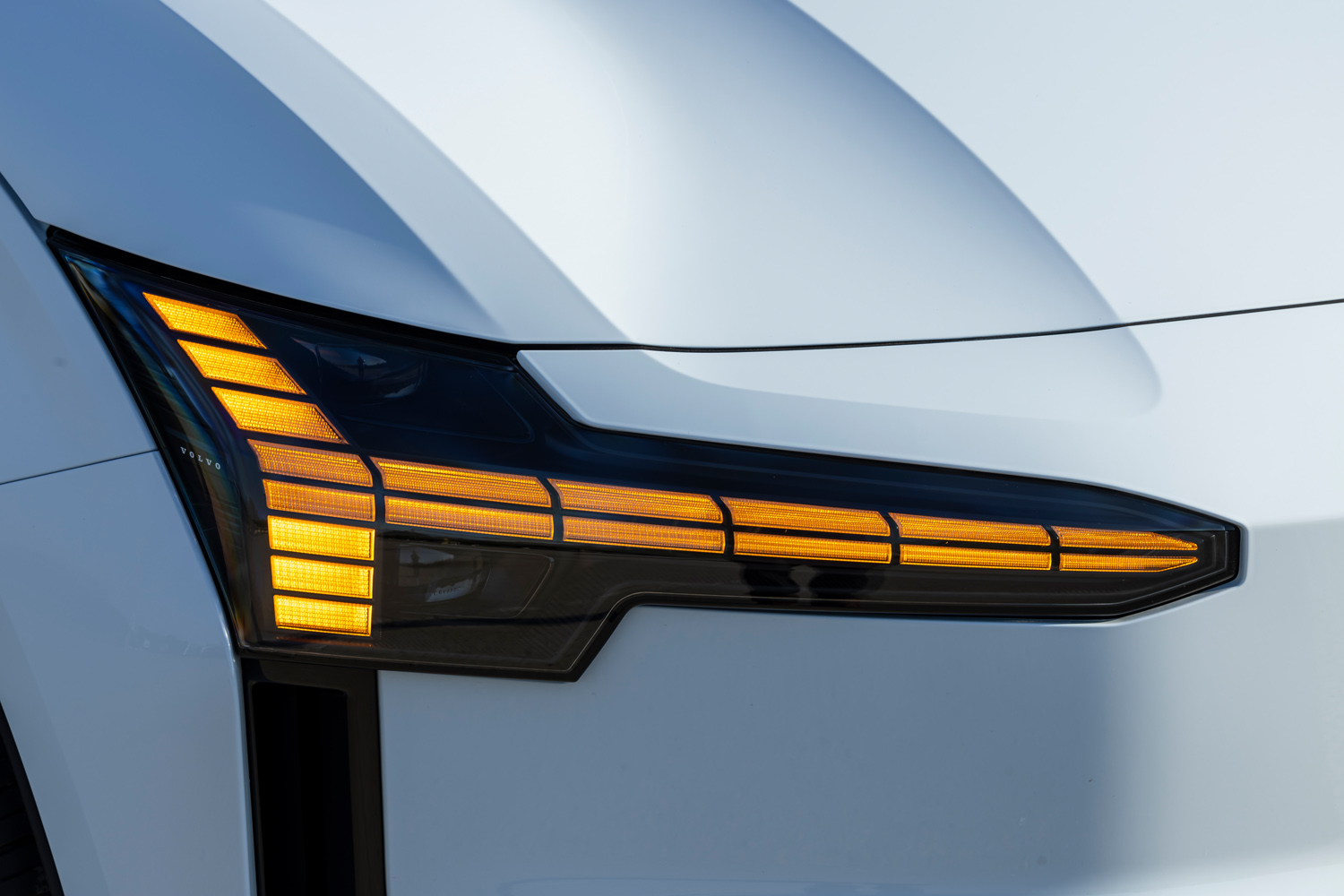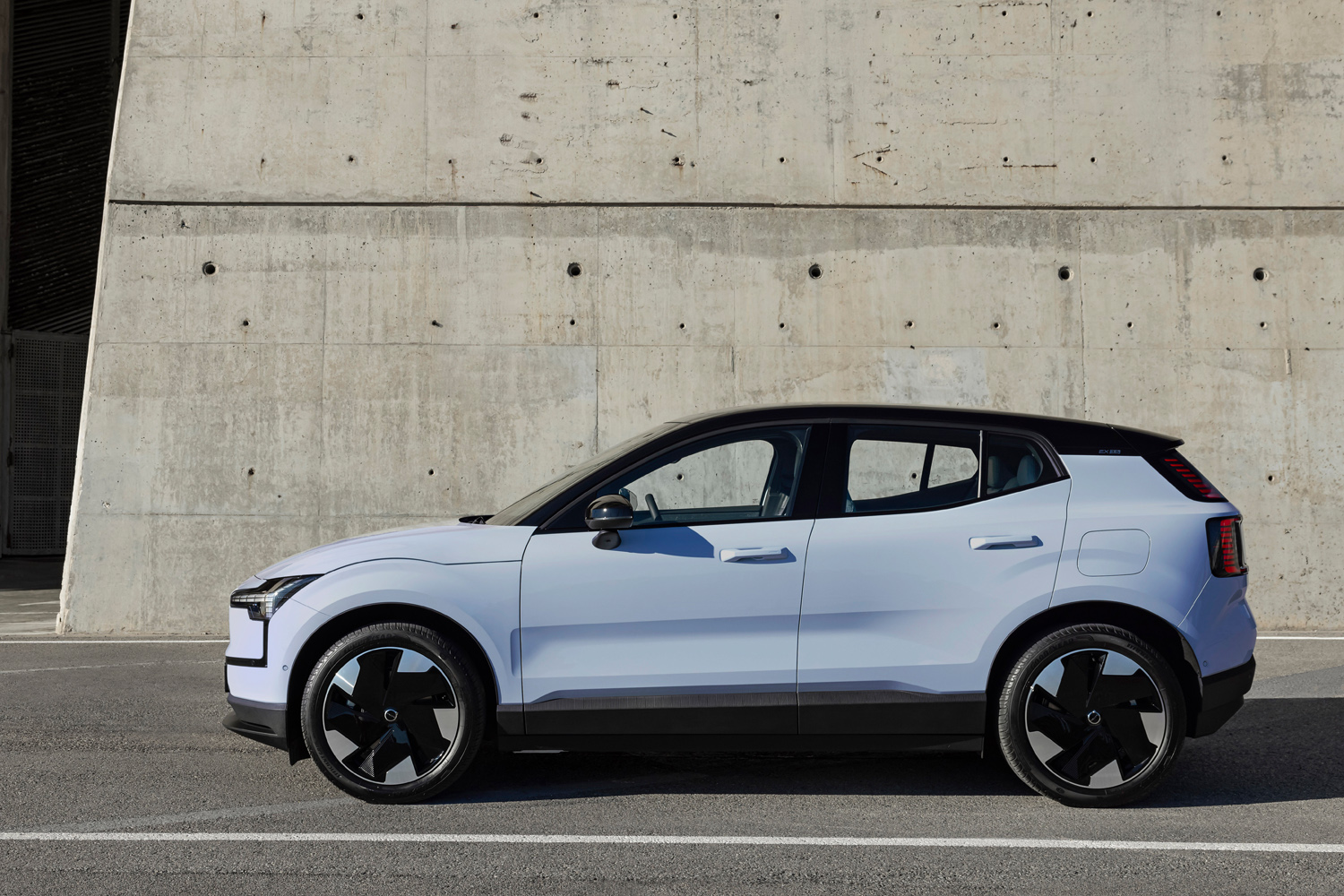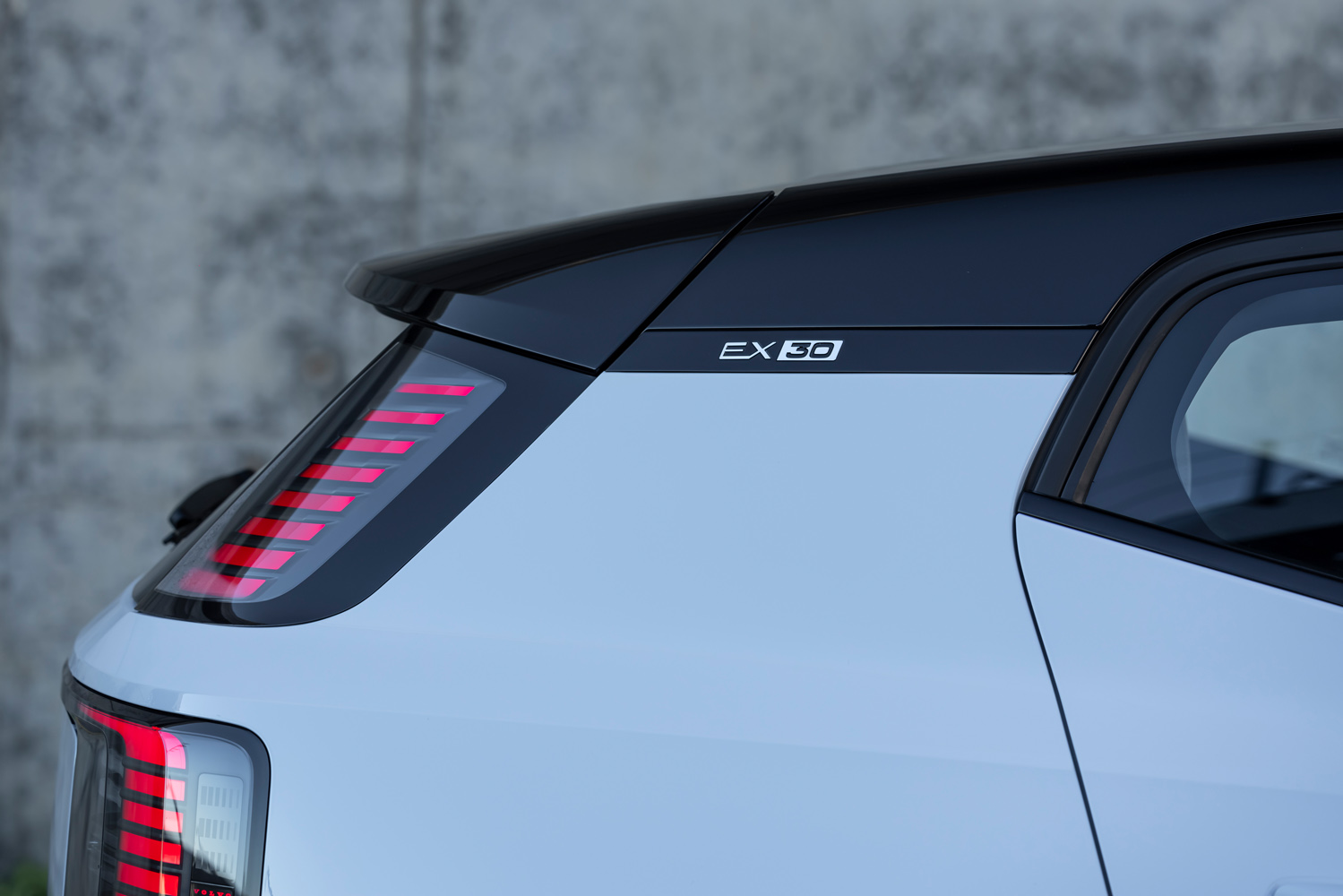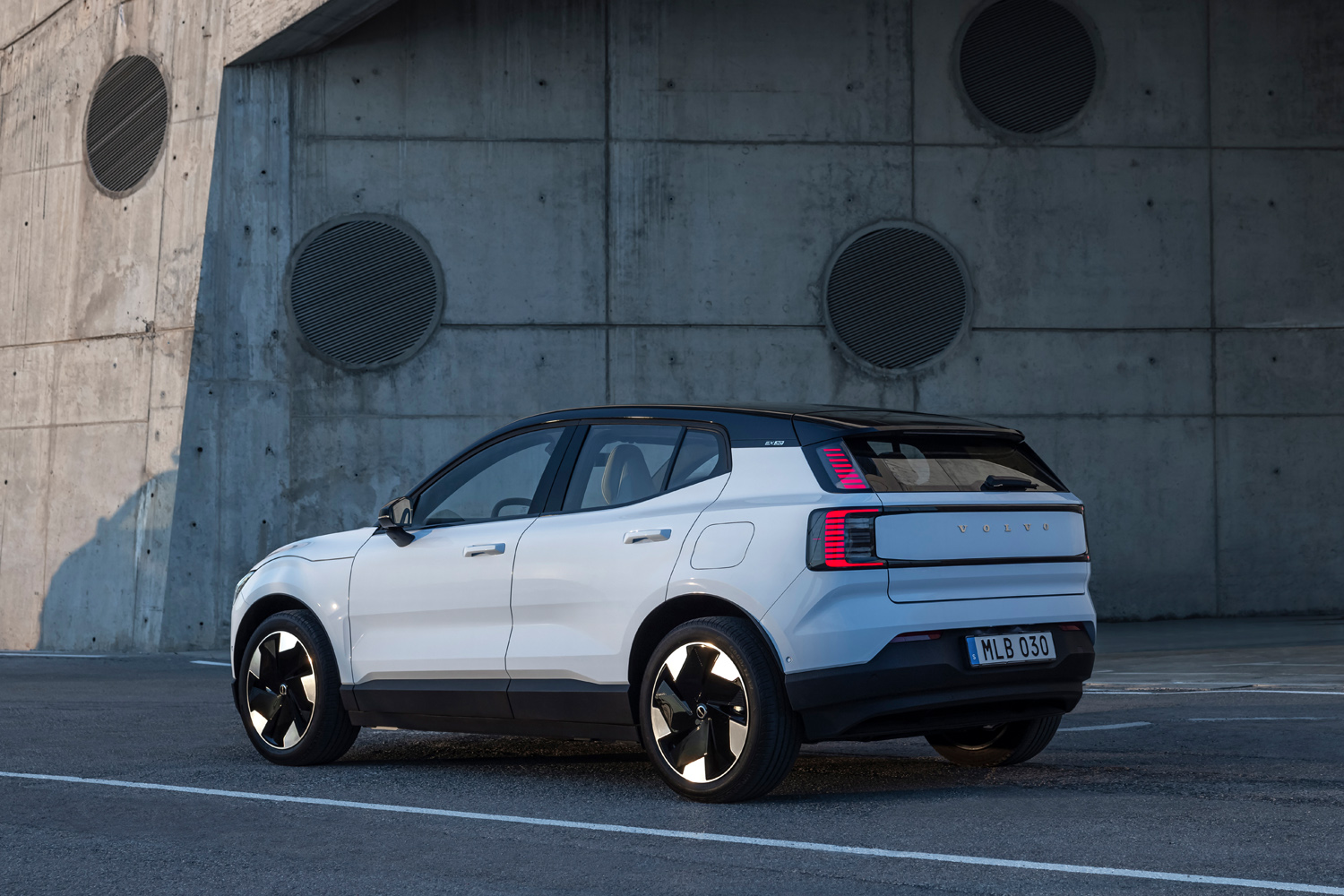 Volvo has designed the EX30 to be cute but also compact. It's certainly that, at 4.23m long, 2.03m wide (with mirrors) and 1.55m high. These diminutive dimensions sit on a 2.65m wheelbase, so the little EX30 is going to be ideally suited to anyone who needs to pick their car through cramped city streets. Or snug country lanes, for that matter.
One of the best bits about experiencing any Volvo is searching out all of the clever little design touches. The EX30 is no different, with plenty to discover. From the outside the shape is much like other new Volvo models, like the soon-to-arrive EX90 for example, but in a version that has been shrunk in the wash. The cute, boxy design works a treat from every angle and actually appears bigger than you think, until you get up close to it.
Volvo's designers have done a fine job with the exterior detailing, adding flush mounted lights front and rear, chunky door handles along the sides and a roofline that looks lower than it actually is thanks to a contrasting black finish. The pert rear end looks great too, with a tailgate that appears tricky to get stuff into. Open it, though, and you'll spot a little size guide diagram etched into the plastic enquiring 'Will it fit?' to help. There's even a rear wiper, which is frequently absent on modern EVs.
Inside, the Volvo EX30 continues with the minimalist theme. The company makes a point of just how much has been produced from recycled and renewable sources: the dashboard, for example, is moulded from ground-up plastic waste like PVC window frames and the flecked finish reflects this. It's quirky alright.
Better still, depending on the trim level, the vibe is more 'room' than interior. The choice of seat materials and plastic trim around the doors and dash are tweaked slightly for each. Seats match this theme too and the result is very pleasing to live with. The panoramic glass sunroof makes things feel additionally light and airy.
Look more closely elsewhere and there's the usual Volvo attention to detail. The metal door handles are fabulously tactile, there are plenty of neat, innovative storage options including twin cup holders in the central binnacle (which also houses switches for the electric windows) and while there's no main glovebox, pressing a button on the touchscreen opens a small central bin instead. It's all been done very nicely indeed.
The drive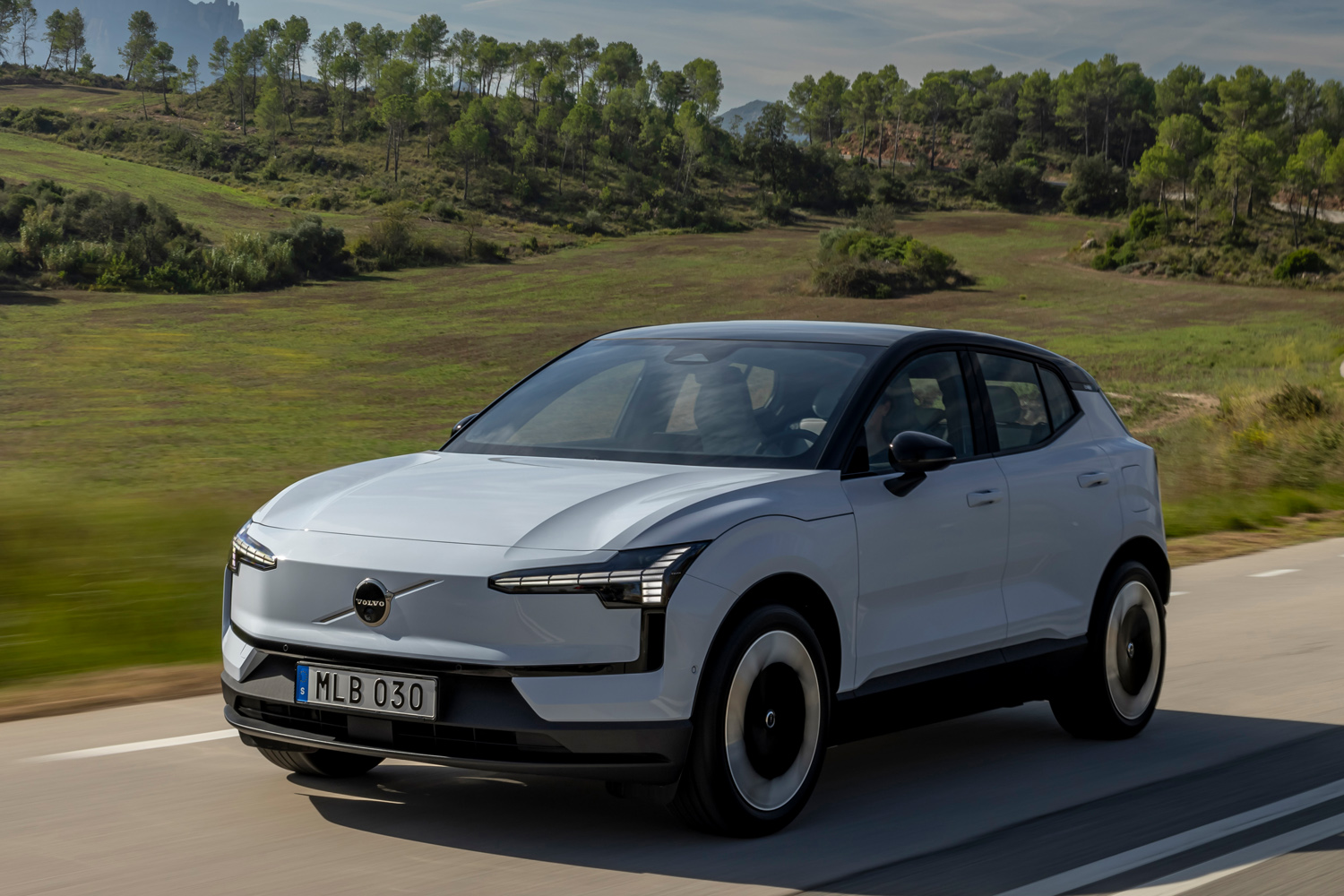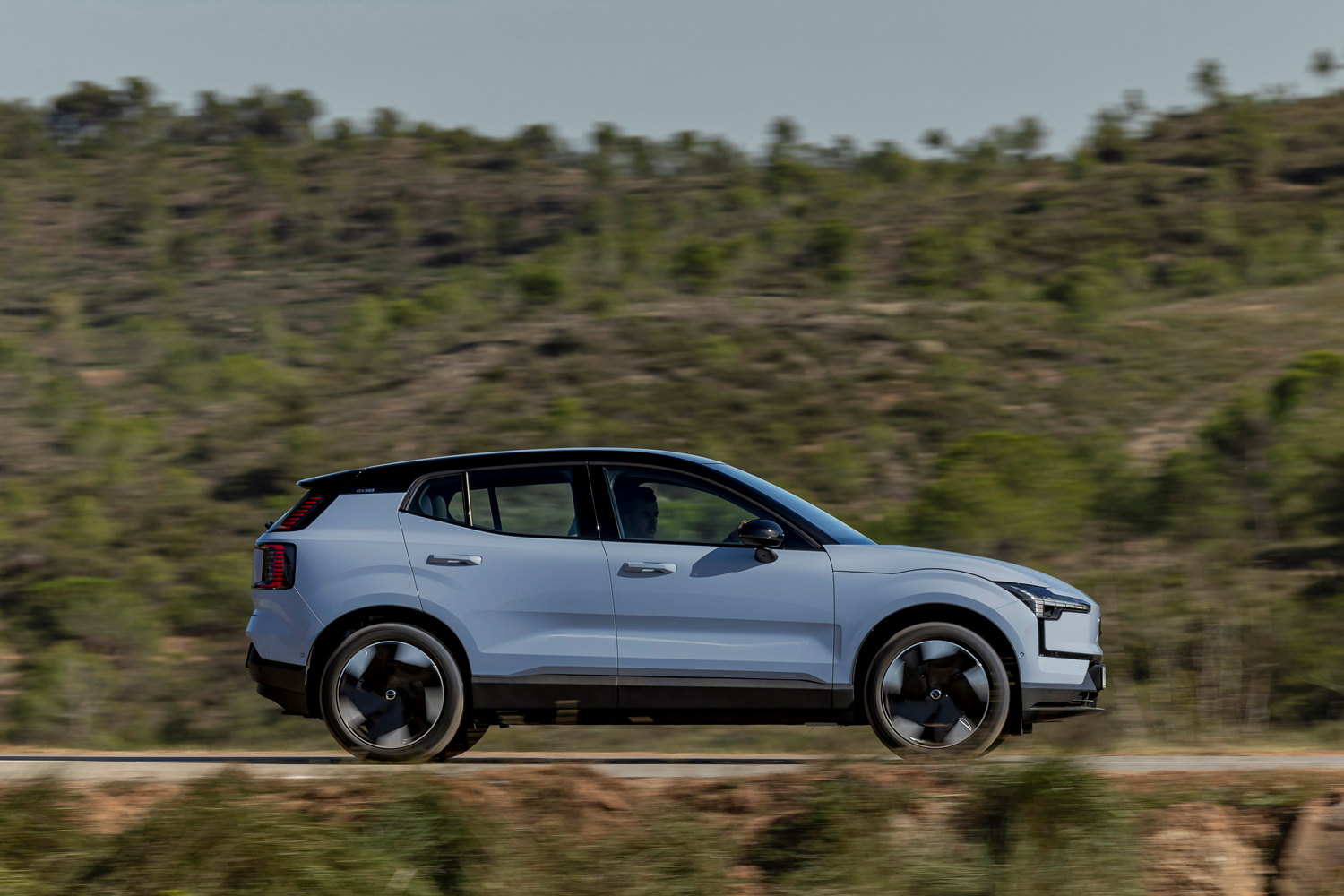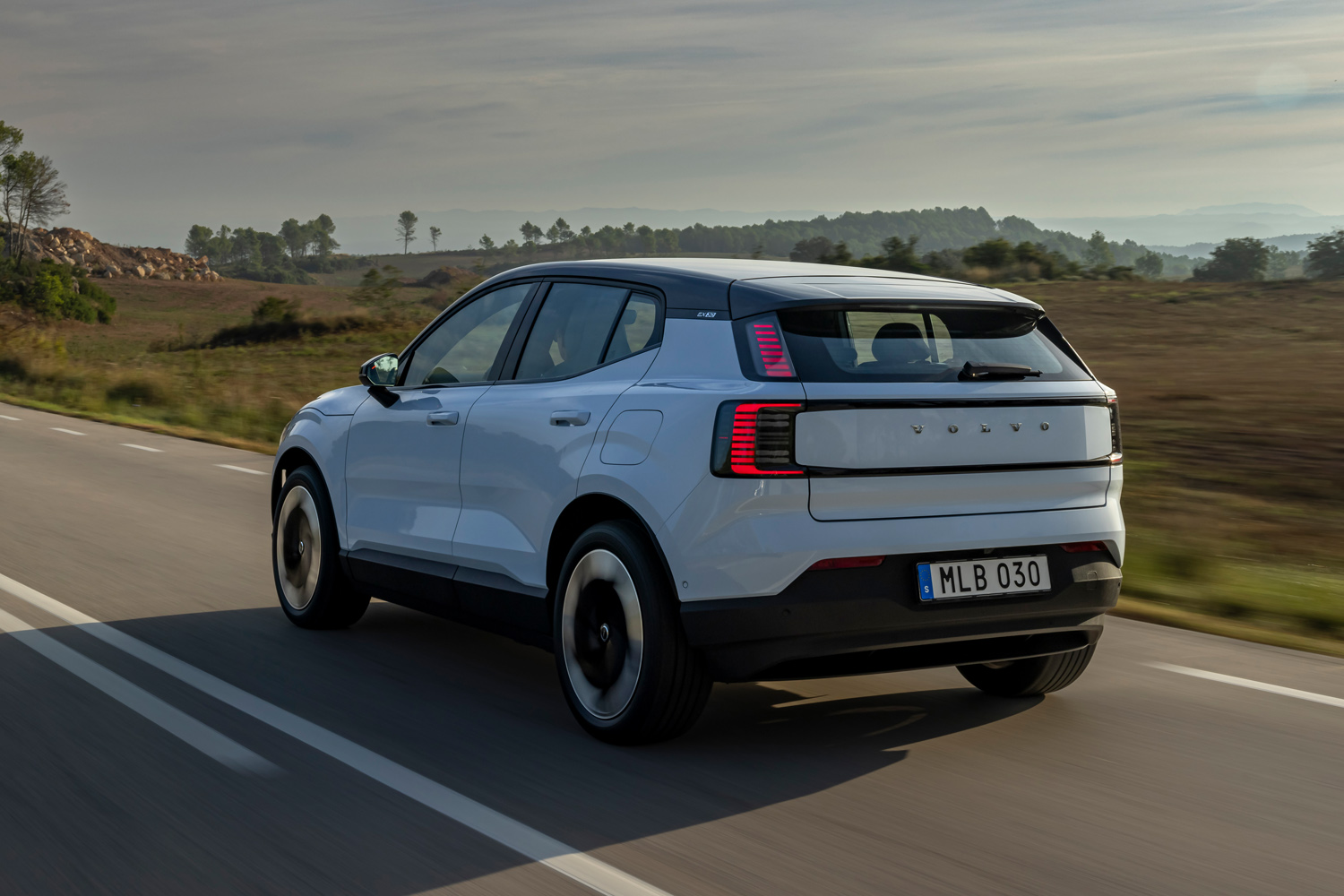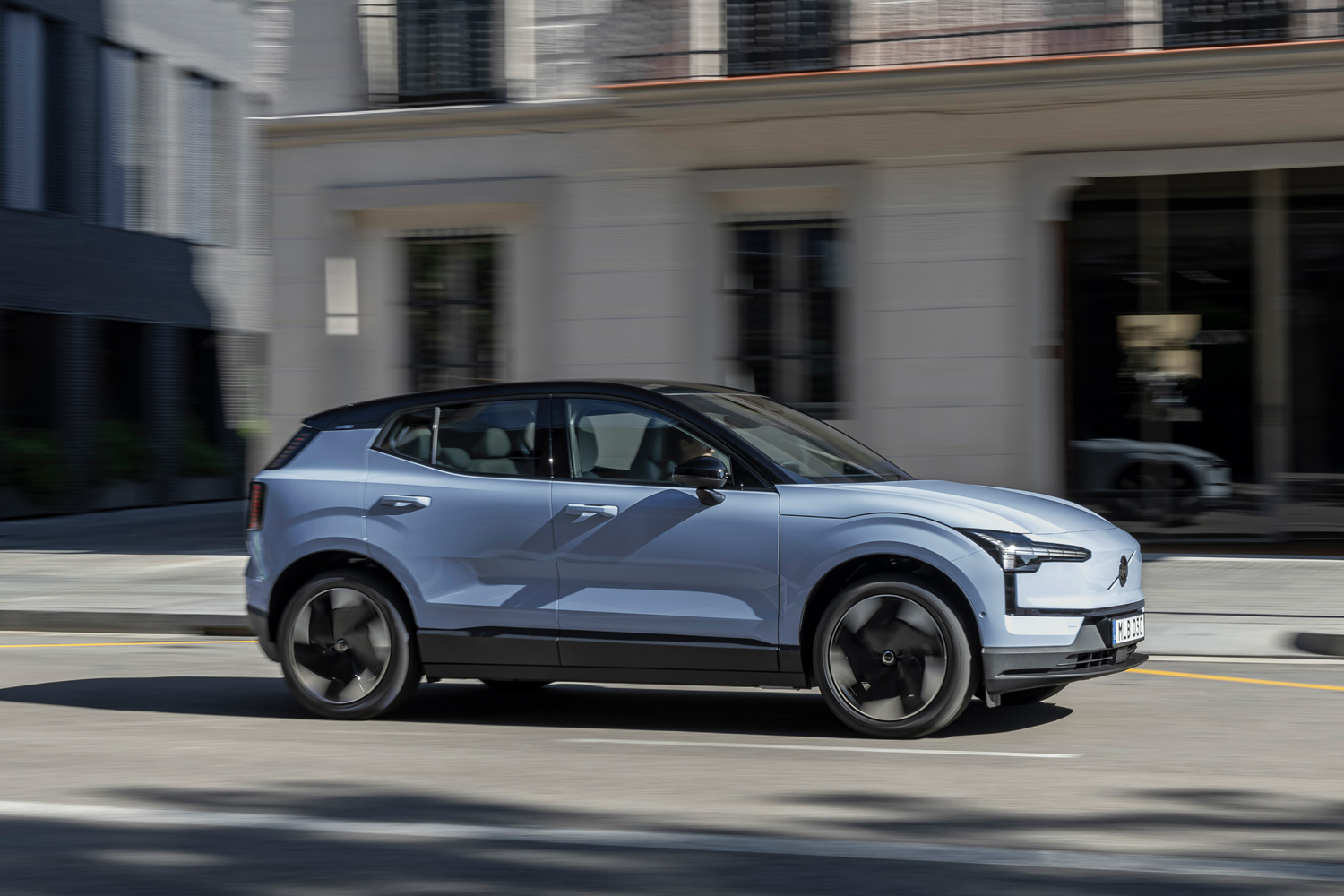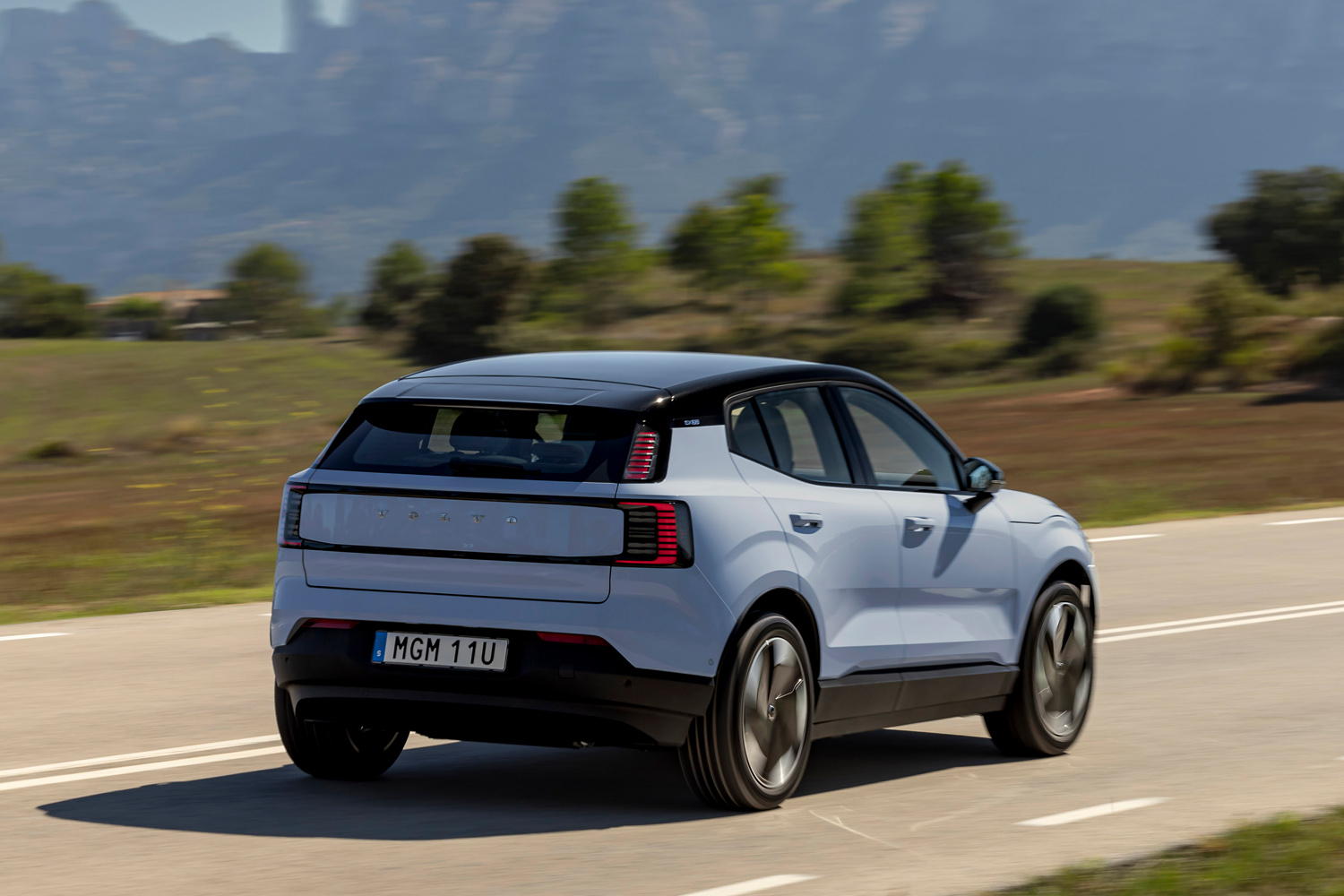 Everybody knows by now how much torque is on tap from even the most entry-level of EVs. To us, the additional oomph supplied by Single Motor Extended Range and Twin Motor Performance models seems a little irrelevant for daily driving. What's really important is the efficiency, and in that respect, the little Volvo EX30 looks to fare very well indeed. Volvo cites 3.7 miles per kWh for the single motor models and 3.6kWh for the Twin Motor Performance edition.
During our time with the car those figures look to be pretty much right on the money. If you drive it carefully you've looking at a something that'll only need occasional charging when tasked with daily school runs and shorter commutes. In that respect, it delivers exactly what people want from a smaller car aimed at city and suburban dwellers.
The Single Motor Extended Range Volvo EX30 makes the most sense if you're prone to doing longer distances and want to skip public charging wherever possible. It offers an official range of 296 miles to the 214 miles of the Single Motor and 280 miles of the Twin Motor Performance. However, every variant will be perfectly easy to rejuice overnight on a 7kW home charger, taking 11.5 hours for the larger 69kW battery and around 9.5 hours for the smaller 51kW Single Motor model.
The Volvo EX30 is excellent at navigating city streets thanks to agile handling, user-friendly dimensions and plenty of onboard tech. Once you clear those congested city streets though, the rear-driven Single Motor Extended Range offers some thrills too. The torque is certainly there as you push out into the countryside, with the EX30 more than able to take on everything from tricky overtaking manoeuvres to a tangle of twisting hilltop roads. It handles really nicely actually, although the steering might feel a little too light for some tastes, which is exacerbated slightly by the very petite, angular steering wheel.
There are a few minor nagging issues, like the incessant lane keeping warnings that legislation means we're all going to have to get used. You can dip in and switch these off, of course, but they come on again by default after a restart. The indicator stalk requires a little bit of practice to work effectively too. It feels a little vague until you've mastered its charms. Elsewhere, lots of the controls are inside that (admittedly very nice to look at) central touchscreen. Attempting a quick adjustment of door mirrors on the go, for example, is not perhaps as straightforward as we'd like it to be. All minor issues though.
The technology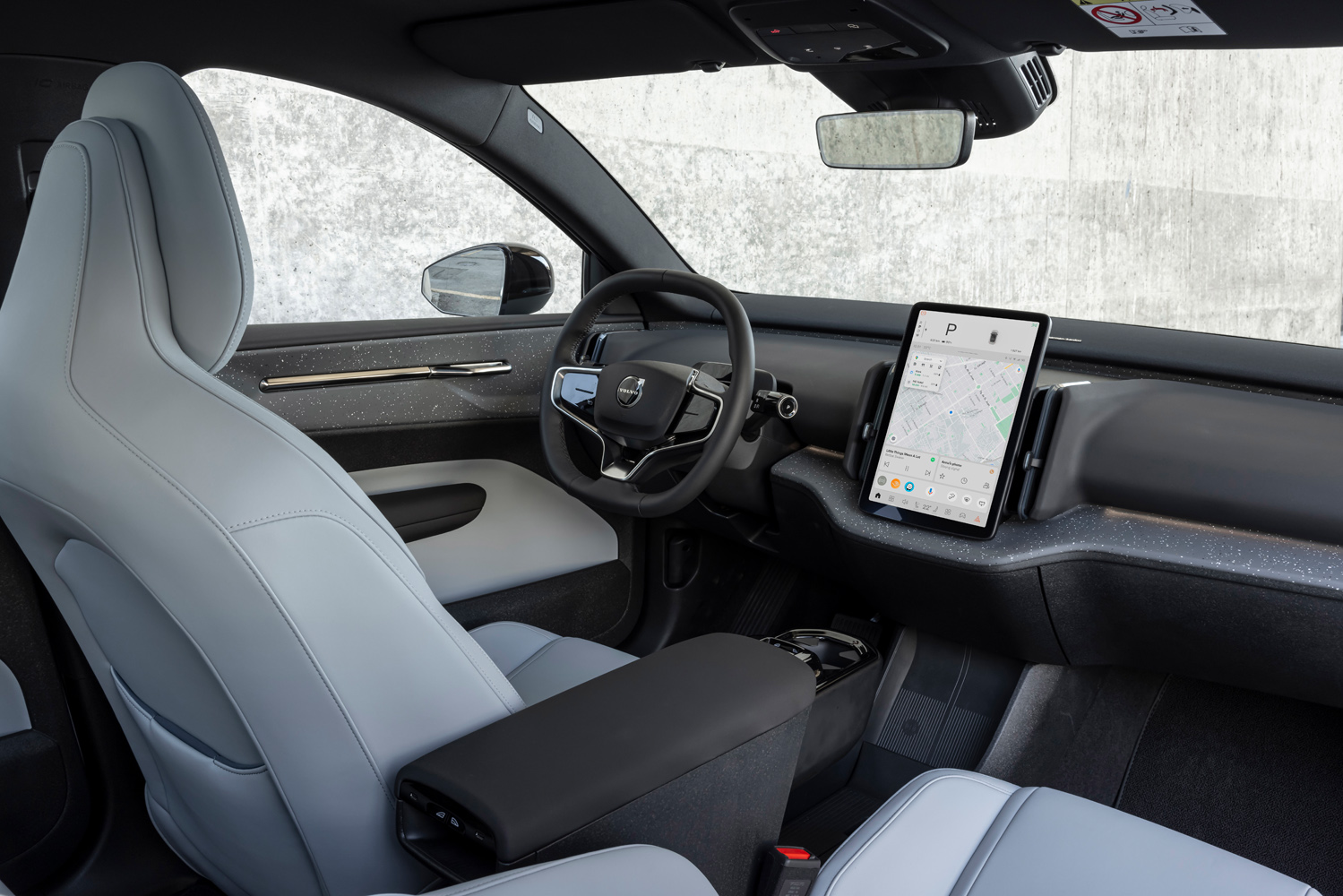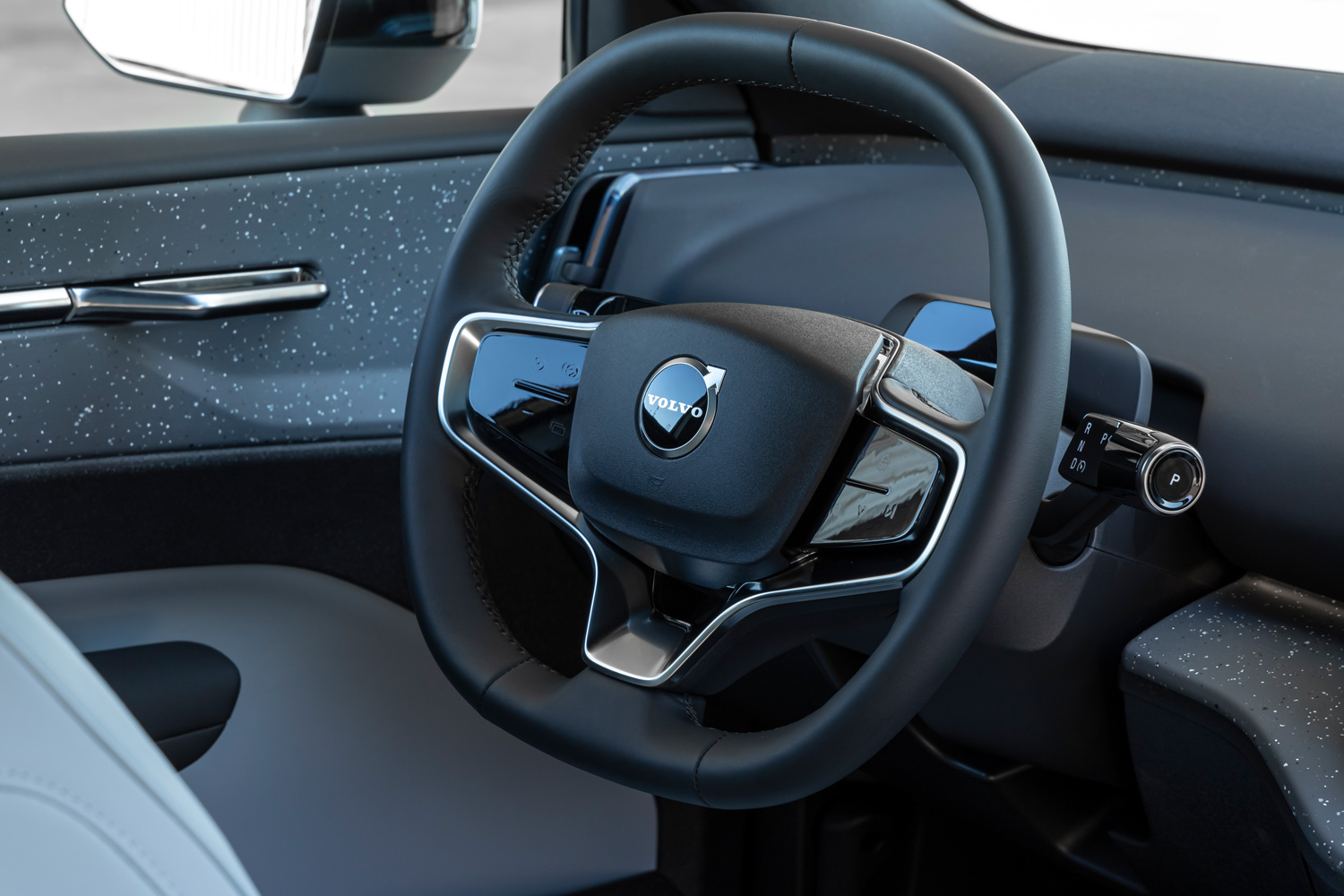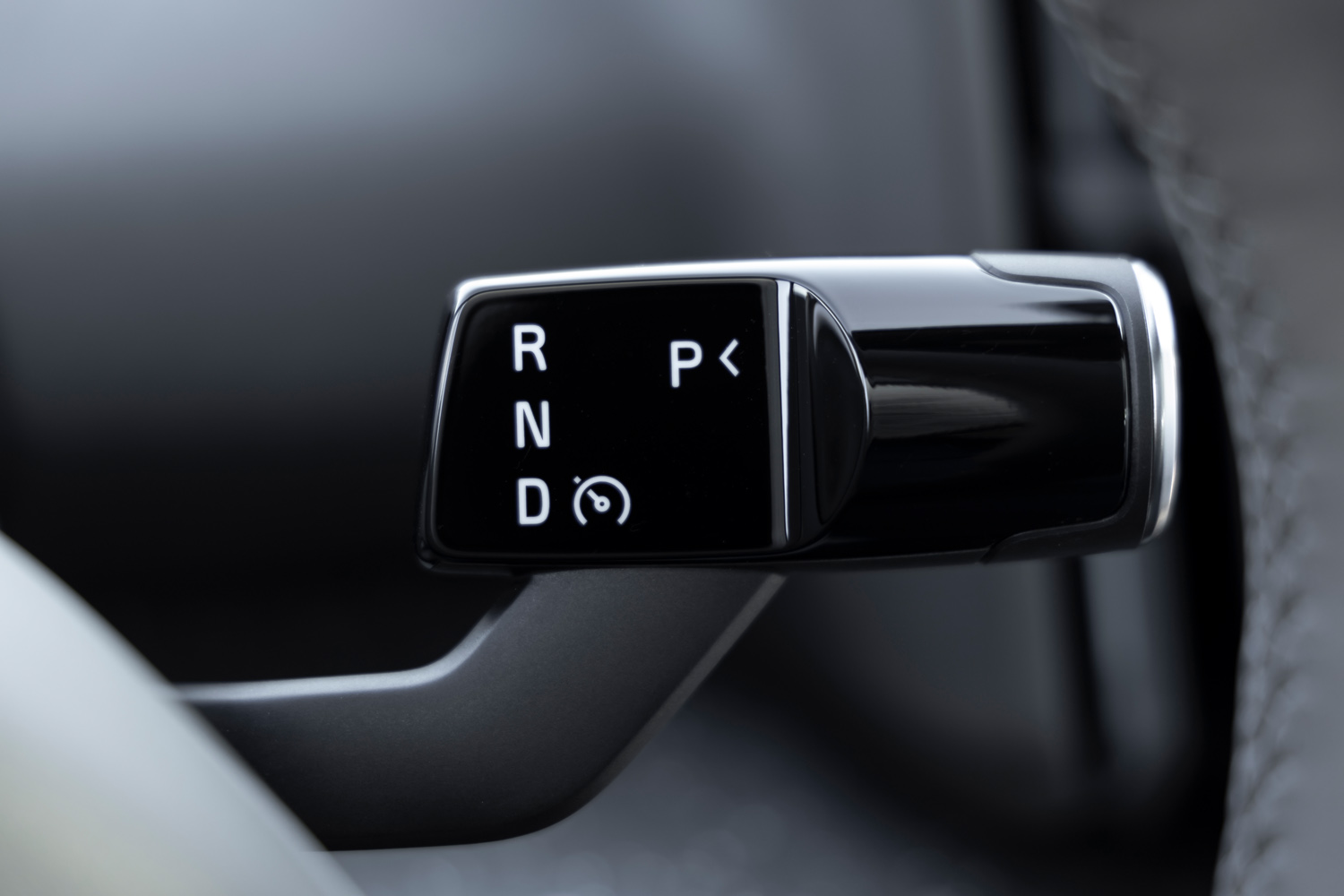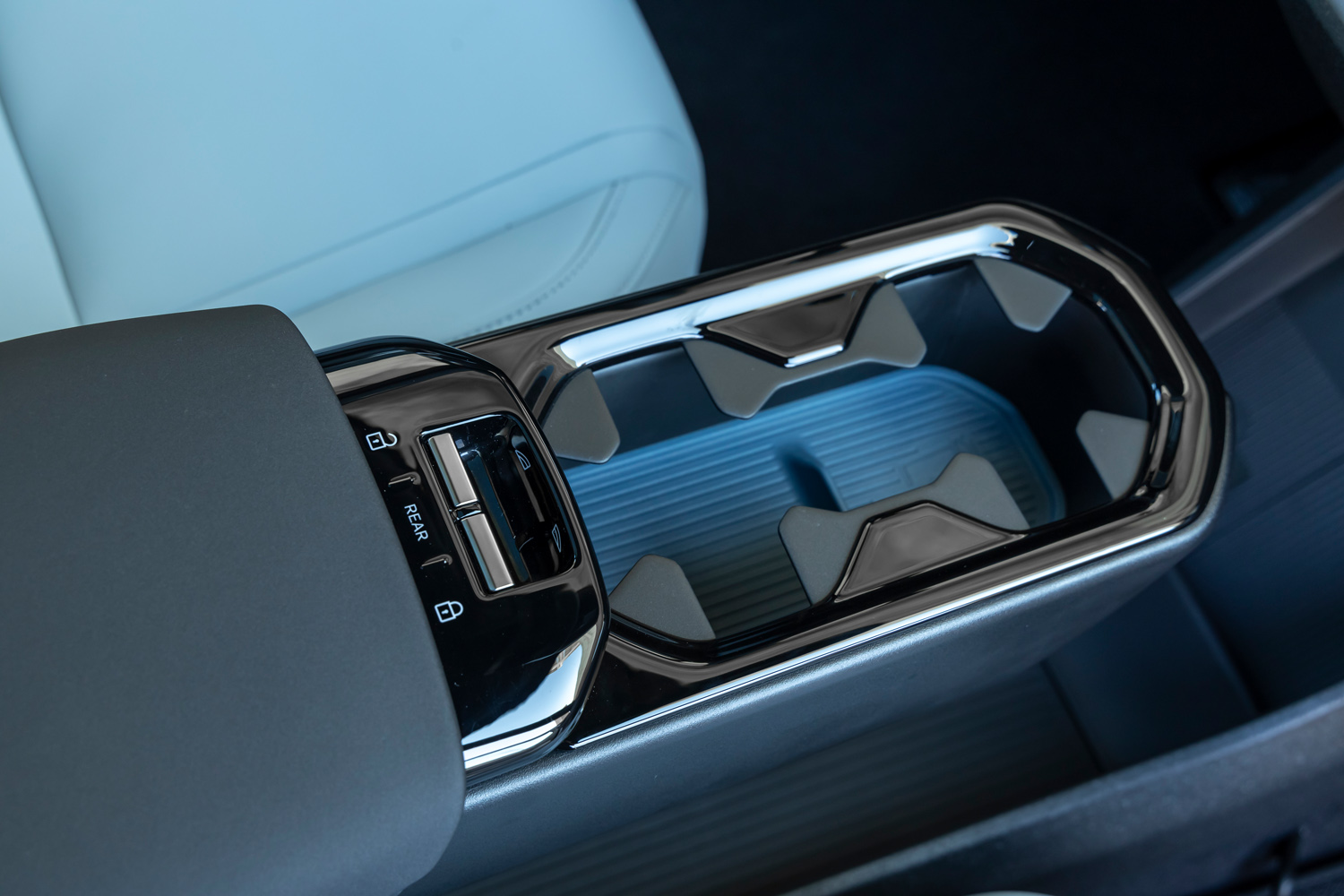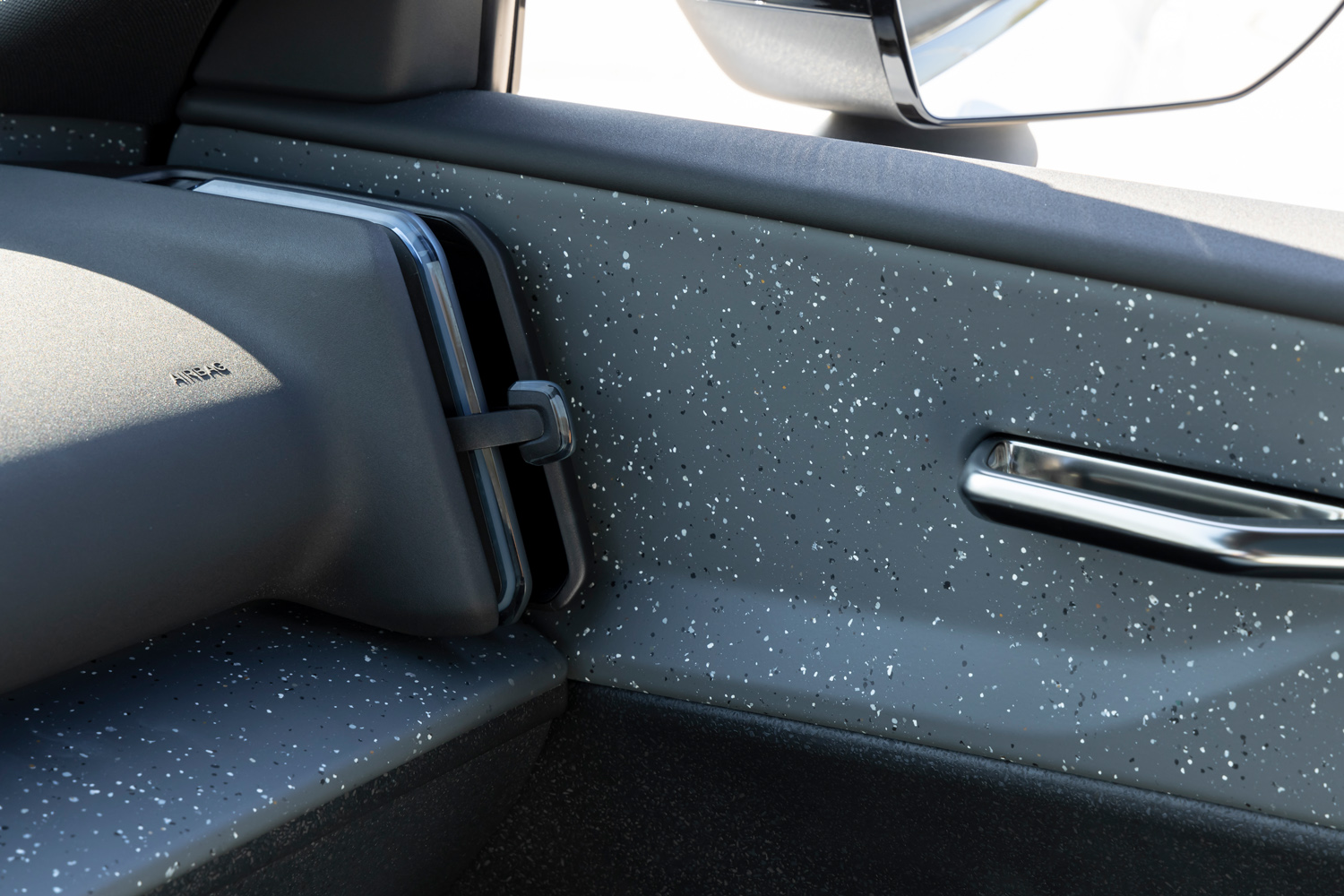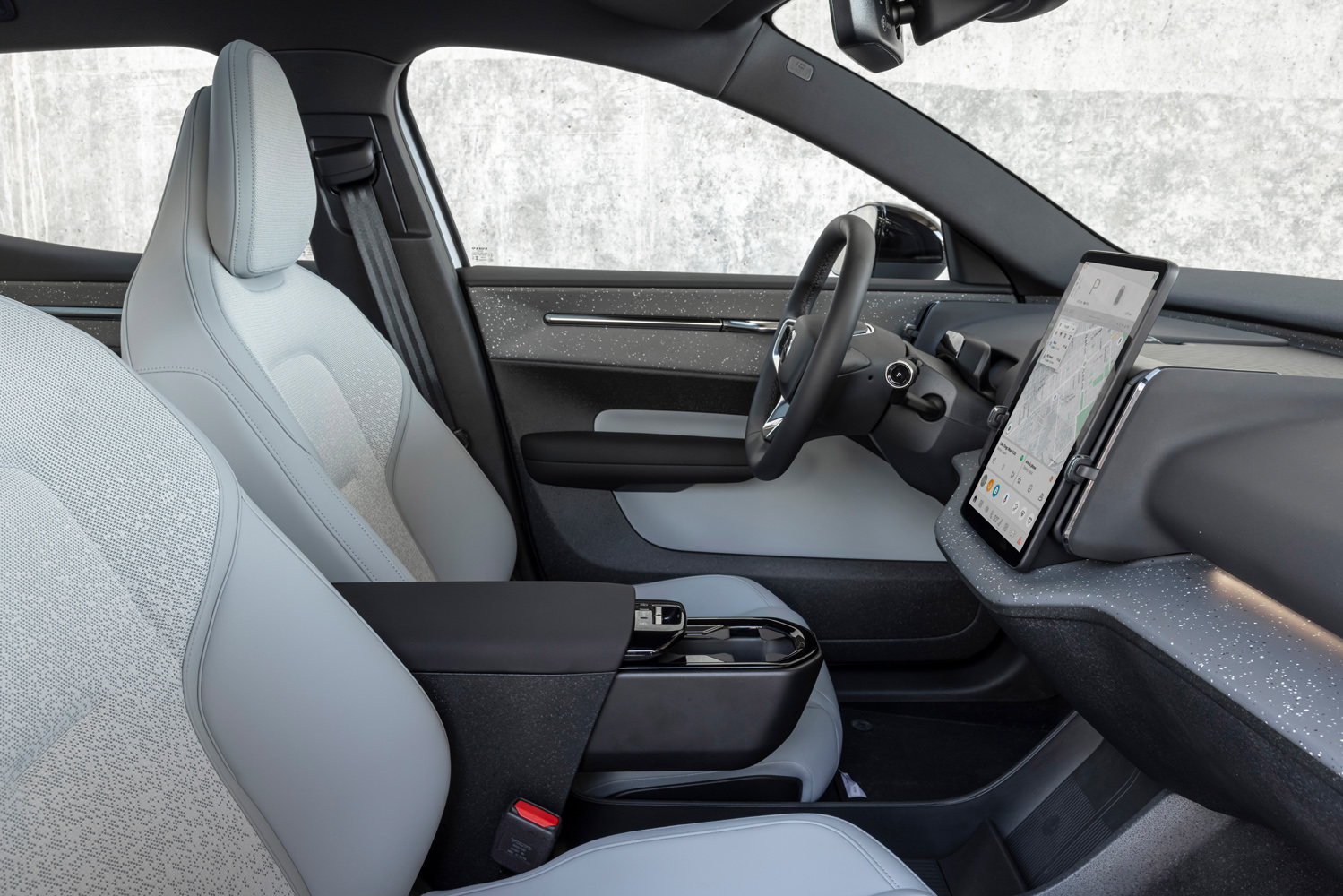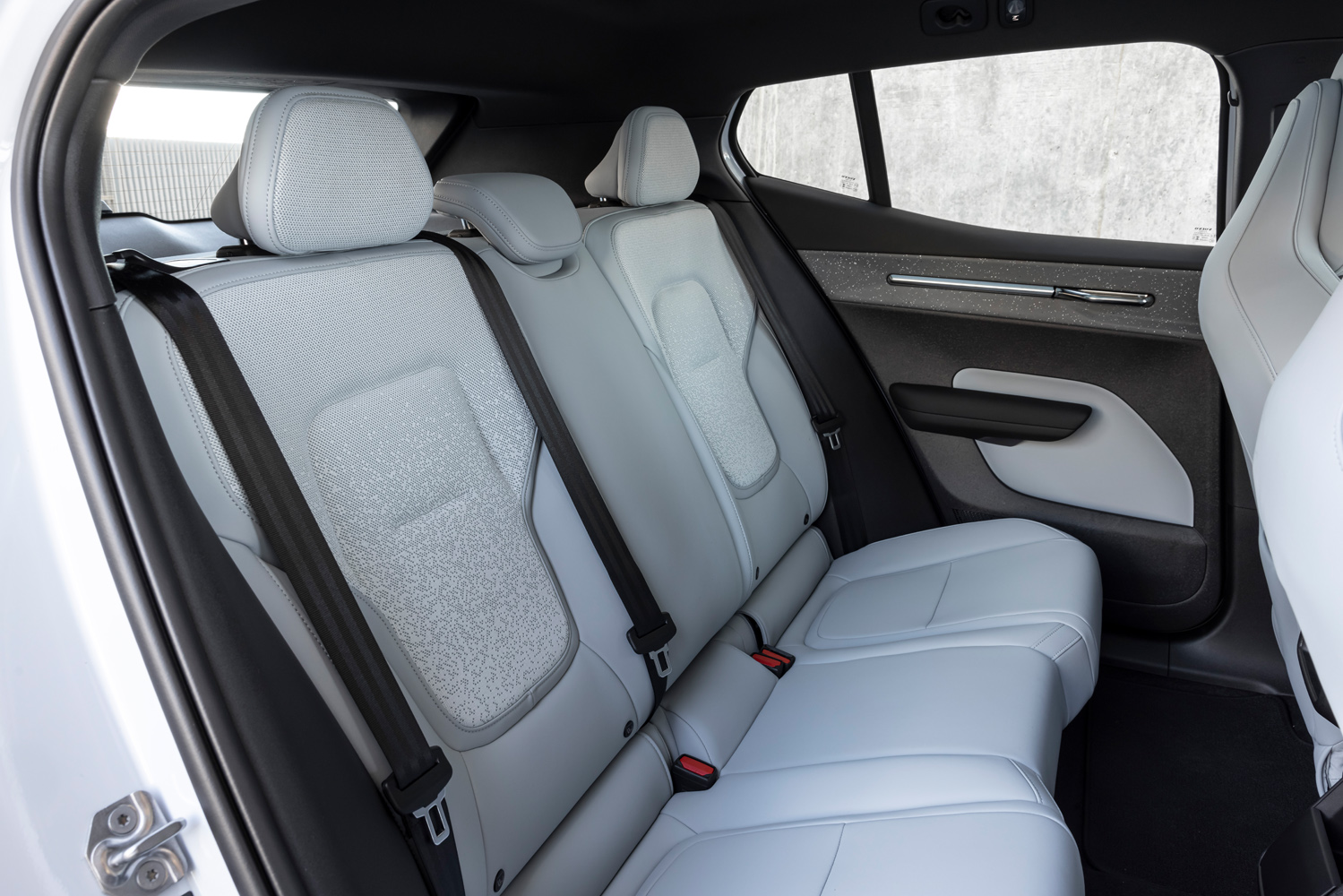 On first impression, the EX30's relatively spartan interior looks like it might be a bit on the lean side when it comes to tech treats. However, it's all in there, mainly hiding behind the 12.3in portrait-oriented touchscreen, which takes pride of place mid-dashboard. In front of that and ranging from one side of the screen to the other is a Harmon Kardon soundbar. This is the car's only audio source, but it works to great effect.
The tech filters through to the general driving too, with one-pedal drive and, more interestingly, One Pilot Assist. This allows for assisted driving, although naturally you have to keep your hands on wheel. To engage it, you simply pull down on the gear stalk that sits on the right side of the wheel. If it's engaged, a small green icon is displayed on the screen. To disengage, you press the brake pedal or repeat the process. One Pilot Assist worked as expected during our time with the car, although keener drivers will probably prefer to do without it.
Depending on the trim level, other tech toys are all present and correct, with a raft of driver aids, 360-degree camera and 3D view for good measure. The latter is mighty useful as the Volvo EX30 comes with quite thick rear pillars and fairly limited rear visibility. The compact door mirrors work well, but if you're in need of some assistance when reversing, those driver aids soon prove their worth.
Volvo EX30 verdict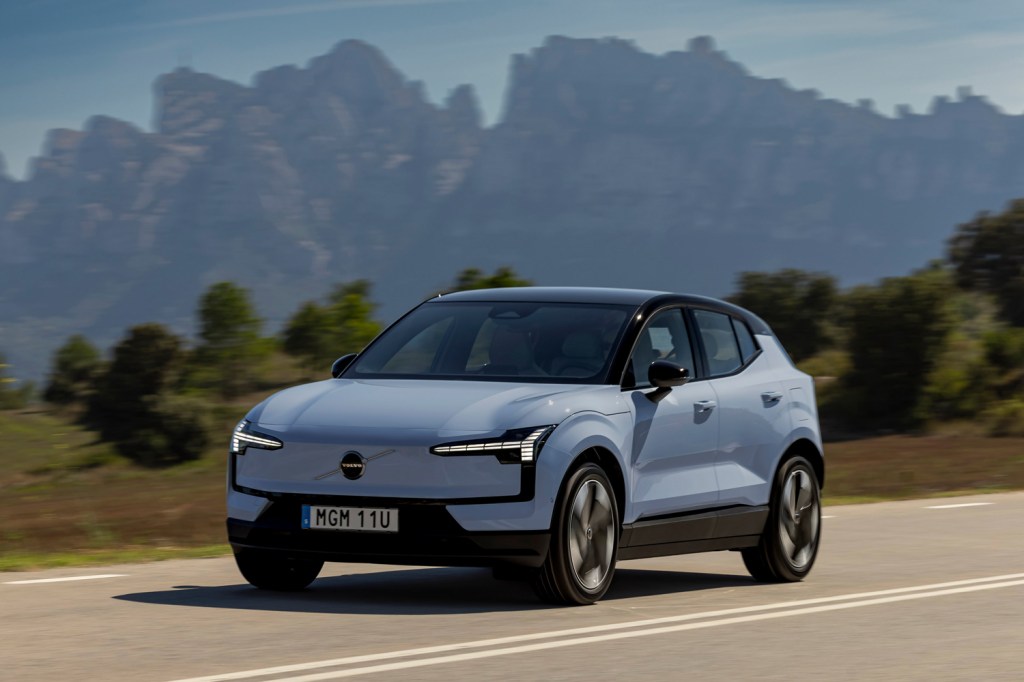 The Single Motor Extended Range Volvo EX30 is the pick of the line-up as far as we're concerned. It's got all the power you need, has a very impressive range and the power is used very efficiently. In that respect, the Volvo EX30 offers up fuss-free electric motoring that isn't going to leave you anxious or hunting for the next available charger at every opportunity.
Also appealing is the size. We need more smaller, compact EVs and less humongous SUV offerings as our roads continue to get more congested. More cities are losing their parking options as the government and local authorities attempt to get us out of our cars altogether, too. The great thing about Volvo downsizing is that this little car can still carry people and their stuff thanks to an interior that works so well because of its minimalist charms. All in all, then, we think Volvo has got this one just about spot-on.
Stuff Says…
The cute little Volvo EX30 hits the spot-on most fronts and opens up all-electric motoring along with the Swedish brand to a whole new audience.
Volvo EX30 technical specifications
| | |
| --- | --- |
| Powertrain | Single motor (permanent magnet synchronous), rear wheel drive |
| Battery | 69kWh |
| Power | 272bhp |
| Torque | 252lb ft |
| 0-60mph | 5.3sec |
| Top speed | 112mph |
| Range | 296 miles |
| Charge rate | 153kWh |
| Cargo volume | 318 litres |