Sega Mega Drive Mini review
Sega's meanest machine makes its triumphant return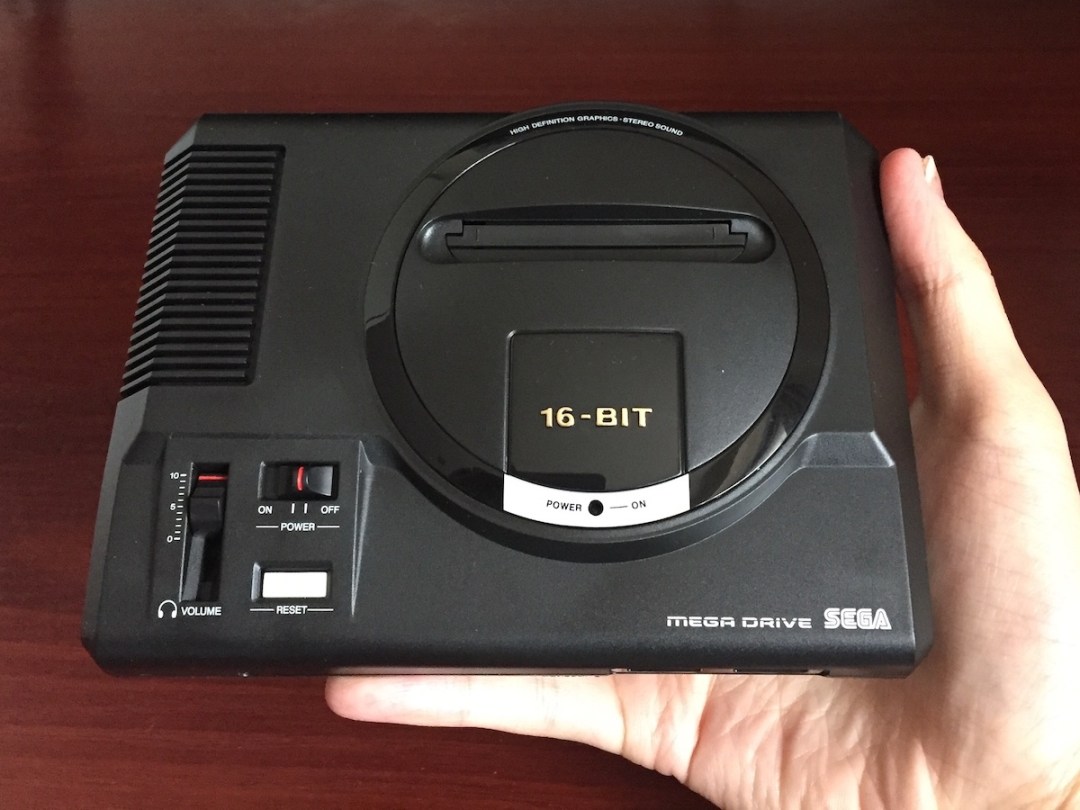 Nearly two decades since Sega officially exited the console making business, it's a delight to see the Japanese company revive its most beloved 16-bit machine.
It's actually not the first time that Sega has given its branding over to a mini Mega Drive with pre-installed games, but these were of the cheap-and-nasty variety manufactured by AtGames that also used dodgy emulation.
It may have taken longer for a version that could be on par with Nintendo and Sony's efforts, missing the Mega Drive's 30th anniversary last year. But the wait has been worth it: the Mega Drive Mini isn't just a lovingly dinky and accurate replica – it also includes a whopping 42 games, more than the SNES Mini and PlayStation Classic combined.
That's all for the bargain of 70 quid, the same price as the SNES Mini. But unlike Nintendo, you shouldn't have a problem getting your hands on a Mega Drive Mini from any retailer.
Blast Processing from the past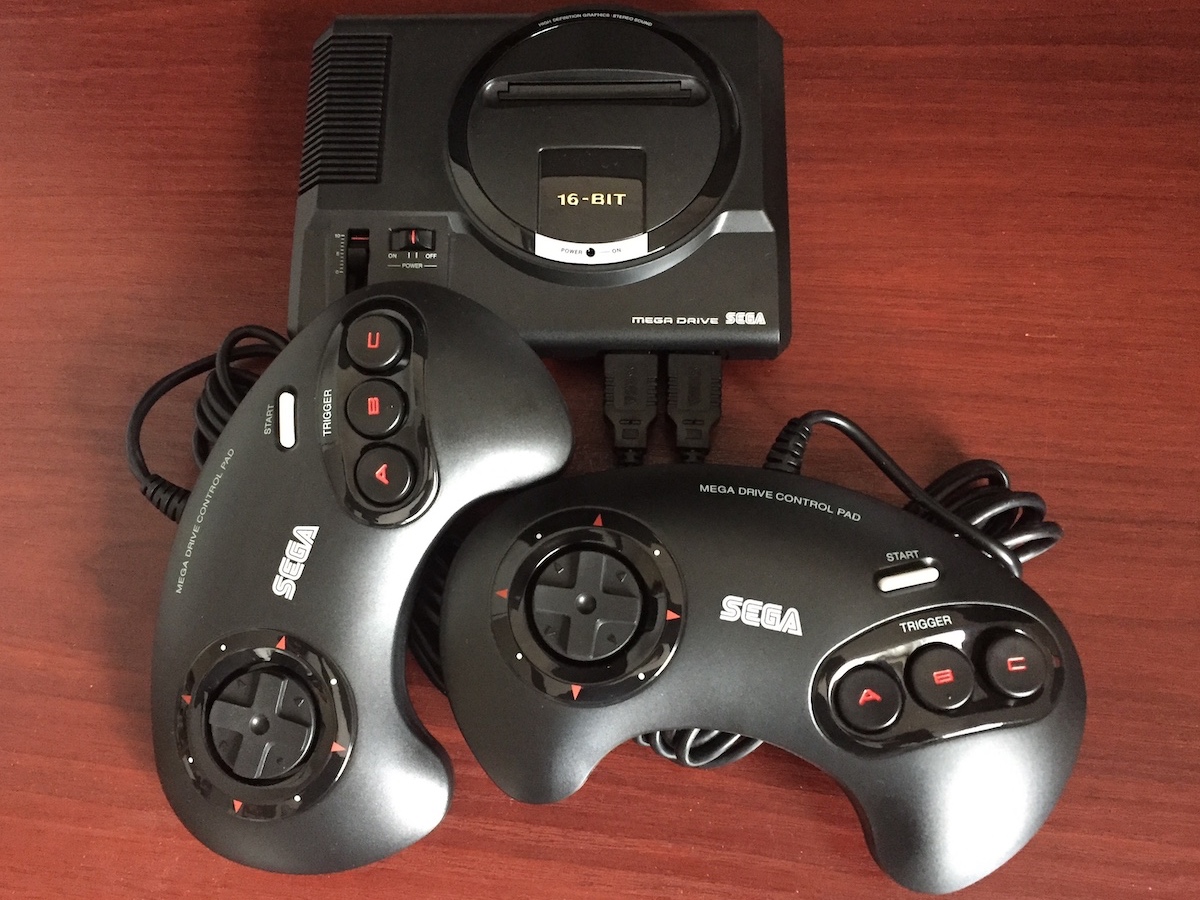 Having wisely ditched AtGames, Sega has been manufacturing the Mega Drive Mini in-house. Unsurprisingly, it's done an excellent job of faithfully reproducing the console based on its iconic Model 1 design, except at 55% of the original size so you can now hold it in your hand.
It's not just that it includes little details like the 'high definition graphics' text (hilariously before High Definition was a thing) or a mould indicating where the headphone jack would have been; it's even got flaps for the cartridge slot and a slider for the volume. Obviously, they don't do anything, but it's a great care of attention that even the SNES Mini lacked.
Just like the other mini-consoles, the Mega Drive Mini connects with HDMI and USB to micro-USB cables – but if you own the others and are feeling lazy, you can just switch those cables over and it will work just fine. Also bundled are two control pads, and the six-foot cables are a vast improvement over the other mini consoles, meaning you can comfortably play while sitting on your couch with a mate.
Fighting game fans may be disappointed to find that the controllers are the original three-button pads; interestingly, the Japanese Mega Drive Mini does come with the six-button pads.
Ultimately, it works for the nostalgic factor as most people will remember the default pads, and they also look and feel lovingly accurate, with an especially responsive eight-way directional pad. Nonetheless, you can still buy a six-button pad from officially-licensed partner RetroBit for £18 in time for launch.
A Mega collection
The Mega Drive Mini has the largest collection of games from a mini console to date. The emulation work has been handled by retro developer masters M2, also behind the SEGA AGES ports for the Switch, so you can expect 40 classic games running as well as you remember. As a bonus, they've even ported a pair of old arcade gems, classic puzzler Tetris and hardcore shoot-'em-up Darius, taking the grand total of games to 42.
While Sega has re-released its 16-bit back catalogue on other platforms before (about half of these already feature in the Mega Drive Collection released just last year for PS4, Xbox One and Switch), this collection does a fine job of demonstrating the console's decade-long history.
These include notable third party titles such as Street Fighter II, Castlevania: The New Generation, and even Disney-licensed Castle of Illusion and World of Illusion. The likes of Streets of Rage 2, Comix Zone, and of course Sega's very own cool blue mascot Sonic the Hedgehog, especially showcase the hip, mature edge the Mega Drive had over its direct competition Nintendo at the height of the '90s console wars.
Not all of these games have aged well. Alex Kidd and Altered Beast, I still maintain, were never good to begin with, while the 2D demake of Virtua Fighter 2 is just all sorts of wrong. However, Sega's arcade heritage also makes a lot of these games perfect for quick pick-up-and-play sessions, especially if you've got company as over a third of these support two-player. Still, those who want to invest in their nostalgia for longer can also enjoy RPGs like Shining Force and Phantasy Star IV. There really is something for everybody.
16-Bit goes high-def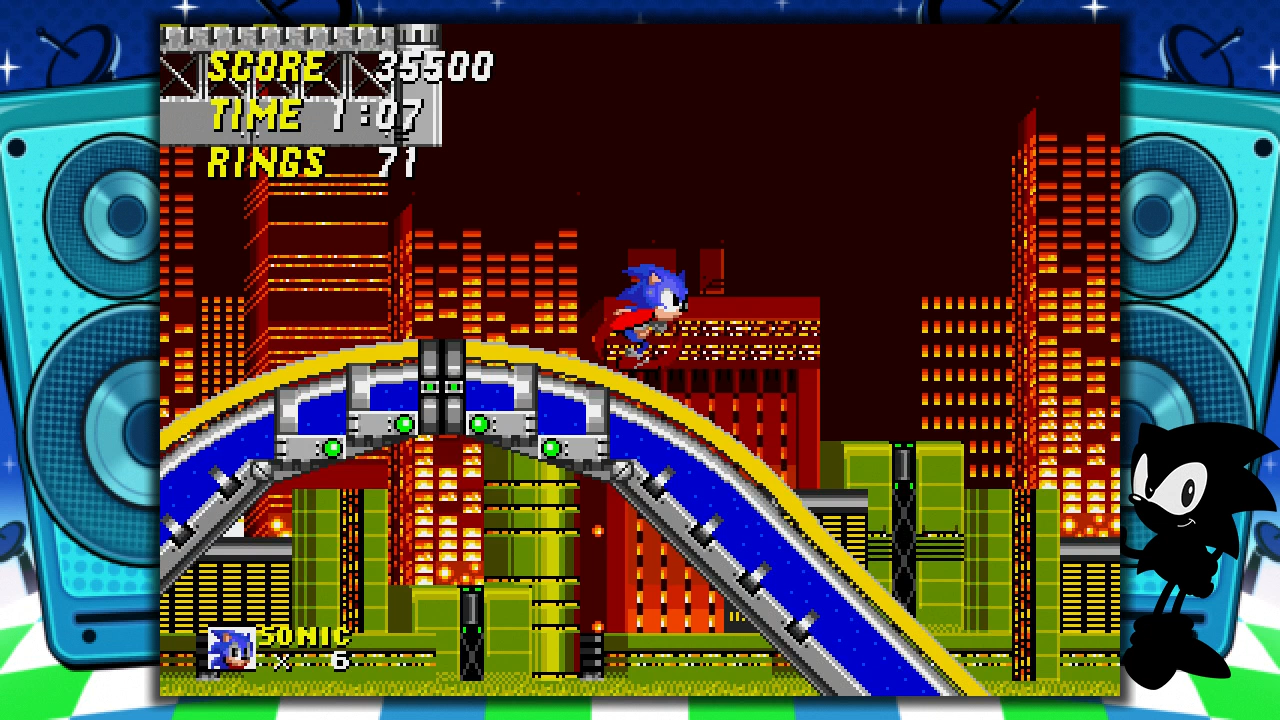 From the moment you turn it on, the Mega Drive Mini is charming with its catchy menu music composed by none other than legendary composer Yuzo Koshiro, whose soundtrack work is represented by Streets of Rage 2 and The Story of Thor.
As well as showcasing the original box art, you've also got access to a few settings. While there's no pixel-perfect display like Nintendo's mini-consoles do, you can recapture that old-school feeling with a blurry CRT filter with fake scanlines, or stretch the original 4:3 display to fit widescreen (please don't do that). Still, it would have been nice to have more than just two wallpaper designs.
The best thing, however, isn't explicitly mentioned. If you switch the language settings to Japanese, not only does the menu box art transform into the Japanese designs, but you can even play the Japanese version of the game. While Dr Robotnik's Mean Bean Machine is a Western re-skinning of Puyo Puyo, the Japanese Contra: Hard Corps actually plays radically different to its PAL variant, Probotector. It just goes to show how developer M2 takes its work above and beyond.
As for modern audiences who might have a problem with the old-school, hardcore difficulty, you're also able to create up to four save states to help you out. However, unlike the SNES Mini, there's no rewind function. What is convenient is that you can access the save menu just by holding down the start button on your controller, so there's no need to keep the console's reset button at arm's reach. It does take a few seconds to work though, so be warned if you're trying to save-scum your way through Ghouls 'n Ghosts.
Sega Mega Drive Mini verdict
As a comeback to the console business for Sega, the Mega Drive Mini is a perfect little black box packed with an arcade-quality roster of games. While there'll be playground or online feuds over whether Nintendo or Sega's games are better, in terms of the faithful recreation of both hardware and software, the Mega Drive Mini certainly wins the mini retro console war.
Those of us in the UK do have to wait a few weeks longer than the US to get our hands on it, but as that old saying goes, to be this good takes ages – or to use another marketing slogan, good things come to those who wait. Either way, the Mega Drive Mini is the must-buy console this holiday.
Stuff Says…
Sega's back with the ultimate mini console.
Good Stuff
Faithfully accurate design
Huge roster of quality games
Control leads are decent length
Bad Stuff
Doesn't include six-button pad