Samsung Gear Sport review
Is this smaller, sleeker Gear a serious smartwatch contender?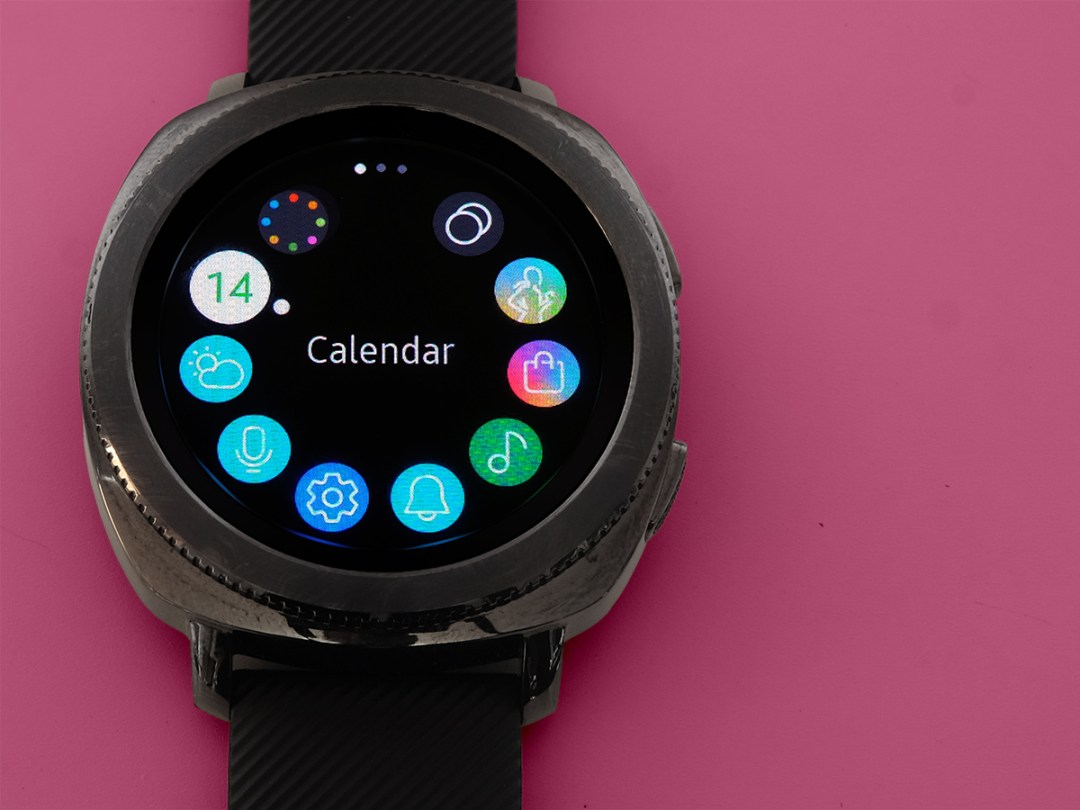 Choosing a smartwatch is pretty easy for iPhone owners – you'd be crazy not to get an Apple Watch. But the decision's a little trickier for those on Team Android.
While there's more choice, none have been quite good enough to be classed as a default option. Still, the Samsung Gear S3 came the closest to being that, and now it has a sportier brother in the form of the water-resistant Gear Sport.
It may not have as many apps as an Apple Watch (not even close) and isn't as good for runners as as a Garmin Forerunner 935. But the middle ground in which it sits is leafy enough.
Design: you're the bezel thing
Not much has changed since the Gear S3, which appeared in late 2016. But then we said much the same about the Apple Watch Series 3 when it launched.
This year, Samsung has trimmed down the design a bit, making the Gear Sport less of a wrist-hogger and a little more comfortable. It's no Nokia Steel HR, but is far less imposing than something like the Garmin Fenix 5.
Samsung has opted for a laid-back look that doesn't scream "sport" either. The Gear Sport looks much more like your average smartwatch than one for runners. Its stainless steel face is smart, not out to challenge your eyeballs like a London Fashion Week dress with a long train hanging out the back.
Once again, the bit you need to notice is the bezel. It's one of the best reasons to buy a Gear Sport over an Android Wear alternative. The bezel clicks around, and is the main control you use to flick between homescreens.
Putting on our Jonny Ive designer's hat for a moment, there's a happy marriage of form and function going on here. It helps to avoid some of the confusion that comes with many rivals, and I'd go as far as to say it's the best smartwatch interface I've used.
For the most part, you only need to use the touchscreen to select something. And when your touchscreen is a 1.2in diameter circle, that's a good thing.
Display and battery life: among Android Wear's best
The Samsung Gear Sport display is 0.1in smaller than that of the Gear S3, but I wouldn't have known without having the two next to each other.
What hits you first is the great colour and contrast of the OLED panel. It's sharp too: 360×360 pixels is a lot for something this small. You get display quality similar to that of an Apple Watch Series 3. And max brightness is easily high enough to compete with brighter days.
When you first take the Samsung Gear Sport out of the box, the display is set to time-out after a short period. And it really does go: no always-on clock face at all. This is how Samsung has got to its claim of four-day use between charges, making it sound like it destroys Apple and Wear watches for stamina.
But this isn't how the Gear Sport is at its best. With the display set to display a clock all the time during the day, and notifications causing the display to wake, real-world battery stamina is much more like two days. This includes a few minutes of playing some watch games and half an hour or so of GPS tracking.
It still beats any Android Wear watch and the Apple Watch, but you can only get near to Samsung's longevity claims if you make the Sport a much less active participant in your day. And, well, we're paying £300 for the thing so we might as well use it.
The Gear S3 also seems to last a little longer, as the 80mAh loss of battery capacity doesn't seem to be covered by the 0.1in smaller screen. Battery charging is also relatively slow. The neat wireless charge dock seems to take over two hours to do the job.
Features: covers the app basics
So what can the Gear Sport do? More-or-less everything the Gear S3 can, in smartwatch terms at least.
There's no 3G option and no MST, which is part of Samsung Pay, but you can still use the watch for card-free payments using NFC. Let's leave the acronyms behind, though.
The Gear Sport has a proper apps menu, and many apps come with "widgets", which are like mini applets you scroll through when turning the bezel "right" from the clock screen. There aren't shedloads of apps for the Gear Sport. And notable picks you can get for Wear and Apple Watch but not this "Tizen" watch include things like Strava and Citymapper.
Still, there's more than you'll find in for a Garmin watch or the Fitbit Ionic. There's a handful of little games, and several important apps are here. Spotify lets you pick playlists from your wrist (including offline ones, if you've synced them), Endomondo and Map My Run offer some alternatives to Samsung's own fitness software, and at some point we expect the Nest controller app to appear too.
Other Samsung watches already have it. This isn't an app playground, but there's enough to make the Gear Sport a real smartwatch. It has a digital assistant too, although S Voice isn't close to Google's in terms of what it can do.
Fitness: now comes with water wings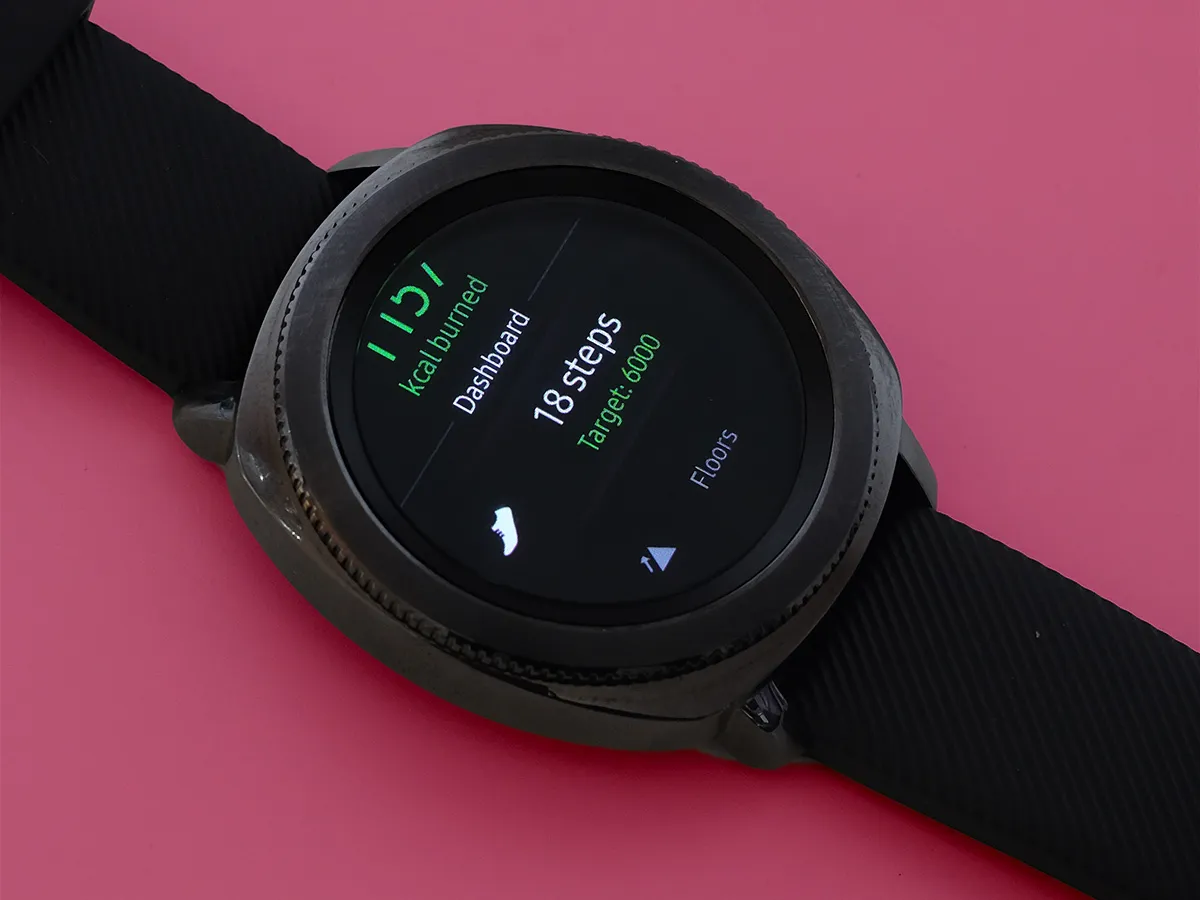 Despite the name, the Gear Sport is really as much a sport watch and as much a smartwatch as the Gear S3. With one important upgrade.
The Gear Sport is water resistant at 5ATM, meaning it can handle being worn in the swimming pool. There's a swimming mode baked into the software, and when it's used the touchscreen is disabled to stop the water from sending it haywire.
While this is nice, it doesn't actually use any of the extra tech that makes the Gear Sport a pretty formidable sport tracker. It has accurate, fast-locking GPS, a heart-rate scanner and a barometric altimeter, letting it reliably track run routes, elevation and your exertion level.
Scanning heart-rate during interval training, the Gear Sport noticed all the right dips in exertion, but struggles a little with high-intensity accuracy compared to a chest strap.
This fits with the watch's personality as a watch for sport, though. Samsung S Health is a lifestyle platform more than one designed for athletes. You can take part in step-based leaderboard, but it's not as useful for tracking your own long-term performance as Garmin Connect. It is just not as stat-obsessed.
In place of knee-deep stats, the Samsung Gear Sport will auto-track your exercises so you don't have to set your watch to track every time you go out for a walk. And unless you're a running obsessive, maybe that's more useful.
Samsung Gear Sport verdict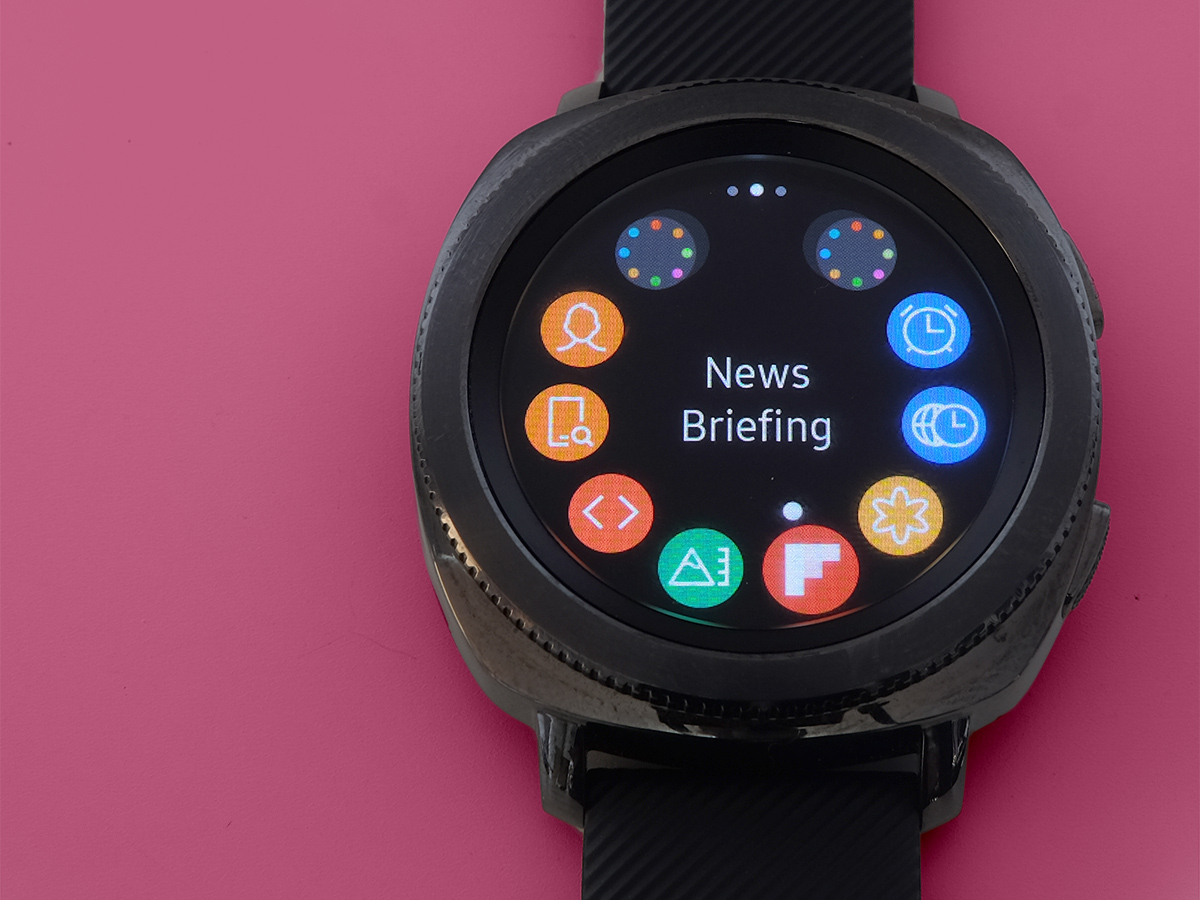 In the smartwatch world, the Gear Sport is more of a reliable squad player rather than a star striker.
It doesn't have the apps of Android Wear, the fitness depth of the Garmin Forerunner series or the battery life of a Fitbit Ionic.
On the other hand, its interface is one of the best you'll find on any smartwatch and being an all-rounder never did the Apple Watch any harm. As long as you're okay with getting a selection box of fitness and smartwatch elements, then it might well be wrist-puter for you.
Still, if you're not likely to go swimming, then we'd still recommend plumping for the Gear S3 Classic, which you can pick up for the same price.
Tech specs
| | |
| --- | --- |
| SCREEN | 1.2in, 360×360 circular AMOLED |
| CPU | 1GHz dual-core |
| MEMORY | 768MB RAM |
| STORAGE | 4GB on-board |
| CONNECTIVITY | Bluetooth 4.2, 802.11n Wi-FI, NFC, GPS/GLONASS/Beidou |
| SENSORS | Accelerometer, Gyro, Barometer, HRM, Ambient light |
| BATTERY | 300mAh non-removable |
| DIMENSIONS | 43x45x11.6 mm, 50 g (without band) |
Stuff Says…
A fine all-rounder with one of the best smartwatch interfaces around, but it still lacks the Apple Watch's apps and versatility
Good Stuff
Spinning bezel interface is excellent
Punchy screen
Versatile activity tracking
Swim-certified water resistance
Bad Stuff
Claimed battery life is ambitious
Fewer apps than Wear or Apple Watch