Samsung Galaxy Tab S8 Ultra hands-on review: biggest and boldest
A laptop screen with brains
How big is too big? If 14.6 inches sounds like more tablet than you can take, then you'll be sidelined to admire the Galaxy Tab S8 Ultra from afar. If, however, you've longed for the day you could ditch your laptop in favour of a giant, high-quality, smart display that's as thin as a waif, then Samsung may have just made your dreams come true.
The first Ultra in Samsung's Galaxy Tab line, the new big-screened behemoth is nothing short of mesmerising in the flesh. Sporting the slimmest bezels of any Samsung Galaxy Tab to date – just 0.6mm, it's an all-screen experience that's matched with Tab S favourites like an S Pen, and Samsung's OneUI.
Costing £999 upwards, it's definitely one of the most expensive tablets around – but do its features and first impression help it measure up in terms of user experience? Or, is it just size and no substance?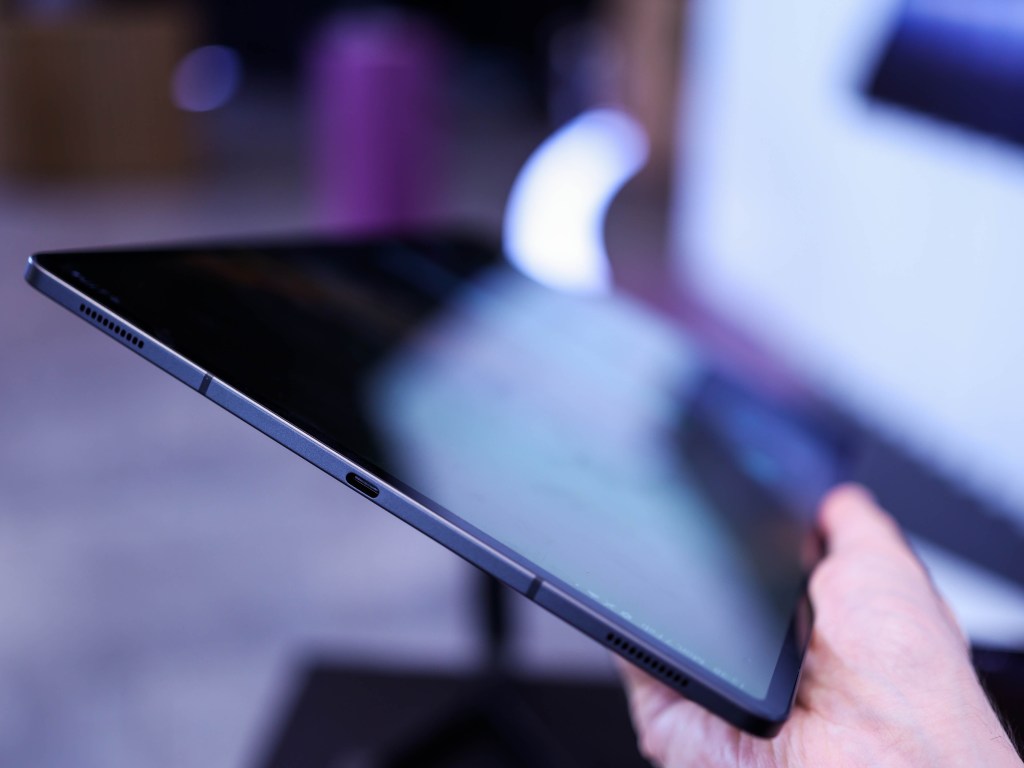 Design and screen: A slice of screen
While you often have to dig deep to get to the special treasure that makes a piece of tech stand out, the Galaxy Tab S8 Ultra's is staring you in the face – this tablet is huge. The 14.6-inch screen measures up to many laptops that are advertised as 15-inch machines. What compounds how big the screen is though, is how slim the rest of the slate is.
The Tab S8 Ultra measures just 5.5 inches thin, and while it weighs a solid 726g (Wi-Fi version), it still feels impossibly light in the flesh. In fact, that weight is reassuring, and likely a result of the premium materials that combine to make up the S8 Ultra's chassis – tempered glass and Armour Aluminium.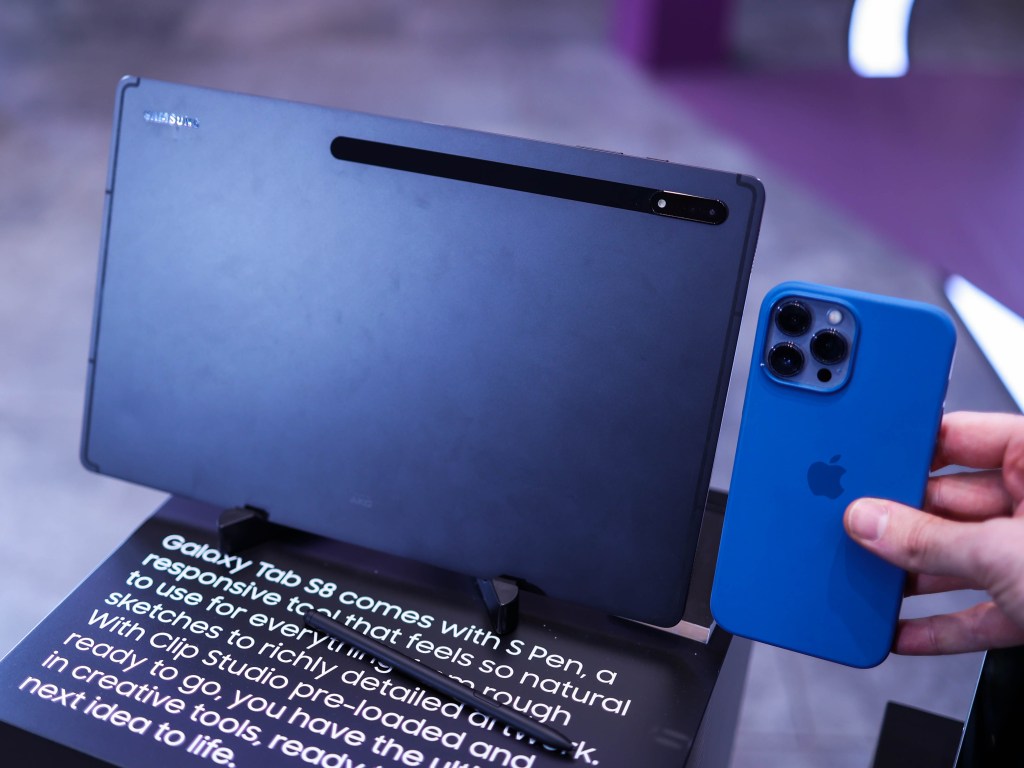 What's also striking is how clean the Ultra's design is. It has a basic set of buttons dotted along the frame – power and volume, quad speakers, and a slight camera bump around the back. The fingerprint scanner is under the screen as with the Galaxy Tab S7 Plus, and there's a USB-C port on the side .
The Tab S7 Plus was the first to introduce a giant AMOLED panel to the Galaxy Tab line at 12.4 inches. Upon launch, everyone cooed at its size and quality, but a year on and we really can't overstate how much more impressive the Tab S8 Ultra is – it really does feel like you're holding a slice of the future in your hands.
With WQXGA+ resolution, and 240 pixels-per-inch, the S8 Ultra is crisp, and thanks to a 120Hz refresh rate, menus glide fluidly.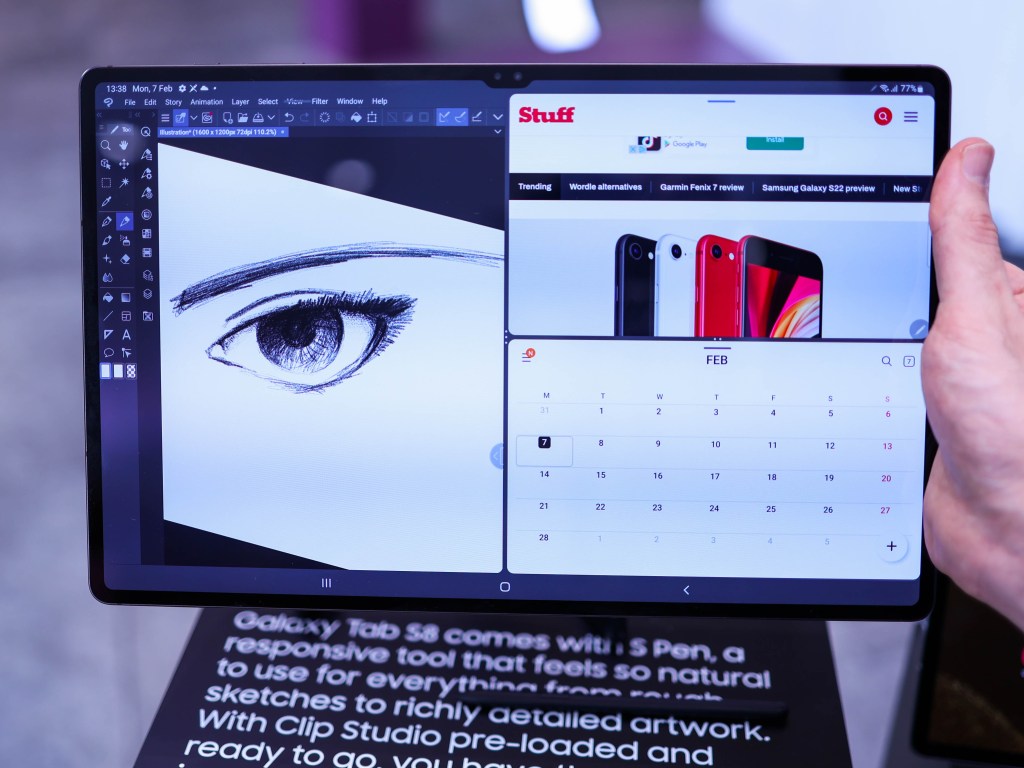 Performance: Levelled up Android
iPads have ruled the tablet roost given how much better their software is when compared to Android tablets. While Google is working on a tablet optimised take on its mobile OS, iPad OS has been going from strength to strength for years. This puts a huge onus on Samsung to plug the gaps, and in many ways, it does.
The Tab S8 Ultra ships with an S Pen, while iPad users will need to buy an Apple Pencil separately. Samsung also customises its One UI interface to take advantage of its Tab line's extra space. Split-screen multi-tasking works across three apps plus one floating window, Samsung Notes gives users a massive canvas to scribe across, and Samsung has also partnered with app developers to bring some of the best around onto its premium tablets.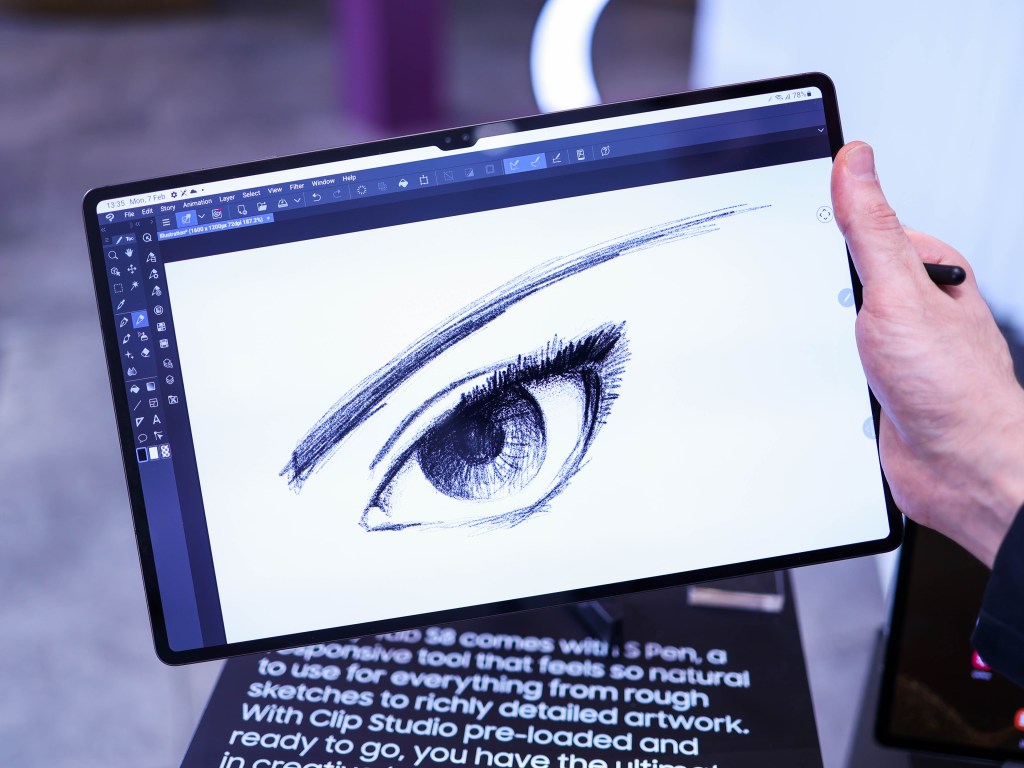 Last year, Samsung introduced Clipstudio, an incredibly powerful Photoshop alternative. Now, with the Tab S8 series, LumiFusion, the most powerful third-party video editing app for iPad has been ported over – a massive win for creators.
If you're picking up a Galaxy S22 Ultra alongside your Tab S8 – aside from being a moneybags, you can also look forward to smart multi-screen integration. In Clipstudio, for example, the phone can turn into a palette and colour picker. Samsung's also bringing back DeX, the desktop interface that either projects to a big(ger) screen, or displays on the Tab S8 Ultra for some keyboard and mouse action.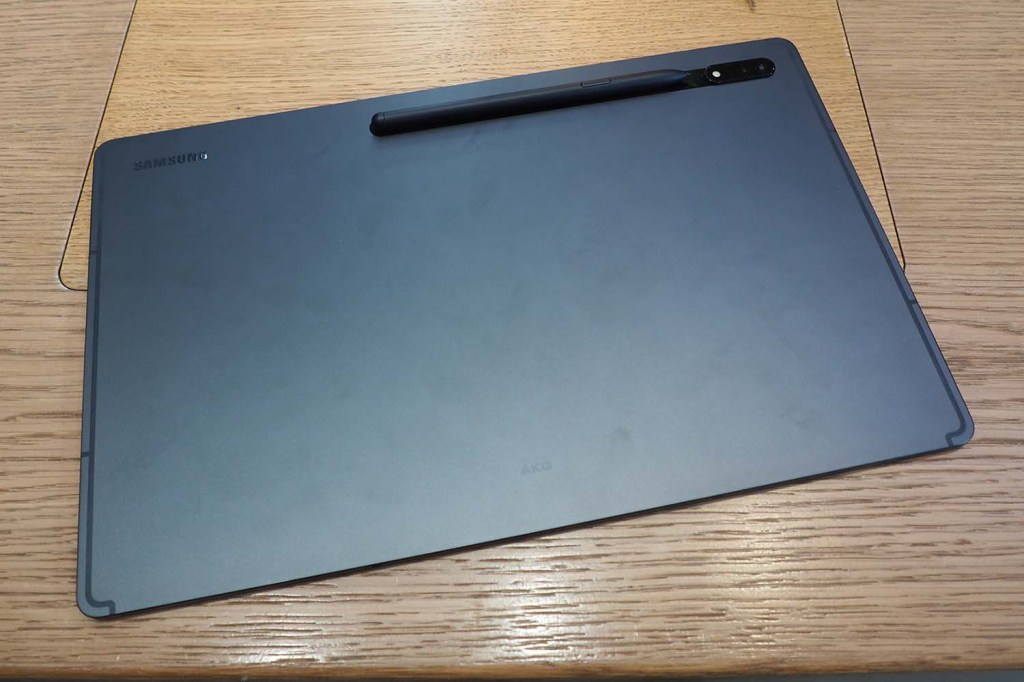 With Android at the heart, the Galaxy Tab S8 Ultra also supports tonnes of apps and games, and with Qualcomm Snapdragon 8 Gen 1 internals, from Genshin Impact to Call of Duty, we don't anticipate dropped frames or slowdown.
You can pick up the Tab S8 Ultra in three memory configurations – 8GB RAM 128GB storage (£999), 12GB RAM 256GB storage (£1099), or 16GB storage 512GB RAM (£1249). Each configuration is available with 5G for an extra £150.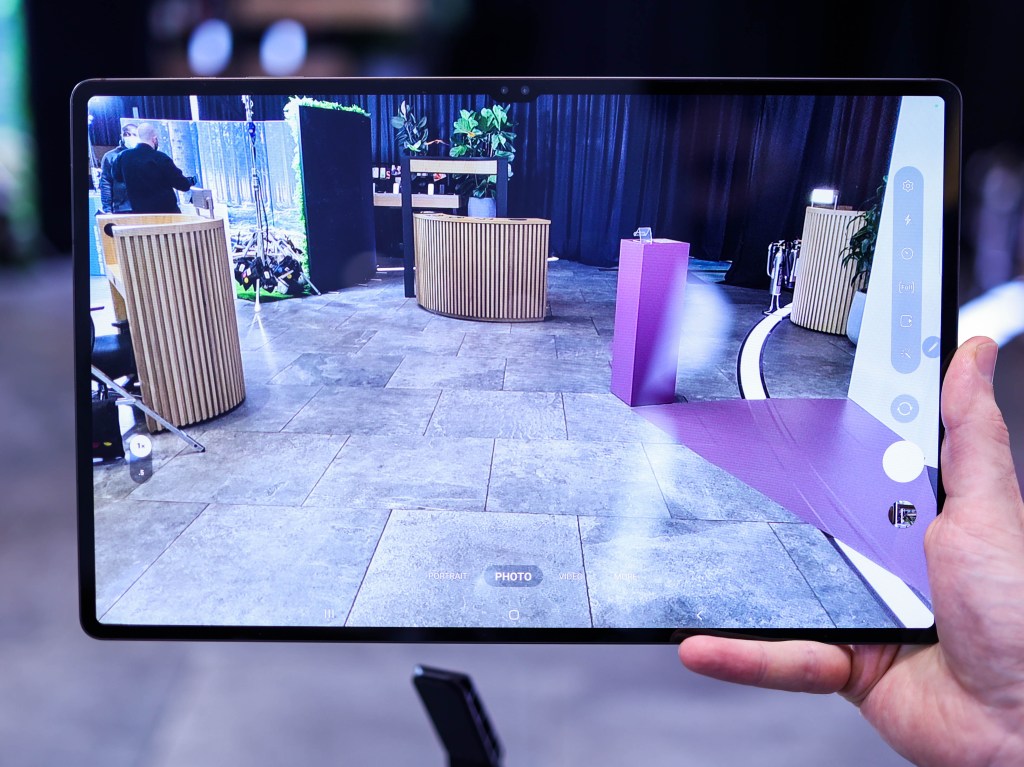 Additional specs: Big battery but no charger
Your phone camera is probably better than your tablet's camera – so if you care about quality, stick with your smartphone. While the Samsung Galaxy Tab S Ultra won't change that fact, its dual-front and dual-rear cameras hold their own in the tablet world.
On the back is a 13MP main camera and a 6MP ultra-wide, while on the front, there's a 12MP wide and 12MP ultra-wide. Video capture caps out at 4K resolution, and Samsung loads up the Tab S8 with plenty of shooting modes including Night Mode, Portrait Mode and Pro Mode.
With a tablet comes a big battery, and the Tab S8 Ultra's clocks in at 11,200mAh, versus roughly 9,720mAh in the iPad Pro (12.9). That big battery also brings with it a big opportunity to use the Tab as a power bank for your smartphone with the supplied USB-C cable. Also handy – the Tab S8 Ultra charges up at 45W, so you should get a full charge in around two hours. This might sound like a lot, but for such a high-capacity cell, it's competitive – though don't expect a charger in the box.
Early verdict
While most people will buy the Tab S8 or S8 Plus, it's the Galaxy Tab S8 Ultra that's pushing the envelope in the same ways the original Samsung Galaxy Note did way back in 2011. Back then, its 5.3-inch screen was shameful – a true mark of a geek who opted for specs over sanity. Now, you'll be hard-pressed to find a phone with a screen as small as 5.3 inches.
So, yes – the Tab S8 Ultra is expensive, it's unwieldy when held in one hand, and to be honest, we're not exactly sure how we'd use it just yet. But we're excited for what it stands for, and the fact Samsung's loaded it up with great design, a stunning screen and stacks of power only adds to what's already a unique proposition.