Samsung Galaxy Tab S7+ review
A Galaxy that goes for Pro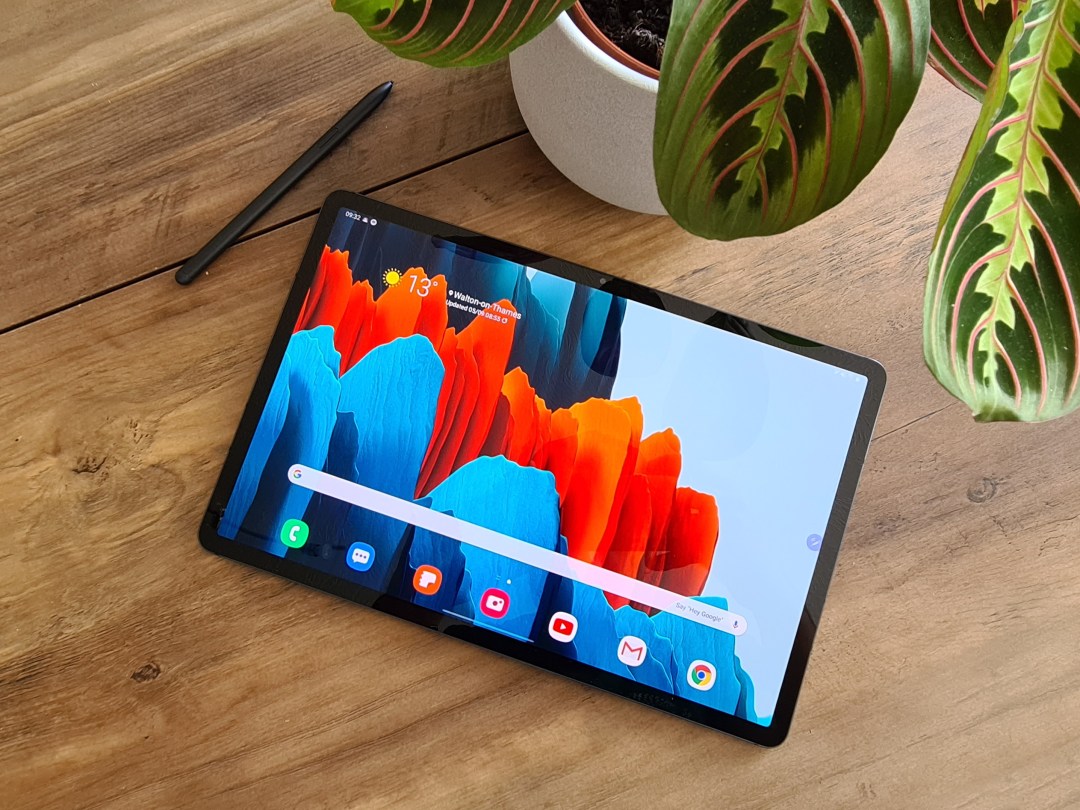 Bigger is better, right? That seems to be Samsung's approach with its latest and greatest tablet, which has grown to ever larger proportions to rival Apple's equally sizable iPad Pro.
At 12.4in the Galaxy Tab S7+ has now reached swap-me-for-your-laptop dimensions – but then it also has the kind of top-end hardware that'll actually make you think about doing it. A high-refresh rate OLED display that's better than any iPad, 5G connectivity and internals that can cope with any app or game you choose to throw at it combine for one tantalisingly tempting Tab.
But when it comes to software, has Android caught up – or is it still playing catch up to iPadOS?
DESIGN & FEATURES: SHARP DRESSER
It's one of the largest Galaxy tablets yet, but the S7+ feels svelte and sophisticated – exactly what you expect from flagship hardware. The all-metal build oozes quality, and the brushed metal sides look particularly sharp.
It's thinner, and at 575g, lighter than an iPad Pro 12.9, though it still works best when held in both hands. You still wouldn't want to drop it on your face while half-asleep in bed, either.
Screen bezels are satisfyingly skinny, and the magnetic strip that holds the S Pen in place subtly merges into the twin-lens camera. You can mount Samsung's now-signature stylus at the side of the tablet if you prefer, but it only recharges when docked at the rear.
The Tab S7+ stands out from the more vanilla Tab S7 with an in-display fingerprint sensor, which is quick to detect your digits, though you'll want to register at least one finger on each hand, for when you accidentally pick it up the wrong way round.
Face detection is onboard as well, but we found it a little less reliable. Time has sadly been called on the headphone jack, so you'll need a pair of wireless buds or a dongle for solo listening, but the quad speakers have plenty of punch. They're sensibly placed at all four corners, so you'd need to be an octopus to block them all at once. Dolby Atmos really helps expand the sound stage, too.
DISPLAY: VISUAL DELIGHT
AMOLED screens are always a treat for the eyes, and at 12.4in, the Tab S7+ is the gift that keeps on giving.
It combines rich, inky blacks with vibrant colours that leap out from beneath the glass, and delivers impeccable brightness to boot. An iPad Pro might have a stunning screen, but it makes do with LCD tech, giving Samsung the edge – particularly for media streaming, where darker scenes have real impact.
It plays nicely with HDR10+ content too, seamlessly blending deep shadows with bright highlights.
The 16:10 aspect ratio makes it taller and narrower than an iPad Pro, which again suits video playback just fine, and the 2800×1753 resolution means you can step YouTube's streaming quality up to 1440p and benefit from all those extra pixels.
Samsung has decided a 4K tablet is still a step too far, either because it would skyrocket the price or decimate battery life. You do get that other 2020 must-have, though: a high refresh rate. You can choose between 60Hz and 120Hz for super-smooth scrolling and silky animations, with supported games feeling much more responsive.
The tradeoff is slightly higher power consumption – but once you've tried it, you won't want to go back, especially if you're a fan of the S-Pen. It feels closer than ever to drawing on real paper.
OS & SOFTWARE: DOES A LOT WITH A LITTLE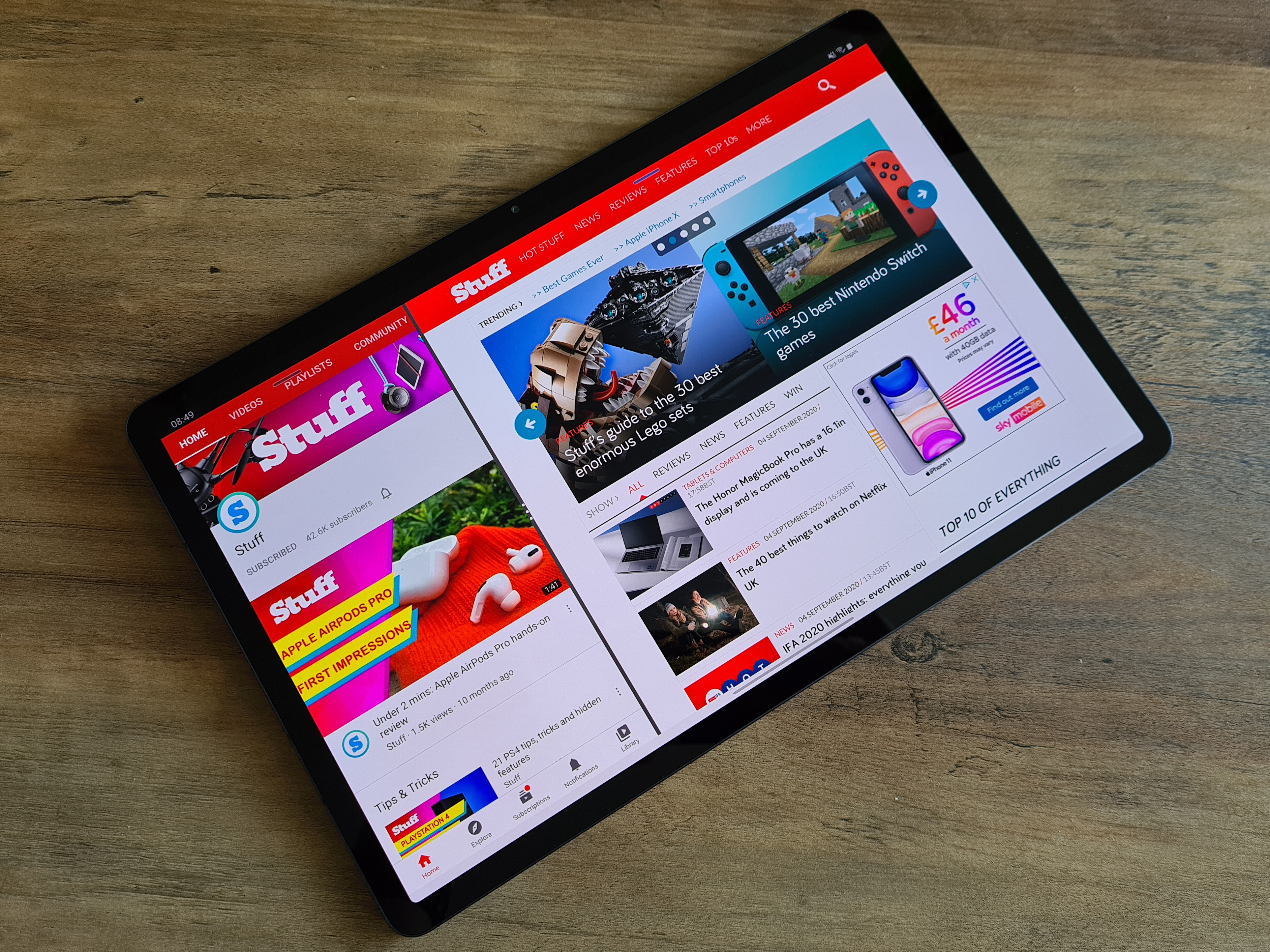 One UI is a lot less overwhelming than Samsung's previous spins on Android. It makes great use of the Tab S7's big screen, with better multitasking support than the stock version of Google's OS and a floating shortcut bar for quickly jumping between apps.
As ever, the S-Pen is fully integrated throughout the OS, with the same air gesture shortcuts found on last year's Galaxy Note 10 smartphone and a handful of bundled apps that are great for note-taking or sketching. Doodlers and artists alike will love the pressure accuracy and responsiveness.
The biggest shakeup is DeX UI, which swaps the standard Android launcher for one more akin to a computer desktop. A handy addition if you invest in the optional keyboard cover, or use a dongle to hook up a keyboard and mouse.
It'll even beam to a TV or monitor that supports screen-mirroring. The problem is lots of apps just won't play nicely with DeX, refusing to resize or open in full screen. The vast majority of Android apps just aren't optimised for tablets in the way iOS apps are, which can be a little frustrating. For getting serious work done, an iPad is still the way to go.
PERFORMANCE: CAN'T CATCH THIS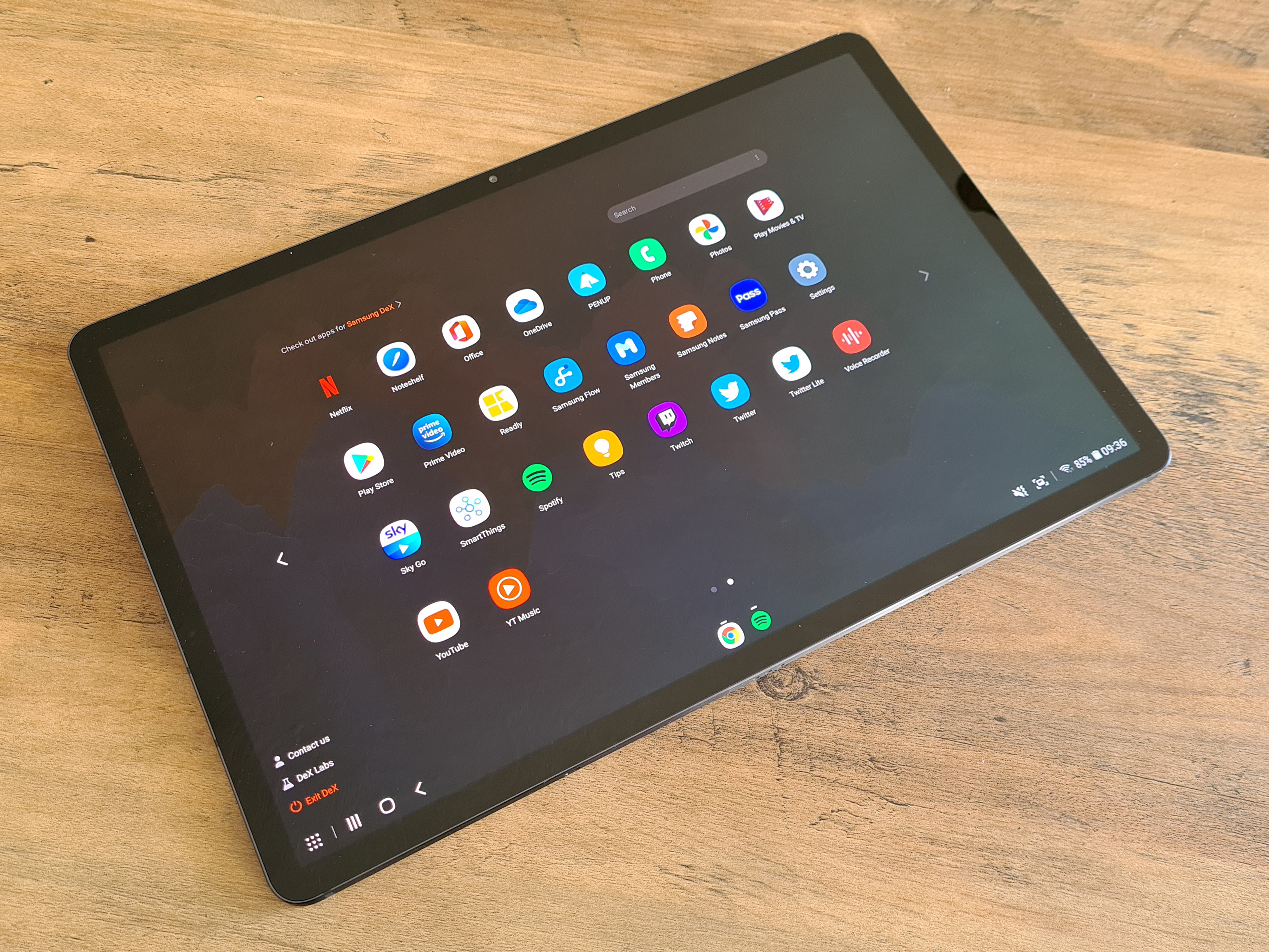 You'll need to push the Tab S7+ mighty hard to make it sweat, thanks to a Qualcomm Snapdragon 865+ CPU that's about as fast as mobile chips get right now. Combined with the high refresh rate screen, it responds near-instantly to every tap and swipe.
Stress over benchmarks and you'd think the iPad Pro wipes the floor with it, but in real-world use you'll struggle to spot the difference. Apps open in the blink of an eye, animations are buttery smooth and games run almost flawlessly. 6GB of RAM (8GB in some territories) almost feels restrained when you compare it with the Note 20 Ultra and its 12GB of memory, but there's more than enough here for multitasking. It's a shame you can only bookmark a single app into memory, though. Two would make more sense on a screen this big.
Speed is the name of the game when it comes to mobile data, too. This is one of the first 5G ready tablets, so with the right SIM installed (and the right signal coverage) you'll get lightning-fast downloads that no iPad will be able to match.
BATTERY LIFE: POWER IN DEMAND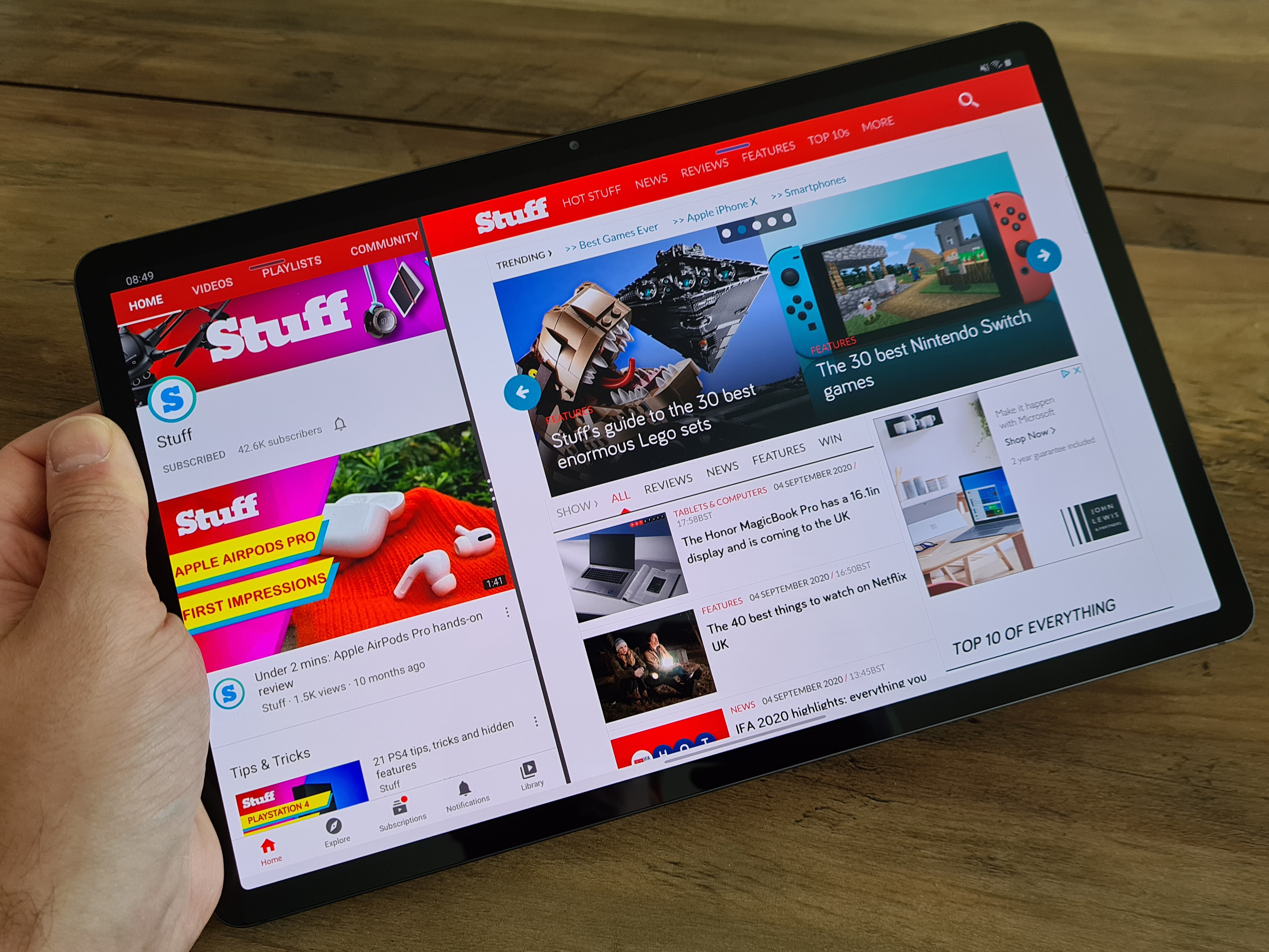 With a gigantic 10,090mAh battery stashed behind its screen, the Tab S7+ should have some serious staying power – but how long you'll last away from the mains depends on how you use it.
Streaming video addicts should see north of ten hours of playback, even if they crank the brightness settings, and gamers can expect a little less. Want to hook up the optional keyboard and spend your day multitasking? You'll probably need to plug in a lot sooner. Blame the high-refresh screen, maybe, as regular scrolling will mean it spends more time at a power-sapping 120Hz.
Lighter use will see you through an entire day, at least. The bundled 15W power adaptor isn't all that quick to get you back up to full, which is a pain, seeing how it will happily drink down juice at 45W with the right charger.
CAMERA: HAPPY SNAPPER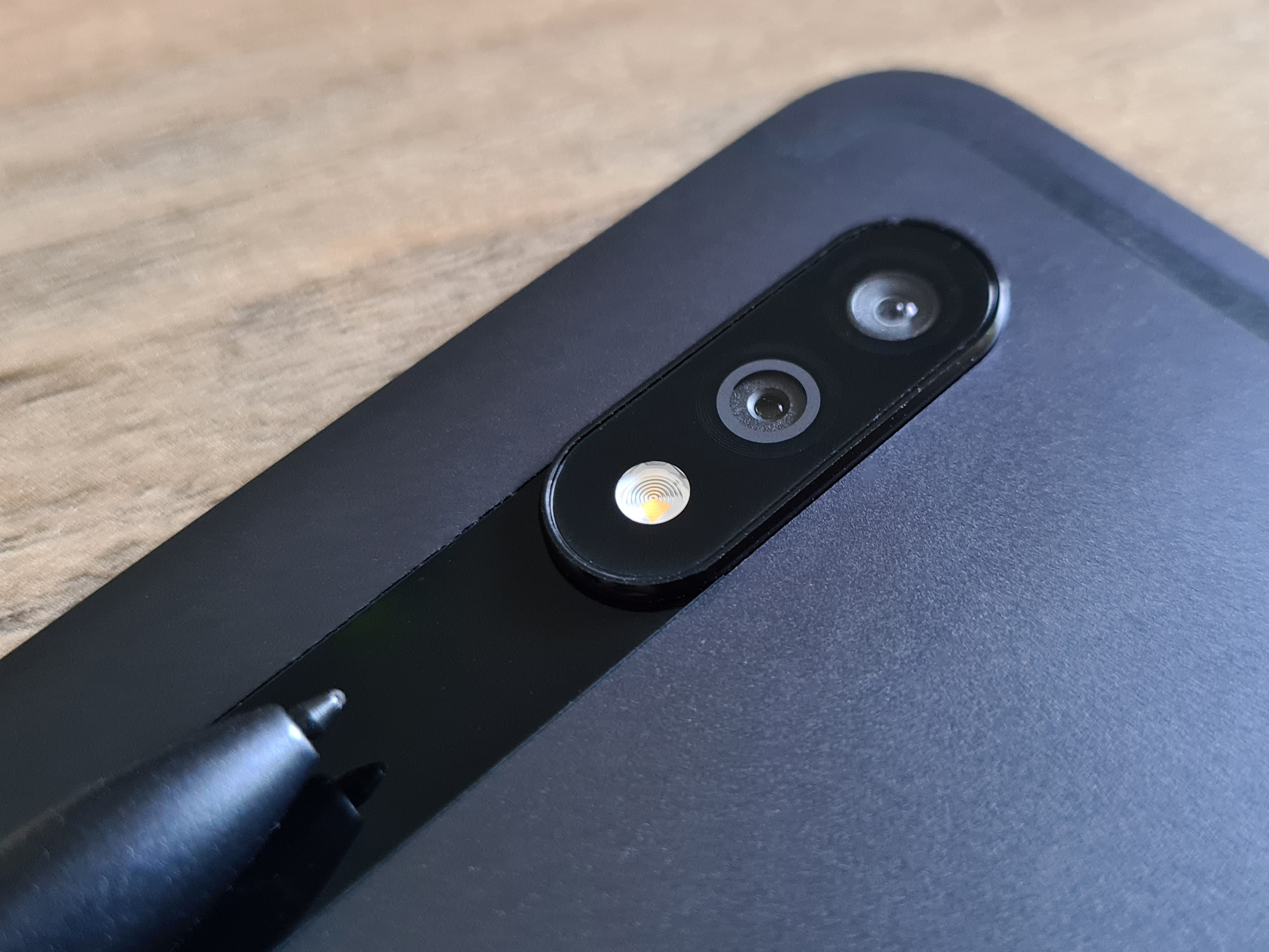 The front-facing selfie camera really hammers home this is a device to be used in landscape, not Trigger Happy TV-style like a giant phone.
It's built into the screen bezel's longer edge, which makes a lot of sense if it'll be spending most of its time docked to the optional keyboard. It's an 8MP snapper that defaults to a 5MP crop, with decent enough clarity – though focus distance can sometimes feel a little further than you're able to hold the tablet away from your noggin.
The main event is round the back, with a twin-lens setup that combines a 13MP main sensor and 5MP wide-angle. Only the former has autofocus, with the latter being fixed. There's also a built-in flash.
Colour and dynamic range are the Tab S7's strong points, just like Samsung's phone line-up. Auto HDR helps balance scenes and daytime pictures are impressively free from noise, but complex detail can look a little messy once you start pixel-peeking.
The wide-angle is noticeably weaker here, but still takes snaps you'll be happy to share on social media. Don't forget this is a hefty slab, either: while it can take impressively clean images, you'll have an easier job lining up subjects if you reach into your pocket for a smartphone.
SAMSUNG GALAXY TAB S7+ VERDICT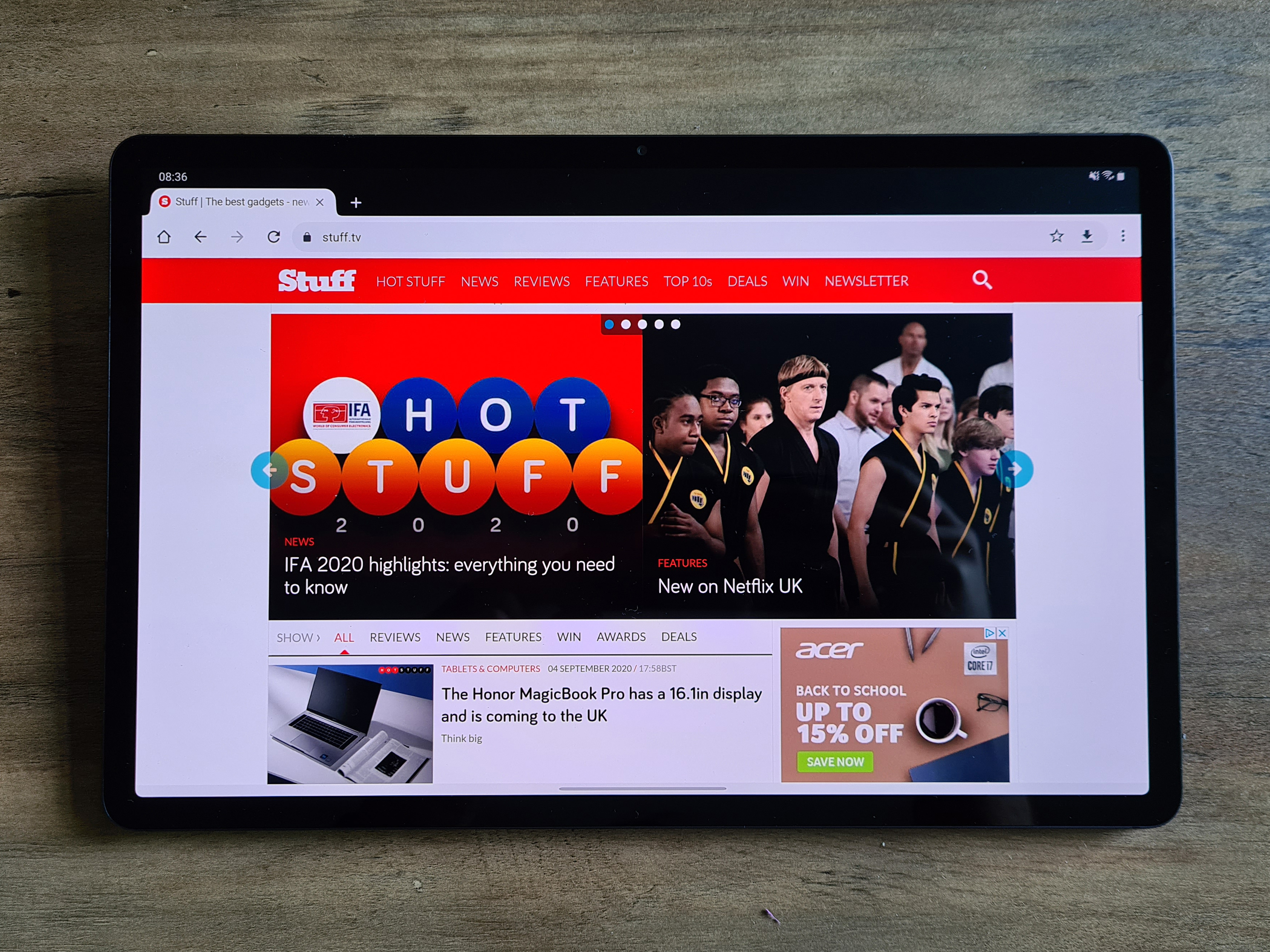 For those of us that bleeds Android, the Tab S7+ is hands-down the best tablet around. It's got enough hardware muscle to tackle any task, a screen that makes Netflix binges an absolute treat, and real productivity chops too thanks to the S Pen. And let's not forget 5G support, which you won't find on any iPad.
Anyone that doesn't already own a handful of Samsung devices will appreciate how it comfortably undercuts the iPad Pro 12.9, and that you don't have to spend extra on a stylus – but it's true that Apple's operating system is just that little bit slicker on the big screen than Google's effort.
If you're searching for a full-on laptop replacement, the iPad still has the edge, but otherwise this do-all slate offers little compromise.
Tech specs
| | |
| --- | --- |
| Screen | 12.4in, 2,800×1,753 AMOLED w/ 120Hz adaptive frame rate, HDR10+ |
| CPU | Qualcomm Snapdragon 865 Plus Octa-core |
| MEMORY | 6GB RAM |
| CAMERA | 3MP, f2.0 main, 5MP, f/2.2 ultrawide rear w/ autofocus. 8MP, f/2.0 front |
| STORAGE | 128GB on-board, microSD expansion |
| OPERATING SYSTEM | Android 10.0 w/ OneUI 2.5 |
| BATTERY | 10,090mAh non-removable |
| DIMENSIONS | 285x185x5.7mm, 575g |
Stuff Says…
A true iPad Pro alternative that brilliantly balances productivity and entertainment. It'll be overkill for some, and pricey once you factor in the optional keyboard, but the Galaxy Tab S7+ is comfortably the best Android tablet around.
Good Stuff
Stunning, ultra-smooth screen
Unrivalled performance
S Pen well integrated – and included in the box
Bad Stuff
iOS still beats Android on big screens
Costs more than many laptops
No headphone jack