Samsung Galaxy Book 10.6 review
Samsung's second go at a Windows 2-in-1 has a surface-beating price
Samsung came oh-so-close with the TabPro S.
It was supposed to be a Surface killer, a Windows 10 tablet that was almost as good at desktop duties as it was as a media machine.
It mostly succeeded, too – but the price was a little too high, the keyboard wasn't all that great, and if you wanted to plug something in… well, you were basically out of luck.
Now it's time for round two, and it comes with the new name.
The Galaxy Book is a 2-in-1 that manages to improve on Samsung's initial effort, but this 10.6in version has more to worry about than Microsoft: it's simply overshadowed by something a little closer to home – even if it does get the price right.
DESIGN: SKINNY-ISH
The Galaxy Book comes in two flavours: a bite-size 10.6in tab, and a full-fat 12in version.
Both are metal-bodied, glass-fronted slates with keyboard covers that turn them into work-ready laptops, but the 10.6in model seen here is a portly 8.9mm thick, compared to the 12in's svelte 7.4mm.
It's still perfectly portable, and at 640g isn't exactly a heavyweight – you'll be able to sling it in a bag and forget it's even there. The metal finish isn't quite as luxurious as Samsung's Android-powered Galaxy Tab S3, but would you actually want glass on such a large slate? That's kind of asking for trouble.
There's room at the side for a microSD card slot, in case you fill the 64GB of onboard storage, but only a solitary USB-C port. The TabPro S made do with one, and we didn't think that was enough – you're going to need to invest in some dongles to hook up all your accessories.
I'm still in the school of thought that anyone taking photos with a tablet are worse than the devil himself, so the front-facing 5MP snapper is best used for video calling. There's nothing on the back at all.
It all feels well constructed, but the rounded corners and smooth curves just don't give the same impression of luxury as Microsoft's Surface.
DISPLAY: THIS AIN'T NO HIGH-RES HERO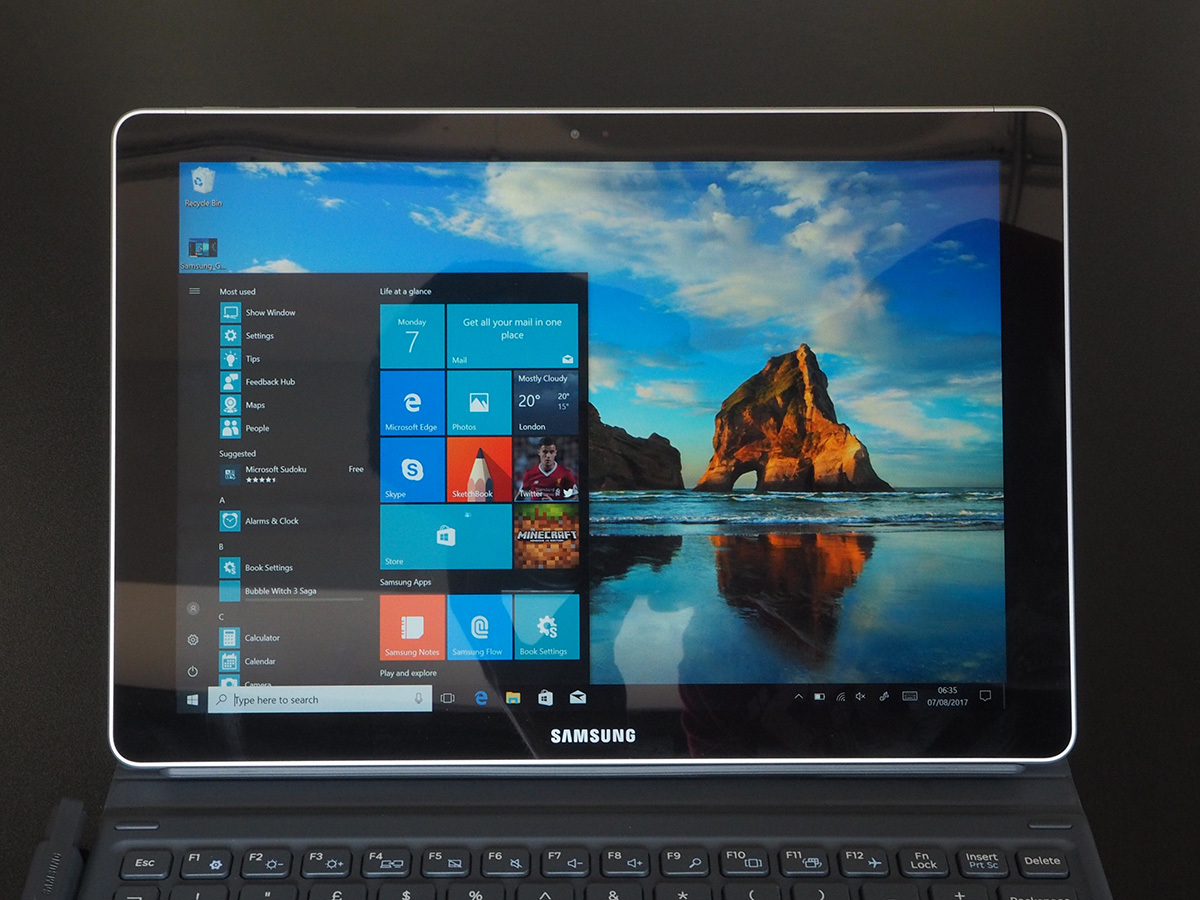 It's hard not to feel a little left out when you stick the 10.6in Galaxy Book side-by-side with the more premium 12in version.
That model has a 2160×1440 AMOLED display, which even plays nicely with HDR video, but here you're stuck at plain old 1080p, on a TFT panel to boot. Then again, it costs almost twice the price.
The Full HD screen isn't bad, either. It gets bright enough to use outdoors, viewing angles are great, and everything looks sharp enough without having to break out the magnifying glass just to read a web page.
Colours are impressively vibrant, too – almost too much in places. It might not use an AMOLED panel, but the overly saturated hues do quite a convincing impression. It can't match OLED for contrast, though, with blacks that never get completely dark.
It'll get you through a working day, then, and your Netflix streams will look good once you're home too.
PERFORMANCE: ALL I NEED TO GET BY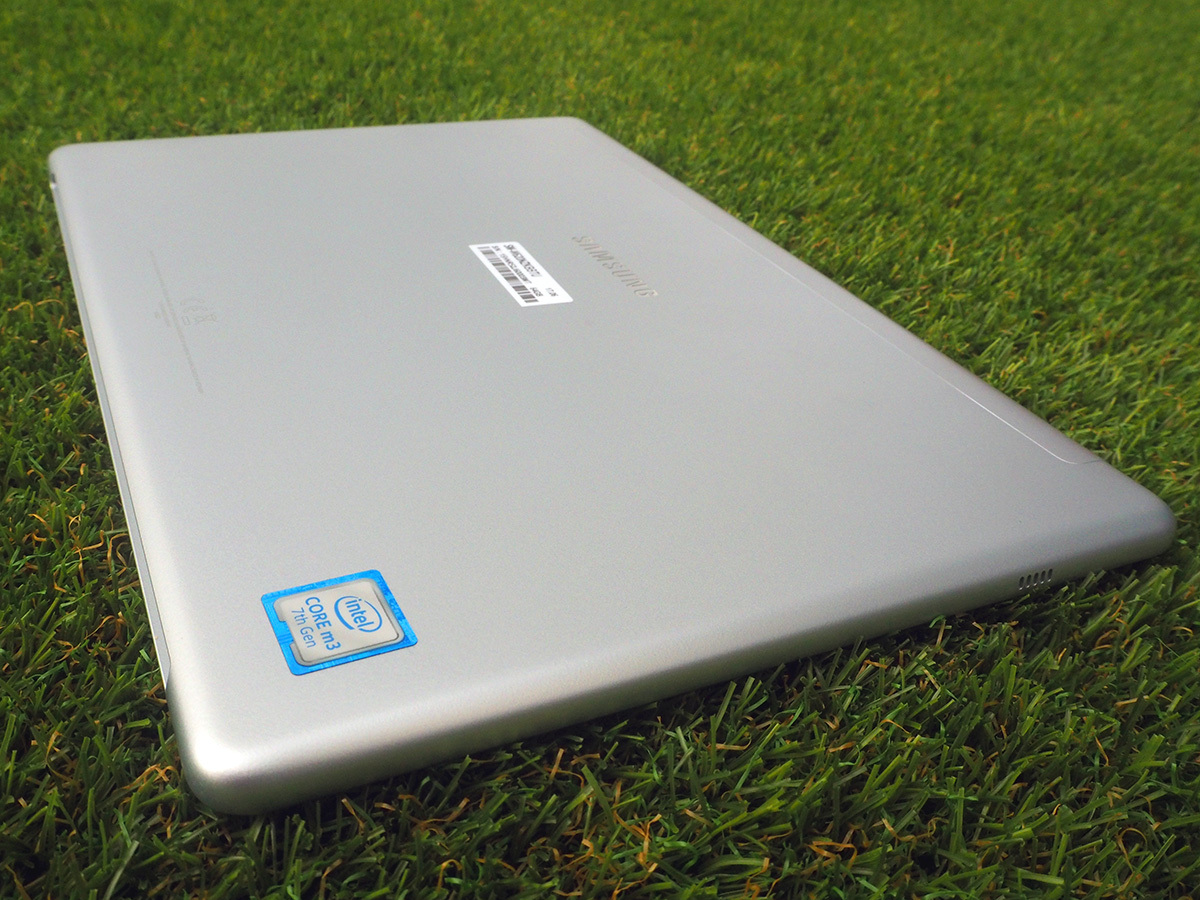 This entry-level tab makes do with Intel's entry-level silicon: a low-power Core m3 that ticks along at up to 2.6GHz.
Paired with 4GB of RAM, it's fine for most desktop jobs, like web browsing, Word documents and spreadsheets, but for more heavy lifting, like a multi-layered Photoshop creation, it quickly runs out of puff.
One the plus side, it doesn't create much heat, so the whole thing is passively cooled. That means no annoying fans distracting you when you're trying to work.
It doesn't have much in the tank when it comes to games, either. You'll be fine for 2D puzzlers and mobile games, but anything newer and you're out of luck.
Still, Intel's Kaby Lake silicon is fairly frugal when it comes to battery life. Best case scenario, you'll eke 9 hours out of a single charge, but six seems more likely when you add media-heavy web browsing into the mix. It's average at best, which is a bit disappointing.
keyboard: just my type
Samsung spent a lot of time redesigning the TabPro S's overly shallow keyboard, and the flip-out 'board that arrives inside the box with the Galaxy Book is a massive improvement.
The keys have plenty of travel, and the superfluous function buttons have been removed. It's a shame this smaller version doesn't have backlit keys for night time working, though. That luxury is reserved for the 12in model.
Magnetic pins hold the tablet in place and dock it with the keyboard, instead of using Bluetooth. That means no faff when it's time to type – just connect and start bashing those keys.
The touchpad felt a lot more responsive than the TabPro S, and the whole thing is more flexible this time around, with two different angles to tilt the screen for working at a desk, or leaning over the screen with a stylus in hand, just like an easel.
Annoyingly, though, the magnets that hold the stand in place aren't all that strong – it makes it tricky to use on your lap, or anywhere other than a firm desk. The easel mode is even worse, slipping closed if you push too hard.
S Pen: bigger and better
I doubt you'd find a single Surface owner that would give up their device for one that didn't have a stylus – it really makes all the difference to artists, graphics pros and designers. It's great for note taking, too.
That's why the new S Pen, updated for 2017 with a chunkier barrel for better grip, makes all the difference in the Galaxy Book. It'll come bundled in the box, even though there's no room inside the tablet to store one. It hooks onto the keyboard cover instead – inelegant, yes, but still handy.
The larger stylus barrel makes it much easier and more natural to grip, and the redesigned rubber nib made a huge difference in terms of feel.
You still don't need a battery, which is a big advantage over the Surface Pro. It still comes with a shortcut button for jumping straight into Samsung's Notes app, just like on the Galaxy Note smartphones.
Samsung Galaxy Book verdict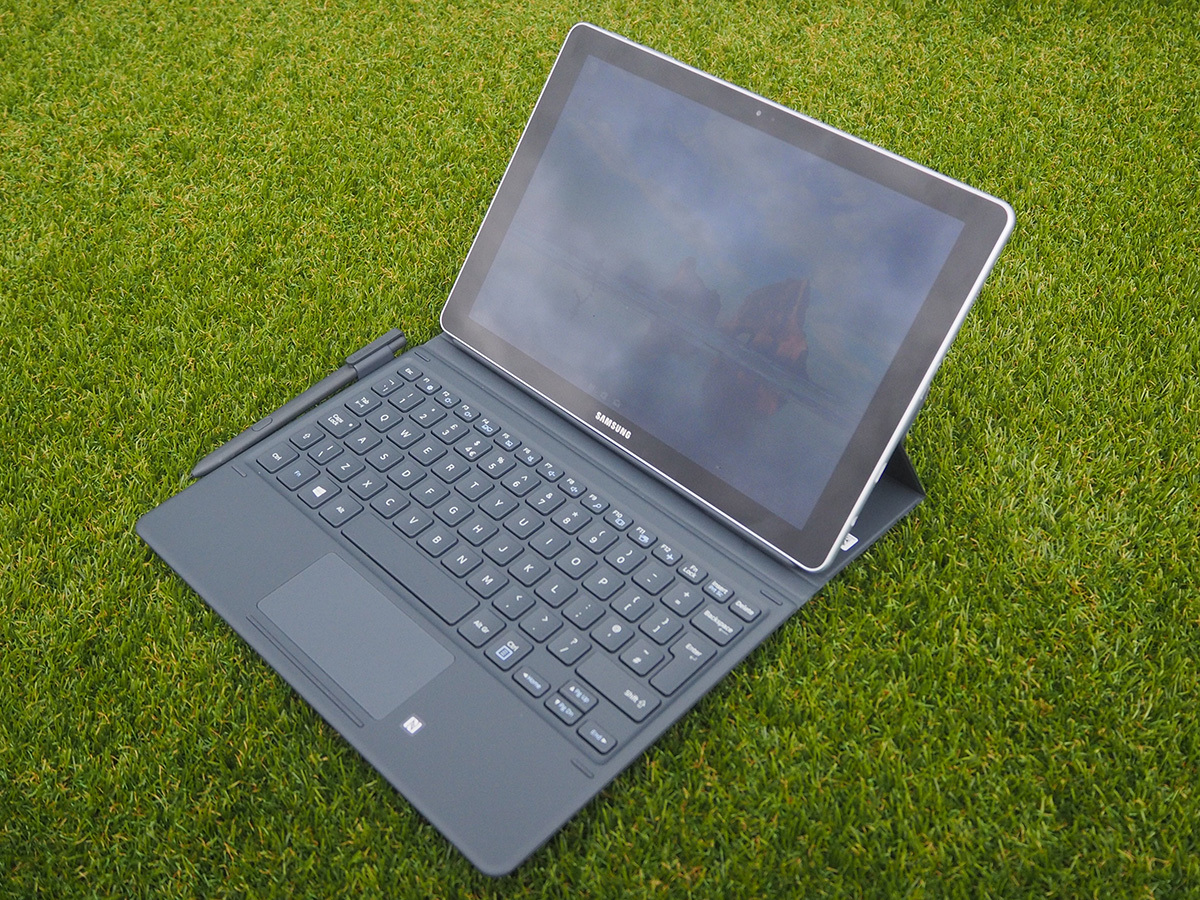 Whether you're a doodler, note taker or digital artist, it's the S Pen's inclusion that makes all the difference to the smaller Galaxy Book.
It doesn't have the same gorgeous, HDR-ready screen as its bigger brother. It's down on power, and that keyboard cover isn't as sturdy as we'd like, but for the price, the 10.6in model still makes sense.
Having everything included in the box means you could happily use it all day for work, then detach the keyboard and binge on Netflix into the early hours – without having to buy all the accessories first.
It's not as slick, as well-equipped or as quick as a Surface, or indeed Samsung's 12in Galaxy Book, but unless you're ready to spend at least £300 more, it's a happy middle ground.
Tech specs
| | |
| --- | --- |
| SCREEN | 10.6in, 1920×1080 Full HD TFT |
| CPU | 2.6GHz Intel Core m3 dual-core |
| MEMORY | 4GB RAM |
| STORAGE | 64GB onboard, microSD expansion |
| CAMERA | 5MP front-facing webcam |
| OPERATING SYSTEM | Microsoft Windows 10 |
| BATTERY | 4000mAh non-removable |
| DIMENSIONS | 261x179x8.9mm, 640g |
Stuff Says…
The 10.6in model isn't as attention-grabbing as its bigger brother, but it successfully undercuts Microsoft's cheapest Surface
Good Stuff
Galaxy Pen & keyboard cover bundled in box
Decent desktop performance
The price is right
Bad Stuff
Keyboard cover not all that sturdy
Misses out on attention-grabbing specs
Battery life only average