Samsung Galaxy TabPro S review
A hybrid tablet of the future
There has been at least one new Microsoft Surface hybrid every year since 2012. Each version has tweaked the design and levelled-up the hardware, but the Samsung Galaxy TabPro S just swans in and makes the Surface look a bit fat and fusty.
This is a Windows 10 hybrid that has the power of a legit laptop, but with the sort of frame you only normally see in the thinnest of Android devices. You can really tell Samsung is a master maker of electronics in this hardware.
The Samsung Galaxy TabPro S is an honest replacement for a laptop too, much more so than either of the Pro-series iPads. It doesn't come cheap, though, at £849. At least that includes the keyboard base, without which the Tab S doesn't make much sense at all.
A new Galaxy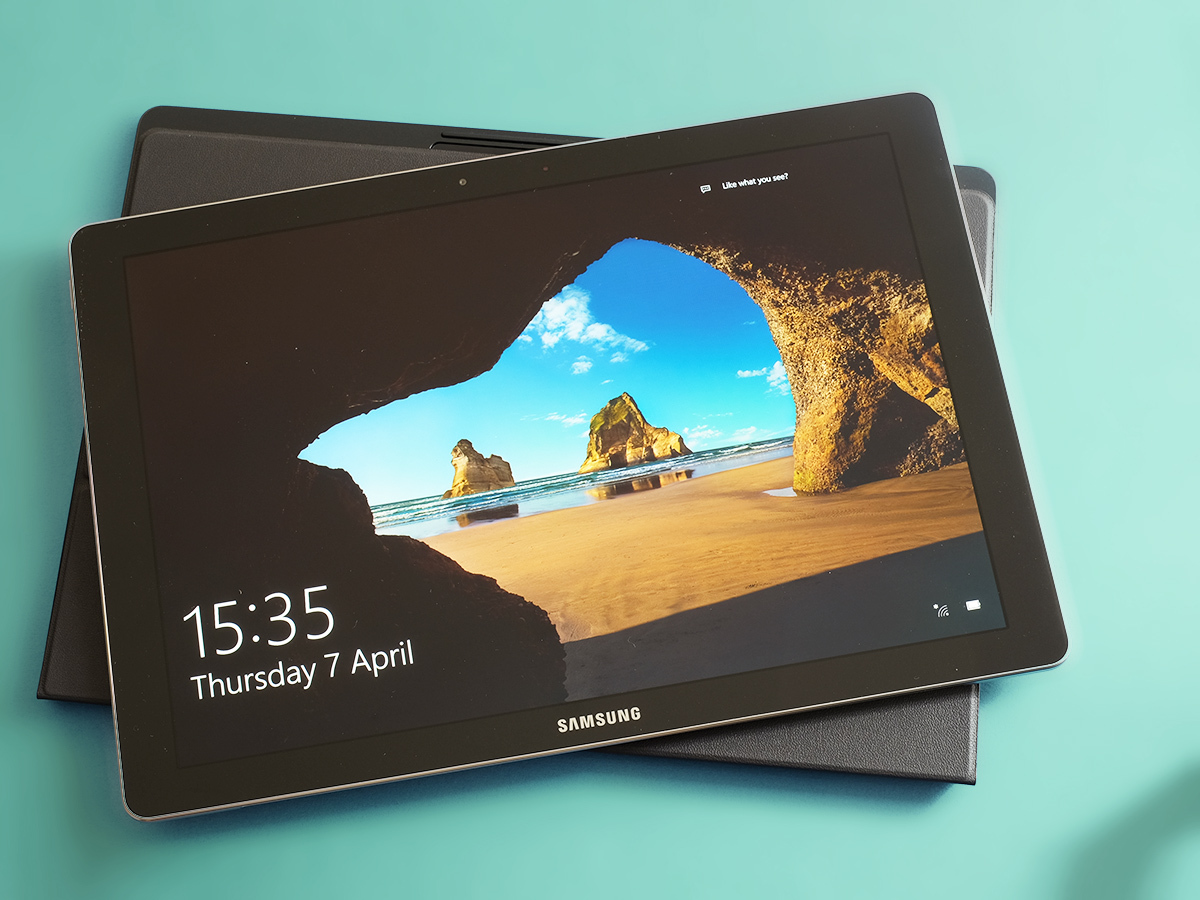 Whatever happened to all Galaxy devices using Android? Galaxy used to be one of several Samsung mobile device series, but now it's a behemoth, dominating the mobile device world aside from the chunk Apple has carved out for itself.
The Galaxy TabPro S sees Samsung rub a bit of this brand lustre onto a Windows 10 hybrid tablet. It kinda works.
Like the Galaxy phones, the Samsung Galaxy TabPro S has curved metal sides, but features a plate of plastic for the back instead of glass. Even using Gorilla Glass 4, you'd imagine it'd be pretty smash-able at this size.
It hasn't mattered too much in terms of feel anyway. When the Samsung Galaxy TabPro S's keyboard case is attached, it covers the entire back of the tablet with a leather-a-like fabric. Quite how thin the thing is even with the case attached is a key appeal. Tablet alone is 6.3mm thick, enough to shame most phones into a diet, and with the keyboard on it's still so skinny and light it can compete with ultra-light laptops like the 12in MacBook. It weighs just over a kilogram all-in.
The Samsung Galaxy TabPro S seems most at home with its keyboard attached too. Flying solo, the tablet part is pretty big, like a 90s sci-fi movie's vision of a digital newspaper rather than the much smaller tablets we're used to.
This comes with the territory, of course. You get the same effect with a 12in iPad Pro. I wouldn't want to use one on the train, as much because it's going to attract attention as because its 670-odd grammes.
The question that then pops up is: what are you going to use the tablet part alone for? Unlike an iPad Pro this isn't a top pick giant games tablet or an artist's surface. The Samsung Galaxy TabPro S doesn't have a digitiser layer, or any included stylus accessory. That's not what it's about.
It will handle some typical tablet fodder with real style, though. I can't think of many devices better-suited to displaying comic books or playing movies while you're vegging out at home
Plenty of OLED to go around
Much of this comes down to the Samsung Galaxy TabPro S's most dazzling feature, in a literal sense. It has a 12in Super AMOLED screen with 2880 x 1440 pixels. This is the same tech used in Samsung's top Galaxy phones, but blown up to laptop size.
Almost no laptops use OLED screens because they're so much more expensive than LCD ones. This component alone helps explain why the Samsung Galaxy TabPro S costs as much as it does.
The two parts that instantly tell you this is no ordinary display are the colour and contrast. Its colours are richer, more intense than any laptop I've laid eyes on in the last year, and as OLEDs use light-up pixels, contrast is theoretically infinite.
It looks amazing in all conditions, showing up LCD tablets and laptops in at night in particular with its absolute blacks. This isn't a screen everyone's going to love, though. That it appears so much more vivid than the competition isn't necessarily a good thing. Windows 10 offers calibration to fiddle with the screen a bit, but there aren't modes that let you calm those colours down like on Samsung phones.
There are no half measures here. I get the sense Samsung wanted this hybrid to seem like a device of the future as well as the present.
Are you well-connected?
That's led to the Samsung Galaxy TabPro S having almost no connections: accessories are so 2013, apparently. Aside from a headphone jack, there's just a single USB-C port. This is like the microUSB on the vast majority of Android devices, but the jack is a bit bigger, and can be plugged-in either way.
It's used to charge the battery and plug in anything else you might need, but I'll bet at least 99 per cent of the USB devices you own end in a regular USB plug rather than a USB-C one, right? Next to a regular laptop or even one of the many Windows 10 tablets with proper connectors, the Samsung Galaxy TabPro S feels like a hermetically sealed system. It's pretty and pristine, but also a potential pain in the backside.
All I want to do is attach a mouse, for God's sake.
Granted, I've only wanted to do that about twice during my time with the Samsung Galaxy TabPro S. The whole point is that this is a tablet big enough to feel like a laptop that you can take anywhere. Loading up with accessories takes the edge off that.
The key is the keyboard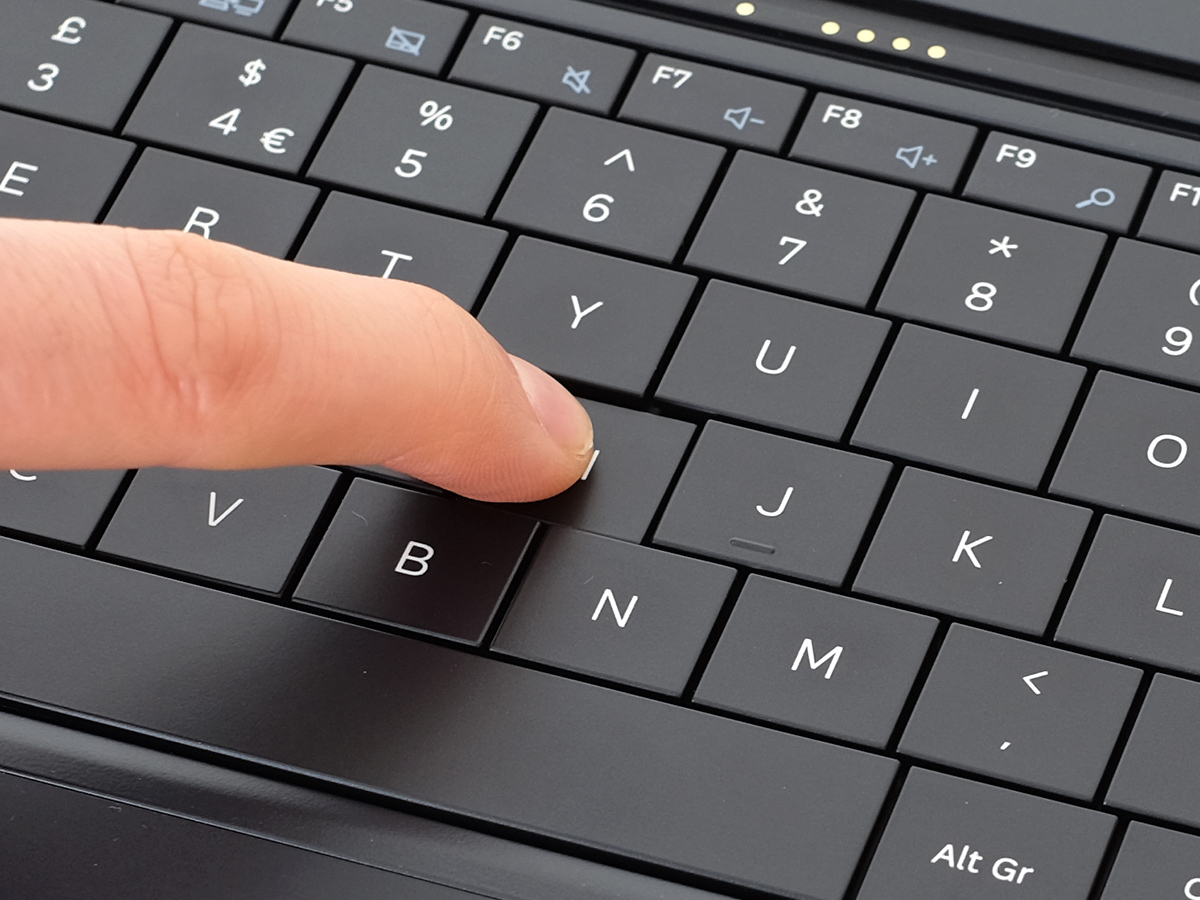 So let's take a closer look at exactly how the whole Samsung Galaxy TabPro S mechanism works. There are no clips keeping the base attached to screen and the keyboard part is not wireless. Some of you may want that, but having used a bunch of the things, I can tell you 'wired' ones work better. There's no charging of a second battery involved, no weird drop-outs and no pauses as the keyboard hooks up to the system. It just works.
A series of little metal dots on the bottom edge of the Samsung Galaxy TabPro S dock in with a corresponding set on the base. If you ripped off the keys, the keyboard part would look like a folio case, using hidden magnets to keep the display in place. It's a very clean design, the only major drawback a lack of choice as to how the screen sits.
It can do 'pretty upright', but not the more laid-back angle a Microsoft Surface's kickstand can sit at.
Not everyone is going to love the keyboard either. I'm using the Samsung Galaxy TabPro S alongside the iPad Pro 9.7 with its keyboard add-on, and this one is far better if you're after a laptop-like feel that'll let you type for hours without your wrists feeling mangled at the end.
It's not too cramped, and the full-size keys move properly just like those of a regular laptop. They click. However, the action is shallower than the Surface keyboard, which tries its hardest to max-out that sense of the keys moving up and down as you press.
I think it's the size that matters, though. The Samsung Galaxy TabPro S feedback may not be the stuff of dreams, but the crucial thing is you can tap out thousands of words without feeling as though you're doing so on a toy.
Windows winner?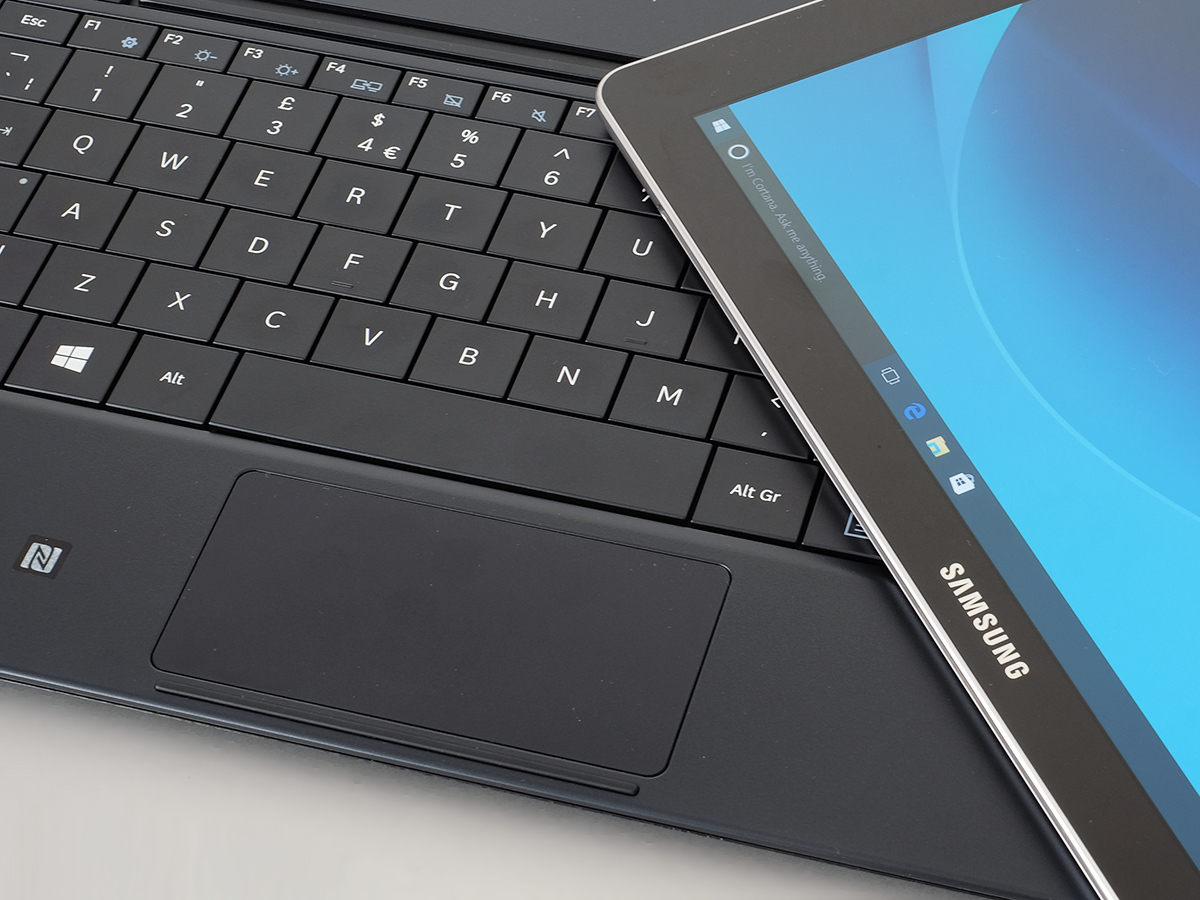 The impressive part here is how these keys are crammed into a board just a few millimetres thick. Not that it's a first. There are no extra connections bar NFC (a sensor is built into the surround), no battery in the keyboard part, but it is a vital part of the Samsung Galaxy TabPro S's appeal. It comes with the tablet as standard, once again making the £849 slightly more explicable.
There's a basic trackpad on the base too, and this is the part that really makes the Windows 10 experience complete. Some people love using Windows tablets on their lonesome, but I find them a little awkward to use compared with Android and iOS ones. Windows 10 has a distinct tablet interface that the Samsung Galaxy TabPro S flicks to automatically when the keyboard is removed, but you can tell this isn't a system designed from the ground up for touchscreen use.
It's a bit "bleugh". That sums it up, right? It's a rearrangement of the standard Windows 10 UI, an apology about how non-touch friendly the regular UI is.
That's why I think the Samsung Galaxy TabPro S works best as a, say, 60 per cent work stuff, 40 per cent fun stuff device. I tend to use the average tablet 98 per cent just for fun stuff. Now you just need to find what side you're really after.
The Intel is Inside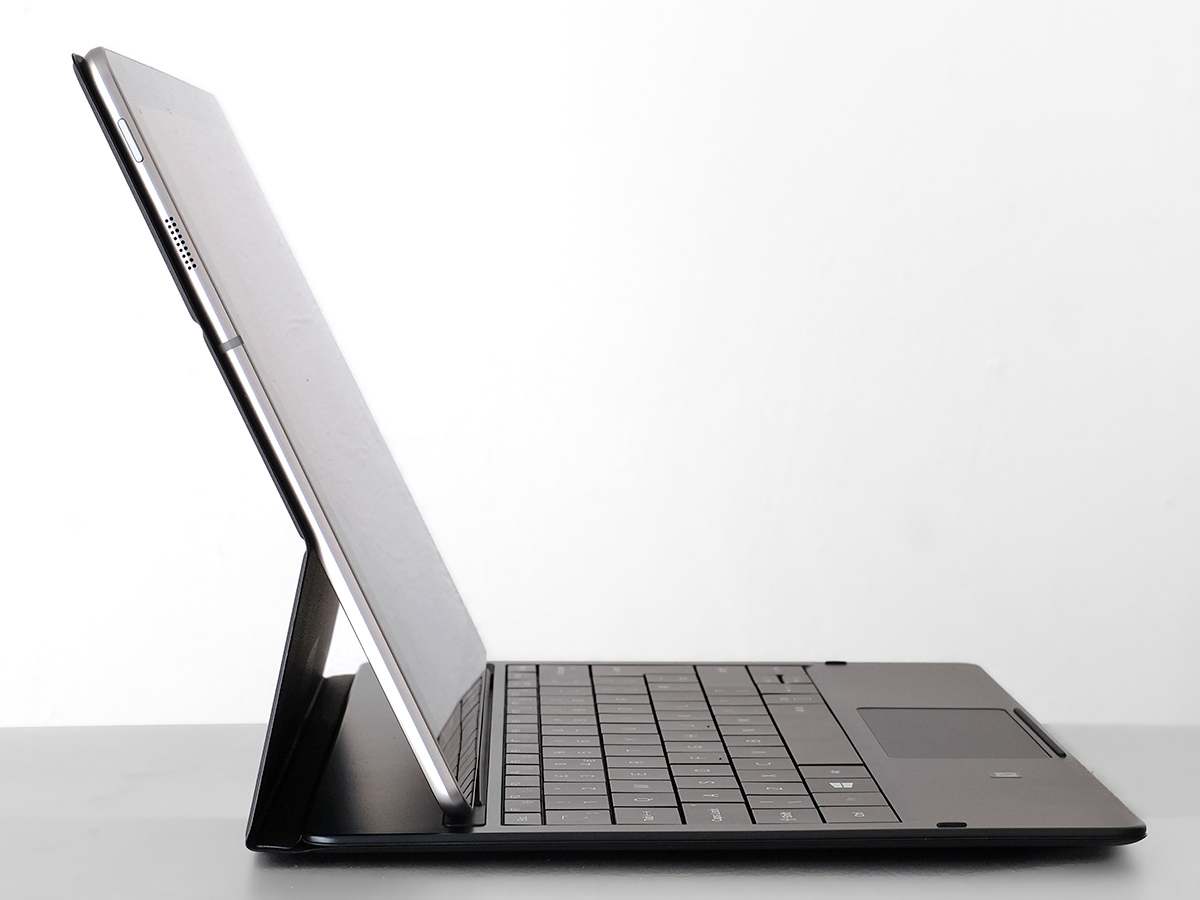 It's only recently that serious-ish devices like the Samsung Galaxy TabPro S have started to make sense, where you just couldn't fit enough power in something this slim a couple of years ago. It's Intel that deserves most credit here. It's behind the super-tiny chipsets used here and in skinny laptops like the MacBook 12in.
The Samsung Galaxy TabPro S has an Intel Core M3 chipset with 4GB RAM. This doesn't remotely compare to the kind of processors you can get in a more conventional laptop at this price, but out in the real world it does just fine for the most part.
Intel's Core M chips are the equivalent of tiny little sports cars: their top speed might not blow you away, but they're nimble little things that can go from 0 to 60 in a flash. It 'only' scores 4969 points in Geekbench 3, but its efficiency is through the roof.
Core M devices tend not to feel slow in the way Atom ones often do when you're doing day-to-day stuff like opening 15 PewdiePie YouTube tabs while streaming Netflix and working out in Google Sheets how overdrawn you'll be this month. Y'know, normal multi-tasking stuff.
To test out its limits, I tried playing The Elder Scrolls: Skyrim on the Samsung Galaxy TabPro S. At the aspect ratio equivalent of 1080p you have to stick to 'low graphics' settings and even then there are frame rate dips when a couple of enemies come on screen and start hacking away at you. It works, though, and well enough to be enjoyable for a bit of a blast on a long train or plane journey.
You can scrape by with some old games, but even a regular Core i5 CPU with no separate graphics card would perform a lot better. This is for emergency gaming fixes only, unless you're at home where Windows 10 will let you stream games from an Xbox One or PS4. That said, it does the job for 95 per cent of the other tasks I do on my day-to-day MacBook Pro.
Bar editing photos, that is — not having a full-size memory card slot would make that a pain, and the 4GB of RAM would cause a bottleneck once you start doing heavier editing of huge images. Even being able to run full-fat Photoshop gives it an advantage over the iPad Pro, though.
Battery life? Better than a Surface Pro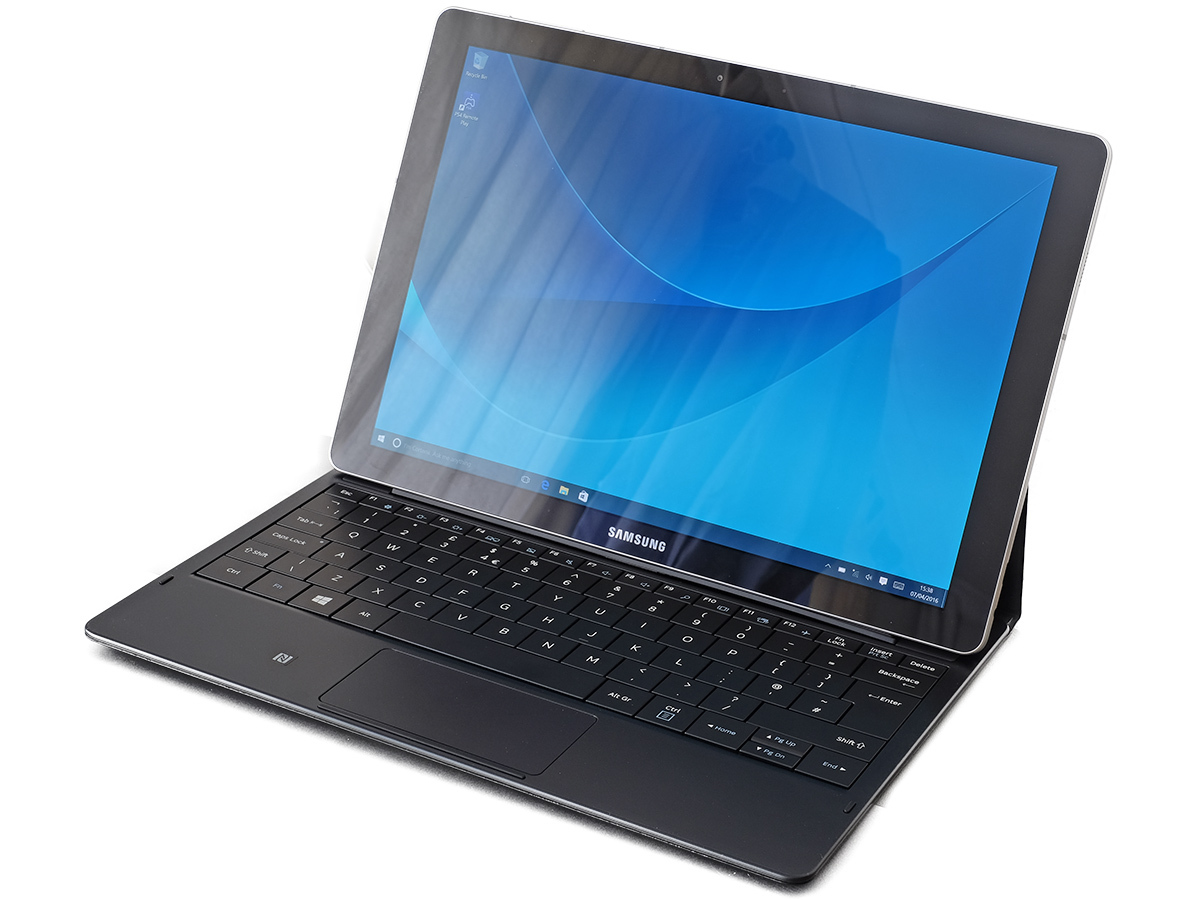 Where it doesn't match Apple's latest tablets are in side features like the camera and speakers. The Samsung Galaxy TabPro S's are not much more than fine.
Its rear camera has a 5-megapixel sensor, which is seriously low-res by current standards. Being lower-resolution means it also handles crappier lighting conditions just fine, but next to the iPad Pro 9.7 camera it's pretty poor. A 12in tablet is among the last things I'd want to use as a camera anyway. I'd rather take all my photos via selfie stick.
The Samsung Galaxy TabPro S speakers are decent, with enough volume to let you listen to music while things are bubbling away on the cooker, but the tone is nothing special. Apple's iPad Pros have a weightier sound where the sound quality is more conventional tablet fare here.
The Samsung grapples back a bit more cred with its battery life. Using a low-power Cortex M3 chip pays off, letting the Samsung Galaxy TabPro S last for 11 hours of video playback between charges. That's playing a 720p MP4 file. This skinny guy lasts longer than a Surface 4 by at least a couple of hours.
Raw power has been sacrificed a bit here, but stamina hasn't. The Samsung Galaxy TabPro S uses a 5200mAh battery, and its adapter supports fast charging, meaning you can get a full charge in about 2.5 hours rather than the week and a half it might take with a naff little 1A phone charger.
Samsung Galaxy TabPro S Verdict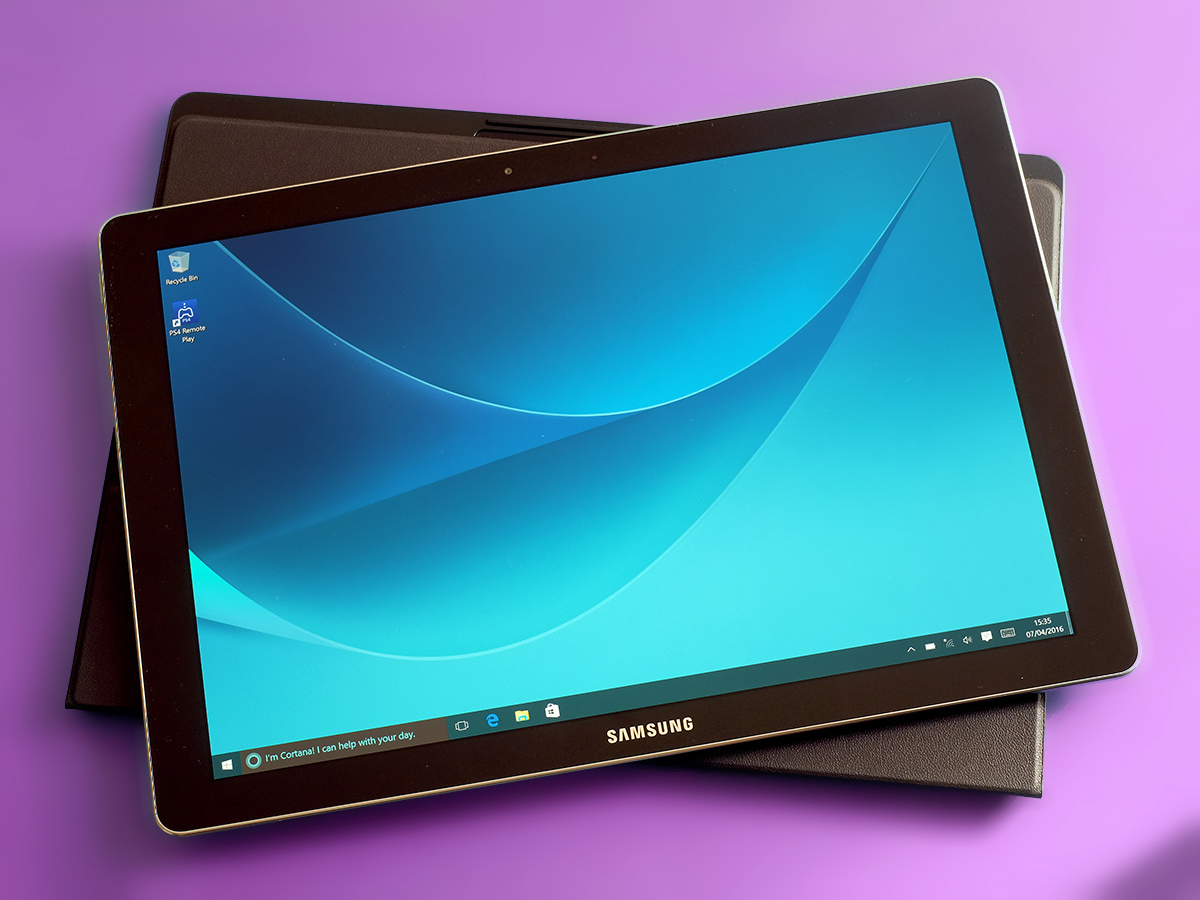 Samsung's Galaxy TabPro S is a classic case of: it's great, but it isn't for everyone. In the 'wins' column, it's a bit of a marvel. It is so slim, its screen is punchier and more vibrant that those of laptop three times the price and it leaves an iPad Pro looking a bit like an Early Learning Centre toy if what you need is a something to power an honest day's work.
Is it something I'm going to be recommending to everyone with £850 just begging to be spent carelessly? Not exactly.
Its dimensions and great battery life make it a practical partner for long, tedious trips, but these days you can spend £100s less on something like the Asus UX305, a 'proper' laptop with a bit more power to boot. Not to mention connections. As much as the Samsung Galaxy TabPro S works as a package, it's a bit ahead of its time if anything.
Buy the Samsung Galaxy TabPro S here from Amazon
Tech specs
| | |
| --- | --- |
| Display | 12in 2160 x 1440 pixel Super AMOLED screen |
| Processor | Intel Core M3 CPU |
| RAM | 4GB DDR4 |
| Storage | 128GB SSD |
| Operating system | Windows 10 |
| Extras | USB-C connector, NFC |
Stuff Says…
Uncompromising design with compromised raw power and plug sockets make for a tasty vision of the laptop future.
Good Stuff
Super-punchy AMOLED screen
Good battery life
Laptop-scale keyboard
Windows 10 flexibility
Bad Stuff
Expensive in the price:performance stakes
Keyboard is a bit shallow
Ultra-limited connectivity is not handy